Joomla Templates
Professional Joomla Templates that have a great technical feasibility
100% Satisfaction Guarantee
24/7 Free Support
Stock PhotosIncluded
Popular Joomla Categories
Key Features
essential to the entire development of your Joomla website
Responsive Nature
Why is responsive design so awesome? Because it provides superior experience across all devices no matter what resolutions they support. Users can feast their eyes upon your wonderful website at any display size. Slider and all site components are made fully responsive to provide perfect UX.
Vast Amount of Module Positions
Joomla themes contain 14 module position rows that allow you to have over 80 module positions on the page. Arrange your module the way you need. Create any layout you want.
Additional Extensions
Image Swoop slider, carousels, tabs, an advanced Newsflash module, Google Map plugin, social sharing buttons and counters – you will get everything you need to create a website with rich functionality.
Animated Portfolio with Filters
Filter option for portfolio allows the customers to apply filters by categories. There are also various CSS3 hover animation effects included for your portfolio.
Advanced Navigation
You can have a responsive menu with unlimited multilevel dropdowns for better usability on your website. Also, there is an ability to select from various dropdown animations available.
Installation at Ease
Templates are delivered with a full-package installation archive that simplifies the installation procedure to several simple steps. All modules and additional extentions are bundled together and can be installed in a couple of clicks
Advanced Commenting System
Joomla 3 themes are provided with Komento, a full-featured commenting system that comes with voting and rating options.
Custom Page Types
There are two custom page types added to the framework: Gallery View and Category Blog. You can easily create the gallery and blog layouts selecting appropriate page type in the menu manager. Layouts can be changed without affecting other Joomla pages.
Joomla Templates
Please welcome the Joomla templates from TemplateMonster – so beautiful and dynamic, all at your service! In this section we've gathered our complete collection of them, including the themes made for different Joomla versions as well as templates made with various technologies (such as Flash or jQuery for example, you all seem to really love these extra features).
With every Joomla template that you buy from us not only do you get a premium design but also free support services from our team (in case something goes wrong for some reason). And picking the right item out of our collection of Joomla templates won't be hard – with a vast variety that we have, you will have no problem finding the right design for any kind of business you can think of! Browse them right now!
If you still find working with a template a little challenging for you, you could at the simplest level just download a Free Joomla 3 Template and see how to do something with it. Maybe how to install it, how to customize the design. You will then be doing a much better job with this type of product, which is very simple in fact.
More than 1,500,000 customers served
Read what people say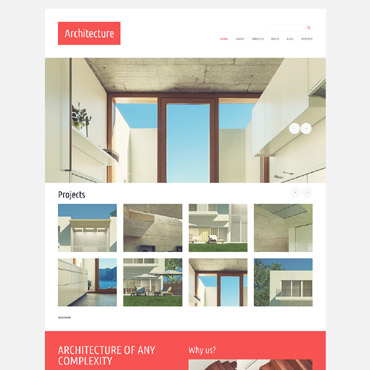 Architecture Design Joomla Template #52411
Reviewer: Maykel L.
Posted:
Great modern template with great support
Hello, I'm a designer, and I create websites for different companies. This time, I've been contacted through a company that made fences and gates, they asked me if I could realize a responsive and modern website to promote their business. Little problem was the budget of the company. In most of this cases, when there is a low budget, we buy templates at TM. For this case I've founded this great template... Why I've choose this one? First reason is that this template is responsive, second reason was the combination of what the customer wants and what the templates has to offer in this case this template was easy and gives all the possibilities that I needed ( I only build in the multilanguage feature). The last reason was the fresh layout of this site. The fresh colors (white/red, I've changed it to white/blue - company colors). Why I Always come back to TM? If there are problems with the template I only have to chat with the people from TM and they Always solve the problem in just one (or two) days. So this is why I would like to advice to get templates from TM! Beautiful templates with great support!!! I've bought this template to create a responsive website for a customer. My client was looking for a professional, modern and most of all a fresh template. The Architecture Design Joomla Template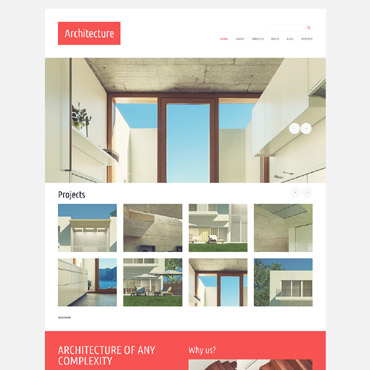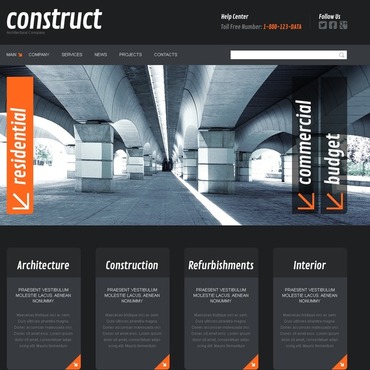 Serious Construction Joomla Template #44840
Reviewer: Łukasz P.
Posted:
Professional, trully responsive, easy to edit
I've purchased this template for one of my clients and I'm really very satisfied! It looks good on computer and even the mobile version is perfect made. I can recommend this template for everyone who do their business well and needs professional website. What's more help center is perfect!
More on Joomla Templates
Why do you need our Joomla templates? We can name at least three striking reasons to get them at TemplateMonster!
The ultimate collection! Here you will find over 700 Joomla templates of premium quality. New Joomla themes are produced daily.
Stock Photos that are included into the template previews that you see here are yours to keep – as long as they're within the template-based website. That means you won't have to spend money to get relevant stock photos for your website.
Professional Support! You get 24/7 free support via Live chat, phone support or tickets system. Besides, we offer a good archive of free tutorials and help info.
All Joomla themes are arranged into subcategories:
Joomla 3 Templates
Joomla 2.5 Templates
Virtuemart Templates
Joomla 1.7 Templates
Joomla 1.6 Templates
Joomla 1.5 Templates
Joomla Flash Templates
What is Joomla! CMS?
Joomla!™ CMS is a free, open source content management system for managing a website content through a simple and functional interface. It means that you don't need any special coding skills to customize your website based on our Joomla themes. As you know, Joomla! CMS platform has similar features with the Mambo CMS (Joomla! is a variation of Mambo, but Joomla Themes are not compatible with Mambo). Joomla! is licensed under the GNU General Public License.
The Joomla!® name is used under a limited license from Open Source Matters in the United States and other countries. TemplateMonster.com is not affiliated with or endorsed by Open Source Matters or the Joomla! Project.
SiteGround is the most loved Joomla hosting. They have developed unique Joomla speed and security solutions and multiple Joomla tools like 1-click installer, auto updater, staging and advanced caching. They also provide free Joomla transfer and solve a wide range of Joomla related issues as part of their 24/7 hosting support.