Logo Templates
With a tendency to match your brand needs
100% Satisfaction Guarantee
24/7 Free Support
Stock PhotosIncluded
Recently Added Logo Templates
Logo Templates
The main difference between a regular logo and Logo Templates is that Logo Templates are developed to reflect the main idea of the industry not the particular company. To meet the company's theme you will probably need to do some customization: change company name, colors, etc.
Template Monster offers two kinds of Logo Templates: Unique and Non-Unique. When a logo template is purchased at the Unique price, it is removed from our database so that you get an absolutely exclusive logo design at an affordable price. Non-Unique Logo Templates can't be bought under the unique price, as they aren't eligible for the unique category once they've been bought at the regular price.
More than 1,500,000 customers served
Read what people say

Design Studio Logo Template #33907
Reviewer: Judy H.
Posted:
Design logo template
I was looking for a logo that would depict my style as a designer in various areas - web, print, art, photography, etc. I immediately found myself purchasing this template and adapting to my needs.

Print Shop Logo Template #28653
Reviewer: WIN O.
Posted:
Beautiful logo
I purchased this logo for a news portal site and it was great. It can be easily configured and designed with multiple layers so to fit exactly in any site. I recommend it!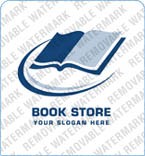 Book Store Logo Template #6119
Reviewer: Hicham A.
Posted:
satisfied
My order was easy and fast and when i call for some informations it was fast alos thank you
[/testimonials_container]
What is a Logo?
A logo is a special symbol (a combination of characters and graphics) which is considered the main identifier of the company. Though Logo Templates serve as logos of companies they can also be used as the logo for one of your company's products, to add to its uniqueness and identity.
Template Monster & Logo Templates
Our Logo Templates are developed with Adobe Photoshop, Adobe Illustrator, or Corel Draw and can be edited with these programs. Please, check the sources available in the template info section on the preview page for detailed information on files which go with a particular Logo Template. You will need the source files (.PSD, .CDR) to make changes to Logo Templates.