Shopify Themes
Choose The Best Shopify Theme For Your Store

Recently Added Shopify Themes
lingerie, bra, panties, corset, sleepwear, intimate apparel, babydoll, bustier, thongs, women underwear, women's underwear, undergarments

art, arts, artworks, wall art, pop art, abstract art, modern art, canvas art, contemporary, fine art, digital art, art news, visual art, asian art, western art, art blog, art magazine, and art & culture websites

pets, pet shop, pet food, pet accessories, pet toys, pet supplies, animal shop, and business & services websites.

construction, construction materials, construction tools, building, building materials, building supplies, building material supply, building hardware materials, house materials, house building, renovation supply, remodeling tools, industrial, and business & services websites.

nutrition, nutrition warehouse, nutrition products, vitamin shop, bodybuilding supplements, dietary supplements, protein supplements, sports nutrition, vitamin store, health store, health supplements, digestive health, mass gainers, and business & services websites.

Use Home Electronics free sample to build the online store of your dream in a few minutes. Powered by Shopify e-commerce platform, this template provides constant access to all product categories and important elements of your online store – from currency switchers and dropdown lists to contact forms and live chat. The template has large and impressive banners that instantly attract attention of your potential customers. It also uses functional carousel elements to demonstrate the selection of products provided by your store, be it new arrivals or featured goods. On hover, customers can see an alternate photo of any selected product shown on the store's webpage. This template is also complemented with additional pages that can give your customers information about privacy policy your store uses, or provide your visitors with the latest news or articles of your store's blog. This free sample is provided for reference only. It is not allowed to be used for commercial purposes.
Popular Shopify Categories
Features
Focusing on the maximum viable product features
Twitter Bootstrap
The developers use the third version of a popular framework to impart more flexibility to our Shopify themes when browsing on different devices.
Changing Styles via Admin Panel
The typography in the templates is easy to modify from the admin panel. You can change the type family, font size, and font colors used in your Shopify theme. This option is available for the main text, headings, product names, and prices.
Replacing Colors Right from Admin Panel
You can change background colors and gradients used in the template via admin panel. We use minimum graphic files in our Shopify themes, which lets make them lightweight for download and convenient for color scheme replacement.
Power and Simplicity of Admin Panel Options
You don't need to know programming, HTML or CSS to modify the template. We've done most of the options simple and clear for the user. Nevertheless, you get a powerful tool for your web store tuning.
Flexibility of Block Settings
The logo, slogan, text blocks, link lists, images, headlines, text in sliders and on banners, number of products displayed, as well as contacts can be set from the admin panel in the template's features.
Convenient Currency Switch
Now switching currencies doesn't require page reloading. The prices change immediately after the selection.
Shopify Themes
Shopify themes are design samples that provide a demonstration of appearance and a functionality test-drive of an online store powered by Shopify eCommerce engine. Take the time to review the collection of responsive Shopify Themes developed by TemplateMonster to find the one that will make your business venture a success.
If you are not exactly sure Shopify is the eCommerce platform for you, here's what you need to know about it. This system is a great choice for the entrepreneurs who want a hosted online commerce solution. TemplateMonster has brought you the best Shopify Templates that flaunt a rich selection of features:
Bootstrap based cutting-edge templates. Powered by Bootstrap framework, our Shopify templates sport a fully responsive design.
Optimized for all mobile devices. Shopify website layouts are flawlessly rendered on the screens of various mobile gadgets. This eCommerce platform enables you to manage your store or purchase goods using a mobile phone or a tablet only!
Fully configurable to modify your spec. Shopify offers you such features as product organization, product variations, inventory management, product images and more to put your product range in order.
Well documented to pick up some extra skills. All Shopify themes are supplied with detailed documentation offering step by step installation and customization instructions.
Make changes easily with Liquid templating language. Liquid has been developed and introduced by Shopify to give customers absolute design freedom and for the sake of maintaining the integrity of eCommerce platform servers.
Different apps to review what handles best. Shopify offers you a dashboard, product reports and other analytics to figure out the bestsellers in your eshop.
Two main functionality options. It is not only about attaching a shopping cart to a website! Feel free to enjoy Shopify Blog or Online Store/Shop solutions.
As well as many built-in options (Camera Slideshow, NivoSlider, forms, Google fonts).
Hopefully, we managed to dispel all your doubts regarding Shopify! Now, all it takes is to select a Shopify template from our variety of layouts and install it together with Shopify eCommerce system to get your website up and running. It will not take a long time to modify your estore exactly the way you want. Moreover, there is always a possibility to try these products out by testing our Free sample Shopify template.
All of our Shopify themes are cross-browser compatible, thus they are viewable, irrespective of the software one may use for surfing the Internet. We have ensured that our Shopify templates are optimized for the majority of search engines, this is why more new clients will be able to find your goods online.
In case you have issues installing or operating our templates, do not hesitate to address our 24/7 tech support to get help!
Take a closer look at our Shopify themes to select an eshop layout for your business project!
Build Your Online Store With Shopify
If you have selected Shopify among other eCommerce platforms, take a look at the brief overview of what you need to know to set up your online store. Apart from choosing a domain name and a hosting package, you'll need to define which Shopify software version will suit you best. Shopify runs equally well as a full-blown CMS and as a mobile application. Choosing the best theme for your Shopify based store is another step on the way.
Below is a list of things to keep in mind when building a Shopify-based online store:

Domain Name
Selecting the right domain name for your future online store is a half of your success. There are a few things to bear in mind, though. Firstly, a domain name must be short and simple. Secondly, you have to make it easy to recognize and associate with your online project. The choice of a domain name must not be neglected, since it influences SEO and serves branding purposes.

Install the Latest Shopify Version
To make sure your online shop works well, you'll need the latest Shopify version installed on your web hosting. You can have a free 14-day trial of Shopify software, and then proceed to using one of the three available packages. Basic Shopify package is $29 / month, Shopify package is $79 / month and Advanced Shopify package is $229 / month.
Besides, there's a Shopify app which makes your Shopify store available on-the-go and Shopify POS version that enables you to accept payments from various systems on your handheld device.
In case you have questions about Shopify installation, you may use the Shopify Help Center. Besides, TemplateMonster's Template Tuning team always has you covered assisting with any installation and setup issues.

Buy Premium Shopify Theme for Your Website
Once Shopify is installed on your web hosting, it's high time to select an appropriate theme from the selection of our Shopify themes. Thanks to the great number of categories, these top-quality templates will fit any type of project – personal and business likewise.
If you have very little or no experience of working with Shopify themes, you can have a test-drive of our Free Shopify samples and
try installing and tweaking them the way you want.

More than 1,500,000 customers served
Read what people say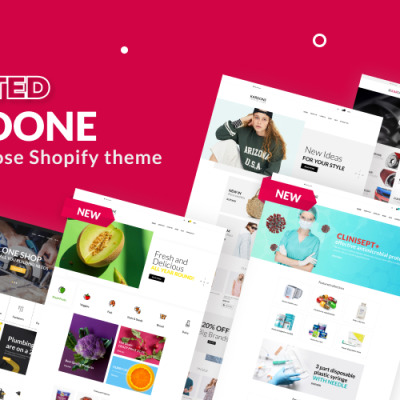 KarDone - Auto Parts Shop Shopify Theme #62439
Reviewer: Oliver Grasset
Posted:
I was totally put off with their system of payment (showing a proof of ID) and literally though it was a fraudulent site. But I took the risk and it paid off!! I'm a huge fan of Template Monster now, their designs are outstanding 🙂