In one of our previous articles published on MonsterPost this week, we were talking about vintage fonts for logo design. Today, we have decided to continue the series of publication for the avid typography fans with a collection of the most famous calligraphers from Instagram. All of them caught my attention with their unique and creative approaches to design. Most of them also feature a number of free fonts in their collections.
So, let's get straight to the chart of the best and most famous calligraphers and examples of their beautiful calligraphy. Go ahead and follow their profiles on Instagram, make friends, and simply get inspired for bringing a versatile look to your own website design.
---
Every piece of work by John Stevens is hand-drawn on paper. There are no digital hacks applied. Mr. Stevens is one of the most original letter artists on the international scene, famous for his skills as a calligrapher, designer, and letter artist. His works graced book jackets, magazines, libraries, museums, and churches. He was also invited to teach at national and international letter-art conferences. Here are a few of his cool writing fonts for Instagram.
---
Mr. Johnston is a self-taught letterer and designer from Canada. Some of his most famous clients using his artworks are Disney, Audi, GM Motors, Shell, Virgin, and others. Ben Johnston creates custom hand lettering for all mediums and formats. He believes in a hand-crafted approach to all his design endeavors.
---
Biksence Nguyen is a creative designer from Vietnam, creating typography and logo design in PhotoShop and Illustrator. His works stand out due to the bold colors and 3D illusion.
---
Dima AbraKadabra is a self-employed graphic designer and lettering artist from Russia. He is mainly focused on creating sports lettering, which is further used in thematic commercials.
---
Dima Tkachev is a graphic designer from Belarus. His hand-written fonts were used by Disney, The Challenger, Borg Beer, and other popular names.
---
Daniel Castrillón is a graphic designer from Colombia. One of his most outstanding initiatives is a project targeting illustrators, designers and graphic designers who are eager to express their particular viewpoint on letters and numbers of the alphabet of Colombia.
---
Ibrahim Rady
Ibrahim Rady is a graphic designer from Saudi Arabia, creating logos and printing. With more than 10 years of working experience in the industry, he is now a director of his own design agency, whose calligraphic works are being used for print media, logos, physical goods, etc.
---
Roger Oliveira from Brazil focuses on typography, art direction, and calligraphy. None of his works is similar to the previously shared ones. Each featuring a unique style, the letterings are spacious, bold and vibrant, adding special charm to the products those are applied to.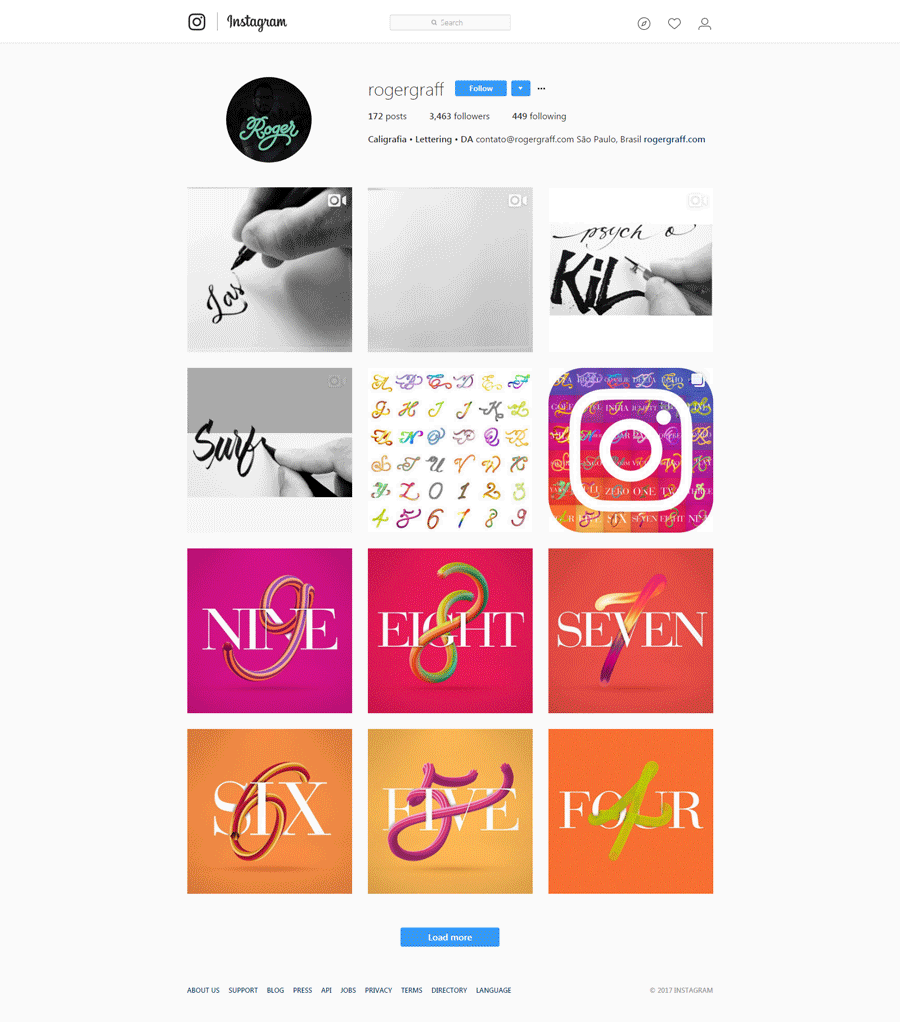 ---
Callie Hegstrom is a designer and graphic artist standing behind MakeMediaCo.com. Callie has a background and love for photography and illustration. Her works are used by popular brands like Good Housekeeping and Sports Illustrated.
---
Mikrojihad is a small type foundry from Indonesia. They specialize in the development of custom, informal typefaces, both digital and hand-lettering.
---
Pellisco is a creative project combining different techniques like illustration, typography, and photography.
---
Hadi Alaeddin from Jordan is a product and graphic designer creating stunning hand-written letterings and logos.
---
Chiara Riva is an Italian graphic designer specializing in lettering and calligraphy. The works combine both digital and hand-written approaches. Traditional and modern styles make up a perfect harmony in the portfolio.
---
Cyla Costa is a visual and type artist from Brazil. She works with illustration, painting, branding, and other things related to letters. Handwritten lettering is applied to both digital projects and physical products.
---
Kobby Mendez is an illustrator and graphic designer from the Dominican Republic. He develops digital and hand-written lettering/calligraphy, as well as creative logo designs. Most of the works are featured in his profile on Instagram.
---
Joan Quirós is a graphic designer living and working in Spain. He specializes in creating custom lettering and calligraphy. In his creative projects, he establishes a connection between the past and the present. While using traditional tools and techniques in his works, he applies a contemporary perspective to every project, providing the clients with something unique and tailored to their specific needs. Harper Collins New York, Front magazine, TEDx Madrid, BBVA, and other popular names are on the selected clients list.
и видос

---
Where do you find inspiration?
There are plenty of talented designers and calligraphers to follow on Instagram. Where do you find your inspiration? What famous calligraphers do you follow? Share links to their profiles in the comments section. 😉