Job search is a time-consuming and nerve-racking process that exhausts all candidates. And I wasn't an exception. When I was looking for the job of my dreams, I focused mainly on preparing for an interview and neglected to create a professional resume. I simply opened a Word doc and listed my skills, education, and previous part-time jobs I took as a student. The outcome was like someone shut the door in my face.
I sent my CV to about 20 companies, and NONE of them got in touch with me. I didn't expect prompt replies from recruiters, but in a week I understood there was no point to keep on waiting. I even thought something went wrong with my mailbox. To test it, I sent my CV to my close friend, and he got it. So, the problem wasn't in my mailbox. It was my CV that failed. Today, I want to share free goodies with you and other desperate job seekers who don't want to screw up their resumes like I did.
---
---
Instead of sweating over your CV, you can use a ready-made solution that looks professional, stylish, and eye-catching. Check out my exclusive set of 30+ free printable resume templates 2017.
---
The Perfect Resume Checklist
---
Your CV is the only chance to make a favorable first impression on recruiters before the interview, so it's crucial to polish it from all angles. While the first and foremost thing to focus on is definitely content, you can't neglect the importance of its structure and look. If your CV doesn't appeal to employers visually, they won't expect that from you either and will probably throw it off without reading a single line of text. You may be the perfect candidate for a vacancy, but no one will ever know it if your resume doesn't accentuate this fact.
According to the estimates revealed at inc.com, every job opening attracts around 250 applicants. So, how can your candidacy stand out among other 249 CVs? In fact, it's not that hard as it may seem to be. Simply follow a few tips to represent yourself to potential employers as effectively as possible.
1. Choose the resume format. Your choice will depend on the priorities you want to spotlight, i.e. skills, experience, background, etc.
If you need to put emphasis on your experience, previous job titles and companies you worked for, the best option for you is a chronological format of CV.
Those of you who want underline the skills are advised to use a functional format of CV. What's cool about this type is a possibility to list the skills you acquired not only at work, but also at university, voluntary or any other out-of-school organizations. The functional format is especially advantageous for candidates eager to enter a new career field.
Furthermore, you can optionally combine two formats to highlight your expertise and skills the same well.
---
2. Focus on the resume design. Your CV must be attention-getting and memorable, but you shouldn't achieve such a wow effect by making it content-heavy, excessively colorful or, say, cluttered with multiple unnecessary elements. Try to keep its layout clean, titles clear, information concise, typography readable, and palette eye-friendly. Don't impose yourself on HR managers. Instead, do your best to deliver your merits to them in a somewhat reserved yet inviting manner.
Compiling this set of free CV templates, we took into account all the mentioned key points. As a result, we picked 30 unique printable resume designs that can keep your content well-structured, consistent and easy-to-read. You can leave each of them as is or customize a little bit in order to add a personal touch to the presentation of your candidacy. Using one of these ready-made templates, you will have an opportunity to get a professional CV at no cost and as quick as a flash. In such a way, there will be much more time for working on the resume content and searching for vacant positions.
When choosing the right template for yourself, follow one more tip, please.
3. Consider the industry, in which you're involved. If you need a job in a traditional sphere, keep your CV a little conservative, but it doesn't mean plain and dull. Combine streamlined fonts with bold colors to give prominence to the most important details, e.g. headings, dates, etc. Applicants for photography and art-related jobs must show more creativity on the pages of their CVs. They are free to step aside from traditional layouts and use richer visual aesthetics.
Now that you know the key points of choosing the CV design, proceed to 30 free printable resume templates 2017 featured in our hand-picked selection.
---
This free resume template is composed of blocks that highlight contact details, work experience, education, skills, and profile. You can also attach a photo to the top of its layout. Light blue is used to accentuate headings for better content hierarchy.

---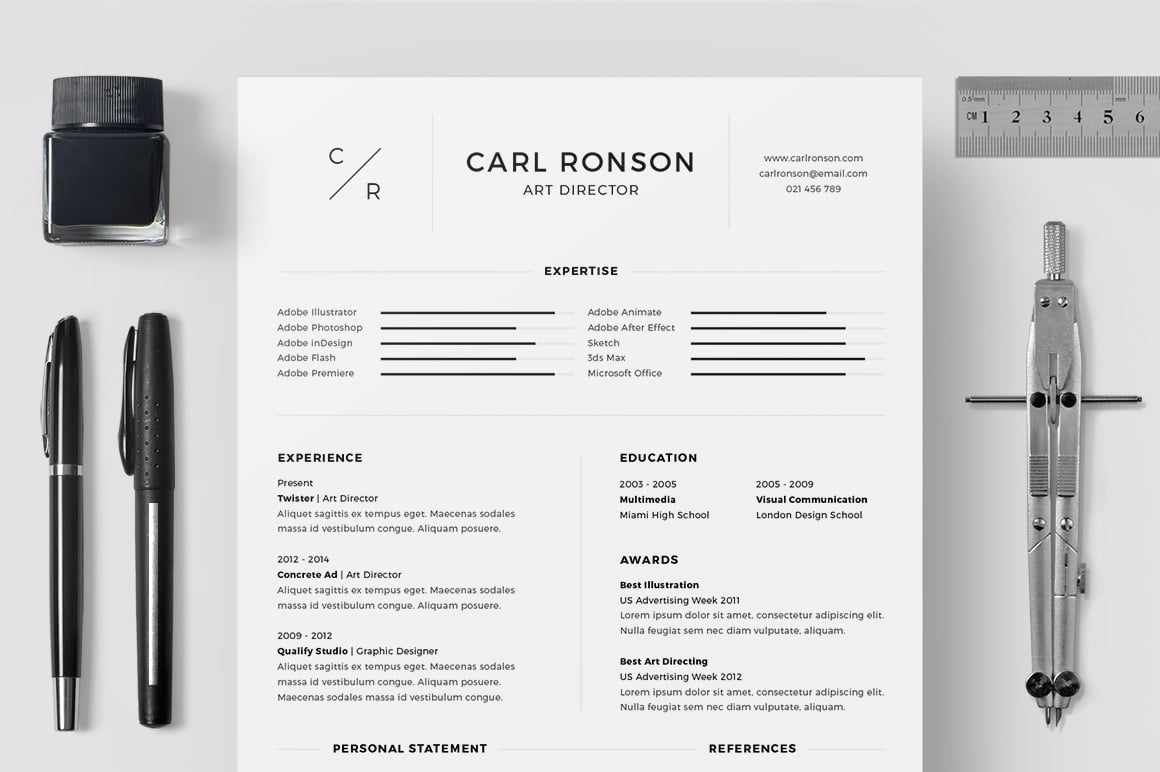 File Formats: Ms. Word | DOCX (2007 or Later), Adobe InDesign | INDD (CS6 or Later), Adobe InDesign | IDML (CS4 or Later),PDF Preview Files
---
If you need a classy design for your CV, try this Word template. Its content-packed layout is perfect for engaging employers with various facts, from experience to education. An emerald green palette will make your resume easy on the eye.

---

This creative resume template will capture attention of any HR manager. Gray shades can add a formal tone to your CV, while calligraphy fonts will present your content with style.

---
Check out a fully scalable and perfectly aligned template for your CV. It features a clean layouts with multiple color options and free fonts. You can edit this print-ready template in all the CS versions. For easier use, a help file comes packed into the freebie.

---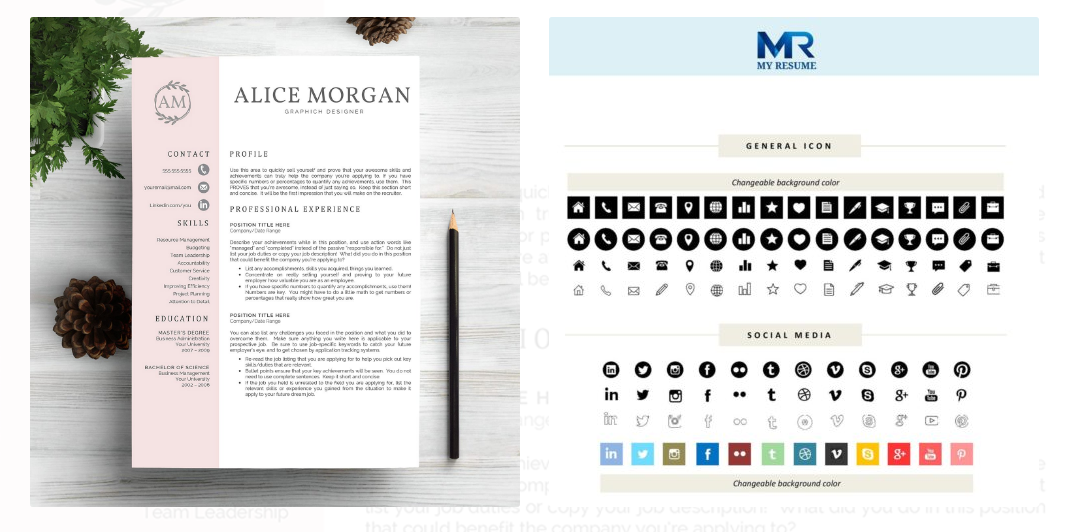 Here is a two-page resume template that you can edit in MS Word. Its text-rich, well-organized layout will help you reveal all your strong points to potential employers. As a bonus, you can also find a template for a cover letter in this package.

---
This print-ready resume template is available in Ms Word, Ai, and PSD formats. Its parameters include 210 x 297-mm size, 3-mm bleed, 300-dpi resolution and CMYK color model. The template utilizes Open Sans and Font Awesome. For ease of use, there is also a PDF help file in the package.

---
This free package comes with 2 printable CV versions in the AI format and a web CV version in PSD, and a business card in AI as a bonus.

---
Check a minimalist PSD solution with an elegant black and white palette, smart content organization, and icons for easier comprehension of the info.

---
Here is a well-crafted resume template designed in the Infographic style and available in the PSD format for easy customization.

---
This package contains 6 professionally designed CV templates. Each of them includes a two-page resume and one cover letter. To customize the templates, simply insert your photo and replace the default text with yours.

---
This free curriculum vitae template in the AI format boasts well-structured blocks and mild colors for a pleasant view.

---
Get your dream job with the help of this free professional PSD freebie. Edit it the way you like in the shortest possible time.

---
This freebie is packed with 3 fully layered and editable PSD files of A4 size, 300-dpi resolution, 0.25" bleed, and CMYK. The files are designed for creating a resume, portfolio and cover letter. Each of them boasts a clean look, yellow accents, and Roboto font, which will give a modern look to your documents.

---
Here is one of the best free CV templates to print. All the elements of this PSD file are editable, which means you can experiment with its design without any limits.

---
Consider this ready-to-print design if you need a simple yet elegant CV. This AI vector file features 8.5" x 11" dimensions, 300-dpi resolution, and CMYK color profile.

---
Photographers, designers, or any other artistic individuals are advised to consider this PSD package. It gives a free access to both a resume and cover letter. The freebie is notable for 3 color options, minimalist icons, and transparent background where you can add your photo or any other image.

---
Take a look at another CV template to impress potential employers. Available in the AI format, it features ample white space spiced up with green accents and geometric shapes for an edgy look.

---
Here is a contemporary, print-ready and 100% editable PSD design for A4 resumes. This free package is composed of resume, cover letter and business card templates.

---
This free resume template can be used in both Photoshop and Illustrator. Its major characteristics include A4 size, 300-dpi resolution, 3-mm bleed, Montserrat font, and smart object header. A cover letter is also accessible in this free package.

---
The next free resume template is designed in the form of a brochure. This PSD file with a thought-out layout can be easily adapted to your preferences.

---
Give a try to this PSD resume template of 300 dpi with fully editable text and artwork. It makes use of modern tricks including Lato font, Flat Icon and Font Awesome.

---
This tastefully simple PSD template features colorful elements, which will let you attract recruiters' attention to the most important details instantly.

---
Here is an A4 resume template with well-grouped PSD layers and dark layout. The fonts used in its design include Arial, Roboto, and Segoe UI Symbol.

---
Let your resume look creative with this ultramodern freebie. It comes with PSD folio pages of a resume and cover letter. You can also choose from light and dark versions of these designs.

---
Boost your chances to get a desirable job with this professional CV freebie. The template comes in the AI format and 11" x 8" resolution. Oswald from the Google Fonts API was chosen for its typography.

---
Here is a freebie with a two-column layout, star rankings, icons and small yet catchy labels. The template is made is the AI format.

---
This is an exclusive freebie packed with a clean CV and cover letter. The templates are available in EPS, AI and PSD formats. A logo is also included to the package.

---
This modest PSD-layered template features all the essential resume sections, from education and work experience to awards and personal skills. Its design catches an eye with progress bars and circular pre-loaders.

---
If you want to give a detailed overview of your merits in an easy-to-perceive manner, use this well-structured template of A4 size. Its high-quality PSD file is fully customizable.

---
Here are free layered PSD files to design a successful resume and cover letter. They come in 2550 x 3284 px, 300 dpi, and 3 color variations. 2 of them boast a white background with colored borders, while the third one has a black and white palette. To edit the files, you are required to use Adobe Photoshop CS4+.

---
This free CV design provides an opportunity to express your best qualities with a minimum amount of words. Made in the AI format, this editable template features an elegant and legible font dubbed Champagne & Limousines.

---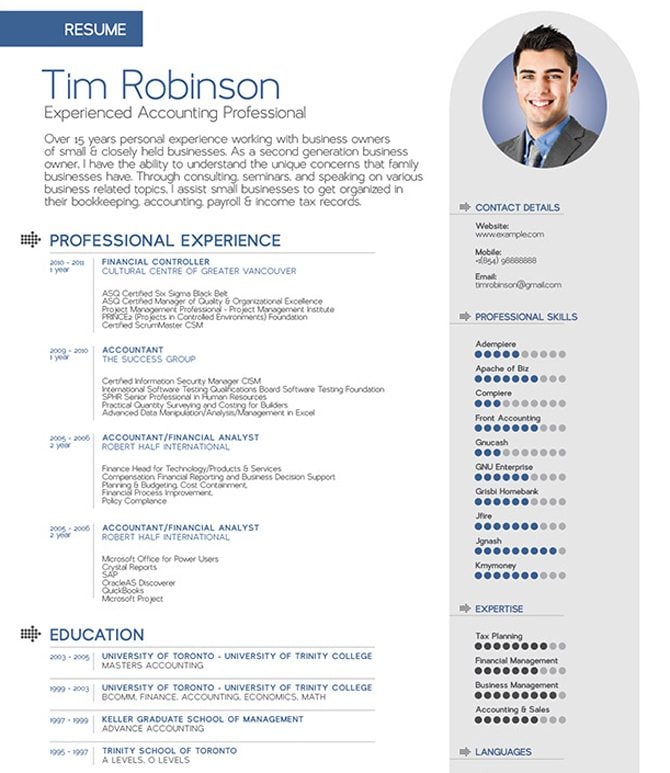 The austere look of this template makes it perfect for job seekers involved in business, finance, industrial, politics, education and many other fields. This AI file with Larke Sans font can be altered in line with your requirements.

---
Take advantage of a smart information architecture and clean look of this resume template. Built in the PSD format, the freebie is easy to edit in Photoshop.

---
Readability, minimalism, and uncluttered layout are the main characteristics of this freebie. It can be easily edited in Adobe Illustrator.

---
This three-page resume template in PSD is designed to put emphasis on all the major details, namely the personal info, skills, experience, and hobbies.

---
Look at a free CV template ready to print. Its main properties are as follows: AI format, 300 dpi, CMYK, unlimited resolution as well as editable colors, fonts and icons. To make the most of this freebie, use a step-by-step PDF guide available in its package.

---
Here's a free resume template by Freesumes. Designed in the pink tone, it will make your CV look elegant, eye-friendly, and professional at the same time. You can add your photo and replace the default text with yours using Microsoft Word.
---
The next resume freebie has a minimalist yet content-rich design. It will help you reveal your candidacy in full to employees. The template is available in the .doc format, which means you'll find it easy to customize it.

---
Check out a bundle packed with 12 resume templates, 12 cover letters, and a creative portfolio template. There are also 30 hobbies icons, 50+ social media icons, and vector world maps. You can choose from Word and Indesign file versions.

---
As you can see, there's a wide range of freebies to choose from. Here, you can find templates in different formats so that you could use the one you are comfortable with. What's also cool about our hand-picked selection is the fact that many packages include bonuses such as cover letters or business cards.
Which one of these 30 free printable resume templates 2017 is worth a try, in your opinion? Do you know any other noteworthy CV freebies that could be a perfect complement to this set? Feel free to share them in the section of comments to this article.
---
Jim Bennett Front End Developer Resume Template
---
Mike Hunt - Hospitality Resume Template for Professional Housekeeper and Guest Service Representative
---
Lana Munro - Resume Template for Singer and Actor
---
Resume - Paul Hoffman Resume Template
---
Theodore Gonzalez - Art Director Resume Template
---
Lauren Davis Hair Stylist Resume Template
---
Kelly Hensley - Medical Resume Template for Nurses
---
Minimal Resume/CV Resume Template
---
Christopher J. Powell - Clean Resume Template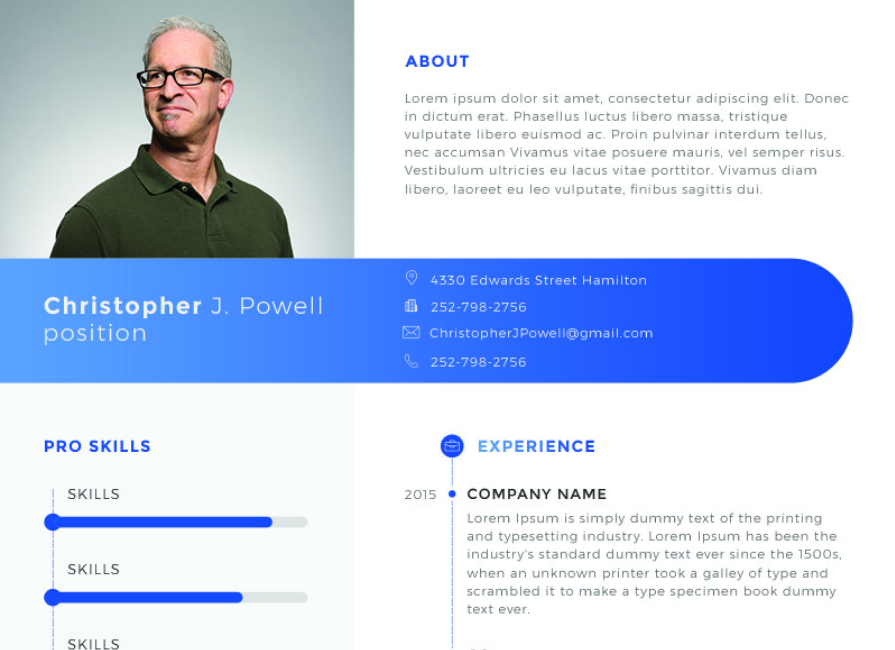 ---
Clark Walker - Writer & Journalist Resume Template
---
Maximilian Baumgartner - Graphic Designer Resume Template
---
Jonathan Mancini - Mechanical Engineer Resume Template
---
Benjamin Thompson - Multipurpose Elegant Resume Template
---
Bryan Hawkins - Restaurant Manager Resume Template
---
Jessica Chapman - Lawyer CV Resume Template
---