Apparently, digital marketing is all over the place. Website owners insist on the importance of having a solid marketing strategy for their website or SEO and PPC (pay-per-click) campaigns.
In 2019 the competition between companies based on their marketing strategy is not only high - it's rather intense. Such "old" marketing instruments as sending emails to leads are no longer enough to start getting decent sales.
The job of today's digital marketers includes a lot of tasks and responsibilities - from old-but-gold email marketing to web analytics, SMM, SEO, ads placement, and much more.
Such a long list of responsibilities can terrify everyone not knowing about the existence of super helpful marketing instruments free at your disposal. All of them are meant to ease the marketers' workload and increase their productivity in times.
More to say, the necessity to keep up with current trends forces every marketing specialist to keep searching for more convenient and advanced tools for their arsenal.
Today, I offer you to compare your own list of actively used digital marketing tools with mine. I've got 55 must-have digital marketing tools that I believe every marketer needs to have at one's disposal in 2019.
I also sorted the tools by relevant categories for easier browsing:
Let's see which of these tools you can no longer imagine your work without and which ones will be your new discovery.
---
---
SMM - Social Media Marketing
What's the actual power of social media? It opens a door to large groups of users that you would hardly reach in any other way. Today's social media platforms have progressed a lot in terms of digital marketing. Reaching a target audience with certain interests, hobbies or age by making a targeted ad and monitoring its success is a matter of several minutes.
It's clear that SMM continues to rule the digital world and becomes even more advanced with each year. My advice for every SMM specialist is to start using at least several of these 10 social media marketing tools: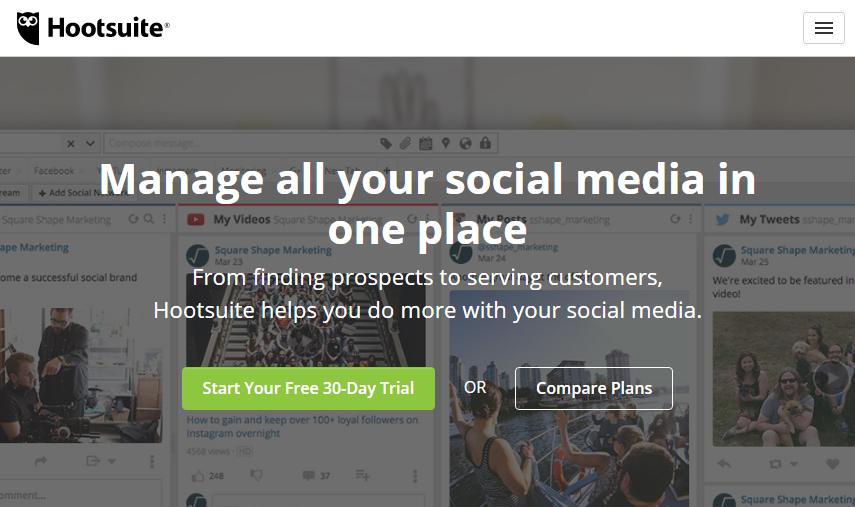 Hootsuite - a perfect instrument for scheduling posts on various social media accounts and tracking them all in a single dashboard. You will be able to set up so-called "streams" for scheduled messages, posts, mentions, and many more. Last but not least: you can assign a comment/message to a team member for them to reply later.
---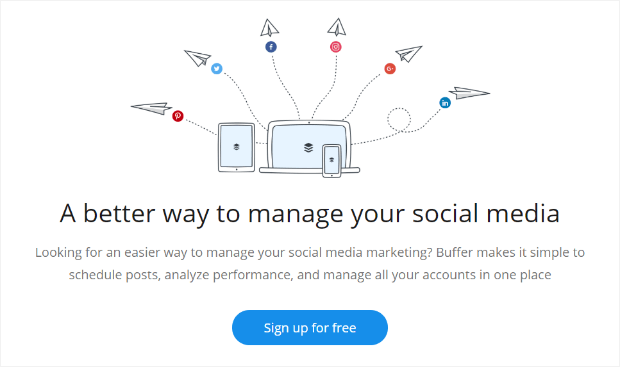 Buffer - with the same concept as Hootsuite, this social media management tool allows you to automate manage posts for all accounts in one place. By using the platform's analytics, you can track the performance of each post and thereby make conclusions on whether a certain type of content works well or not. Buffer is used by over 5 million! users worldwide and offers 3 plans (free, Pro, Business) with a different set of available features.
---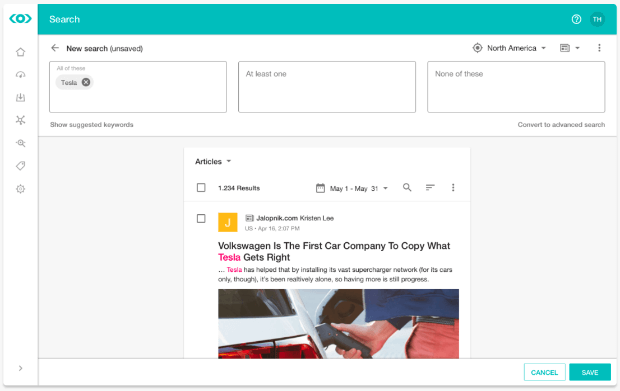 Meltwater - this tool will help you explore and track your social media activity as well as best-performance keywords and the latest trends in real time. Among the useful features are 1) the ability to monitor your brand in real time; 2) all search results collected in one place; 3) monitoring your brand mentions; 4) analyzing the effectiveness of your advertising campaigns; 5) creating drafts of your publications for days, weeks or even months; and 6) statistics.
---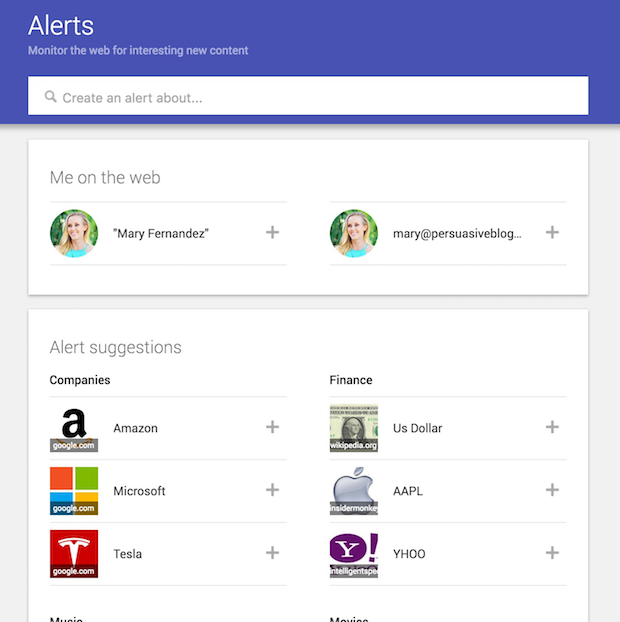 Google Alerts - a handy tool to keep track of the latest news and references about your brand, competitors, and opinion leaders. Quite easy to set up, this is considered a nice option for beginners. Every time Google finds mentions or keywords related to your brand in a blog, forum, or a news site, it sends you a notification.
---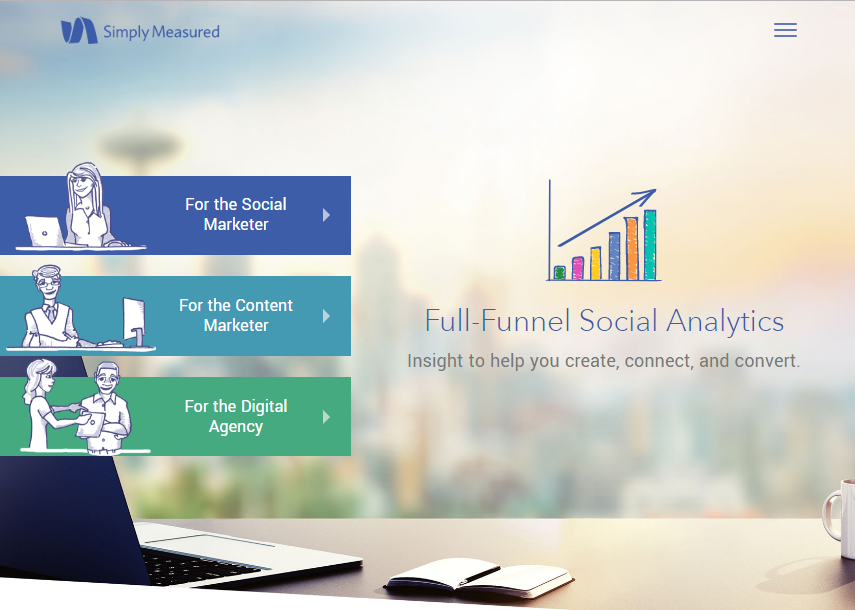 Simply Measured - this social analytics system lets you discover the interests of your audience, and customize your interaction with visitors using data collection, analysis, tracking, and measurement.

---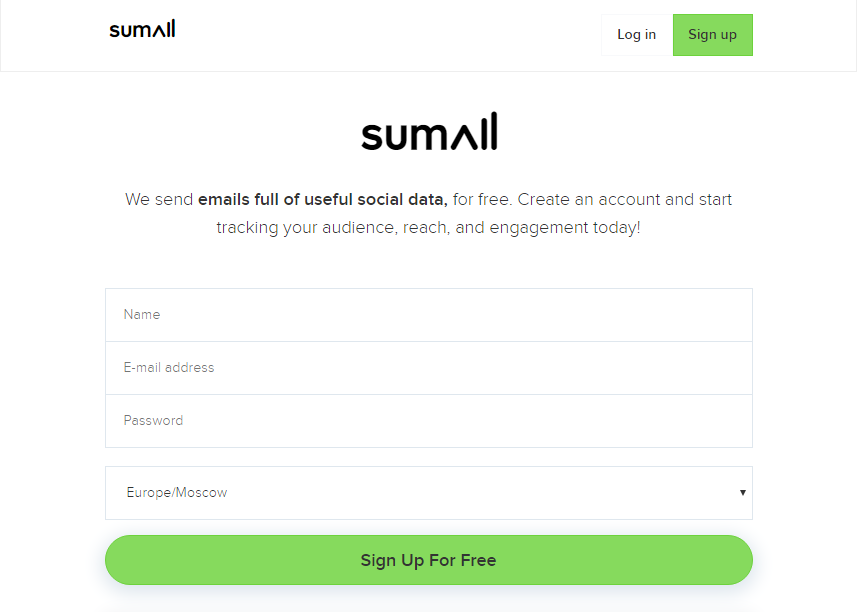 SumAll - sign up for this free tool and you'll start getting daily newsletters with an overview of your account statistics and a comparison with the previous week's stats. This way, you'll be able to react quickly to the issues like low activity, an increased number of negative comments, etc.
---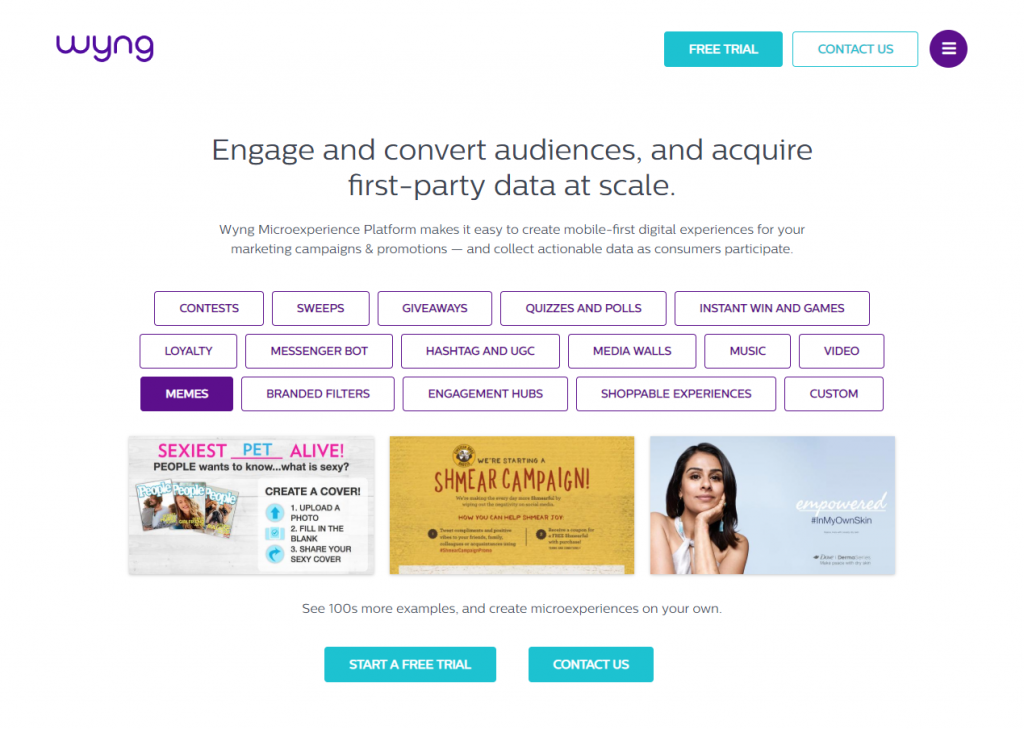 Wyng - a popular SMM instrument for powering digital hashtag campaigns and other promotions for companies and brands. The platform has a built-in analytics dashboard responsible for tracking the performance of all currently running campaigns.
---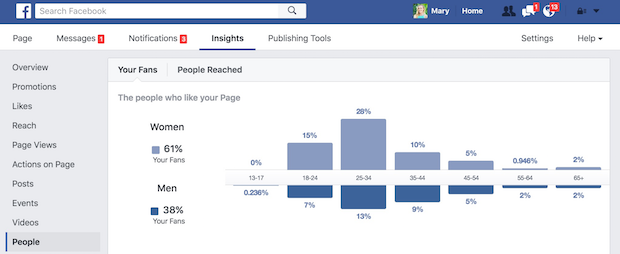 Facebook Page Insights - it's the ultimate tool for leveraging your Facebook ads. By using FB Page Insights, you can analyze customers' behavior and utilize these stats for more targeted ads, even outside of Facebook.
---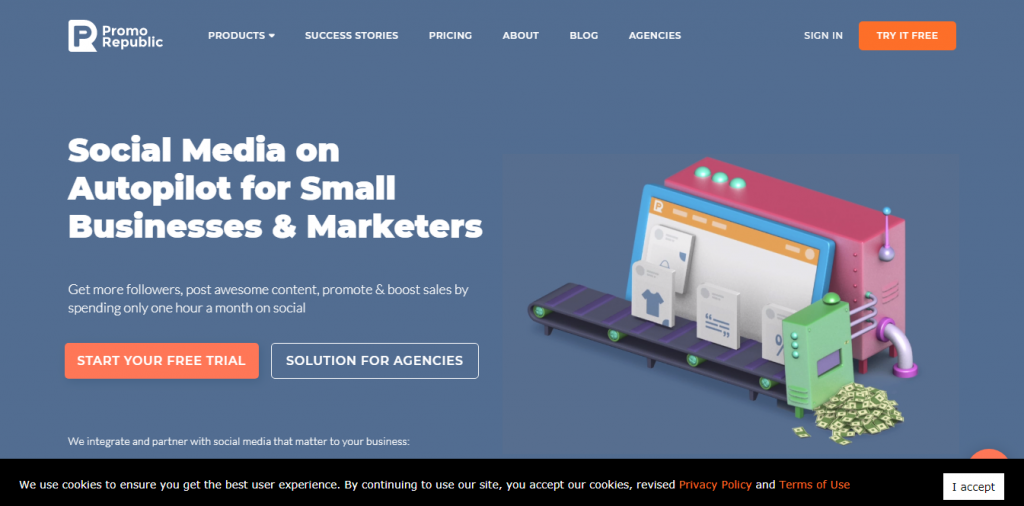 Promorepublic - allows you to not only schedule posts but also create killer content for your social media accounts. The tool currently offers over six thousand handcrafted templates and over a hundred thousand images at your disposal!
---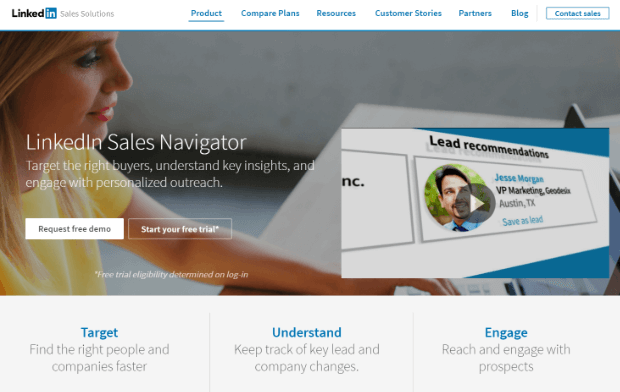 Sales Navigator - use this instrument to view social media profiles, in particular, LinkedIn, and track your activity by getting Gmail notifications. The other main task of Sales Navigator is to help businesses establish their connection with potential customers.
---
SEO - Search Engine Optimization
One of the main reasons why brands get known and respectively increase their sales is their well-thought-out SEO strategy. Keeping your website highly-ranked by search engines will help you gain a solid reputation from potential customers. Now, let me introduce you to the 10 coolest SEO tools that you should definitely add to your arsenal:

Google PageSpeed Insights - Google pays huge attention to how long it takes to download a single website page. The visitors' behavioral factor depends a lot on this factor; if the load time exceeds 3 seconds, the user will most likely leave. Google PageSpeed Insights allow you to analyze the download speed of the separate website pages (both mobile and desktop versions). Besides, the service gives you suggestions on how to improve this indicator.
---

Keywordtool.io - Too lazy to come up with hundreds of relevant keywords for your next SEO campaign? Or you're already aware there exists such services as Keywordtool.io allowing you to save time on keywords generation? Here you will find plenty of useful keywords to specify your niche and help you find target customers.
---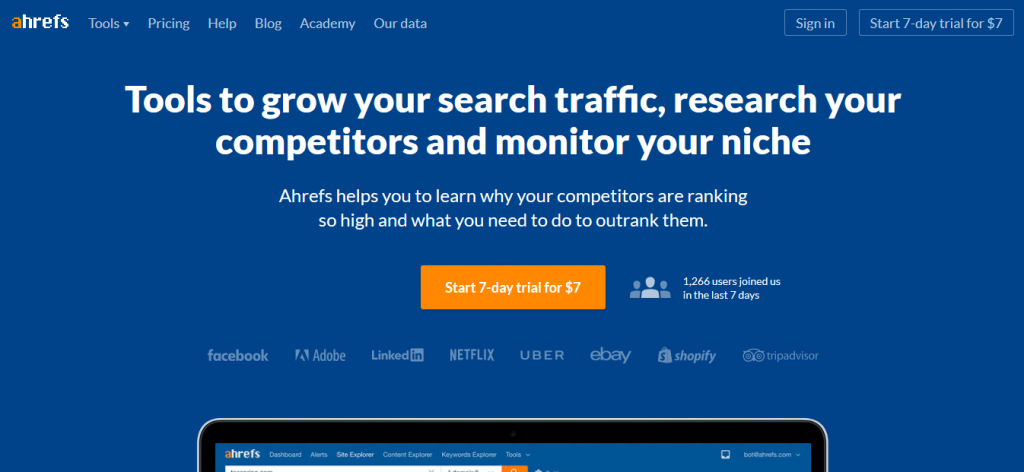 Ahref - Do you need to see how effective backlinks are? Then start working with Ahref free backlink checker. The database with more than 16 trillion links is updated at least once a day allowing you to monitor newly emerging backlinks. Aside from backlinks, you are allowed to check five of the top anchors and most linked-to pages on the target site. This is totally one of the few tools an SEO specialist should use on a daily basis.
---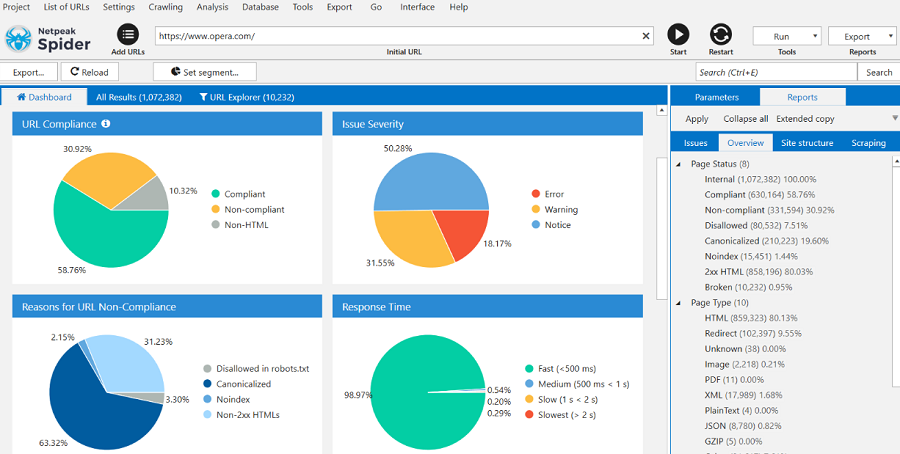 Netpeak Spider is a desktop tool for day-to-day SEO audit, quick search for issues, systematic analysis, and website scraping. It analyzes incoming and outgoing links, finds broken links and redirects, escapes duplicate content: Titles, Meta Descriptions, H1 Headers, and presents all the data in graphics and diagrams.
---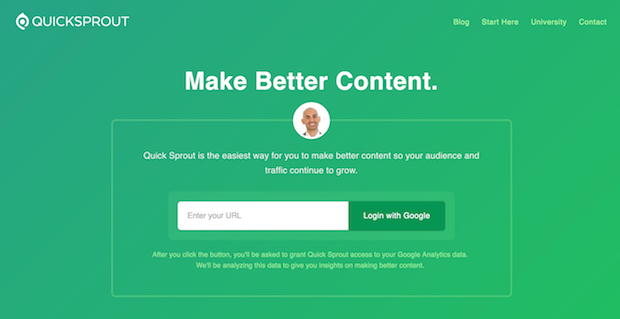 QuickSprout - a free online tool for webmasters to get a quick look at their website insights like SEO, page load options, and the impact of social media. One may also be useful for comparing your site to competitors and finding out why the latter have a better place and what you can do to catch them up.
---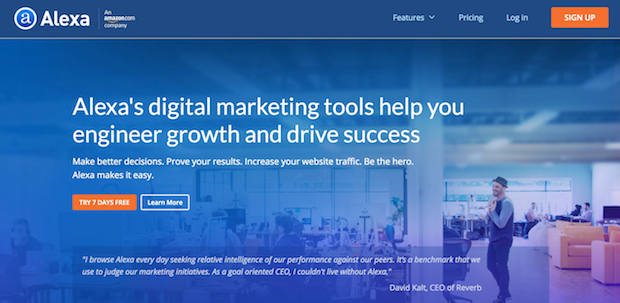 Alexa - although launched back in 1996, this analytical service can still boast of outstanding deep analytical insights. Alexa still remains one of the most useful instruments for website optimization and "stalking" competitors. The service is no longer free, but you can use a 7-day free trial.
---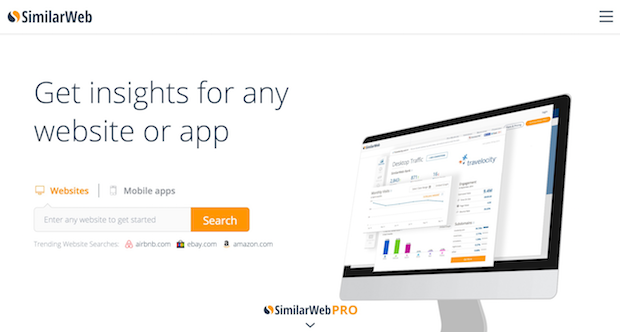 SimilarWeb - Marketing is all about competition and tracking competitors whether they're doing better or worse. When it comes to SEO, SimilarWeb may come in handy - it lets you compare traffic between two different sites. So easy to get exposed these days, huh?
---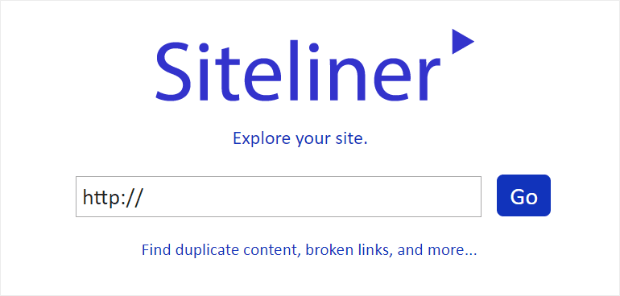 Siteliner - If your site is an oldie or it has a lot of content that you fear can be duplicated (repeated content is super bad for SEO), visit Sideliner. This tool will quickly browse through each webpage to find relevant keywords and share with you the immediate results.
---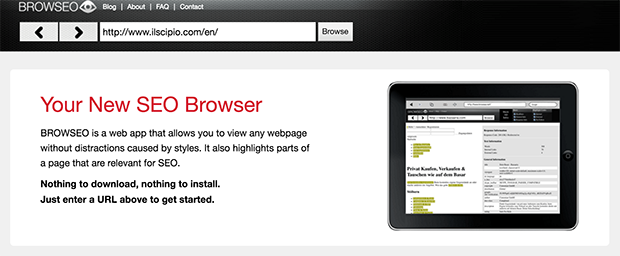 Browseo - a special, effective and, most importantly, free web service allowing you to view websites without any distractions and emphasize on all the website parts that have to do with SEO. Also, the tool has many more features to conduct a deep SEO analysis.
---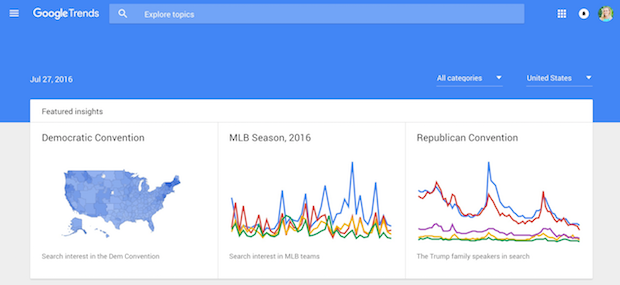 Google Trends - Before using potential keyword phrases, check them in Google Trends. It is possible that some may not be as relevant as some other keywords with much greater potential. As you enter a query, you'll access graphics that should help you predict whether those key phrases will be demanded in the near future. You can also check the relevance of other keywords in the Google Keyword Planner.
---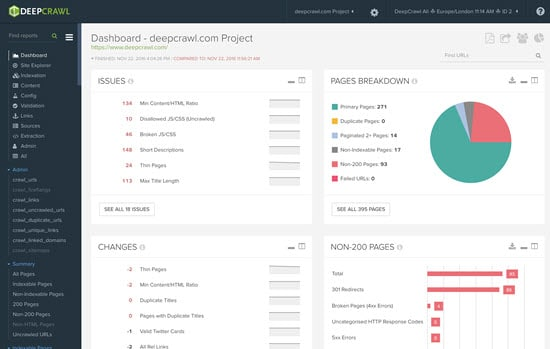 DeepCrawl - the tool for super deep website analysis. The service literally inspects each webpage to provide you with tons of useful data, from the number of H1 tags on each page to the number of external/internal or social media links and so on. For a better perception, all the information is shown in graphics and diagrams.
---
Web Analytics & Report
Nobody can doubt: analytics is the core and the foundation of everything. Not even the smallest $20 advertising campaign can be launched successfully without proper web analytics. So let's talk about the most efficient analytics tools (both free and paid) for all kinds of website traffic.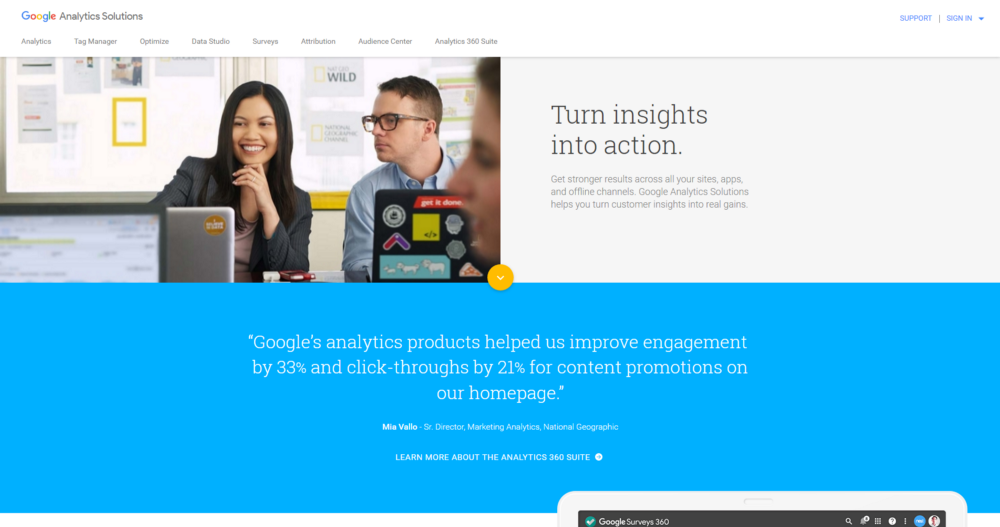 Google Analytics - no need to describe how great Google Analytics is. According to Marketing Land, in 2015 this service had been used by 30–50 million websites! Google Analytics has excellent multichannel sequence reports that show how many times one user visited a site before leaving a request and which resources they come from.
---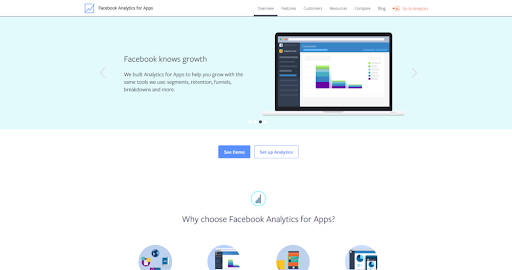 Facebook Analytics - Facebook is about to turn into a single marketing platform, so go ahead and learn how to use Facebook Analytics right now. Many experts consider it one of the most powerful analytic apps. This is where you get all the information about users: demographics, interests, and any other segmentation.
---
Google Tag Manager - a free Google tool allowing you to embed and manage analytics and remarketing tags. Also, it helps you solve other tasks related to making changes in the website code.
---
Crazy Egg - another great easy-to-use tool for comprehensive analytics. Here you can easily generate heatmaps and scroll maps that will show you the exact number of users scrolling through your site and what they click on the most. Besides, Crazy Egg allows you to test different website versions.
---
Clicky - often compared to Google Analytics, this platform helps you monitor online users, the number of visits, the number of actions, bounce rates, organic searches, etc. Nonetheless, Clicky has something that GA does not - its tracking feature works in real time and provides instant results. The service analyzes the audience by such indicators as the country, the number of browsed pages, and the traffic source. Also, there are tools for checking Google positions, monitoring the effectiveness of ad campaigns and heatmaps. To collect statistics, Clicky requires installing an HTML-code.
---
Kissmetrics - this tool can analyze statistical data on the same visitor who may come to your website from different devices. The service makes a record for each user and analyzes the resource he came from, the pages he browsed through, the products he was interested in, and the products he purchased.
Kissmetrics is particularly valuable for e-commerce store owners as well as marketers needing this kind of data to build an effective marketing strategy for better sales. Companies with a large customer base can use the audience filtering function by various indicators (by shopping list or traffic source) and generate emails to send unique offers to certain customers groups. Developers can use the tool for A/B testing.
---
Chartbeat - specialized in advanced data analysis, Chartbeat monitors users' interaction in real time either with the entire website, separate pages or even with page elements. The tool takes into account two major parameters: recirculation (returning to pages, transitions through the site, interaction with the page elements) and engaged time (the time users spend on your website, duration of the web session).
The key innovations offered by Chartbeat are a) editorial real-time analytics; b) focus on user engagement and engaged time; c) dealing with the social "information gap" issue, and d) the ability to track the effectiveness of shared content.
---
Hotjar - a great tool for visual representation of what is happening on the website at the exact time. The list of available features includes Heatmaps, Recordings, Funnels, and Forms. By using Hotjar, you can find out which stage you "lose" customers at during the sales funnel, or why they stop the purchasing procedure. You can also determine which pages poorly convert or do not convert visits to sales at all, and based on this data, make changes in the pages, forms, and applications. Hotjar has a free limited version, but its data may not be enough for a full comprehensive analysis. The minimal subscription price is €29($33)/month.
---
---
Matomo - for those needing a Google Analytics alternative with the ability to store data on your server, I highly recommend using this instrument. Matomo is an open-source solution with the ability to store data locally or in the cloud. Someone can assume it doesn't look as aesthetically pleasing as GA, but who cares when it provides informative data? The entire information is completely under your control and there are no restrictions on the storage volume. You can use the Matomo mobile app to monitor your reports "on the go".
---
Stitch - use this tool when you need to take data from one source (for example, CRM), and convert/save it to another one (Google BigQuery). If years ago writing scripts on your own was the only way to do so, today you are opened to such ready-made solutions as Stitch. It allows you to add data from over 80 sources to your cloud or local database. No need to write a single line of code, which means you've got to save a LOT of your valuable time.
---
Advertising
Ads are how people learn about you and your brand. Make sure you don't screw up with setting up and running your ad campaigns. Try these 5 tools:
Google AdWords - a well-known contextual advertising service with a convenient and simple interface and a variety of tools to make effective ad campaigns on Google. Basically, your website will be displayed in the first position of Google search results page in the "sponsored links" section, as well as on Google partnering websites. AdWords is very flexible: you can set a budget for a certain period of time, limit your ad display to geographic or time frames, and even change keywords or the ad content.
Google AdWords works with the "pay-per-click" system when companies will only need to pay for every click made by users. This means you pay only for those customers who were interested in your offer.
---
Adroll - this tool is specialized in social media remarketing and is a leader among other similar services. Adroll can redirect your visitors to the website through Twitter or Facebook accounts, as well as other social networks. It is considered extremely helpful in re-engaging customers. By using this tool, you can place and personalize ads so that customers could see previously viewed products. It tracks more than 300 different signals and is able to segment visitors and customers based on the products they viewed. All of that significantly increases the number of sales on the website.
---
Adespresso Ads - just another cool service to help get inspired by other companies' ad campaigns. Enter the company's name in a search tab and it will instantly display all the Facebook ads it was or is currently running.
---
Promo - What about video ads? Creating a single promo video for the entire team can take days, if not weeks. You will need to hire professional video makers and graphic designers to do that, right? But what if you have to make a video on your own real quick? Try Promo - one of the most accessible video editors on the market. With a library of over 2.8 million premium videos and licensed music, Promo can help you create high-quality videos in just a couple of minutes.
---
Taboola - native advertising platform - managed to combine plenty of news, articles, blogs, videos, products and other content that users might be interested in. The platform has exclusive access to the top 100 comScore sites such as Business Insider, Bloomberg, The NYT, etc. This is how the platform (particularly, native ads) works:
A potential client visited your site but left it without committing an action.
Then he reads articles on other platforms (news, entertainment, business sports) where the company's ads will be posted side by side as related content.
The user got interested in your ad - he clicked on it.
The potential client has returned to your site and might make a purchase!
---
Email Marketing
Establishing two-way communication between any business and a consumer using email marketing these days is still considered efficient, in spite of many doubts. Each customer receives individual emails describing what the company does, what it sells, etc. The cost of such promotion is minimal, and by getting customers' feedback you can easily estimate their interest or indifference. The tools below should help you prepare a high-quality email marketing campaign:
BuzzStream - one of the most popular email outreach resources meant for automating your routine processes as a marketer. In particular, the platform helps find influencers and makes your communication not only easier but even more effective.
BuzzStream allows you to collect the site data (including contact details) and include it in your personal database, as well as save email templates for subsequent contacts. You can also save data from social networks in case of cooperation with media bloggers. Most importantly, there is no need to work with the email services and track letters from there - all the information remains preserved in the BuzzStream user account.
---
Pitchbox - helps brands to automatically outreach bloggers and influential people in your niche. For companies who cannot afford to invest much in sales and marketing, Pitchbox is a great solution. You will no longer need to hire a team of marketers to build relationships with influencers because the searching and data entry processes are simply automated. Less need for manual labor!
---
ActiveCampaign - this platform combined email marketing, automation, CRM, and sales altogether to turn one into a handy tool for managing email marketing in one place. ActiveCampaign allows you to segment your contacts based on their actions, location, behavior, and social data. One can provide you with a variety of additional data about contacts by only using their email addresses. The tool works well with many third-party instruments and even lets you send SMS messages to contacts directly from the platform.
ActiveCampaign might be a costly option for startups and new companies. Nonetheless, I still believe it's worth the offered options, especially if you want to try advanced automated marketing.
---
Constant Contact - this is not only one of the largest and fastest growing email marketing services in the world, but also the easiest and most understandable for beginners. Here you can easily manage email lists, templates, etc. Each account gives you the ability to track and compile reports. The other features include the ability to share the results on social media, an image library, and 1 GB of storage for your own files.
Constant Contact offers good Live Chat, and fast email/community support. Here you'll find an extensive library of useful online training, guidelines, tutorials, etc. Users can get a 60-day free trial (no need to connect a credit card), although after, the prices for the service start at $20/month.
---
Drip - a powerful email service offering a wide range of email marketing tools convenient for beginners. They provide integration with such popular resources like WooCommerce and WordPress, which makes it easier to add registration forms to your site and gain more potential customers.
What makes Drip a unique platform? It's the advanced marketing automation tool: smart email segmentation, list groups, and many other features allowing you to reach certain segments in your list of emails. The service offers a free trial account for up to 100 subscribers; aside of that, prices start at $41/month.
---
ConvertKit - is a reliable, easy to use, and yet powerful email outreach platform for professional bloggers, authors, and marketers. ConvertKit supports email subscription features using ready-made templates. It also includes the simple management of answering machines. With this tool, you can easily segment your contacts into those who are only interested in a product/service and those who already made a purchase.
ConvertKit offers great email support and has an extensive knowledge base with excellent learning materials. The pricing starts at $29 per month with the possibility of a refund within 30 days.
---
AWeber - offers a wide range of tools for both small and medium businesses. Getting started with AWeber is super simple because it easily connects to most platforms, including WordPress. You get access to a variety of ready-made email templates, list management, autoresponders, and an email tracking tool with detailed analytics. It offers a 30-day free trial followed by a subscription that starts at $19/month.
---
GetResponse - what differs GetResponse from the rest? I'd say it offers some interesting additional features, such as a landing page builder and a platform for making webinars, which is initially synchronized with your contacts. The GetResponse help section is full of free educational materials including videos, webinars, instructions, guides, etc. The service offers a 30-day free trial and then prices start at $15/month.
---
MailChimp - this is perhaps the most popular email marketing service in the world and not for vain. MailChimp provides a very easy-to-use interface with great tools and amazing support. Provides perfect integration with WordPress, Magento, and many other CMS platforms.
MailChimp offers different customizable email templates, voicemail, contacts segmentation into groups, simple tracking instruments, and analytics. It also allows you to customize the time your email will be delivered based on time zones and user geolocation. A free subscription lets you send 12,000 emails to 2000 users. Meanwhile, the least expensive paid plan will cost you $10/month.
---
Autopilot - another email outreach service allowing you to set up automatic chain letters and integrate them with mobile phone messages or messengers.
---
Additional Tools
Yes, as a digital marketer, you will barely need to work with graphic design software or tools that fit none of the above-mentioned categories. But if you learn to use a few simple instruments below, it will help you to easily visualize ideas on your own and complete projects much faster.
Canva
Canva - use Canva if you need to create outstanding visuals for website ads quickly. The tool offers hundreds of design options, from various ad templates to diverse typography options, etc.
---
Flatpack - this one will help you develop a landing page template. Similar to Canva, the tool is designed for non-professionals who need a simple quick design solution for their website. That's why Flatpack lacks any complicated pro instruments that regular users will not handle.
---
Unsplash - out of hundreds of other stock photo providers, I chose Unsplash as my favorite one for a number of reasons. First, it offers TONS of high-quality photos for free, which means you don't necessarily have to pay to get a cool image for the landing page, blog article, ad or an email newsletter. Second, all free images are available to any user without the necessity of a sign up. Obviously, the paid images collection will offer a much wider choice of professional photos on various topics. The decision to pay or not is up to you. All I know, the quality is always great and worth paying for.
---
FreeLogoDesign - although creating logos stands far from the list of regular responsibilities of a digital marketer, be ready for some emergency situations when you'll need to create a logo design ASAP. Obviously, in this case, you'd prefer some easy-to-use and free platforms like FreeLogoDesign. Simply enter your company name, select an industry and the tool will offer you various logo templates. Or you can start developing your own design from scratch.
---
Behance - this service is well-known to graphic designers for being the largest designer portfolio hub in the world. It makes a great place to get inspired by others and not just in web-design but also architecture, typography, motion-graphics, or anything else related to web design these days.
---
Marvelapp - this instrument is great for prototyping and collaborating on apps and website layouts. It is integrated with the most popular tools used by graphic designers and has many interesting features to make your life easier. The good news is, the tool is free.
---
Slack – although considered a controversial tool these days, I would still include it in my list. From my personal experience, Slack is super convenient for team chatting and sending a lot of emails at once. Nonetheless, some people believe this corporate messenger ruins productivity because team members will always end up chatting about things unrelated to work. Whichever side you are on is up to you, but I am certainly a Slack lover!
---
Evernote - carrying a heavy notebook everywhere might not be as convenient as having a great app for storing notes and ideas on your electronic device. Evernote is synchronized on all gadgets so that you can always come back to your writings everywhere. You can also share your notes with other people and work on them together. Other useful features are the ability to scan docs, attach PDFs and images, and save important emails.
---
TimeDoctor - a powerful time tracking software focused on productivity and managing daily tasks. The service will help you improve your time management skills in project management and increase productivity. It is a great tool for tracking the work time of each employee. The web service will help you get rid of the habit to visit unrelated websites and apps that always distract people from their work.
---
Todoist - I've tried a bunch of apps and services to organize my daily tasks, most of them connected to work, and Todoist is by far my favorite and most convenient tool to manage my projects. The first thing that made me fall in love with this planner is that it's super clean. You can highlight different projects in different colors, arrange them in a drag-and-drop manner, and create delegate tasks using "child projects" option. Finally, you can collaborate on projects with other Todoist users and work on them together.
---
---
End of the Line …
Now that you have finally read it all through, I hope you get an opportunity to use at least several out of the 55 digital marketing tools in 2019. Many of these services are not new but still remain demanded and useful on the market due to constant updated and improved features.
In case you have your own favorite picks I have not mentioned in this list, go ahead and share them with me and everyone else in the comment section!
To all digital marketers, we wish you a productive year...and enough sleep 🙂
---
Read Also
6 Significant Digital Marketing Trends of 2019
Psychology of Color in Digital Marketing
5+ Must-Have Marketing Tools for Small Business
Use these Marketing Tools to Optimize Your Website