---
Intro
Not too long ago, the ability to create website pages without touching a single line of code seemed rather mystical. Today, visual builders can replace experienced designers and save your money. It is truly the present technique of website creation. Website builders work on the principle of drag-and-drop: they have ready-made blocks that can be added to the page and edited. Let's focus on two popular WordPress page composers in the context of Beaver builder vs. Elementor Pro.
Editing a site using drag-and-drop principle solves two tasks:
allows you to see what exactly you are creating
reduces the time required to create a website
That is true - dragging and dropping interface components is faster and easier, and you do not have to switch between the user and administrative parts of the site to see the results. Quite often, premium WordPress themes either include the particular website builder or provide a more convenient way to work with it. Website builders are very useful for both beginners and experienced users who create their own sites.
But which website builder should you choose if you have not decided on the theme yet? Which option will allow you to get more opportunities, will be easier to use, learn and support in the long-term development of the site? Let's find out.
---
---
Quick Review of Beaver Pro
Except for a cute Beaver Builder logo, this website composer will help you quickly and easily create a website on WordPress without touching even one line of code. This powerful and flexible drag-and-drop page composer is useful not only for experienced users but also for beginners. According to Beaver Builder reviews, despite the simplicity and accessibility for beginners, the plugin has great potential and amazing features that will satisfy demanding professionals. I will not dig into Beaver Builder free vs. Pro versions today. I will just say that the premium version is great, since it comes with enhanced functionality and more features compared to Beaver Builder Lite.
After you install the WordPress Beaver Builder plugin, you will be able to build pages through the front-end, which gives the advantage to see all the changes in real-time.
All the mockups are responsive. Thanks to widget support, Beaver Builder Pro works perfectly with most WordPress plugins. For example, you can easily integrate such elements as forms, tables, and galleries from other plugins into your page.
Main advantages:
It works with all WordPress themes.
It is possible to add custom CSS styles and scripts.
It quickly creates a page with any type of content.
It easily inserts any number of columns as well as rows and sidebars.
Ability to add animation, audio, video, photo, HTML.
You can change styles, color, and size.
If necessary, it can be installed on any sites that you are working on.
---
Quick Review of Elementor Pro
What is Elementor? Recently, Elementor has gained huge popularity among developers and users due to its excellent functionality and usability. The Elementor Pro version of this web page builder allows you to create high-quality websites with record-breaking speed and any design.
The main feature of instant editing in a live mode with preview does not leave anyone indifferent. Unique professional elements, a history of changes, a library of templates — all these features are included in the package to create beautiful and functional sites.
In regards to Elementor free vs. Pro versions, the premium version comes with powerful widgets and additional functionality for the site. Among them are star rating, image carousel, menu anchor, social icons, call to action, Facebook widgets, and more.
The website builder is compatible with almost any theme with a standard structure for WordPress. If you want to add a custom design to your WordPress website and its content, then this page building tool is the best option.
Main advantages:
Well designed and modern user interface
Elementor Pro includes a number of high-quality templates and blocks.
Seamless design and integration of the forms
Powerful widgets to enhance functionality of the web page.
You can add custom CSS and see a live preview.
You can embed the design template anywhere you want.
Allows you to integrate with WooCommerce having no coding skills.
---
---
Beaver Builder vs. Elementor
I do not want to recommend just one website builder. We all have various website needs, and it is up to you to decide which option is more preferable for your business or personal project. What I am going to do is go through the features for you to decide which WordPress website builder is the winner for you and your situation. Now let's go ahead and compare Elementor vs. Beaver Builder.
Interface
Beaver Builder
Beaver Builder offers a unique interface for its external visual composer. It is minimalistic, clean, and easy to use.
You are doing most of your work from the sidebar on the right. But these sidebar options only appear when you click the button on the top bar so that you can view the page in full-screen mode at any time:
1 — Button to open the sidebar area.
2 — This is a preview of your project.
Text editing allows you to either type directly on the page to edit the text or use the popup that appears: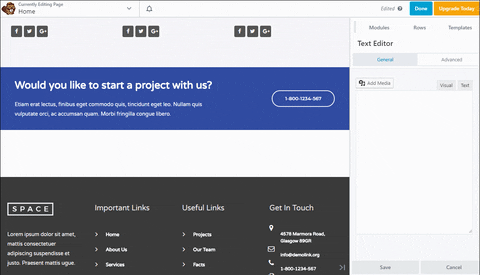 You will find dragging and dropping items quite accurate and easy.
---
Elementor Pro
Elementor's interface is divided into two main parts, with the third area for some smaller settings.
1 - This is a preview of your project. It is shown exactly how your visitors will see your web page. You can also enter text directly into this section, as well as drag-and-drop various elements to rearrange them.
2 - This section shows the list of items you can use. You simply have to drag-and-drop them. Here you can style an element once it is selected.
3 - This section helps you to access page preview, undo/redo changes, etc.
The overall interface is easy to use and does not require any coding skills. At the very beginning, it may not seem very intuitive, but once you get used to it, composing web pages will only take a few clicks.
---
Ease of Use
Beaver Builder
Even if you are new to creating landing pages, it will be incredibly easy to work with Beaver Builder. Just drag-and-drop different items as you wish. The interface of the plugin is very simple and compatible with mobile devices.
Right after launching the Beaver Builder plugin on your website, you can get started. You will not find too many different options in the settings menu, so the whole process will not take much time and effort. Here you can select page templates, modules, and post types.
You can edit all the components through the context menu. After you finish creating the page, you can save it in the Tools menu. In the future, you may use your saved projects as a starting point instead of creating everything from scratch.
Beaver Builder is truly easy to use and powerful web page composer. No hassle, no time, and no coding skills are required.
---
Elementor Pro
The biggest advantage of Elementor is its speed and ease of use. Its interface makes it easy to create custom designs for your WordPress site. Previewing your page while you work greatly speeds up the design process. Once you activate the Elementor, you will see the "Edit with Elementor" option on the page, so you can get started.
Elementor reviews emphasize the ability to work with the page layout and see the changes you make: everything happens in real-time. There's no need to switch back and forth between frontend and backend. Consistency in the editing panel and easy navigation are what differentiate Elementor from other website builders. At the same time, Elementor's interface is not for everyone - it includes a huge number of features and controls.
---
Settings
Beaver Builder
Before you inquire about how to use Beaver Builder, the setting area needs to be adjusted to your needs. The settings panel of Beaver Builder has a number of tabs.
Welcome tab

First steps in using Beaver Builder
Links to communities and support
Summary of changes in the last release plus links to the changelogs

License tab
Here you enter your premium license key to unlock update.
Modules tab
Here you are suggested to check/uncheck modules below.

Basic Modules:

Audio
Button
HTML
Heading
Photo
Separator
Text Editor
Video

Advanced Modules:

Post Types tab
Here you can select the post types you would like the builder to work with:
Templates tab
Decide if you want to add a landing page, content, and custom layout templates to the page.
User access tab
Set up access to various areas of the website builder's interface:

Administrator
Editor
Author
Contributor

Icons tab

Font Awesome
Foundation
WordPress Dashicons icon sets

Branding tab
Agency versions only have a Branding tab, where you can change the name of the Beaver Builder plugin as it appears in the user interface.
Help Button tab
Agency versions only have a Help button tab, where you can customize what your clients see when they click Help.
Tools tab
The Tools tab has a Cache section, a Cache Clearing Tool section (as of Beaver Builder 2.1.5), a Debug mode section, and an Uninstall section.
---
Elementor Pro
Elementor Pro allows you to adjust the following settings.
General

Post Types
Disable Default Colors
Disable Default Fonts
Improve Elementor > Usage Data Tracking

Style

Default Generic Fonts
Content Width
Space Between Widgets
Stretched Section Fit to
Page Title Selector
Tablet Breakpoint
Mobile Breakpoint
Image Lightbox

Integrations

reCAPTCHA
reCAPTCHA v3
Facebook SDK
MailChimp
Drip
ActiveCampaign
GetResponse
ConvertKit
MailerLite
TypeKit
Font Awesome Pro

Advanced

CSS Print Method
Switch Editor Loader Method
Editing Handles
---
Modules
Beaver Builder
The Pro version offers you 30 modules to work with: Beaver Builder mega menu, Beaver Builder WooCommerce, advanced accordion, pricing table, etc.
A few of the other modules include:
Photo
Text Editor
Video
Separator
Accordion
Heading
Button
Call To Action
Callout
Contact Form
Content Slider
Gallery
Sidebar
Icon
Post Carousel
and many more.
They are modular, so you can enable or disable them as needed.
---
Elementor Pro
Another key feature of Elementor Pro is its modules. These elements work like traditional WordPress widgets, except that they can be inserted into your page design and customized using the Elementor Pro page builder.
You have access to 54 advanced elements. Among them are:
Posts
Portfolio
Slides
Form
Login
Animated Headline
Price List
Flip Box
Media Carousel
Testimonial Carousel
Countdown
Facebook Page
Facebook Comments
and many more.
Every module opens a whole world of possibilities when it comes to creating effective pages.
---
Styling Options
Beaver Builder
To create your own modules and sections, you can:
Use a pop-up window by default.
Move the window to the side to create a sidebar.
The exact parameters depend on the module, but usually, Beaver Builder gives you pretty good control over your elements, including customizable intervals and flexible controls.
Beaver Builder also offers a unique switch that allows you to show or hide individual modules based on whether the user is logged into the system.
---
Elementor Pro
When you click on any section, column or widget, Elementor offers three style tabs on the left sidebar.
The exact parameters depend on which element you are editing, but usually, Elementor offers one of the most extended sets of style options compared to other web page builders.
In addition to basic options such as colors, backgrounds, and typography, you can also control more advanced settings such as:
Custom margins/indents.
Custom CSS classes/identifiers. You can directly add CSS styles to individual elements.
Adaptability control. You can show/hide items on particular devices.
---
Templates
Beaver Builder
The premium version of the website builder offers access to about 56 templates as well as the ability to save your own designs as templates.
Professionally designed and highly customizable, Beaver Builder themes will speed up the process of building a web page. In the Templates tab, you will find landing page templates, content page templates, and saved templates which will suit any business needs. When you choose a template, you can either replace an existing layout or append the new layout.
---
Elementor Pro
Elementor Pro features an "Add Template" button which loads the template library. In the Pro version, you will discover about 125 pre-designed templates available.
Templates come in two formats:
Pages as full-page projects that you just need to edit.
Blocks as separate sections that you can put together.
You can also save your own projects as templates and use them later.
The preview option is possible before inserting to your working area. Unfortunately, you are not able to replace the current layout. With the "Delete All Content" option in the settings area you can roll back the changes.
Also, there are separate libraries with third-party widgets and templates for Elementor.
---
---
Pricing
Beaver Builder
Beaver Builder offers 3 plans.
Agency
Pro
Standard
$399
$199
$99
Unlimited sites

Page builder plugin

World-class support for 1 year

Premium modules and templates

Beaver Builder theme

Multisite network settings

White labeling

Unlimited sites

Page builder plugin

World-class support for 1 year

Premium modules and templates

Beaver Builder theme

Multisite network settings

Unlimited sites

Page builder plugin

World-class support for 1 year

Premium modules and templates
30-day money-back guarantee and loyalty discounts are available.
---
Elementor Pro
Elementor Pro pricing depends on the 3 plans available.
| | | |
| --- | --- | --- |
| Personal | Business  | Unlimited  |
| $49 for 1 site | $99 for 3 sites | $199 unlimited sites |
| 1 year of updates and support. All Pro features included. | 1 year of updates and support. All Pro features included. | 1 year of updates and support. All Pro features included. |
30-day money back guarantee and Elementor pro discounts for loyalty are available.
---
Comparison Table
Let's summarize and compare Beaver builder vs. Elementor Pro in the table below.
Feature
Beaver builder 
Elementor Pro
Free version
Yes
Yes
Starting price for Pro
$99
$49
Ease of use
Easy, clean and intuitive
Simple interface, but due to the numerous features available, this option is not for everyone.
Visual builder
Yes
Yes
In-line editing
No
Yes
Most unique feature
Beaver Themer add-on
Embed anywhere
Pre-designed templates
50+
300+
Use with WooCommerce
Yes
Yes
Load Time Impact
37%
28%
Clean code
Yes
Yes
Support
Beaver Builder support offers to submit a ticket in case you are not able to find the answer to your question in the knowledge base.
Premium 24/7 support

Knowledge base

FAQs

Video Tutorials

Who's the plugin best suited for?
Get Beaver Builder if you:

want a tool that's truly easy to use
want full drag-and-drop support
want a set of built-in page templates
want something that allows you to edit your content both in the wp-admin and on the front-end
want to be able to import/export your layouts

Get Elementor if you:

want a tool that's the easiest to use in its class
want a huge number of individual content elements
want a set of built-in page templates
want to be able to import/export whole layouts

Pros

Fast front end page builder
full template & block library
modern design features, gradients, drop shadows
most reliable page builder available
ideal page builder for agencies
white label option

Live front end page editor
website personalization features
template & block library
extensive mobile responsive options
most powerful popup builder
custom headers / footers
post type layouts

Cons
Expensive compared to the other plugins on the list. The cheapest license is $99.
Nested, column-in-column designs can be tough.
---
Conclusion
So, we have reviewed Beaver Builder vs. Elementor. Both Beaver Builder and Elementor Pro abound with their capabilities. But it is enough to take an hour to try the products and choose the right solution.
For the owners of the websites, whether it is a blog, online store, portfolio, or corporate website - Beaver Builder will probably be the best choice. An excellent set of widgets, powerful functionality, as well as convenient and easy navigation guarantee pleasant user experience. For web developers, freelancers, or web studios Elementor Pro will be a more suitable solution.
Still, tastes differ, so do not hesitate to try each website builder and pick up your own winner. Evaluate the features and compare Elementor pricing plans with the Beaver Builder cost. Create, edit, and customize the layout of your website without writing code!
---
---
Read Also
JET Plugins for WordPress Elementor Builder [Review]
WordPress Developers about Elementor Builder Pros and Cons [Is The Game Worth the Candle?]
How to Сhoose the Best WordPress Website Builder?
How to Create a Website [Ultimate Guide]