The cut-throat nature of competition in the globalized economy demands innovative ways of gaining an advantage in the market. Top brands aim for fast recall, even when the name is not integrated into the logo design.
In this sense, a logo can be understood as a graphic mark or emblem that is used to promote and aid public identification and recognition of a product or service.
---
---
Reasons why logos are so important for your business:
Reveal your brand identity 
In the same way that cowboys brand cattle to mark ownership, imprinting logos on your products and merchandise communicates identity. It informs your customers who you are, as well as your services and products.
Invite your customers to know you better
Customers are naturally drawn to colorful and attractive things.
Design your logo to pique interest and bring in potential customers.

Set brands apart from their competition
Professional looking logos are a simple way of separating competing products. Dare to be different.
All these reasons highlight the need for creativity when creating logos. Please note that good logos are uncomplicated, easily recalled, long lasting and flexible. To get the best out of the process, it is often a good idea to hire a graphic designer. However, financial constraints may limit your ability to hire a top designer. If that is the case, there is no need to worry. Free logo makers are there to help companies and individuals produce quality logos without the financial burden.
---
The goal of this guide is to introduce you to 10 of the top free logo services with free logo tools available online.
Here are the best free online logo makers and logo generators
Shopify is one of the top free logo makers on this list.
It enables users to generate logos within seconds, without the need for any technical expertise.
The tool is mostly preferred by online entrepreneurs and small businesses that are just starting out. Shopify comes with incredible stock imagery, as well as a vast library of alternatives.
Downside of the Shopify Logo Maker
some users may not be able to make their ideas come to life fully. There is also the risk of the most popular icons being used by another business, eliminating the element of uniqueness.
---
---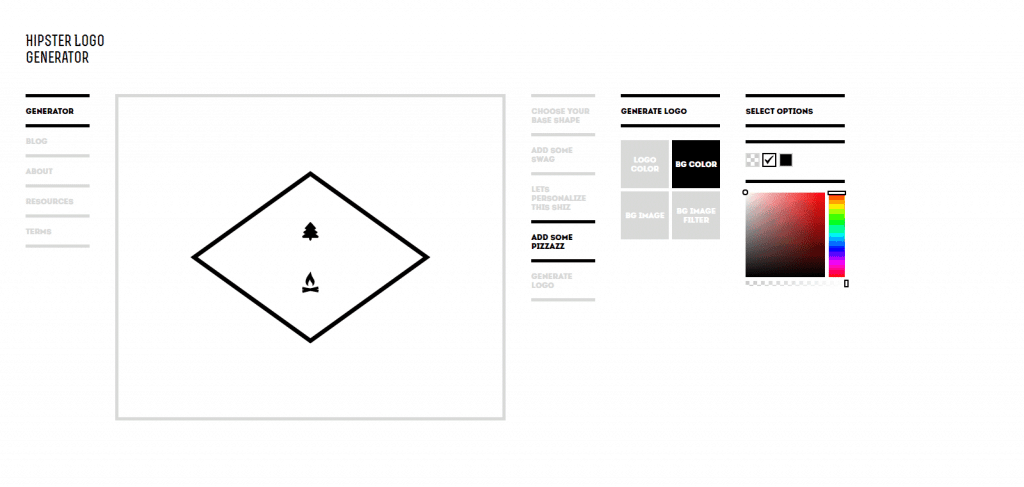 As the name suggests, this free logo maker was developed due to the rampant hipster movement some years back. The logos generated, therefore, reflect the hipster style, and may not be for everyone. However, for companies targeting younger audiences, this may just be the right tool for creating a free logo. It is incredibly simple, and you are merely required to run through the various alternatives before starting to put the logo together. No skills or special design experience are needed. While the free version is relatively low quality, you can export a high-resolution version of the product for a small fee.
---
Ucraft is another useful website for business logos. The tool (logo options) comes as a free application, with various prompts that can be used to develop unique logos. However, some have an issue with the cartoonish logo nature. Make sure that the product appeals to your audience.
The main strength of Ucraft
the possibility of downloading the logo as a free PNG file. The outcome is a transparent, high-resolution image that can be used anywhere. In fact, after creating a logo here, you could pass it on to a professional designer for more refining.
---
GraphicSprings Business is an amazingly efficient free online logo maker. The sheer number of customization fuels the tool's attractiveness for business logos. The features provided are comparable to those afforded by professional image editing programs. It is possible to divide the various types of logos into letter and abstract-based. Even better, you can hire a professional from the website to help create a logo.
---
While Canva is certainly not a dedicated website for logos, it can be an invaluable tool in logo creation.
The goal of the application is to mimic any features that accompany professional design programs.
In fact, users are likely to notice many similarities to such programs as Adobe Photoshop. However, such mimicry does not mean that Canva is hard to use. The app is actually quite straightforward. For instance, it is possible to drag and drop various elements. Canva logo generator also comes with live orientation guides, allowing you to match things as you prefer. There is even a massive catalog of free images that you can adapt for your logos. You also have the option of creating flyers, business cards and social media images. On top of that, there are many free logo templates to guide you. Begin with the free ones, tweaking the colors, fonts and text to suit your company brand. You can download designs as PDF, JPG and PNG. However, a significant drawback of using Canva is the lack of uniqueness as people use the same templates.
---
Zillion Designs is an astoundingly comprehensive tool compared to other free design applications. It offers a host of services, one of which is logo design support. The process is as simple as picking a preferred design, entering the company name and choosing colors along with fonts. You can also add your own designs and shapes to the template to achieve a look that is truly unique.
---
Of all the tools listed here, SquareSpace logo builder is arguably the most controversial. For a long time, the company has been known for its easy-to-use tools for website design, targeting small businesses. However, the recent launch of what has been touted as the best free logo creator has caused jitters among the digital community. There are those who posit that the company is taking away business from brand marketers and designers. Nonetheless, the designs of the logos produced by SquareSpace are simply astonishing. The tool combines the functionality of a simple drag-and-drop system with a slick interface. The products can rival any top design work.
---
Unlike most other websites that only offer a generator, DesignHill also comes with the benefit of a community of designers. The tool has received a number of positive reviews as the best free logo maker. It uses a quick three-step process where you pick a template and tweak it to suit your brand. Alternatively, you could seek assistance from the design marketplace. The design tool prompts you to add as much information as possible. The more accurate the information you enter, the more refined your logo will be. DesignHill also offers design contests, as well as options for locating professional designers.
---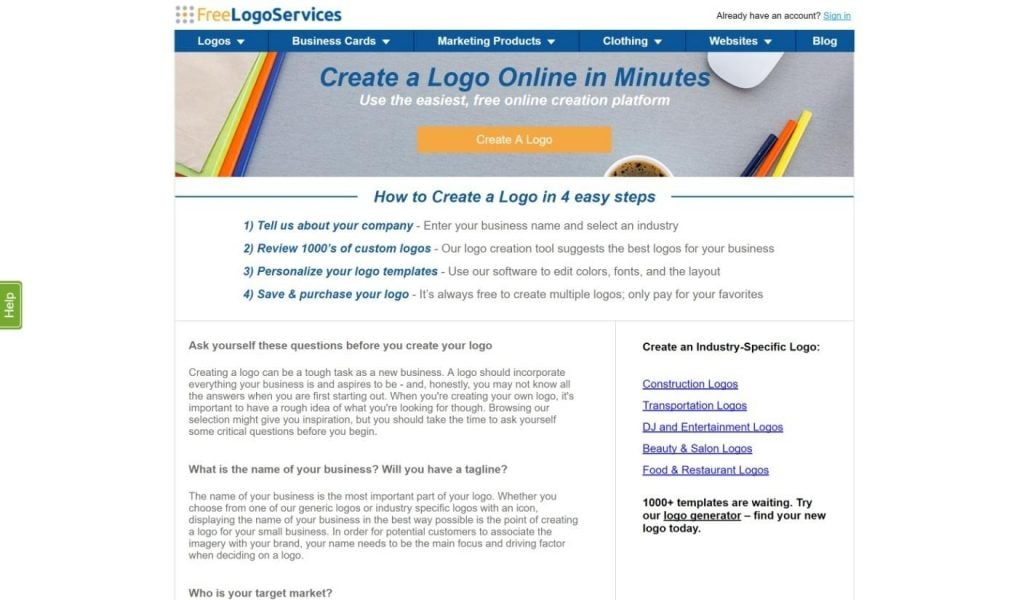 This option has thousands of logo design templates, which you can save for free in the cloud.
The design process begins when you pick your industry and enter the text. There are multiple options between text-based, badge, icon, and initial logos. Once you come across a design you prefer, you can save it and make adjustments as you see fit. The customized design can then be used to create documents and business cards.

---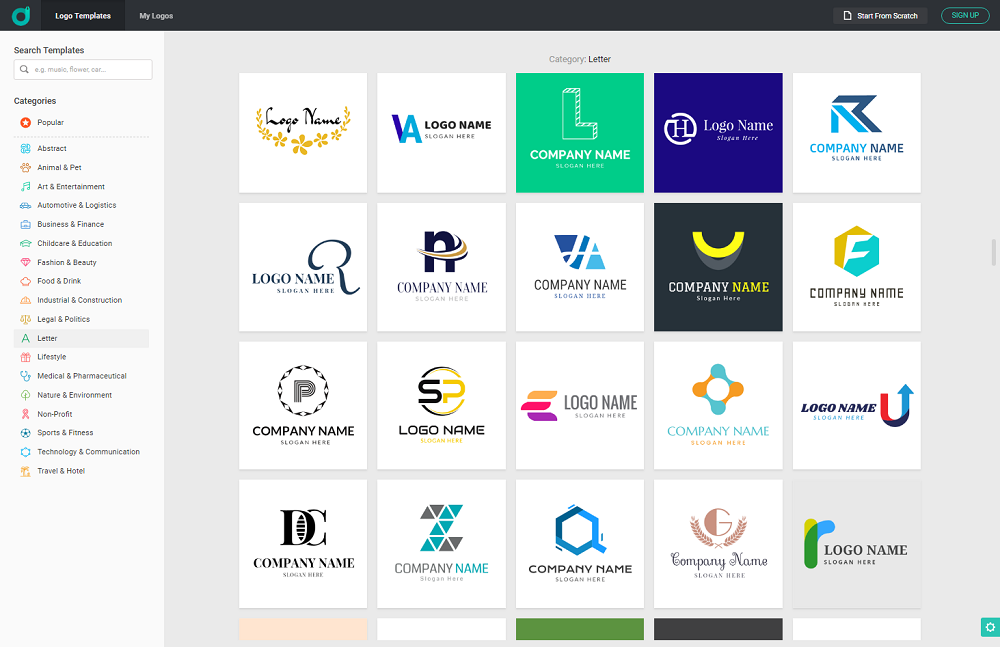 Wish 6000+ professionally designed templates,
DesignEvo
enables everyone becomes logo designer in a few minutes. It is an easy-to-use and versatile logo maker for creating logo with pro look online. Even if you are the first time to use it, you can fully control it with its straightforward interface. Besides, it offers millions of professionally designed icons, 100+ stylish fonts, and many shapes. And all the elements in the logo can be fully customized to get a unique look. You can get high-quality SVG and PDF logo files that can be scaled to any size without pixelating. Perfect for using in print, online and anywhere else.
---
DesignMantic
Logo Maker is an all-in-one logo design platform that not only equips expertise but also integrates AI technology for a comprehensive user experience. It provides you with unlimited logo designs suitable for any industry. Within seconds, you can generate your own logo design. And since the driving force is the AI, you get a professional design at a highly affordable price in a few simple steps.
---
Try the easiest way to create a logo for your business.
In retrospect, a free logo creator is a good way to get professional and quality logos that are reflective of your brand. Although designing can be a challenging process, the online generators highlighted here simplify the process. These options give you affordable ways of creating quality logos without the need for a lot of experience. However, you need to remember the various drawbacks, including low-resolution download quality and compromised uniqueness.
Alternatively, it is possible to get a top quality logo from Weblium.
This is an advanced do-it-for-me website builder that also helps with designing logos. Its professional designers can create a unique and catchy logo for you. All you are required to do is indicate your preferences and then give the team up to 72 hours to design a logo befitting your brand. You also benefit from the 24/7 customer support and 100% money back guarantee.
Contact Weblium for your logo needs
---

---
Read Also
5 Ways to Make Your Logo Design Stand Out
What to Consider When Creating a Logo for Your Website
Top 30 Creative Logo Design Ideas
Crossed "Х" as a Trend. Websites with Hipster Logos