When we come up with a brilliant idea, we want to realize it, no matter what. At least that's what happened to me on my first job. Having worked for half a year, I came up with a cool idea and desperately wanted to persuade big bosses to give the green light for it. They fixed a date for a meeting, where I would present them my potential project, and I started preparations.
---
21 Easy Tips to Create a Powerful Presentation for Your Business [Free eBook]
---
I quickly made a presentation in PowerPoint, ironed my best suit, polished my expensive shoes, and perfumed myself with Clive Christian. I tried so hard, but big bosses were not enthusiastic at all. When I presented my project, some of them even yawned without any embarrassment.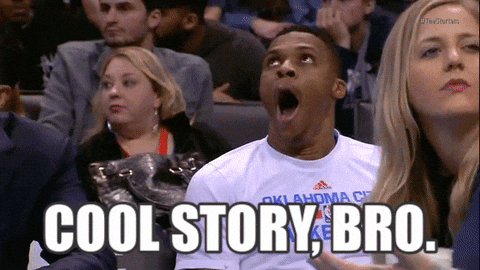 What the hell? I couldn't figure out what went wrong. Then, at a coffee break, I had a heart-to-heart talk with a secretary. She told me that my presentation looked banal and boring even though the idea made sense. To impress big bosses, she advised me to use ready-made best PowerPoint themes designed by professionals who knew their business.
Honestly, I'd never heard about those tools before. When I found them on the web, I understood why everyone disliked my presentation. So, now I am speaking to those of you who have a smart idea and seek for approval. Guys, learn from my mistakes. Otherwise, you are doomed to rejection.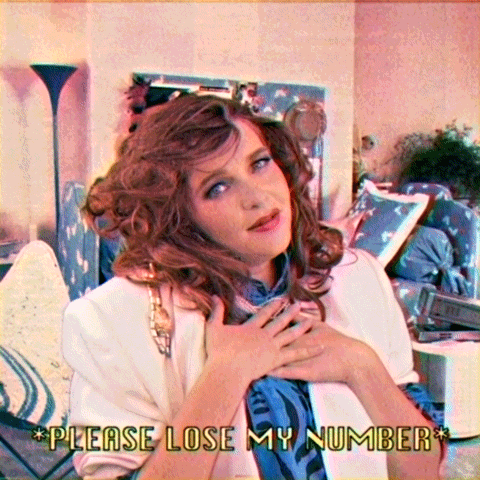 Take a look at awesome professional PowerPoint templates that will help you make an impactful presentation of your project. The cool thing is that you need neither PowerPoint skills nor additional software like PhotoShop to use them. You can resize the graphics without quality loss, change colors with a single click, drag and drop your images.
Is there anyone who can't drag and drop in the XXI century? I don't think so. Take your chance and create an impressive presentation with the best cool PowerPoint templates of 2018.

---
Top 22 Cool PowerPoint Templates 2018
---
Loading PowerPoint Template
With this PowerPoint design, you can take the audience on a joyous trip throughout your business goals, strategies, clients, awards, locations, comparison reports, etc.
In the package, you can find 90 unique slides of 16:9 HD, 33 THMX colors, and 4000+ icons. All the template shapes are vectors. To add your screen images to mockups, you can just drag and drop them there.

---
Every Minimal PowerPoint Template
This print-ready PowerPoint theme is all about minimalism and elegance. With its help, you can take advantage of 80+ unique slides of 16:9 ratio, 800+ vector icons, 24 colors, 50+ device mockups, free fonts, documentation, etc.
Drag-and-drop object placeholders and resizable vectors will make it a breeze to create a unique presentation. You can make it feel dynamic with animated transitions between slides. This clean PowerPoint template lets you choose whether to keep your presentation in the dark or light tone.

---
Edge PowerPoint Template
Edge is among the best PowerPoint templates that can take your business presentation to a higher level. It comes with a modern icon pack, 50 unique slides of 16:9 aspect ratio, 20 color themes, help guide in PDF, etc. There are also 40 Master Slide layouts available both in the dark and white versions. This drag-and-drop PowerPoint template makes use of Myriad Pro and Calibri fonts that your OS has by default.
---
Miracle PowerPoint Template
This nice PPT template will help you work miracles with your presentation, just as its name suggests. It comes packed with 50 unique slides of 16:9 ratio, three color themes, and a file with instructions.The font used in the template is Open Sans. Regarding customization, you can change the color, size, and shape of any object with no quality loss. To modify charts, just choose the necessary one and edit it in the table. It doesn't matter whether you use PPT or PPTX, the template supports both versions of the software.
---
PRO Multipurpose PowerPoint Template
Here's one of nice professional PowerPoint templates with a minimal, elegant, and thought-out design. It gives access to 88 unique slides of 16:9 HD, non-standard fonts, and detailed instruction. The template is easy to use due to its fully editable objects. You can change their colors, sizes, and shapes in two clicks only, edit graphs and charts in tables, add images to slides by dragging and dropping, etc.
---
Xpress PowerPoint Template
Xpress boasts a cutting-edge design with cool geometric shapes. This awesome PPT template comes in a feature-rich package with 60 unique slides of 16:10 and 16:9 ratios, 500 font icons, 150 color options, maps, charts, diagrams, tables, etc. For greater dynamism, you can spice up your slides with parallax animations. This ultramodern template will help you create an unforgettable presentation in PPT and PPTX.
---
Wava PowerPoint Template
Wava is a cool PowerPoint template for PPT and PPTX. It features 72 unique slides of 16:10, 16:9, and 4:3 ratios, 150 colors, 500 font icons, unique smart objects, infographics, charts, etc. You are free to choose from two versions of the template, i.e. dark and clear. Shapes, fonts, icons, scales, colors, and graphics of the template are fully editable. A one-click color changer and drag-and-drop elements make it easy to customize the default design to your liking.
---
Pitch Pro PowerPoint Template
Need Microsoft PowerPoint themes designed in line with the latest trends? Check out Pitch Pro with 100+ unique slides of 16:9 ratio, 500+ vector font icons, and 150+ color options that you can change with a single click. All the graphics are fully editable and resizable. Due to an image placeholder, you can add your photos to slides by dragging and dropping. This awesome template is meant for both PPT and PPTX versions of PowerPoint.
---
Mirror PowerPoint Template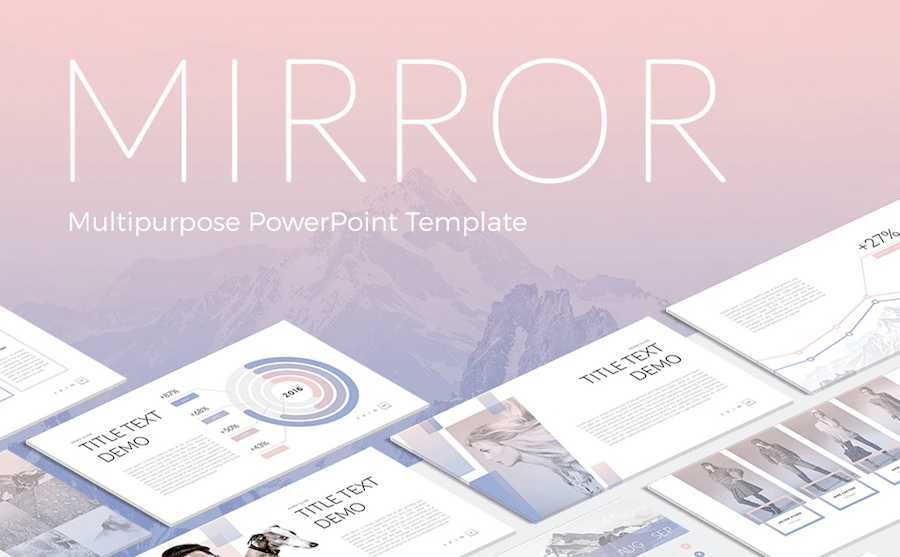 Mirror has a universal PowerPoint design for various fields, whether you're involved in marketing, finance, education, or any other niche. Its package provides 40 unique slides of 16:9 HD, ten color themes, icon font, and easy-to-edit objects. The template is meant for PPTX version of the software and supports dragging and dropping.
---
Jameela Beautifully Creative Presentation PowerPoint Template
Jameela is another good, bright and creative PowerPoint template available in PPTX, PPT, and THMX. You can experiment with 50 multipurpose slides, 36 Master Slide layouts, custom animations, and a variety of color themes. The template also makes use of free icons and font. It is ready-to-print in A4 and US Letter sizes. Thanks to a quick guide, you will create an excellent presentation in no time.
---
Corporate Report PowerPoint Template
With this template, you can create a corporate report addressing many aspects of your business. It contains 500+ unique multipurpose slides of 16:9 ratio.
Charts, graphs, counters, lists, timeline, video slides, section breaks, - there's everything you may ever need for your project presentation. The template is designed for users of PPTX.

---
Alva Process PowerPoint Template
The next of professional PowerPoint templates to impress your audience is Alva Process. There are many things to benefit from this template. They include 20+ unique slides of 16:9 ratio, 20 color themes, modern icons, 14+ Master Slide layouts in the light and dark tones, etc. The fonts used in this design are Montserrat and Calibri. A help file will guide you in the right direction if you don't understand something.
---
Simplicity PowerPoint Template
If you want to keep your presentation bold and straightforward, this template is what you need. It features a drag-and-drop option to replace default images with yours. In its package, you can access 130+ unique slides of 16:9 and 4:3 ratios, 25 color themes, 700+ vector font icons, and step-by-step tutorial in PDF.
Infographics, maps, and other elements are resizable. Each object of this good simple PowerPoint template has a custom animation. You can print slides of your presentation in the US letter size of 8.5 x 11.

---
Geometry PowerPoint Template
Create a tasteful presentation of your company using this fully animated template with a classy design. You can use 56 unique slides of 16:9 and 4:3 ratios and 4000+ vector icons. The template was built with Slide Master and comes in PPTX and PPT. All of its shapes are vectors, which means you are free to edit them the way you like. An image placeholder lets you drag and drop your images.
---
Altezza PowerPoint Template
Altezza is a multipurpose template to present your project with flair. It provides 120 unique slides of 16:9 aspect ratio, 60 color options, 4500+ premium vector icons, 250+ free vector icons, and seven font combinations. There is also a custom animation for each object. The template was built on the Golden Modular Grid and is based on Master Slides. All the elements are easily customizable even for those of you who have never used PowerPoint before. You can also edit charts in Excel.
---
Heyra PowerPoint Template
Heyra is a thoughtfully crafted template flavored with subtle animation effects. You can make use of 57+ unique slides of 16:9 aspect ratio and 4K resolution, 4 pre-made color themes, 200+ icons, and free fonts. When using this template, you'll find lots of layout options, fully and easily editable content, and image placeholders.
---
Perfect PowerPoint Template
Looking for creative PowerPoint templates to engage the audience with your presentation? Try this lively design that makes skillful use of colorful elements on a clean background. The template's package contains 165 unique slides, 60 color schemes, 4,000+ vector icons, infographics, charts, and much more.
Slides fit different aspect ratios, particularly 16:9, 16:10, 4:3, and A4 HD widescreen. You can keep your slideshow both animated and non-animated.

---
Complete Business Presentation PowerPoint Template
Here's one of good PowerPoint design templates that are universal for both small and big companies. With this template for PPT and PPTX, you can create a detailed business presentation. Its value is a large pack of 100+ unique, fully customizable slides with drag-and-drop elements. With their help, you can present different types of analysis, business models, proposals, market insights, investments, consumer behavior, strategic planning process, and much more.
---
Summer PowerPoint Template
Is your project related to leisure, traveling, and entertainment? Here's a vibrant design custom-made for you. The template has 115 slides of 16:9, 16:10, and 4:3 ratios and 150 color options. You can apply colors to your presentation elements with a single click. If you need a print version of your presentation, the template supports A4 and Letter sizes.
---
Inspirational PowerPoint Template
Inspirational is an ideal option for making a compelling business presentation in a short time. You can express your ideas on 58 unique slides of 16:9 aspect ratio and 4K resolution. As the template is based on Master Slides, it will be easy-breezy to add pictures to slides. Slides are available in the dark and bright versions, and you can also set elegant transition effects between them.
---
Layer Infographic PowerPoint Template
This template is a perfect option to explain your business processes with the help of infographic slides. The package includes 17+ unique slides of 16:9 aspect ratio, 20 color themes, a pack of modern vector icons, and a help guide. There are also 14+ Master Slide layouts to use in the light and dark versions. Regarding typography, you can use Montserrat and Calibri fonts. All the vector elements are fully editable and resizable.
---
Memento PowerPoint Template
Memento is the last on my list of trendy themes for PowerPoint. Its package includes 130+ unique slides of 16:9 and 4:3 ratio, 25 color themes, 700+ vector icons, and PDF tutorial. A drag-and-drop option, resizable graphics, and charts editable in Excel contribute to the template's usability. You can print your slides in the US Letter size of 8.5 x 11.
---
Here we are. You've just looked through the best PowerPoint templates to use in 2017. You can use them for multiple purposes, whether you want to present your portfolio, business proposal, annual report, market trends or anything else. Each template has its zest. Some of them look minimal and elegant, while others are vibrant and extraordinary. Your choice must depend on your niche, corporate style, and the message of your presentation.
Besides attractive visuals, these good PowerPoint design templates are easy to use and edit. You don't have to be a genius to adapt their default looks to your needs. You'll come up with an effective presentation in no time. I wish I had these template at hand a few years ago... But you're luckier than me.
P.S. Don't let your friends screw up their presentations as I did. Share these cool PowerPoint templates with them on social media.