Gone are those days when dance floors were full of young people with funky hairstyles, heavy makeup, and neon nails.
Being a kid of the 90s, I've never had a chance to experience what the 80s charm was all about. Nevertheless, that decade has always fascinated me in many ways, from Michael Jackson's whimsical moonwalk to Madonna's bold looks. Today everything feels more reserved and dull.
A week ago I passed by a local nightclub and saw a poster advertising a party in the 1980s style. There's no way I could miss such a chance to dive into that atmosphere. So, I got a mullet hairstyle, put on a cropped jersey and acid-washed jeans, and went to the club. I don't want to be a boaster, but I looked as hot as Johnny Depp in his youth.
I don't want to be boastful, but I looked as hot as Johnny Depp in his youth.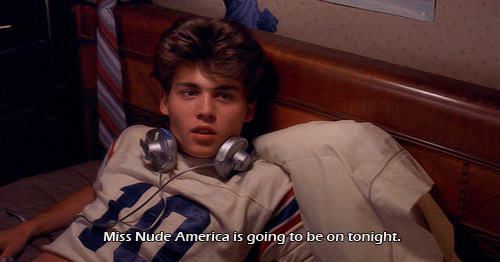 Unfortunately, neither my hot looks nor my energetic dance moves could save the party. It was a total flop. Besides pop hits of the 80s, there was nothing that would bring back the feeling of those years. If I had put on my headphones or suddenly become deaf, I wouldn't have been able to distinguish that 1980s style party from any other. The people who organized it didn't give a damn about following the 80s design trends, neither in terms of the club interior nor regarding the waiters' dress code.
Are you planning an event or working on any other project related to the 1980s style? Let me share the best 80s graphics to decorate your settings with visual flashbacks to that decade. This roundup includes everything you may need, be it an 80s font for your text, a pattern to support your content on the background or a flyer to create an invitation to your event. Now, scroll down, choose a 1980s design item, and download!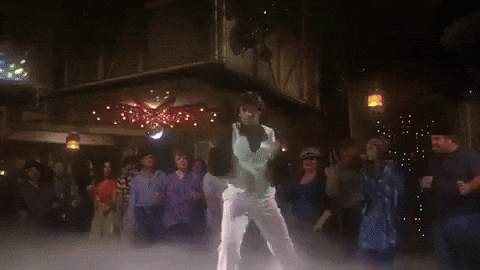 Important! Note that this trend has been revived in a somewhat modernized version and found its way into web design. As an example, check out a bunch of design and photography templates that match the 80s graphics presented below.
---
Free 80s Fonts
View 10 free 80s fonts that you will help you create retro typography for posters, T-shirts, videos, 1980s logos, etc.
This free retro 80s font was made as a tribute to the popular comedy of the same name "Porky's."
---
This free
80s
font was inspired by
Samurai
movies that all guys were nuts
about
during that decade.
---
This free font was stylized as Pac-
Man
, a classic arcade game
to which
many kids of the 80s were addicted.
---
Here's another 80s style font that you can use for free in your personal goals.
---
The designer of this funky 80s typeface found inspiration in the 1987 Pinto. It's available both in Regular and Italic.
---
This rounded-square font is based on a classic laserdisc video game, Astron Belt. You can use it not only in Regular and Italic but also in shaded and striped styles.
---
This round, chunky 1980s font conveys all the sweetness of juicy bubblegum that filled all the kids' mouths during those years.
---
This hand-drawn font resembles the 80s skateboarding culture. It comes with both uppercase and lowercase letters.
---
This font was designed as a spin-off to the math book of 1982, Mathematics for Mastery.
---
This chubby 80s font will help you give a polished look to your typography.
---
Would you like to create your own typography-based logo in the 1980s style? Do it with ease using this free 80s logo generator. The whole process works in three easy steps: pick the font, choose the background, and add your text. That's all. You will be able to download your 80s logo in large, regular, and small sizes.
If you don't want to bother with this free generator, check out the best logo templates to create professional designs blazingly fast.

---
1980s Style Flyers and Posters
Look through the best free 80s graphics to create brochures, flyers, and posters in no time.
---
---
---
---
---
---
---
---
---
---
1980s Style Patterns and Backgrounds
Support your content with these creative 80s graphics including patterns and background images.
---
---
---
---
---
---
---
---
---
---
80s Graphic Elements
Here's a large collection of elements with which to decorate your projects. Here, you can choose from colorful, flat, hand-drawn and many other varieties of 80s graphics.
---
---
---
---
---
---
---
---
---
---
Although the days of bold makeup and quirky clothes are gone, you can still add the 80s flair to your projects with these freebies. Here, you can find 80s graphics of multiple types, from fonts and stickers to background images and brochures. There are also multiple elements including lollipops, old cassettes, vinyls, VHS, floppy disks, and many other items peculiar to that decade. Simply choose the graphics suited to your taste, download them for free, and use them with pleasure. Also, feel free to share your projects with us and our audience in the comments to this post.
---
P.S. I bet some of your friends are looking for creative resources to experiment with. Don't hesitate to share this roundup of 80s graphics with them on social media.
P.P.S. In our Design studio templates you will definitely fiond some 80s motives.
---