When it comes to custom shapes, I can't stop remembering my drawings from childhood. All kids in the yard had a competition in designing the best shape. We drew ships, cars, people, ornaments, and more to get the right to be called a creativity master, lol. However, today's innovations make things much easier, hence, you can easily enrich any web project with a large number of free Photoshop custom shapes.
By the way, custom shapes were introduced in the 6th Photoshop edition, they allow you do much more with vector graphics than a pen tool. Photoshop custom shapes are very useful, if you do not have an appropriate brush you can use a readymade custom shape preset. Shapes differ from brushes greatly they can be easily scaled to large sizes without loss of quality and sharpness.

---
---
---
We gathered 1500+ custom shapes, only the most impressive ones and they can be downloaded for free. When downloading, do not forget to read terms of use according to designer guidelines. Here is a tip on how to upload custom shapes: Open your Adobe Photoshop then Edit > Preset Manage > set Preset type to Custom Shape > click to load > Browse and select your favorite Custom Shape set and then click done. Once you uploaded you custom shape you can change its size, color layer style with just several mouse clicks.
This roundup includes following categories of free Photoshop Custom Shapes:
People
***
***
***
***
Geometric
***
***
***
Vehicles
***
***
Animals
***
Logos
***
Arrows
***
Lines and Flashes
***
***
Media
***
***
***
Flowers
***
***
Other Shapes
***
***
***
***
***
***
***
***
Email (Envelope) Photoshop Custom Shapes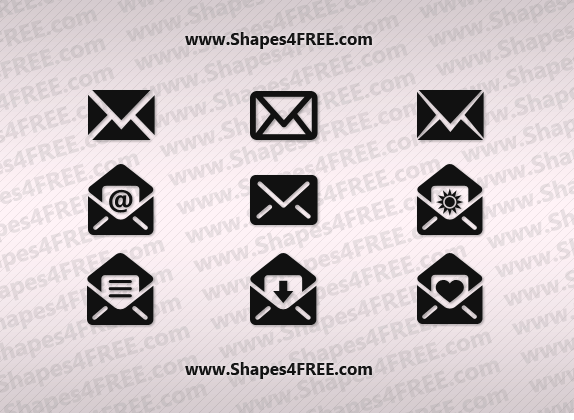 ***
How do you like these shapes? Small wonder that now we need some Photoshop skills and a number of worthseeing custom shapes to become a creativity master. Anyway, we should take all advantages of new technologies for composing mind-blowing goods on the web. Do not forget to share this post with your friends to help them replenish their custom shapes collection!