It takes Herculean efforts to create a business presentation that would spark investor's interest in your ideas, right? And if you use the software that's totally new to you, the process may never get off the ground. That's what happened to me when I bought my first Mac. It was like learning a right-to-left language. Everything looked so different from Windows that I even googled how to make a screenshot.
Ironically, at that time I had to present my new project to the big boss ASAP. As I found out, there was a special program for that on Mac, i.e. Keynote. When I opened it and tried to create a presentation from scratch, I got stuck. I had no time to master a new program along with a new operation system, which is exactly what Mac was for me back then. The deadline was too close. And I had to focus on how to persuade my boss that my business story didn't suck.
With the purchase of Mac, I got used to googling a lot, so I started looking for something that would ease my pain. Quite shortly, I stumbled upon ready-made Keynote templates and read a lot of positive feedback about them. So I downloaded a few templates for free and didn't regret a single moment. All I had to do was to replace the default text with my own content and drag and drop my pictures. That's all I did. The coolest fact is that it took me only like ten minutes. If you are not new to Mac and Keynote, you will do the job even faster.
Today, I want to share a roundup of 30 Keynote templates to create a professional presentation in minutes. Here, you will find both premium Keynote designs and a lot of freebies. It's up to you, which one of them to use so that it wouldn't affect your budget.
---
Premium Keynote Templates
Let's start with premium Keynote templates. They come packed with multiple ready-made slides for multiple purposes. You can present anything from your business mission and values to analytics and location-based data. There are also icons, infographics, charts, animations, and other tricks that will let you add zest to your presentation.
Geometry is one of the best Keynote templates built with Slide Master. As its name suggests, this design makes skillful use of geometric shapes that will give an edgy look to your presentation. There are 56 fully animated, widescreen slides that you can easily customize with your own content. As a bonus, the template provides a massive pack of 4000+ vector icons for any need.
---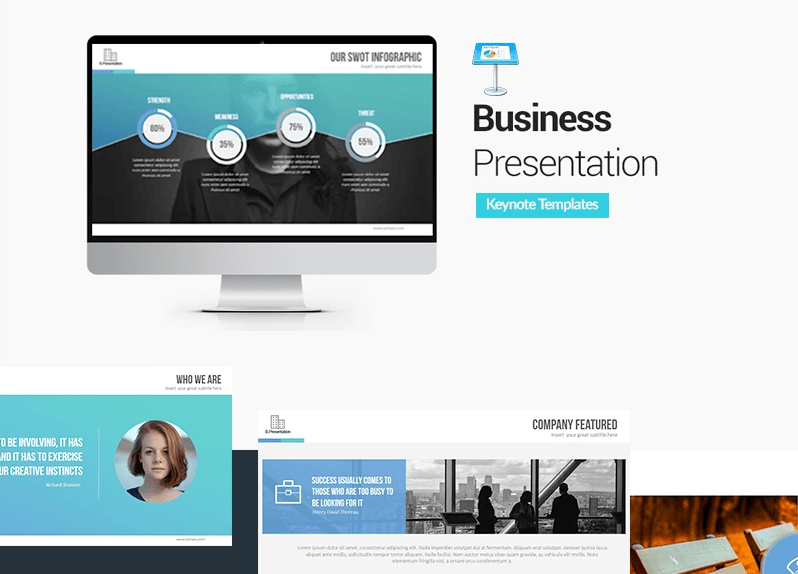 Create an unforgettable Keynote presentation in minutes with this professional template. Its rich package contains 100 unique HD slides, each of which is available in ten colors on white and dark backgrounds. That way, you'll get a thousand ready-made slides for a single price and a set of multiple vector icons.
---
---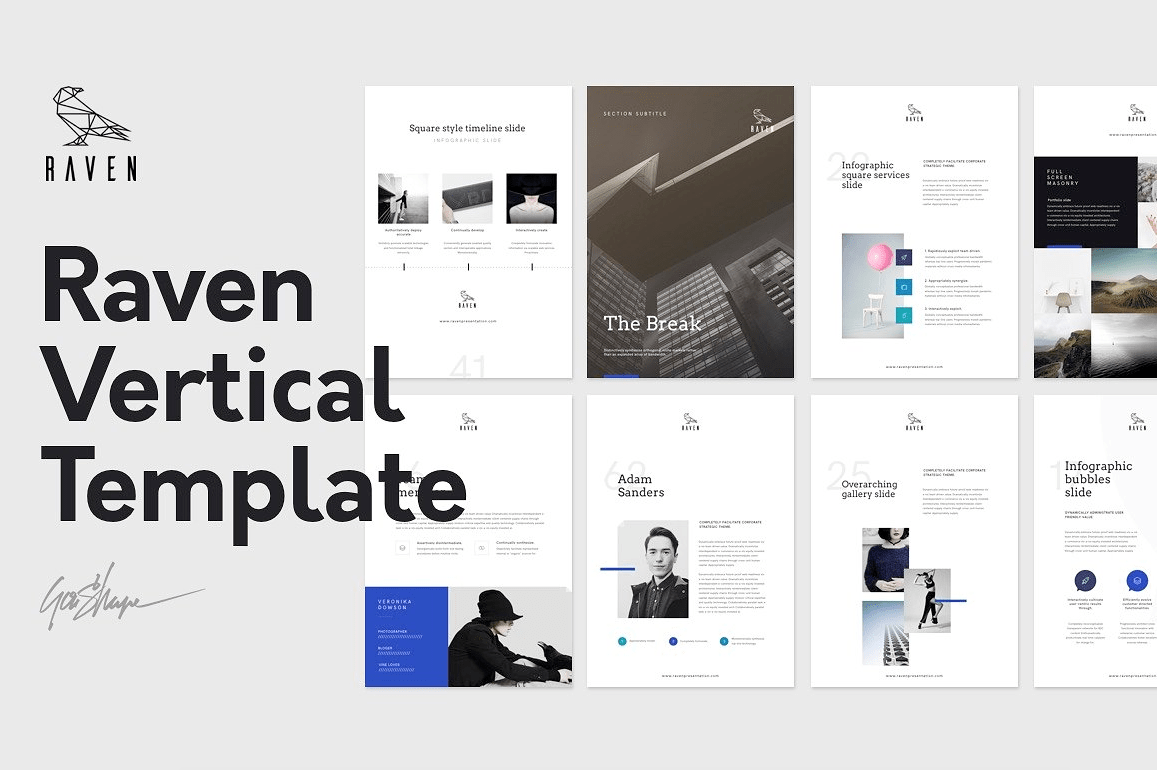 Looking for vertical Keynote themes? Check out Raven with 68 retina-ready slides. They will come in handy for different purposes, from a company profile and masonry portfolio to services and team members. You can print out the slides in A4. 400+ icons, unlimited color options, free fonts, resizable vector elements, - there are many things that will help you create a brilliant Keynote presentation in no time.
---
Epic is a multi-purpose Keynote template that consists of 55 skilfully animated slides in 16:9 ratio. There is also a set of ready-to-use Font Awesome icons to enhance your presentation. You can edit, remove and resize all the template shapes without any quality loss since they come in the vector format.
---
Attract investors to your project with Desire. This powerful Keynote template will let you play with 100 elegant slides in full HD resolution. You will be able to supply them with some of 200 editable icons, free fonts, effective infographics, sleek animation effects, and much more.
---
Symbolis is a stylish Keynote template packed 40 slides in 16:9 screen ratio. A tender palette brings the info to the forefront and provides an eye-friendly experience. Thanks to Master pages, the template is easy in customization. All the content is editable. If you need some guidance, there is also a help file in the package.
---
BizPro is a cutting-edge Keynote template with 105 full HD slides and 620+ font icons. As all the objects, e.g. maps, devices, icons, etc, are made in Vector, they are fully editable. You can change their coloring, size, style, etc. As a bonus, the package contains ten high-resolution photos that you are free to use for both personal and commercial purposes.
---
Assume is a printable Keynote template for start-ups, small- and medium-sized companies. It provides 84 vertical slides in 175 DPI (210 × 297 mm). Creative animations will help you engage viewers with your Keynote presentation as much as possible. Moreover, you can take advantage of 200 vector icons, stunning fonts, world maps, and device mockups with drag-and-drop screen placeholder.
---
Axa is an easy-to-use Keynote template for 09 and 6 versions of the software. Its package contains 90 widescreen slides with smart charts, maps, gallery, devices, Gantt diagram, SWOT analysis, and much more. You can edit all the shapes, colors, fonts, and other graphics. There are also 500 free font icons to visualize some portions of text in your presentation.
---
Quark is a Keynote template designed to showcase any types of products, from furniture to handmade jewelry. There are 100+ unique slides, 630+ Font Awesome icons, 18 device mockups, unlimited colors, free fonts, documentation, etc. You'll also like automatic numbering of slides, dynamic transitions between them, and an overlay picture effect. Quark comes with free bonuses, i.e. a resume template and banner logo creator.
---
Free Keynote Themes
Here's my favorite part of the roundup - free Keynote themes. Although these freebies don't have as many slides as premium templates do, they still provide high quality and elaborate designs.
If your presentation is based mainly on the analytical data, this free business Keynote template is just the job for you. It comes with everything you need to organize the info in an easy-to-understand way. There are interactive graphs, charts, tables, and even maps if you want to present some data on a national or a worldwide scale.
---
IRIS Free Presentation Template
If you want to step aside from typical gray presentations, grab this bright and creative Keynote template. You can experiment with 20 slides featuring powerful infographics, charts, and other elements that will give an edge to your presentation.
Download Here
---
Check out one of the best Keynote presentations to use for free. It provides 50 elegant slides of 16:9 and 4:3 ratios that look equally well on iPads and high-resolution displays. Each of them comes in three color versions, namely blue, emerald, and yellow. It means you'll get 150 slides in total, without spending a cent. Some slides present the info on a clean, light background while others use a subdued full-width image for this. The template also supports animation so that you could add some vigor to your presentation.
---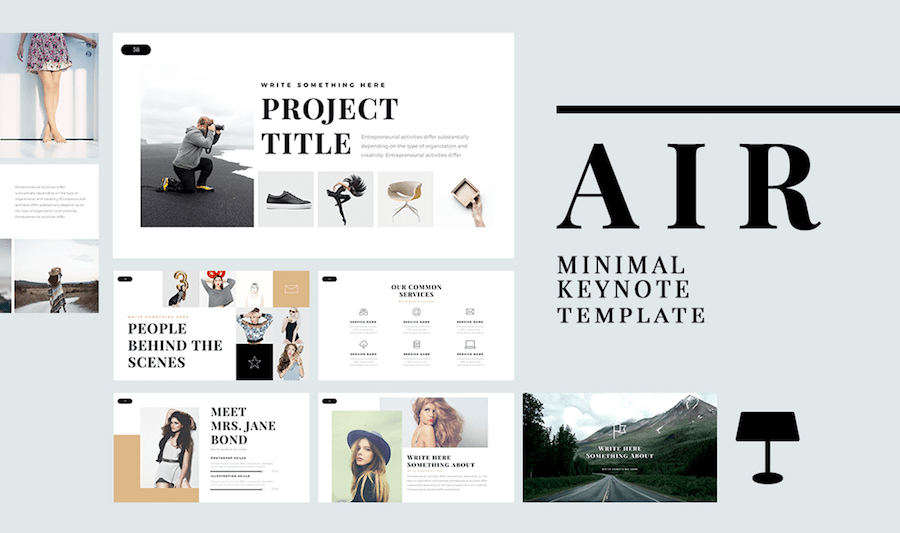 Air is a free Keynote template designed in the minimal style. It will keep your message clear and straight to the point. With this freebie, you can present your ideas in 10 different layouts of 16:9 ratio. No matter whether you use 06 or 09 version of Keynote, the package contains files for both of them.
---
Present your information in a tastefully simple yet elaborate way with this free Keynote template. It has 10 modern HD slides for a welcome message, latest works, staff, iPhone and iPad projects, etc. Thanks to the light background, your content will always be in the limelight.
---
Optimize the content hierarchy of your Keynote presentation with this freebie. It has multiple elements for this, from tables and comparison diagrams to maps and icons. Its ready-to-use slides serve different purposes including a business mission, team, services, pricing, locations, step-by-step processes, etc. The slides come in 16:9 and 4:3 aspect ratios for both old and new Keynote versions.
---
BizPlan is a win-win keynote template to impress the audience with your business plan. It will help you create a spectacular slideshow consisting of 15 retina-ready layouts. Orange accents will add a warm touch to your business presentation. The fonts used in the template are PT Sans and Montserrat from the Google library.
---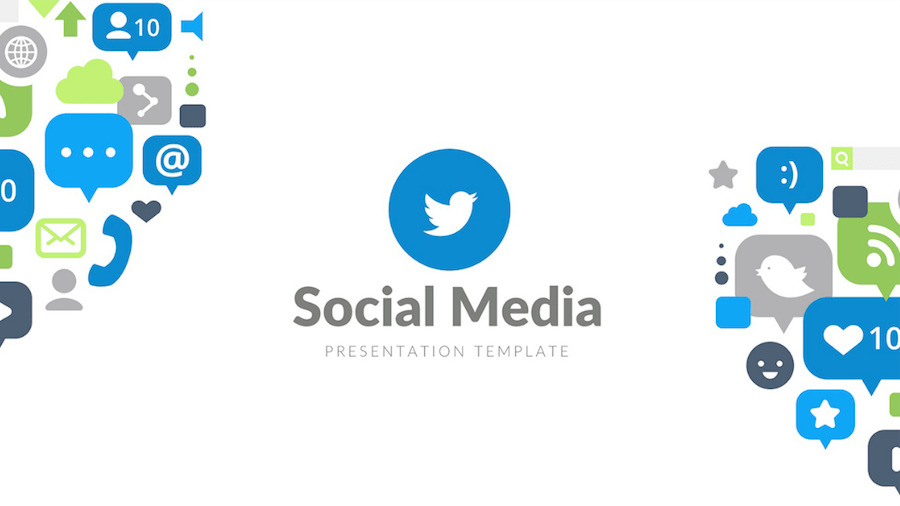 This free Keynote template is designed specifically for social media presentations. It comes with clean slides to show your vision, comparative data, steps of any process or cycle, and more.
---
This free corporate Keynote template comes packed with 10 widescreen slides. You can use them to present anything from your corporate philosophy and latest projects to team members and contacts. You are free to arrange the text in one and two columns in the layout or present small portions of content with sleek icons.
---
Using this free and 100% customizable Keynote template, you can present your company profile with ease. It is composed of 9 modern slides for 6.5 and 09 versions of the program. Visually, the template is light, clean, and easy on the eye, with green accents bringing the main info into focus.
---
Would you like to tell about your startup and stick into people's minds? Download this minimalist and well-structured Keynote template for free. In its package, you can access 30+ Master Slides with a world map, device mockups, feature lists, timelines, and much more.
---
ProBusiness provides 10 simple yet professional HD slides of 16:9 ratio. They cover the most important issues for your Keynote presentation including business concepts, philosophy, values, portfolio and project samples. There are also slides with a comparative diagram and column charts that make the data easy for understanding. The package includes files for both 09 and 6.5 versions of the software.
---
Altezza is a thought-out template that gives free access to 25 slides. This Keynote design is notable for trendy charts and diagonally divided backgrounds. There are also 200+ minimal icons to make the info in your presentation easy to scan.
---
Engage the audience with your business plan using this free Keynote template. To support your text, slides have placeholders for images. They add interest but don't digress from your message thanks to a subdued effect. You can also use a gallery to showcase your projects and diagrams to illustrate the numerical data from your reports.
---
Focus Free Presentation Template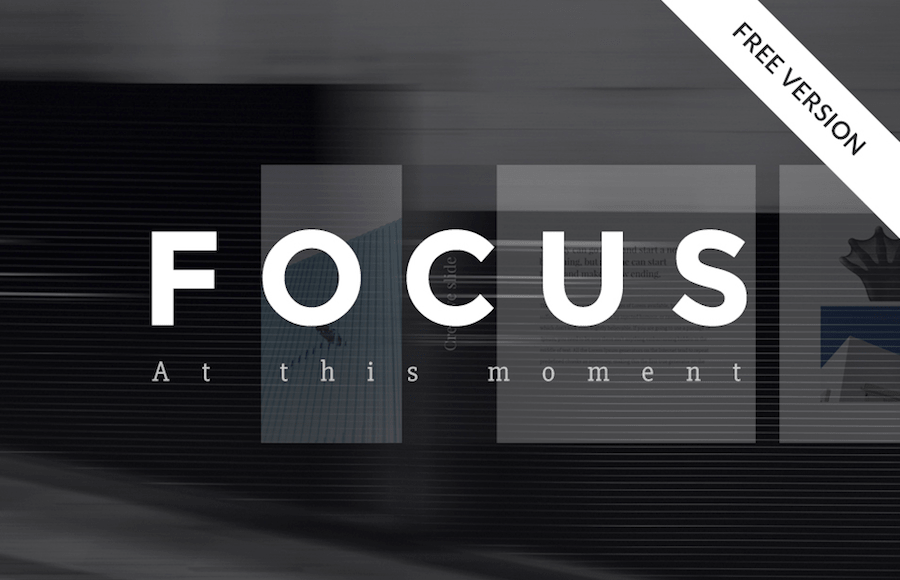 Focus is a free Keynote template packed with 16 ready-to-use slides. You can use them for services, gallery, portfolio, customer reviews, infographics, tablet and phone mock-ups, whatever. As the template lacks a lot of graphics, you will be able to focus people's attention on your content.
Download Here
---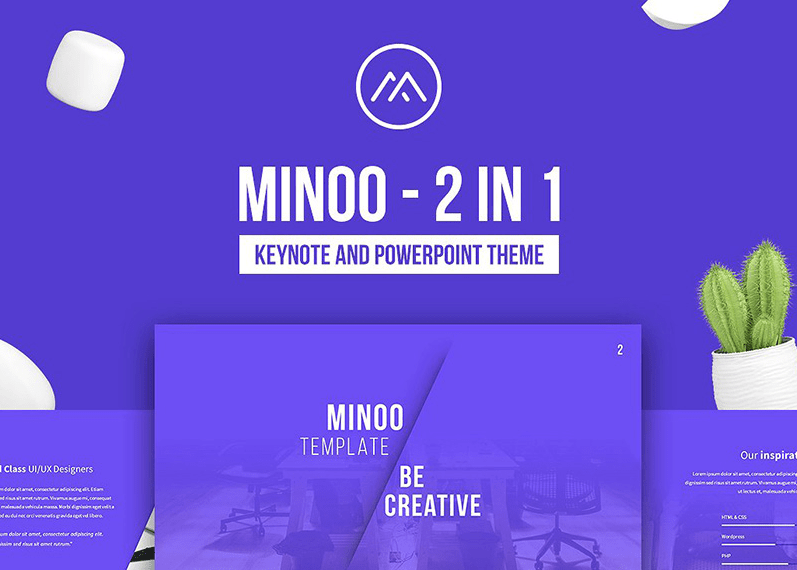 Whether you're involved in business, design or any other niche, this universal Keynote template fits any purpose. You are free to choose from 90 ultra-modern slides in purple shades, hundreds of icons, and modern fonts providing maximum readability.
---
Do you need to create a presentation related to the environment, agriculture, nature or any other similar field? Give a try to this free retina-ready Keynote template with 17 unique slides. They are designed in orange and green colors that are perfect for the nature topic. Using this freebie, you can create an informative Keynote presentation with step-by-step guides, tables for analytics, progress bars for stats, etc.
---
Chomolungma is a multi-purpose Keynote template for your startup, eCommerce project, product or anything else you have to present. Its free version contains 87 slides for your portfolio, financial reports, calendars, testimonials, coupons, ads, social data, etc. You can also access a lot of Vector icons and maps to edit the way you like. The template is made with Master Slides and is based on a custom modular grid.
---
Give a glossy look to your Keynote presentation with this freebie designed in the dark tone. The template comes packed with 50+ unique slides of 4K resolution to outline your agenda, stats, pricing policy, demographics, etc. To enliven your presentation, you can use 3 video backgrounds included into the package.
---
Here's the last item on the list of free Keynote presentation templates. It provides 15 unique HD layouts spiced up with purple and red accents. The template also includes 60+ multi-purpose icons and makes use of Poppins and Nelda free fonts.
---
---
---
---
---
---
For a modern, colorful, and professional presentation, use Zane. Even though this presentation template only contains 11 slides, you have an unlimited amount of ways to organize your information. Not only will your audience be impressed with your creativity, but they will also be focused on the information you present, because of the lovely pastel colors used to make your information stand out (color appeals to viewers visually). You could also add images and infographics to give the big picture and let your visuals do the talking. An image is worth a thousand words, so don't just inform your audience, but show them and keep them intrigued by your presentation.
---
If you are looking for clean presentation template that is perfect for a business or company presentation, then Minta free template is the ideal presentation template for you to use to impress. You will have 21 modern slides with unique layouts that will make your information stand out. This free PowerPoint template uses color to enhance your audience's attention while giving your slides an eye-catching look. Impress your audience with your creativity and add visuals to make your information more appealing. Not only will you enhance your audience's attention, but you will give your audience a better understanding of what is being presented. So, wow by them using this fantastic presentation template.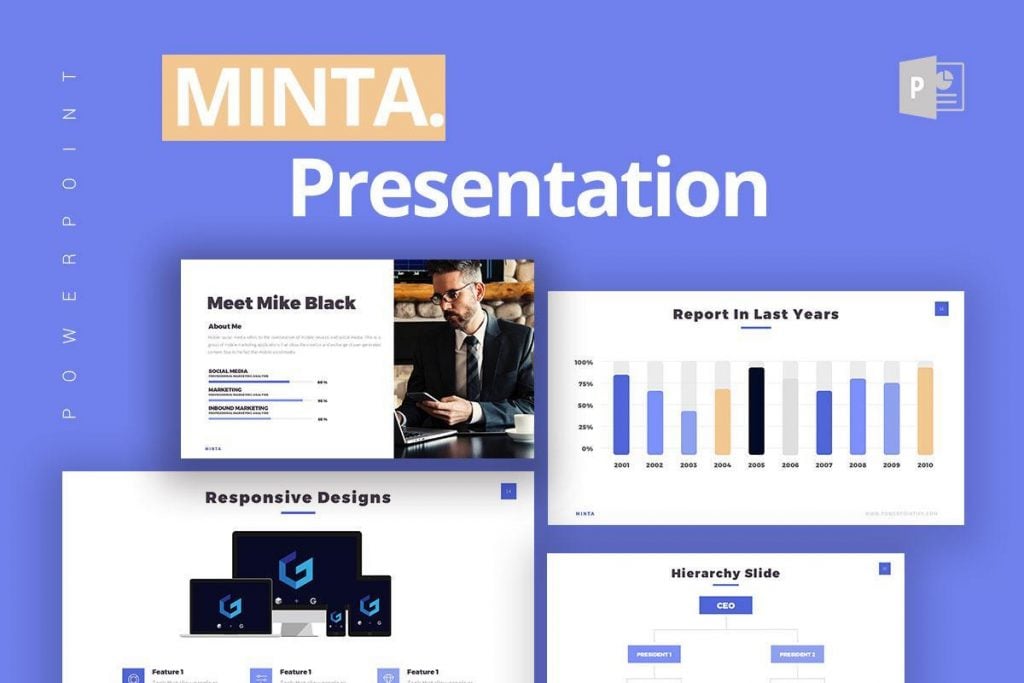 ---
Getting down to business may be tedious and stressful, but it doesn't have to be. Create a presentation template that will impress your audience, and give your presentation a fresh look using the Business Free PowerPoint Template. This presentation template uses shades of blue and green which give a cool and calm feel, not overwhelming or distracting the audience. You will have your audience's undivided attention when you use this presentation template. Business presentations have never been more interesting than they are now. No more presenting boring black and white presentations that allow your audience to daydream and get distracted. All you need to do is gather information, edit this simple template, and voila!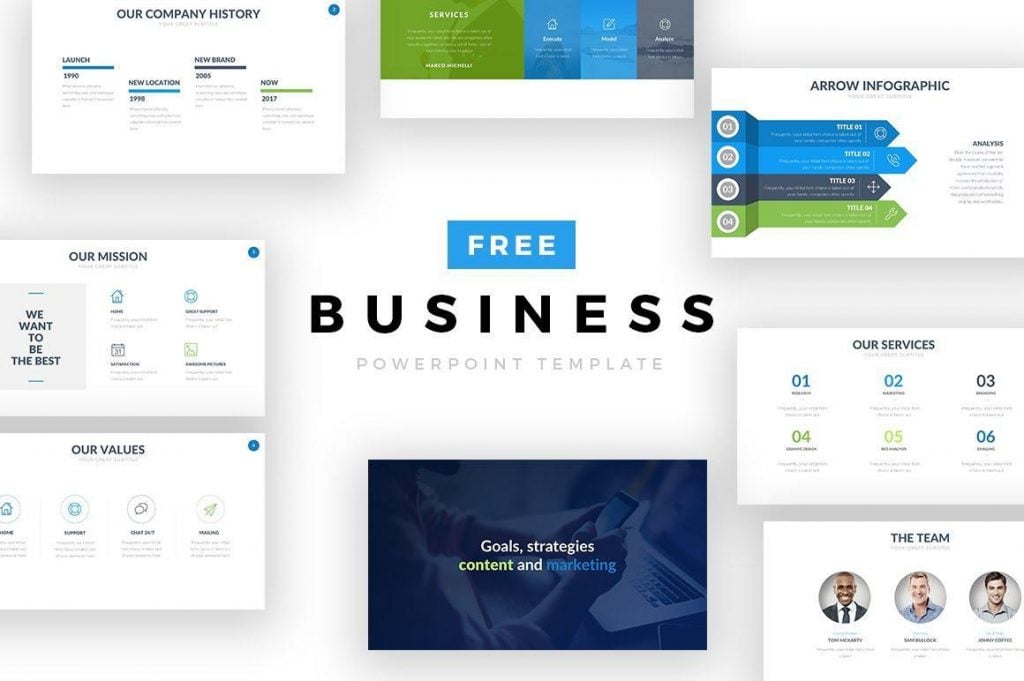 ---
TOP 10 Keynote Templates to Create Professional Presentations
---
Creating a presentation from scratch takes too much time. Believe me, no one does that crap any more. And why on earth should anyone do it when there are so many powerful Keynote templates out there? If you have never used Keynote before, it's alright. There's no need to take a course to be able to use one of these templates. Simply drag and and drop your images, resize shapes, change colors, add your text, - that's all.
These Keynote themes have HD slides to let you present your project at its best anywhere, be it a projector, retina display or laptop. If you have some numerical data, you can visualize it with charts and diagrams. To make the info easy to scan, there are fully editable vector icons for many purposes. These templates offer a lot to users, so get one of them and you'll come up with a win-win presentation in a blink.
---
P.S. Feel free to share this roundup of the best Keynote templates with friends on social media. Right now, some of them may be sweating over a presentation on Mac.