Hi! It's been a while since we have shared some useful tips and hacks. The number of items in the TemplateMonster digital marketplace continues to grow, as well as the choice of free tools that we deliver to our affiliate partners. So, how can you (our affiliate partner) boost your revenue without paying a single dollar? Let's find out.
If you keep track of the latest updates, then you should have heard about the Elementor Marketplace that was launched just recently. Considering the growing demand and public interest in the WordPress Elementor themes, we thought that it would be logical to provide you with a couple of tips on how to boost your affiliate earnings while promoting Elementor-based digital products. Make yourself comfortable, and let's get started.
---
TemplateMonster Elementor Marketplace
It's been a couple of years since the first Elementor-based WordPress themes saw the light of the day. The digital items that you can download from the marketplace these days are different from what their predecessors offered. New web design approaches delivered a great shift to the way we understand web design and handle ready-made themes.
Elementor Marketplace is not just another collection of ready-made WordPress designs - it is a digital spot containing all the things related to the customization of web items featuring Elementor page builder. Thus, Elementor marketplace includes the habitual Elementor-based WordPress themes, as well as collections of Elementor plugins and templates.
If the first two notions (i.e., themes and plugins) sound familiar to you, then what's a template and how can one benefit from using it? Elementor templates are specific sets of building blocks that can be used on any Elementor-based WordPress template. You can pick any Elementor template, add the chosen template to the layout of your site, and apply the necessary modifications without touching the original theme files.
TemplateMonster affiliate partners are welcome to promote any Elementor-based product that's available in the inventory. Here is how to do it right.
---
How to Multiply Affiliate Earning Using Elementor Banners
TemplateMonster provides you with a rich selection of affiliate tools, all of which can be accessed for free. Custom affiliate links, product showcases, landing pages, presets, widgets, and a whole lot of other options are ready to be used for your own purposes without any extra fees. Additionally, you can make use of the pre-designed banners and logos that are ready to be customized as per your own affiliate purposes or simply used "as they are."
Elementor banners are available for free access also. You can download them to your own desktop PC with a single click and share them on your own web platforms using your exclusive affiliate link from TemplateMonster.
Where can you use Elementor banners? You can place them everywhere. Display them in the sidebar of your site or in share banners on social media. Or you can place them at the bottom of your blog posts, etc. Just do not forget to use your referral link to make every conversion count.
You can download Elementor banners (as well as any other affiliate logo or banner from the collection) in English or any other localized version. If your target audience doesn't speak English, there is no reason to be worried. Click the button below, and you will be taken to the online storage where all localized versions of Elementor banners are shared. Just download the ones that you need and share them via your own channels.
---
---
That's all for today. I hope that you found this news helpful and that I gave you useful suggestions on how to grow your revenue as a TemplateMonster affiliate partner.
Also, we would like to hear your opinion of the best affiliate tools that provide you with the maximum revenue boost. Are those tools banners or product showcases? Go ahead and share your experience in the comments section.

---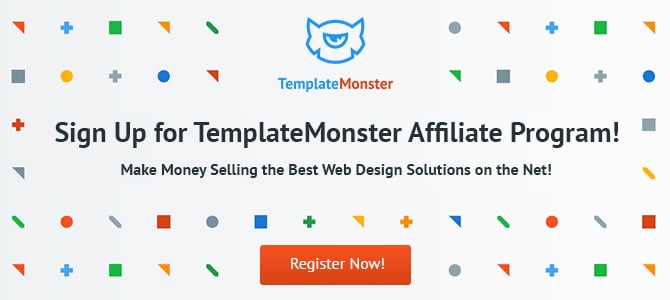 ---
Read Also
WordPress Developers about Elementor Builder Pros and Cons [Is The Game Worth the Candle?]
How to Create a Mega Menu with Elementor Builder Quickly and Easily
JET Plugins for WordPress Elementor Builder [Review]
Top-30 Elementor WordPress Templates In 2018