What's your biggest life passion? Is that sports, traveling or art? Have you ever thought about turning your hobby into a job? Impossible is nothing unless you follow your dream persistently. That's basically what our new case study is all about. Do not waste your time on doing the things you don't like. Enjoy every moment  to the fullest.

Name
: Andry Voskaridou
Occupation
: Frost and Bite's CEO
Site
:
frostandbite.com
Location
: Cyprus
Favorite car make
- Mercedes-Benz
Android or iOS, what's your choice?
- Android
Favorite smartphone
- Samsung Galaxy SII Plus
Andry Voskaridou is Vasilis's Vassiliou business partner. She is also responsible for frostandbite.com (an OpenCart-based website). They are both end users who used to own a freelance design studio.
TemplateMonster: Please tell us a little bit about your background. Where did you study? What's your biggest life passion?
Andry Voskaridou: I have a diploma in Multimedia Design. I have a Bachelor's degree in Business Administration, and a Chartered Institute of Public Relations Diploma. I have 11 years of experience in working in an accounting office and 3 years of work experience in design. My biggest life passions are my family and cooking and baking – we practically live in the kitchen. One of my absolutely favorite things to do is bake cupcakes with my son.
---
TemplateMonster: How many sites have you already launched? Was this your first experience of the site creation?
Andry Voskaridou: Well, I have a background in Multimedia Design, Business Administration and Public Relations. I used to be a part of a design studio duo, but this is my first site creation and related experience, and I must say it was a very fun thing to do, from brainstorming ideas to actual implementation at 12:30 in the morning while staying awake with numerous cups of coffee.
---
TemplateMonster: What gave you push for getting started with your career and leave the web studio?
Andry Voskaridou: I enjoy designing, but I truly believe that in life you have to be as happy as possible, so I tried combing what I love: cooking, business managing, design, and humor. Our website is a weird amalgam of the four. 🙂 I get to do everything I like while being there for my family, and that's what matters to me, beyond doubt. My husband was the key motivator and 'partner in crime' for this. Without him, I couldn't have done anything!
---
TemplateMonster: What was the most difficult thing that you faced when you decided to work on your own? How did you manage to plan your workflow?  
Andry Voskaridou: I would say time management. So many things to do, so little time. It is a true challenge to try to do the things that are necessary and sieve through the things you want to do; to separate the things that have to be done from the 'it-can-wait' ones. It all starts with a vision and a dream but practicality, and actual implementation is something different.
---
TemplateMonster: Tell us about your projects? What products/services do you provide? What is your audience?
Andry Voskaridou
: We have created a baking e-shop if you want it stripped and categorized but I would say we have created a Frankenstein's monster website comprised of humor (at least we try to!), novelty products and baking tools. Our audience is anyone. If you like to eat, bake or just want to laugh while baking/shopping then do pay a visit our website. Please note that spam bots are excluded from this invitation.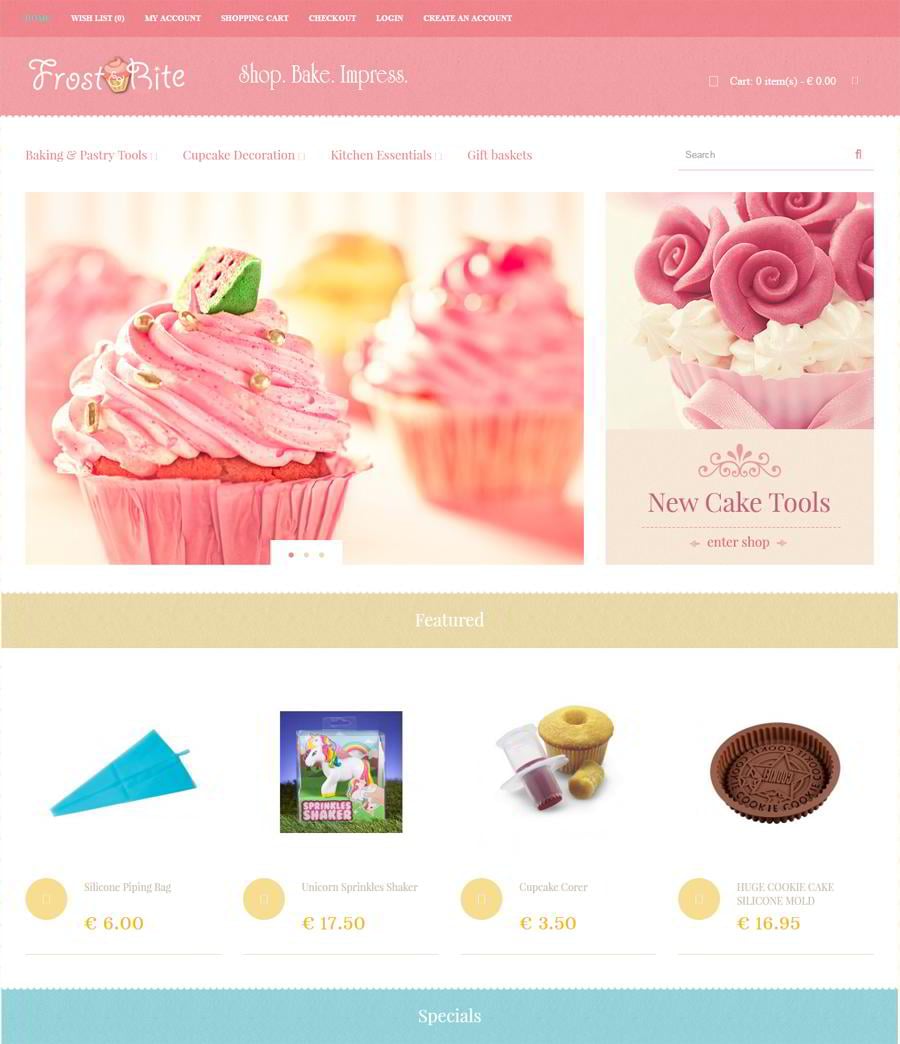 ---
TemplateMonster: What templates did you purchase? What were the key factors that influenced your decision-making?
Andry Voskaridou
: We purchased
Bakeware Store OpenCart Template no. 48510
. Key factors for choosing this specific template were: closeness to our vision and corporate identity/image as well as functionality and easiness of user interactions. I would say that the
primary key factor was
visual, how the website looked. I just loved the funkiness of the pink. It was love at first web-site!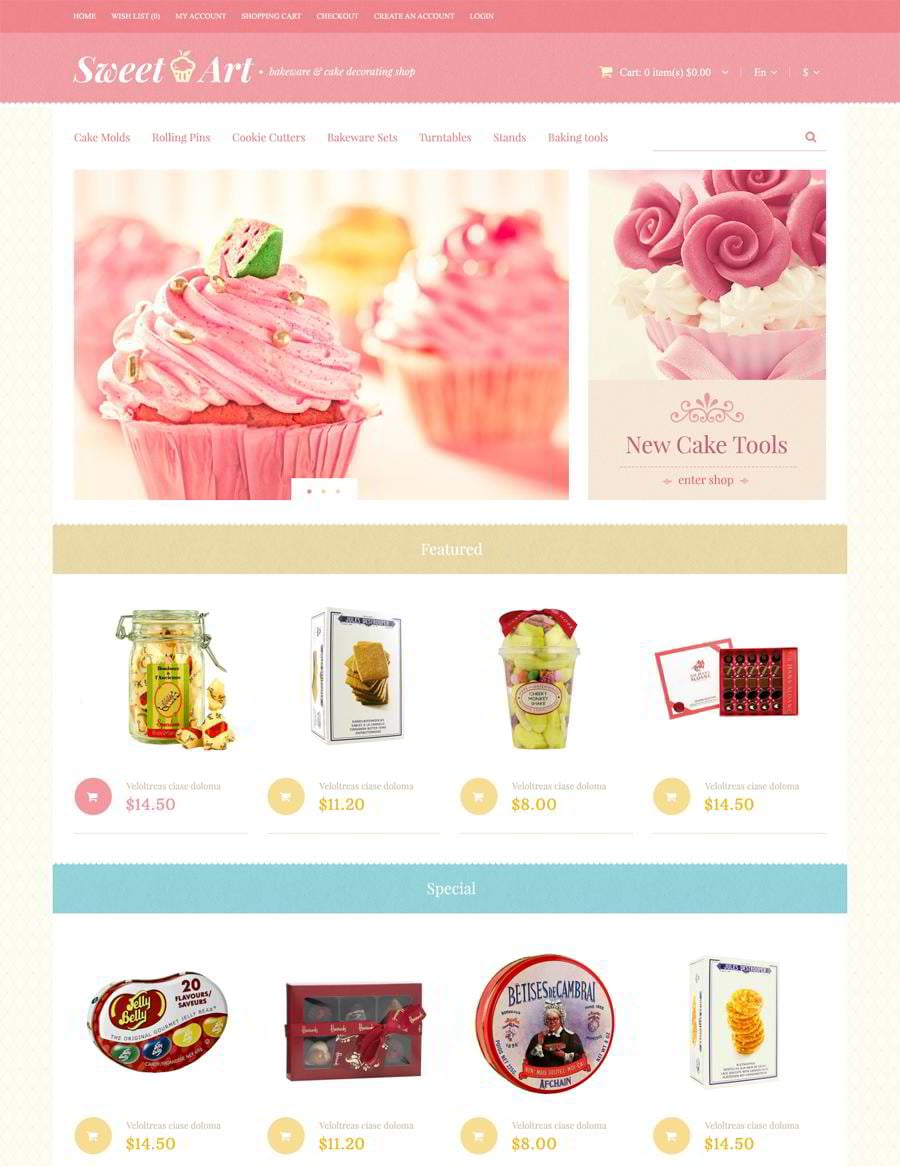 ---
TemplateMonster: What features of the chosen templates do you value the most? What should be changed/enhanced?
Andry Voskaridou
: I love the fact that this template came with our pre-chosen colors for our corporate ID. It is an
Opencart template
which means it had a reasonable price tag as well as free updates/features. It could have been better if the version of the Opencart utilized was the latest or it could be updated to the latest version. Otherwise, we are extremely happy with it. It is very functional and has great features like carousel photo display and free stock images included in the template.
---
TemplateMonster: Apart from the visual appeal of the theme #48510, were there any customization aspects that captured your attention?
Andry Voskaridou: I like the customizable carousel option in the landing page, as well as the ease of browsing via mobile devices. It was pretty crucial in the decision of which template to utilize since a large number of users are mobile users.
---
TemplateMonster: What tools do you use to power up your site's back-end?
Andry Voskaridou: As a small store we currently use only the OpenCart's admin panel. Depending on the increase in inventory we might move onto three party software that will connect to the OpenCart's database and upload product data much faster.
---
TemplateMonster: How much time did it take you to create and make your site live? What aspect of the site's creation was the most time-consuming for you (customization of the theme, content editing/creation, etc.)?
Andry Voskaridou: It took us around 3 months from start to launch. The most consuming part was content editing and uploading which took about half that time and many sleepless nights, but the final result was worth it. We do strive for continuous improvement, though, so it is an ever-changing discipline, and it keeps you constantly up on your feet, this search for perfection is like the universe or this sentence; it never ends.
---
TemplateMonster: What are your recommendations to other users who are just planning to launch their site?
Andry Voskaridou: Buy a template which is the closest thing to what you are doing (duh!) I know it sounds so basic but due to the diversity of options out there it is easy to sidetrack from your original goal. Pick something that will require as few modifications as possible, for you to devote time to things that matter, like the promotion of your business or cooking a meal for your family. Also, do something you love but try to stay as realistic as possible and try to distance yourself from your liking something to selling it.
---
TemplateMonster: What gadgets do you think are indispensable for a web developer? Which ones do you use?
Andry Voskaridou: My tablet, my PC, my phone. I mostly use my Galaxy Tab 10.1 (2016) tablet to be on the go, but I am a little more traditional when it comes to design: I use a PC with a mouse and keyboard for functionality and ease of use.
---
TemplateMonster: What keeps you motivated? Where do you find inspiration for creating a cheerful atmosphere on your site?
Andry Voskaridou: I just try to face life with humor. So I tried doing something different, not just sell things. Even if some people are not interested in our products, hopefully, they will at least get a chuckle out of their browsing experience. Life and cooking to that extent should be fun, exciting and cheerful. It's not just baking or cooking; it's a beautiful and creative experience that should bring happiness to everyone involved, in every aspect and part of it. And it starts with us.
---
TemplateMonster: What if you decided to upgrade your site, what another eCommerce template would you have chosen?
Andry Voskaridou
: I would probably choose
60042
. But you guys have so many new templates every day; I am not so sure.
---
TemplateMonster
: Apart from eCommerce,  how do you feel about launching a business web resource? How can a multipurpose website template like
Starbis
help you achieve that?  
Andry Voskaridou: It honestly sounds like the next best thing; at a later stage we would consider utilizing it. It would truly help us save massive amounts of time, gain a wider audience (through adding a blog for example) and has many more features could be utilized. It looks very promising, and people could probably launch much, much more quickly their websites while allowing for lower costs simultaneously.
---
Here we go. The story sounds very thought-provoking, don't you think so?  What reflections do you have after reading this case study? Do you share Andry's point of view that you need to combine the things that you actually enjoy in your life? Please speak up below.