An HTML5 website template is an ideal option for both beginners and professionals to build a sturdy foundation for their business. Not everyone can create an original website or pay for webmaster services.
Here you will find lots of free website templates that you can download free of charge and use to create your own unique website. A variety of ready templates from simple Free HTML5 Website Templates to advanced ones with CSS animation and beautiful graphics will allow you to choose the most suitable variant of your future site. All the themes are built on modern versions of HTML5 and CSS3. Also, TemplateMonster developers use such trendy things as flat design, responsive design, adaptive layout, sliders on jQuery, animation on CSS3, and many more. That is, if you are looking for a template for a mobile site, you can choose any of the given ones.
Although the templates are free, they look as of premium level, combining modern form and simplicity, as well as the latest web design trends. To create a site with a quality modern design, it will be enough to download the website template you like and modify it to fit your needs. Choosing one of them, you will impress and anticipate the expectations of your visitors and customers, which will undoubtedly affect the popularity of your site!
Well, now let's move on to the templates.

---
---
Free HTML5 Website Templates
This HTML template is ideal for a variety of creative agencies and design studios. And the scope of this theme's practical application is continually expanding. It is an excellent choice for landing and is perfect for those who highly value their time and prefer to do everything qualitatively and reliably. The design is simple and beautiful, in pleasant and soft colors. All this makes it an excellent choice for real beauty admirers. Particular attention was paid to details and nuances, worked out at the highest professional level. It includes a portfolio and blog option, social media icons, helpful Google Maps and much more! This free template has everything you need to develop a modern online portal for your business project.
---
If you own a cafe, restaurant, or bar, and for a long time have dreamed of making a website for your business, then this free responsive HTML template is perfect for you. It is developed with the latest trends in web design and technology and equipped with all the necessary sections that you might need in the site functionality. Ideal for those who like clean and modern design, this HTML template has professional markup and will display perfectly on various devices. Be sure - a restaurant or cafe with such a template will cause a storm of positive emotions among your customers! Theme peculiarities:
Fully Customizable
Social Buttons
Fullscreen Background
Easy to Use Coding Structure
Google Web Fonts
Google Maps
Well Documented
---
A beautiful multi-purpose HTML template with a clean and fresh design. This website template is an excellent choice for launching a large or small business. The template is simple on the one hand, but very modern on the other. Its design will ideally help to show your services and works performed for a wide range of people. The theme has a responsive design that makes it ideal for all kinds of devices, from desktop computers to tablets and mobile phones. The template is designed with all modern trends in mind. Also, you will get detailed documentation which will help you adjust the template according to your needs (install and configure). Theme features:
Bootstrap
Full-width Slider
Elegant Banners
Smooth Hover
Parallax Effect
Search Option
Clean Layout
---
This free HTML template is excellent for any business. Easy, beautiful and responsive - its settings allow you to make your site unique. The theme is based on pure and semantic code, including such features as unique navigation, slider and more. The slider is fully customizable and easy to use. The loader will make your site fast as lightning. Made with a clean and minimalistic style, it is fully adaptive and looks great on any mobile device. Animation in this template is smooth and effective, clean and well-readable fonts.
Theme features:
HTML5 and CSS
Contact Form
Google Maps
Cross-browser compatibility
Well-documented
---
If you are looking for a free website template, then this one will be ideal to get started. It has a clean structure for sites that want to use a balanced design to ensure that visitors will enjoy the look of the site and at the same time see clearly its main content. Responsive design, customizable navigation and other "yummy" features. The template includes predesigned pages that will allow you to customize your site as you desire. You will also like the creative design and adaptive layout of the theme. Besides that, you can change the design on your own. Theme peculiarities:
Back to Top Button
Contact Form
Social Media Icons
Camera JS
Owl Carousel Sliders
Clear Typography
---
Here we have one more great free HTML5 template perfect for a church site, parish, public organization, or blog dedicated to charity. The theme determines the color solution of the template. The calm and pleasant tones are not intended to scare people away with strict dogmas and postulates, but rather to attract parishioners to communicate and exchange information and opinions. The theme already has social media icons - Facebook, Twitter, Instagram. The interface is adaptive, which means that the template will be displayed correctly on the screens of any devices, including mobile phones. And the code is already optimized for working with search engines, which is extremely convenient when promoting a finished site on the Internet. Other features:
Full-sized Slider
Contact Form
Google Map
Cross-browser compatibility
---
This is free HTML for creating a website about photography. Such a template is also suitable for making an excellent blog about photos. Although the theme has already been set by the developers, it is not limited, so you can download your own images in the control panel. It is worth mentioning that promoting the site created by this template will be easy because of the already embedded social network icons (Facebook; Twitter), you can even insert your email. If you do not need social icons, you can turn them off with a single click. The design of the template is based on a pink color to draw attention and highlight the photos, and the main collage is made on a dark gray background for brightness. It's responsive in all modern browsers. Optimized for use with search engines, the code ensures fast loading of pages.

---
The design of this template is neat and discreet, but at the same time not dull and monotonous. The template can rightly be cited as an example of a successful business template that will attract new customers and give impetus to the development of a small or even a decent-sized company. The developers did not aim to expand the template's functionality with all sorts of add-ons and extensions with third-party frameworks, but rather to create a simple template so that even HTML beginners did not have trouble with editing it. The structure of the template is flexible, creating an adaptive template interface.

---
This theme is an example of a simple but stylish one-page website template. It has all the necessary blocks to create a beautiful and interesting business card for your company. You can obtain all the information by scrolling the page to the end. Besides that, this template is not only created for landing pages but also responds to new mobile trends, including tablets. It has everything you want for a ready site. You just need to add your images and change headers. Other features:
Contact Form
Portfolio
"Our Address" Block
Perfectly Matched Colors
Cross-browser compatibility
---
Look at this consulting template, designed in blue tones. Here you can note the perfect combination of blue and white in the background. Thanks to this, all the elements are clearly visible and the texts are easy to read. You will never regret if you decide to use a minimalist layout with a light background. For many years, white is considered a universal background - and that has the reason. It goes well with other colors, except very light colors that blend with each other. The template offers ready-made pages such as "About Us", "Contacts", "Services" and, of course, "Home Page". The network is very competitive, so to find and retain customers is very difficult. You must be the best and have answers to all possible questions. Corporate Blog, which is one of this theme's features, can help in solving this problem. If you have free hands and a clear mind to write interesting and useful information, then with this consulting template, you have all chances to succeed.

---
Stunning template for the entertainment site. Bright, glorious, simple, with beautiful images, texts, and intuitive navigation. The design is made exclusively in light colors with the presence of light blue color and purple headings. The site is minimalistic, though full of information. This template can be used either for a personal page or for an entertainment agency since the menu has the tabs that are required for a commercial site. You can easily use this template for a site of any business sphere. With high markup quality, everything is neat and understandable, there are no extra blocks and complications (where they are not needed). Additional features:
Google Maps
Contact Form
"Contact Us" Section
Social Network Icons
---
A beautiful HTML template in bright colors for a restaurant website. The five pages of the theme will fit all the information that the owner of this template wants to give visitors. Being creative and stylish and having easy and convenient navigation, you can do anything you like with this template, and you can even customize the template for a different theme.
Point your open hours, share what's new, publish testimonials, announce your unique menu and give an opportunity to reserve a table online! Besides that, you can stay in touch with the clients 24/7 due to the Contact Form. Theme peculiarities:
HTML plus Flash
Completely Responsive
Clean and Simple Design
Cross-browser Compatibility
Extensive Documentation
---
Work on the construction of a building for any purpose begins with the services of an architect. He embodies the conceived idea on paper and gives the imagination of how the future construction will look like. Therefore, it is so important to select a qualified specialist who can realize all the ideas, calculate the technical characteristics of the building, give it an aesthetic appearance. Finding the same professional architect is easier if he has his own page on the Internet.
You can create an architect's site with minimal expenses. Using the template for free, you will get a modern, colorful website. The theme will appeal to you with its attractive design and competent structure. What is amazing is that you can make your web-resource on your own and in a day. The most important thing to do is to fill the future site with unique information and supplement the content with implemented projects of different directions (what you can easily do on the ready-made page "Projects"). All this will help potential customers make the right choice. Don't waste your time - click to download and start your own project today!

---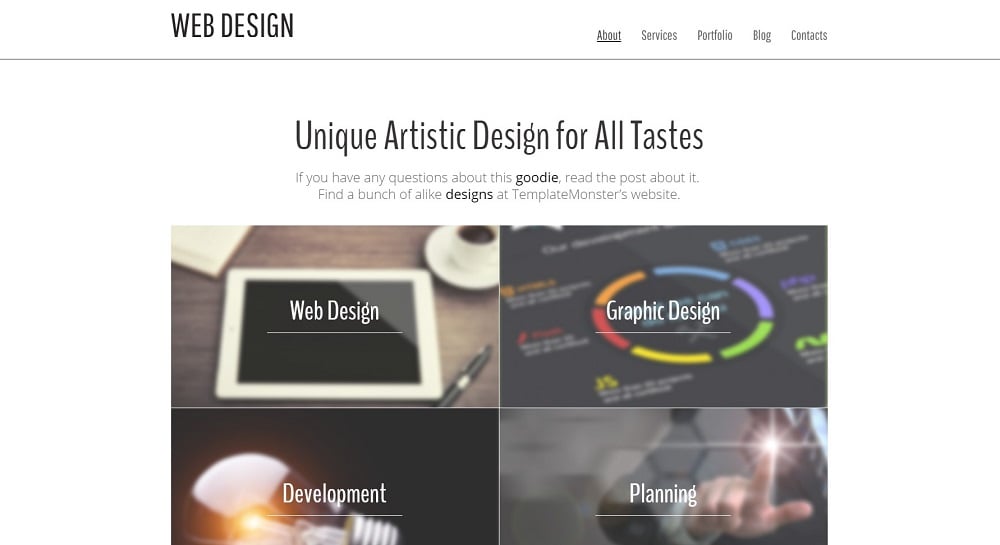 If you provide a service and wish to promote it, you need a website because the Internet is an excellent source of attracting your potential customers. The design studio template is carefully prepared by TemplateMonster developers layout of the future website, which makes it possible to create a ready-made site for the web designer with ease. You can look through the template and already imagine your future site. As a designer, you can easily identify the moments that need to be added to the page, if necessary. The next step is installing the template to create your design studio landing page. You will have at your disposal a template which you can change as you want. Using the menu, enter your data and change the standard information to the current one. Fill the portfolio with a gallery of your works, post information about services and offer them to your customers, save all the data and you will have a ready site.

---
The creation of a cleaning site is the best investment since your website on the Internet makes it possible to easily start selling your services. Then your company will likely get a broad base of regular customers in a few weeks, which will grow continuously. This template is the golden mean between a business site and an online store. A big slider, "What we do" block, hot offers, information about the company and pick and delivery services, social media icons and gallery are already on the first page. In general, the template is designed to save you from any additional worries in creating a business card for your cleaning project and to inform potential customers about the services and their cost. With the help of this free responsive template, you will easily create a high-quality and fully-functional cleaning website, which is optimized for quick and successful promotion.

---
The creation of a sports site, as a rule, begins with the choice of a web-studio ... Stop, it's not the only option! The best sports sites are created not only by contacting web developers, but also by using HTML templates. The theme boasts a significant advantage - it is free and easy to use - even a beginner will be able to create the site in a couple of hours. And you do not need to write code for this! The template has a very minimalistic and nice design with all the necessary elements for such kind of site. There is a handy constructor and the possibility of a simple installation, which will save time for development. Additional features:
Google Maps
Contact Form
Calendar
Social Media Icons

---
This elegant HTML template for photographers comes with excellent options for social networking. The theme's interface can be optimized for smartphones, tablets, computers and any other device. Many blog and portfolio lovers will also like to see the theme used for a photo site. Also, the theme can be downloaded for free, and it is easy to customize. With the help of the site, be sure, within 30-40 days your business will get a good base of standing orders, which will only increase in number. And the most important thing is you don't have to be a web developer or programmer for this. Everything is done in a convenient drag-and-drop interface, which means simple selection and dragging of components to the right places on the pages of the future site.

---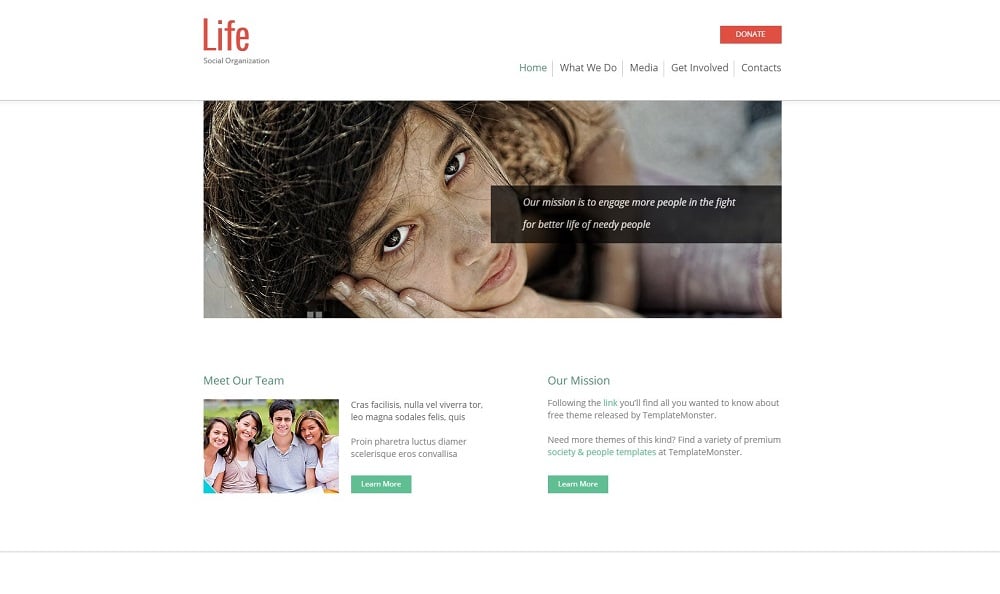 Do you know how the best HTML templates should look like? Look at this one, and you will understand everything right away! This is a wonderful theme with a laconic design. It is suitable for charities, religious organisations, therapy and drug treatment facilities, and non-profit organizations. In general, it is universal and suitable for any social activity. The template is easily editable and supports various types and formats of data. It also includes many shortcodes that really help you to supplement your site or create it from scratch. The two-step installation allows you to create a ready website in just a few minutes. If you want to use a first-class template for a cool site that is focused on attracting customers, select this free responsive theme. It won't let you down!

---
The sphere of taxi services, at present, is very popular. Quite a lot of people use taxi services daily. If you have the right people and a good car park, then it's time to start your business with the creation of the site. It is very convenient and fast. You just need to install the ready-made template of the taxi site and start editing, upload pictures and write down the necessary text. Your site will ready less than in one hour.
This excellent thematic template has a stunning and light design. It has all the standard sections that will help you present your services. In addition to the classic pages "About Us", "Services" and "Contacts", the theme gives your visitors booking form and choice of cars. Taxi company site should be selected carefully. Save nerves and money by picking our free responsive HTML template.

---
Interior design is a demanded niche in the modern world. Many of those who have taste and who like to keep up with the times use the services of interior design agencies, design studios, and architectural bureaus. Why do you need a website? This is not only an indicator of prestige but also an indispensable tool for promoting services to potential customers. With the help of the site, you will be able to present your agency precisely as you want and tell the world what you are doing. Considering the development of social networks, not a single company can go without its own site. This free responsive HTML template is what you need for a quality presentation of your company services. Clean, minimalistic design is ideal for your interior design studio. You can also customize a site by adding all the necessary elements using a collection of shortcodes that are included.

---
Creating a website specifically for business can bring a lot of trouble. You need to show all the pros of each project, put beautiful photos with informative descriptions and so on. That's why we advise you to pay attention to this template for a business site. Look at how professionally this template is made. It has all the necessary pages for an excellent presentation of services, as well as a whole set of modules. Among them are headings, columns, buttons, icons (including social networks), and notifications. Additional features:
Google Maps
Contact Form
Responsive Design
Full-sized Slider
Valid Coding

---
For many people all over the world, tourism has become a business that brings pleasure - it's so great when a hobby brings money and makes life better, isn't it? We are sure that all those who have succeeded in tourism, have used a website for promotion. A professional website is needed for a travel agency as well as for an independent blogger-traveler. Here we have an excellent option for you - a full-sized slider, "Welcome" and "Clients quotes" sections, Facebook, Twitter and Google buttons, travel offers, and latest news are already on the first page. This freebie looks like a premium website, and to run it, you just need to download it.

---
If you own a beauty, hairdressing or spa salon, then you definitely need a website. Or maybe you have wanted for a long time to open an online store of cosmetics or manicure accessories and tools? Excellent! For all these tasks we have solutions. Here we have HTML template designed for salons and resorts, and it can also be adapted for a yoga studio. It has a stylish and spacious atmosphere, which so often accompanies projects related to yoga. The theme includes full documentation and localization support for your convenience. Also, it is responsive and has several customizable widgets, for example, for Twitter, Facebook, advertising, news.

---
This template is created for personal trainers, sports clubs, health clubs, gyms, fitness centers and other sports and health-related clubs that want their services or business to be seen on the Internet. It is built using up-to-date HTML5 and CSS3 so that your website will keep up with future trends in website design. This template has features like training, timetable, and nutrition. The theme looks clear and plain on modern devices with a high-resolution screen. Besides that, the template is built with consideration to the best SEO practices so that your site can get more traffic through the search engines.

---
---
This template can be positioned as a template for the site of a sports club, but still, it is more focused on yoga. So, it is possible to attribute it to the category of "sports sites templates" barely. The template has a minimalistic, calm design and all the necessary elements for this kind of site. Also, the theme has a good set of page layouts that will make your site unique. Additional features:
JavaScript Animation
Large Background Image
Sidebar Menu
Social Media Icons

---
Any beginning photographer wants to quickly create a beautiful site, where he could present his best work. And what is the most important for the design of the photographer's website? Of course, the spirit of modernity. If you want to make an impression and stand out among the competitors, you should take this template. With this free HTML theme, you can create your own unique structure, and also create a video gallery from your photos. And extended documentation and constant support will make the process of creating a photography website comfortable and enjoyable.

---
For the purposes of charity and non-profit organizations, it is necessary to ensure a decent and professional presence on the Internet. This template is the right and practical choice in modern conditions. This free theme allows social organizations even with a limited budget to create a professional website. Being very easy to use, this template is also user-friendly. In other words, every component, every function, every principle, every interface and every pixel of a template has undergone a thorough check. This theme was created by taking into account all modern requirements. Here you have the integration with the search engines, responsive design, and fashion features.

---
The creation of any site begins with the calculation of the budget and the choice of the appropriate solution. Those who have no budget restrictions should not worry at all and immediately order a design development from a professional web studio. But what about those whose budget is limited? You will be surprised, but you can create a high-quality site without overpaying. Just take a closer look at this free HTML5 theme for a restaurant site. The design is created very carefully, allowing visitors to plunge into the atmosphere of your restaurant in advance. The template is customizable, and it has a responsive layout and stunning social network icons. Adapted for mobile devices and search engines.

---
Need an all-in-one solution for Halloween? Then pay attention to this free HTML5 template. This pattern clearly follows the trend of flat design which will allow you to immediately attract attention. Did you notice the timer? Now you can start the countdown before this holiday. The theme has a professional, editable design; functional widgets; and a logical structure – these features will allow you to easily create your own project even without the help of programmers. Ideas, decorations, holiday plan - this pattern structure will allow you to easily share your ideas with visitors, telling them how you are going to spend this day. And the process of creating your site will take no more than two hours.

---
No matter how well you deal with sales, the online version of your store is one of the most effective and best tools to increase sales, expand the customer, and create a powerful platform for the future. You, as an entrepreneur, should think about creating your online store, if you don't have it yet, because in the near future most of the purchases will be online. The clean and fresh design of wine and winery free HTML template makes it an excellent option for any kind of store. Colors matched very well and don't irritate eyes. A wine list, brands, suppliers, grape varieties and much more - this is the main content of such a project.

---
If you want to instantly draw the attention of your site visitors to a particular product or work, you should choose a beautiful and functional theme for the portfolio. This free HTML5 theme for the portfolio is specially made in such a way as to show your best work from the best side. This is an excellent option for beginning companies and start-ups to make themselves known. The template also provides pleasant colors, extensive documentation, and excellent support.

---
A quality agricultural online store with a simple design is easy to create if you use this responsive HTML theme. It has only the most necessary elements for the sale of your goods. The layout is optimized for comfortable work on mobile devices, and this is important for attracting mobile customers. A full-sized slider, "Company Products" and "Technologies" sections, popular brands, and newsletter subscriber on the first page. Everything is easily managed without any difficulties. Click "Download" and check it out for yourself!

---
Making one and a half or two thousand photos at the wedding is not a problem. Yet, the question is who will look at them in such quantity? There is a solution! It is necessary to make a beautiful wedding site to correctly split all the happy moments so that it's convenient and pleasant to look through by yourself, show your friends, and share a link in a social network. Wedding website will save you money and time, especially a free one. So, during the preparation for the celebration, you can easily stay in touch with your guests. Also, sending out paper invitations is so old-fashioned in the 21st century. With this theme, you will make a beautiful easily editable wedding website, elegant and modest. And downloading and setting up will take minutes, not hours.

---
If you want to create an animal shelter (or present it online) or you have another business related to pets caring and want to create your own site based on ready-made solutions, you should pay attention to this free HTML template. The template for pet site includes: pages with descriptions of services and contacts consisting the phone number and email, a stylish adoption block and pets care tips, and ready-made "Home" and "About us" pages. Also, you can start here your own blog.

---
Lawyers and law firms have often rejected the idea that a website can represent their business on the Internet because of the high costs that developers charge them for creating a professionally designed website. But this can be easily changed due to our available and responsive templates. Today, such templates allow many people and businesses in the legal field to create beautiful and solid law websites while not spending a lot of money. If you are looking for a clean and professional theme for a lawyer, attorney, law firm or any other legal entity, look at this free template with jQuery Slider, download it and get started.

---
Here we have one more free SPA salon HTML template. Suitable for SPA-procedures, make-up, and massage, this is a universal theme with excellent adaptability on devices. It is designed for a creative approach to the layout of the pages, is most convenient for managing settings and customers visiting. The template has several functions to make a user-friendly, interactive and visually stunning website. Such functions include:
Main Menu
Attractive Banner
Services Section
Integration with Social Networks (Facebook; Twitter)
---
Did you know that 40% of users leave sites with poor design? Why lose profits? Any company that provides services on the Internet, especially a provider of web hosting services, has its own website. If you own such a company, when creating your site, pay attention to our free hosting website theme. This simple, clean and professional template has an excellent instruction manual and excellent technical support, so you can count on help if you have any questions. Be sure - your most demanding visitors will be satisfied!

---
Look at this free template for the online automotive resource. Perfectly suitable for sites about racing, sports cars. It contains a registration block and news in the sidebar. The design is made qualitatively, looks very modern and won't allow the site visitors to remain indifferent. Only HTML, CSS and JS (and jQuery) are used, so making any changes will be easy enough. Also, clear instructions are added to the theme, which will simplify the development process significantly, especially for beginners.

---
This beautiful website template is designed by TemplateMonster professional designers especially for hotels and real estates. Absolutely free, it looks like five-star theme. Everything is organized so clearly that any user will have the most pleasant impression of visiting this site. These are your potential customers, and to attract them is one of the main tasks when creating a business web resource. The template is characterized by some convenient features:
Online Booking
Services and Testimonials Blocks
Lightweight Design
High Speed
This template is really a good solution for high-quality business. Find out all about this theme right now - click on the button!

---
A straightforward and at the same time functional template for your beginning or growing business. The template is full-fledged because it has everything you need for stable and efficient site work. This theme has a block with articles, contact information and a bunch of other blocks that you can customize for yourself. This free HTML template is ready for use - just download and install it for work.

---
Do you agree that the film industry is now at the peak of its popularity? Watching films is a cultural pastime. In the modern world, the concept of cinema has gone beyond the usual framework due to the appearance of the Internet. Many cinemas create sites for selling tickets, there are whole online movie theaters, where you can watch movies without leaving home. To create such a site, you can use our free responsive template which allows you to create a quality and successful site just in an hour. No coding and programming required! This free template will be an excellent basis for a quality cinema site - you won't regret it!

---
Education website is what you need before the start of the new school year. However, creating and maintaining a website for courses, schools, lyceums, colleges or institutes is a task despite the time of the year. To create a quality website for an educational institution, you need appropriate solutions. One of such solutions is our HTML template. When choosing this template, you get a high-quality and responsive design, correctly functioning features, high loading speed, SEO optimization and powerful support. The site has a clear search system and a mega menu. If you want your educational site to be created at the high level - this theme is what you are looking for!

---
For many people, music became a part of daily life. Every day thousands of people listen to music of different styles and directions at home, on the road and at work. For some people, music even has become a matter of their entire life, and some music fans create special websites where you can listen to your favorite music and get some information. This template is suitable for musicians, music groups, labels, recording studios, festivals and so on. With the theme, you will be able to display the newest information about artists, albums, and concerts without any problems. It has 5 ready-made pages, including articles, contacts, and sitemap. The template will help you get a practically ready site only in a few minutes.

---
This is a light, attractive template for a company that provides air travel services. It is a quality business template for corporations and not only. This beautiful theme has many different interface elements: slider, gallery, form with validation, info icons and much more. This free template offers you an excellent opportunity to organize a professional web project with minimal costs. Being an experienced developer, TemplateMonster offers you both - quality and efficiency. You can easily download this template and use it for your own purposes.

---
This free responsive template "about beer" is suitable for sites of bars and clubs, for fans and professionals who are fond of drinking beer. The beer theme is easily customizable and edited with a mug of delicious beer with nuts. Beer can be different- light and dark, wheat and honey, from bottles and barrels, from Bavaria and Ireland, from the Czech Republic and Scandinavia, from Northern Europe and from the South. And don't forget about a lot of beer traditions, snacks, and ways to drink this man's drink! This beer website template will help you tell your visitors about the splendor of the beer world! Everyone should join it. This is the best option for creating a website dedicated to beer business and leisure!

---
A modern politician must use all modern means of communication. And only the Internet can help. After all, an important political figure should not be limited only to an account in the social network. This status is necessarily emphasized with the help of an official personal website. Unlike social networks, you will be in control of absolutely all the content of your site. That is, there is no unnecessary advertising, no questionable comments, links and other things. This theme is perfect for personal websites, blogs of political, state figures and other notable figures of the executive and legislative branches. HTML5 support makes it possible to make the template accessible and correct for any platform. Also, you can adapt the entire site to search engines and get tons of traffic for almost free.

---
This festive HTML template is interesting and unusual. Such a template will look great for those people or companies that are directly related to the New Year and New Year's holidays. If this is you, then this template is for you. The template creates a very pleasant impression and the blue-white-red color scheme is attractive and memorable. Layout and functional are not something extraordinary but the theme is "packed" enough to solve most trivial problems. Many details of the design are made clearly, and in general, everything looks beautiful enough to not to pass by and stay at this site a little longer.

---
This free HTML website template is perfect for those who want to create a site about tourism, exotic places on our planet, tell the world about fascinating travels to different countries and experiences of those adventures. The beauty of this theme is that many details on the site are made very carefully, which gives the template a stylish and premium look.
The header contains a logo, menu, login form, and search system. Also, there is a page for choosing a destination: your country, the date of dispatch, the date of arrival and the city. Also, this HTML template has ready-made sections with travel agency tours, hot offers, and contacts.
The template is pleasing for the eyes. Your visitors will definitely remember the content with such design. And they will come back to your site more than once, provided that it will be regularly filled with new information. You will like this theme for its simplicity and usability. Download and install it in a few clicks - and your online assistant will work for you 24/7.

---
Here we have a beautiful HTML template for a nightclub site. It is not only stylish, creative, thoughtful but also has an entirely valid code. The theme is made in dark tones, with pleasant graphics and convenient navigation. The menu is fashionable, simple and matches the design of the site. The content consists of news and information about upcoming parties and recent events. An effectively designed template and professionally executed gallery make this template ideal for starting an online business.
---

---
TOP 50 Free Responsive HTML5 Website Templates2018
---
Read Also
15 HTML Website Templates for Your Next Design Project
23 Construction Company HTML5 Templates for Building Successful Business
Best HTML5 CSS3 Website Templates