---
Intro
The TemplateMonster team developed these Top 35 Coffee WordPress Themes to provide customers involved in a coffee business or any other person who engages in online activities related to coffee, with high-quality coffee websites according to their sphere of interest. Building a proper coffee shop website can take a vast amount of time and effort. To save your time, you can purchase a WordPress coffee theme and create a website with it. But how do you choose the best coffee theme on the market?
Or how to meet your expectations and requirements?
You need TemplateMomster for it. We gathered numerous templates with different design, functional and price so you could find what you need on our platform. Here you can find coffee shop WordPress themes for coffee shops, bakeries, cafes, restaurants, luncheonettes, pubs, bars and other.
When you decided to get website first thing to do is to find proper WordPress hosting. And if you have to be thrifty, we can recommend you BlueHost. This hosting is one of the official WordPress hosting providers and, moreover, has an excellent value for money and quality.

---

---
When you have a good café, you must tell people about it. Great coffee and confectionary in a coffee shop are not rare nowadays; it is a place for meetings and entertainment. So, you have to impress them and win their attention. And, because most people search literary everything on the internet, they will try to find a good café, restaurant or coffee shop nearby. And that is the part where TemplateMonster developers can help you. They created an Aromacafe coffee theme which has a stylish and elegant design. Moreover, you can easily change the design as you wish due to built-in Elementor Page builder. It has clean and valid HTML5 code to make it fast and user-friendly. Try to use Ecwid Ready plugin to create an online shop and increase online profit. You can blog about your coffee shop or luncheonette. You can get feedback. You can share photos and images with your clients. And you can do a lot more things with Aromacafe Coffee Shop Elementor WordPress Theme to boost your website.

---
This a multipurpose coffee shop theme, so you can call it a bar theme or café theme and use it to create websites for different types of establishments. It is a modern, simple yet eye-catching WordPress theme which can impress you with some design features. For example, it has awesome extra page layouts, a theme color switcher, and custom widgets. It will be easy to edit and maintain design and structure of website with state-of-the-art admin panel. This theme has some necessary features like social options and testimonials for keeping in touch with your clients and advertising your business. To attract tourists to your establishment, we made sure this theme is WPML ready so you could share information online in different languages impressing foreigners and boosting your business with our WordPress coffee theme.

---
Ever thought that your company has to be online to increase sales and profit for your business? It is evident that online presence also creates a flow of new clients and a trustworthy atmosphere. We can assure you those thoughts are good, yet you need a good, multifunctional coffee website theme. And we can help you out here. Latteccino café WordPress theme has many pages you can use for increasing website effectivity. For example, with Menu page, you can divide meals and drinks into different categories and present them in a well-structured and easy-to-find way. Customers can also make reservations with the reservation page, etc. It is well documented, so you will have no issues installing it. Design can be changed easily, thanks to Admin Panel. Note that built-in Visual Editor allows you to change structure and design in a drag-and-drop manner and instantly see the result, avoiding coding. Cherry Project and Cherry Services will improve quality of visual presentation on your website. So, check the demo and download Latteccino right now.

---
Cup o' Java coffee shop theme will present your business most appealingly. It is fully responsive which means that this WordPress theme works equally well on any device with any OS. Also, it is worth to mention that Cup o' Java is well documented and provides you with step-by-step installation instruction making it extremely easy for you. You can use Cherry Framework 5 to increase the efficiency of your website. For example, Cherry Projects will help you to create and manage multiple variants of a portfolio with different images. And Cherry Team Members plugin will help you to introduce your team and promote their services. Play a bit with TM Gallery and create original style gallery to present clients with visual content. With WordPress live Customizer you will enjoy simple editing. And if you don't have coding skills, you should not worry, because, with Power Page builder, you will be able to change design without HTML or CSS coding. And do not forget that this coffee theme is SEO-friendly - that means your website will be in the top Google search results.

---
Monstroid2 is one of the best deals you can find. It is an excellent multipurpose website template. With its help, you can create an excellent website for lawyers, gyms, restaurants, tax advisors or coffee websites. The list of advantages is enormous! It contains over 400 HTML template files ready for use. You can also find here 80+ additional pages. As for design options, you can enjoy a vast number of useful features like unlimited skins, colors and google fonts library, more than 30 blog templates, 20+ portfolio templates, state-of-the-art gallery, multiple widgets, Parallax gallery effect, icons, etc. Use testimonials, social options, and social sharing to be in touch with customers. As you can see, creating your own design is easy and provides you with the opportunity to find what you are looking for! And if you have any questions, contact included TemplateMonster 24\7 Premium support!

---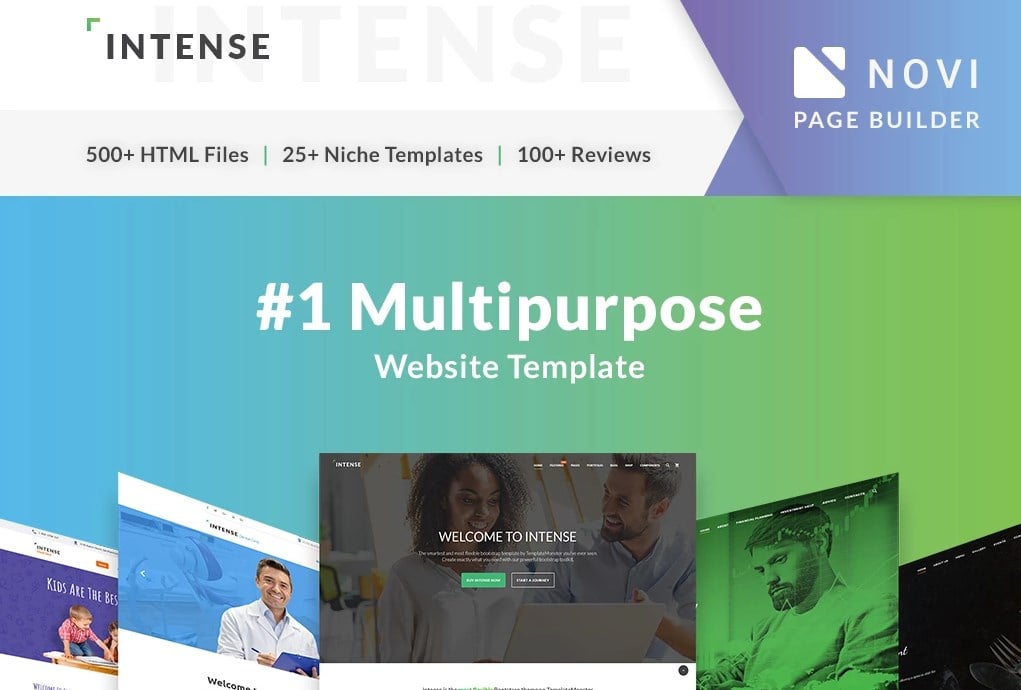 Intense is known as one of the best-selling and popular website templates because it contains all features you may need while creating new or updating old website. That is why it is multipurpose. It will fit any online activity and is suitable for online shops, art portfolios, business websites or photographer galleries. It can be an excellent coffee WordPress theme. It was developed by a team of professional coders who made sure that you would have the possibility to create your own unique website design. You will have access to a huge number of pre-loaded pages (20 Portfolio pages, 23 Blog pages, 11 Shop pages, 55 pages for components, etc.), a vast Google fonts library, different layouts, charts, graphs and different types of gallery effects like Hover effects, Video Background or Swiper slider. It's fully responsive due to Bootstrap framework and works on every device with any OS. Download it now and boost your business.

---
Coffee Shop Bootstrap Website Template is an excellent choice for a cafeteria website. It will attract new customers and inform them about prices, menu or service options you have. It is stylish and amazes customers with design due to a combination of flexible layouts, banners, and other website elements. It was made in coffee-related colors. Coffee Shop has over 30 ready to use pages you can install and fill with content. Animated MegaMenu will increase functionality and modernize website design. Use a testimonial feature to show feedback you have received to new viewers; this will create an atmosphere of trust. This coffee template will boost your business by promoting it online and attracting new customers!

---
Building a proper coffee shop website is one of the most critical steps in building an online business. The website can present your business to a broad audience and in the most appealing way. That will add clients to your list and boost your profits. TemplateMonster developers made sure that this modern coffee website template has intuitive navigation and a reliable, user-friendly structure. You can fill it with content and make it a coffee bar or coffee shop. Beside this, you will also get 24/7 priority assistance aiding to solve any issues connected with this coffee theme.

---
Though this multi-purpose WordPress template has a Japanese style name, it was developed for different types of restaurants, bars, and cafés. You can purchase it as a café WordPress or even a sandwich shop template. And by the way, if you have a Japanese restaurant, it doesn't mean you can't have the best coffee in the whole town. YanagiUdo has all means to help you with it. It has an attractive and stylish design with useful elements like a drop-down menu. It was built with the help of Magento integration, meaning that an online shop or restaurant will work perfectly. You can also blog about news and changes or any other content you like. Or create a gallery with a slider effect. With YanagiUdo you have a lot of opportunities to boost your business!

---
This AMP Coffee Shop Magento Theme is well documented, so will have no issues installing it. And, by the way, you can address our 24/7 customer support if you want. It is fully responsive and works perfectly on any device with any OS. It also has useful features like Ajax Search or MegaMenu, which will help you fill the website with content and change it as you want using drag-and-drop technology. And Gallery effects like Parallax and Video background, Carousel or Slider. There are many elements like banners, slider, featured products, etc. you can display on home page. CofiBeans has a variety of prebuilt pages. AMP-ready feature allows your pages to load almost instantly on mobile phones. So, do not waste your time - check the demo and boost your business with CofiBeans café WordPress theme!

---
Ever thought about a website with a gorgeous design that attracts customers? TemplateMonster is here to help you. This theme was developed by a group of HTML5 and CSS3 specialists who made efforts in creating valid code. Beansix Magento 2 coffee WordPress theme is well documented, easy to install and fully edible. You can add many useful features, such as Google Maps, different banners, and pop-ups. Numerous visual effects will make your design even more appealing. And blog feature would be useful in sharing content with customers or advertising your business. There are more features and details you may like, so check the demo!

---
This highly responsive theme has valid cod made by professional developers, and you can be sure it is cross-browser, and all changes you do will display without issues on any browser. It is full of useful features. For example, the user-friendly admin panel allows you to change the structure and design quickly and easily. It has social options to provide communication with customers and proper feedback. Play with design to make unique. To do so, you will have a vast Google fonts library and many other elements that will enrich design and structure. And do not forget that Coffee Shop Magento Theme is SEO-friendly and that your website will be in the top of web search results.

---
Coffee Shop Magento Theme is multipurpose website theme suitable for coffee shops, café, restaurants, pubs, bars and other types of eatery business. It is fully responsive and works perfectly on any browser and any device (such as PC, tablet or smartphone). The design has multiple Google fonts, a newsletter pop-up, Google maps and other elements you can use to make the website better. It is multilingual, so you will be able to post content in different languages. This is vital for attracting foreigner clients, especially in touristic zones. With Coffee Shop Magento Theme you can create an online shop and increase your profits.

---
If you run a coffee shop or café or another type of restaurant business, you must know that your coffee is the best. But how to tell other people about? What is the best way to attract visitors and make them your regular customers? Nowadays website will be a great decision. But coffee is a subtle thing. Its most significant value is the taste. And to show customers you have a good test in coffee, they must see your excellent taste in design. This theme has a simple yet beautiful design. Custom Page Templates, Drop Down Cart, Dropdown Menu, Google Web Fonts and other useful elements. You can post your content in English, Spanish, Russian, German languages attracting tourist and creating trustworthy atmosphere. You can make your design even more beautiful with gallery scripts like Accordion, Carousel, and Slider. You can see the demo version with your own eyes.

---
This Coffee WordPress theme has a clean design made for coffee stores. It has white backgrounds, a high-resolution gallery with various scripts and features, ghost buttons and more. It has nothing redundant and looks modern. Moreover, its functions boost your online shop. For example, useful Admin Panel with drag-and-drop technology. Thanks to Admin Panel, you can edit and change website as you want. Such combination of design and valuable features will impress customers and increase your profit. Download Coffee Aroma Magento Theme and increase list of regular customers.

---
A template's background creates an impression of original and appealing design. The TemplateMonster developers team painted this coffee theme in natural colors to make it more suitable for food stores or restaurants. All products can be presented in four columns; you can add information about it, add to cart button and by pressing products icon you can transfer client to the product page. Made on Magento platform this theme works perfectly for coffee websites, pub websites, etc. And clear code made by professionals provides constant work without issues.

---
---
Coffee House Prestashop Theme has beautiful design developed especially for coffee websites, but it will also fit any eatery business, like bar, sushi restaurant or tea shop. It is a modern and reliable template. You can change and edit your website easily with user-friendly Admin panel. Coffee House includes many useful elements. For example, to make navigation intuitive, we built-in live search, drop down menu and drop down cart. To make it compact, we organized items into a grid-based list. To make international trade easier, you can customize selling prices in three types of currency: American dollar, Pound sterling, and Euro. You will also find interesting visual effects here. Play with it, and you will understand this is what you were looking for.

---
Coffee has its own colors, and the goal of every coffee website is to remind clients about the smell and taste of coffee and to create a strong desire for one more cup of coffee. This is why Coffee House Prestashop theme was created in variants of matching soft colors that fit coffee shops and cafés. A white background highlights every element on a website. For other elements of a website, there are customizable color options. And the functions developed for online shops will not let you down, because professionals code them. This theme is easy to customize and edit due to the efficient admin panel. Many useful features will make your coffee website easy to use for clients, boosting your profits and making your life easier. For example, the multilingual feature allows you to contact foreign customers. And do not forget this theme is SEO friendly so more people would see your website.

---
Do you have a coffee business and wonder how you can share this fantastic product with as many clients as possible? With Coffee Aroma PrestaShop Theme, you will have the opportunity to create a website that presents different types of coffee and explains flavors, the history of coffee, and the reasons for coffee's popularity. We made sure it is well documented so that you will have no issues with installation. It is responsive and will transfer design, features and color tones to any device and any OS. You can use features like google fonts library or theme color switcher to vary design and viewers experience. And social options combined with blog function will help you to keep in touch with clients informing them about prices, products or anything you desire.

---
This yummy and modern coffee website theme will impress your clients. Developed to serve for multiple goals, this theme can be used as an online shop for various products. It will fit coffee shop websites exceptionally well. It has all you need and even more. Grid-based or list-based view categories for more comfortable shopping. List of items you can label with additional information for your customers. Customized modules, a drop-down menu, Google maps, social options, and live search are built-in to create a design that is attractive and friendly for a wide range of viewers. This eCommerce theme will bring you traffic and clients. Check the live demo and download Coffee Store PrestaShop Theme right now!

---
This PrestaShop theme was among the Best PrestaShop themes of 2014, and there is the reason for it. Design and colors refer to the coffee theme and get clients thinking about the smell and taste of coffee. Also, useful features make this website multifunctional, ready to be your reliable tool in online business. It works great on PC, smartphones, and tablets with any OS installed on them. It is easy to install, and you will have detailed instruction documents how to do it. PrestaShop theme was created for online coffee shop websites, meaning that it has all the required online business functions. You can use this Coffee Shop Responsive PrestaShop Theme as bar theme, or café theme. If you have some questions, please contact our 24/7 Marketplace Customer Service, and we will help you.

---
A cup of coffee can make your day much better. After Ethiopians discovered the special qualities of coffee, the bean became a worldwide, popular foodstuff, and a culture devoted to coffee was established. Many sorts of coffee beans, multiple variants of coffee-making and even different ways of drinking coffee can be a good base for business. But nowadays, many people rely on the internet while looking for a coffee shop or café; searching Google is easier and faster than any other option, and customers can see other customers' reviews online. That is why you need a proper website. And we are sure this coffee website theme is what you need. Great layouts and a soft tone of color create an appealing atmosphere, while clean coding and 100% responsiveness provides you with a reliable website. Check the demo and download this great coffee websites theme right now!

---
For some people, hot, well-brewed cup of coffee made of high-quality beans is a necessity. The whole day energy and vibes may rely on this cup of coffee. The lack of such beverage can be disastrous. And you can save those people by opening your own coffee business and providing them with coffee related products. The best way to attract clients is through a website. This coffee PrestaShop theme has enormous potential in presenting your products and creating an appealing atmosphere of trust. Modern design has already included pictures and photos to make a better presentation.

---
This coffee website is modern, made in soft colors, and reminds us of classic style tones. Color tones have two primary goals; first, to refer coffee or chocolate; and second, to create an appealing, trustworthy atmosphere that provokes clients to drink one more cup of hot coffee. Bright, colorful decorations match coffee shops, cafés or coffee blogs well. Various features of this coffee website theme can make your website a great online shop. Use social options to keep in touch with your clients. A huge Google fonts library, a drop-down menu, alternative module layouts and other features will help you to change the design's look. And you can easily edit and change structure and design with the help of user-friendly admin panel. Coffee House Shopify Theme will help you to create a coffee shop of your dreams!

---
This Shopify coffee websites theme has all you need for creating an online coffee store and even more. Though it was developed for a coffee shop, it allows you to sell anything online. It is simple to make shopping time for customer easy and intuitive, yet it has many features that give you room for creativity in design and functional. For example, it has customized modules, so it would not look standard but will suit overall design, and you can add or edit them with easy to use admin panel. Same goes for tooltips, blog feature, newsletter subscription, contact form and other great features. And do not forget that we provide you with 24/7 marketplace customer service, so feel free to contact us, and we will help you!

---
This theme has modern design filled with fresh colors and looks very appealing. It will boost your website traffic and your profits. Professional developers made sure it has clean CSS3 and HTML5 coding. It is fully responsive and works on any gadget with any OS. You can blog about important information on your website, and you can post and communicate with customers via social networks due to social options. To make your business even more profitable we built-in possibility to trade with different currencies, which will bring you more clients from different countries. The design has a parallax and lazy load effect to spice everything up. So, check the demo and download this theme right now!

---
Need a logo for a coffee shop, café, restaurant, pub, bar or online shop? Well, we have what you are looking for. This chef logo was made in minimalistic style by professional designers.
It was made in CMYK color mode. It can be easily and fully edited; it has 100% vector, and it is print ready. This logo will make your business presentation notable and appealing!

---
This Coffee Blog Logo is modern, made by team professionals and can become highlight and trademark for your online business. There are multiple ways to use this logo. It can be a sign for your shop or coffee blog, or food and drinks delivery; you can also use it for print and online media and social networks. It has a Photoshop Layered Version, and it is entirely edible. It is easy to maintain and use due to Illustrator AI and EPS format and includes Photoshop PSD. and jpg. versions.

---
This logo will suit literary everything connected with coffee theme. Coffee shop, coffee blog, café, coffee news, etc. You can make business cards with it, print it on apparel, and make stamps, posters and so on. It is easy to use and can be resized as much as you want. It also has various features:
Source Files (.Ai, .PDF, .EPS ) are Included in Zip Folder.
All in CMYK color mode.
100% vector file fully editable.
Easy to edit text/fonts and colors.
A link to free fonts is in the Zip Folder.
---
Cafehouse - Food Online Ordering eCommerce is a state-of-art layouts design created with attention to details to make it clean and eye-catchy. It is suitable for online food delivering, pizza shops and fast food restaurants. It is beautiful and will boost your website traffic and your profits.

---
Foodier design is appealing and makes food look even better-provoking customers hunger and desire to bye and eat. It will feat most eateries, like pizza restaurants, fast food restaurants wok café, bakeries and many more. It is multipurpose, easy to customize, and if you have some questions, you can contact us via 24/7 marketplace customer service. Check all features Foodier Creative One Page Parallax PSD Template has:
Single Page Design
Use Creative Sense
Parallax View
Multipurpose
1920 High Res Canvas
Google Web Fonts
Pixel Perfect
Easy to Customize
---
This coffee shop PSD Template is a one-page design template for your website. It was made in strict style using soft colors, and such design decision was done to create pompous aristocratic atmosphere. It will attract more customers by presenting them your business and your products in the most appealing way. It will fit in coffee shops, cafés, European restaurants and many more. Buy it now and feel the benefits of design change!

---
This is probably one of the sweetest PSD templates in the world; it will suit coffee shops, cafés, candy stores, bakeries and many more business types connected to coffee, pastry, and pompous or delicate décor. All details were made and polished by a team of professional designers, and this PSD template will increase the number of online visitors and return customers.
---
Conclusion
In Top 33 Coffee WordPress Themes, we presented you with high-quality digital products for websites related to coffee. They were made by a team of professionals armed with the latest technologies. One of the templates will turn out to be perfect for you. And if you have any questions, please feel free to contact us via Live Chat.

---
---
Read Also
15 Inspirational Coffee Mug Designs for Web Developers
How to Create a Website for a Coffee Shop Using Themes