Intro
To be successful and ensure the reliability of your online business, you have to create a website based on a reliable e-commerce platform like the Shopify e-commerce platform. A website based on Shopify will not present any problems to your online business. There are different types of Shopify themes with different functions and designs, but you can be sure that the Shopify e-commerce platform will work perfectly as an online store and be easy to edit and improve. Shopify will help you create an online store quickly and without investing sufficient efforts.
---
---
---
By the way, there is a way to get lots of premium Shopify templates for a sufficiently lower price. Recently our team launched ONE by TemplateMonster - a subscription service of TemplateMonster marketplace. For only $19/month subscribers get unlimited access to the best and most popular products. There is a huge bunch of the most efficient Shopify website templates. You will be able to download as many of them as you want and use it for any number of projects you need. To make it even more profitable - here is a coupon, that will give you a 5% discount for the ONE subscription, you just have to follow the link above. Just imagine - hundreds of best Shopify store themes and all they are available for you in the distance of a single click.
---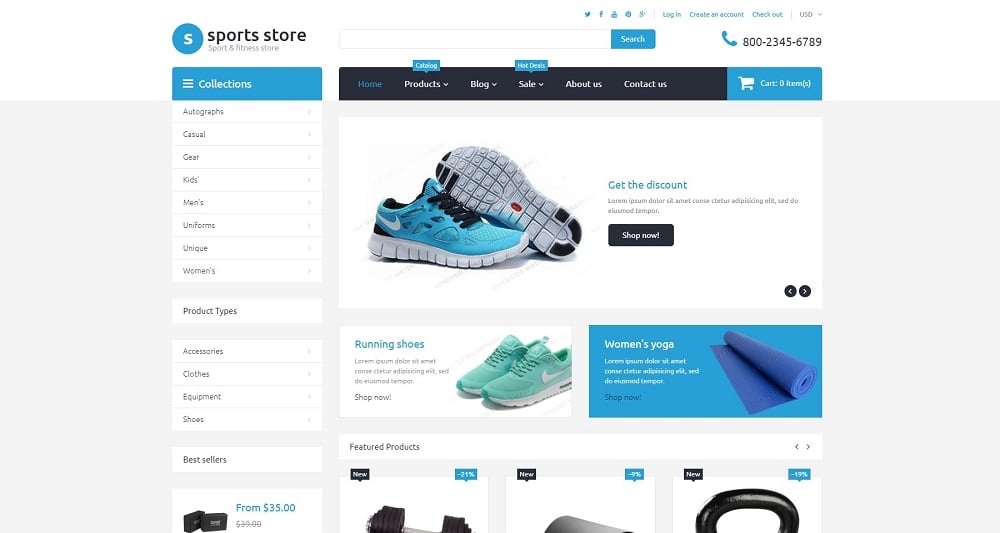 100% responsive
Crossbrowser compatible
Drop-down Mega menu
Multicurrency module
Built-in online chat
You can download this sports Shopify theme for free and get fully functional design features to create a proper e-commerce website. This theme is what you need for an online sports store. Though it is simple, it has many useful features which you can use to make a business successful. For example, you will have a user-friendly admin panel that will help you edit the website and maintain its content. As other free Shopify themes from TemplateMonster.com, this particular theme was strictly based on the Shopify e-commerce platform, which is one of the best platforms for online stores. Multiple visual features create attraction and boost your sales. For example, the timer on the top of the theme's pages motivates clients to purchase items from the store. To get feedback and to keep in touch with your customers, you can add social options. Social options were placed on the top and bottom of each webpage. You can place prices in US Dollars, GB pounds, and Euros. You will have no issues with installing and using this free Shopify theme, thanks to its code. Download this Shopify free theme right now and make your online store look perfect.

---
Social media buttons
Completely responsive
Ready-made contact form
Search engine friendly
Parallax effect available
This is one of Shopify free themes that was created in delicious tones and will make your mouth wet! It was created as a free example of e-commerce's effectiveness in today's alcohol market. Now, most people are looking for everything via the internet. Car, grocery or alcohol shops have to go online to boost their profits, and they go online by creating websites. We can help you choose the correct template from the Shopify theme store on our marketplace. This particular Shopify theme is FREE and has all you need for a good website. The theme's highly responsive and eye-catching design with multiple visual elements presents your products with care and can be easily edited due to its intuitive and user-friendly admin panel. You can use a newsletter subscription to spread information about new products, discounts or sales. Try this one of the best free Shopify themes and see how effectively it helps your business.

---
Mega-menu at the header
Video background
Multicurrency block available
Fully mobile friendly
Multiple animation effects
This simple Shopify theme looks very elegant and suits flower online stores perfectly. It has a specially developed design to present your products in the most desirable way. The Shopify theme's gentle color tone and elegant structure create a feminine atmosphere and motivate clients to purchase. This is one of the free Shopify templates that was created to work perfectly for an online business website. And to make sure that the Shopify theme is easy to use, a team of developers made it with care and with clean HTML code. It is highly responsive and has a useful admin panel that allows you to edit the website with a drag-and-drop feature. Fleur de lis Shopify template has six pre-built pages, allowing you to trade using different currencies, keep in touch with clients via the social options, create a personal blog to inform customers about your business and discount new products or floristic tips. Check the demo to find out more about one of our best Shopify themes free for download.
---
Built-in Instagram feed
Newsletter subscription form available
Countdown timer included
Absolutely responsive
Sticky menu
Fashe is also one of the free themes for Shopify. Created with care for details, this Shopify theme will perfectly present your clothes collection, allowing customers to search and choose products on your website. It has intuitive search navigation and eye-catching design made in bright colors to attract viewers and create an atmosphere of elegance and trust. It has seven pre-built web pages which you can fill with content. Almost all Shopify eCommerce themes, Fashe allows you to trade using six currencies: USD, GBP, EUR, PKR, CAD, and JPY. Pre-built social options in the theme let you keep in touch with customers and get feedback. This free Shopify store theme allows you to customize different types of payment and shipping methods. Moreover, you can use many visual and structural elements and effects to increase the functionality of your website. Fashe will definitely fit online clothing stores, fashion stores, fashion brands or clothing manufactures and other outfit related online businesses.

---
Search engine optimized
Mobile-friendly design
Designed especially for apparel stores
Stunning header slideshow
Pop-up shopping cart
This is one of the best Shopify themes for clothing and it was created with two different styles: Classic, for more corporative online stores; and Playful, for online businesses that prefer more cheerful and colorful design solutions. Though it is simple, it has all the features you need to operate perfectly as an online store. First of all, as all Shopify website themes, it guarantees you easy maintenance. It is highly responsive and works perfectly on PC and smartphones with any operational system. It has professionally build webpages, so you can fill the website with the content you like and edit it easily. With this prestige Shopify theme, you can create a blog to keep your customers informed about the latest news and new arrivals. And in addition, the theme's built-in social options allow you to keep connected with your customers. There are also features like newsletter subscription, visual elements, different types of payment, and more. We recommend you check the demo and find out by yourself that free premium Shopify themes are the best solution for your business.
Meadow Glow

Love this theme! Looks nice on desktop and mobile!
---
Created for efficient brand storytelling
Built-in autoplay video
Vertical slideshow
Stock photos included
Responsive design
Professionally designed by a team of developers, this Shopify theme has a huge visual potential to be one of the most attractive and eye-catching free themes for Shopify. You can check it in the demo preview and see how good it is and how various features built into the Shopify theme work. Narrative can be bought in three different styles, depending on what your website needs. Plenty of features that developers provide you with can make your website a reliable and important tool in online business. You can easily customize website content with a drag-and-drop technique. This one of the Shopify best themes has intuitive navigation to make search and buying easy for clients. Moreover, you will have free stock photos by Burst and multiple design elements to make your website even better. You can also customize it, as any of Shopify free templates, with various color options. Drop down menu will increase the attractiveness of your online store. That is why Narrative Free Shopify theme is a great choice for different types of online businesses.
trimatrasec 

It is a modern template with a minimalist style, perfect for selling few products. I hope to have good feelings with it
---
Built with mobile-first philosophy in mind
Three design styles
Mini banners included
Instagram gallery feed built-in
Product zoom
Made as one of the best free themes for Shopify, Annabelle was designed to work perfectly as an online store. It is free and has huge potential. It can be used for different types of online businesses, but it is best used for online stores related to apparel. Various home page templates come in two styles: overflow and full width. You will also have mini banners and webpage goodies. Annabelle is fully responsive and works perfectly on any type of gadget, adapting to all screen sizes and working on any OS. There also are three elegant design styles created to fit your personal expectations. Play with various column formats to choose your preferable structure. Annabelle is a fully customizable Shopify theme. Due to its three types of bright and eye-catching design, it will fit apparel online stores, personal photograph websites, as well as online jewelry, footwear, and fashion shops. This free Shopify theme download is what you need to become profitable and efficient.

---
---
Minimalistic and clear design
100% mobile-friendly
Perfect for a clothes store
"Related products" module
Advanced sorting options
We are sure that for high fashion online stores, the most important part of the business is items this online store presents. The customer should be attentive directly to your fashion items. That is why we present you with Minimal High fashion free Shopify theme. It was developed to make an accent on the products you sell and look great at the same time. The design was made in bright colors by professional designers and corresponds with minimalistic style, yet it doesn't feel empty. It feels full of features. For example, Google maps to locate your shop address, or social options to give your customers the opportunity to contact you. You shouldn't worry that there will be any issues with this theme, Shopify-powered products work perfectly. Minimal comes with useful graphical elements like a slideshow and zooming feature. You can also provide different payment and shipping options for your customers. Shopify themes free download - what could be better?
annececilecreation

Happy with that theme. Good base to get slideshow, pics and text, light design.
---
Product-focused design
Fully responsive
Goes in two styles
Fading effect animation of a slideshow
Sticky menu
Free Shopify themes like this Boundless website theme are a great opportunity for you to get a free, fully operative website. Just look at it. Professional developers and professional designers created it to be a perfectly working platform for e-commerce online stores. It is highly responsive and works on PC and smartphones equally well. And also, it can work on any operating system. It can be bought in two different minimalistic styles: Black & white, which is more suitable for photography websites or online fashion stores; and Vibrant, which is more colorful and designed for e-commerce websites or online bike stores. Both styles have multiple features that you will like. For example, Slideshow has a fading effect, and high-resolution images optimization presents large images. You will also have pre-built pages and easy navigation. Thanks to the platform, you can sell products with different payment and shipping options with these themes, Shopify supports most of the popular modern payment systems. Try out this Shopify theme, free for download, and you will be totally satisfied.
LGM Shop

Great theme. Especially for nice pics! Worth a look if anyone is thinking about, it's free to try it out!
---
A menu in the sidebar
Simple and minimalistic design
Absolutely mobile-friendly
Image animations block
SEO-friendly coding
Presented in two styles, this is one of the best themes for Shopify and it is totally free. You can install it and customize your own online store as you wish. Isn't it the deal of the year? It was developed by professionals with clean code to make your e-commerce website fast and simple to use. To make it even better, developers put much great design and structural features into this Shopify theme. For example, customizable content sections on the home page, social media icons, built-in styles, and color palettes and more. Simple is a minimalistic theme created to highlight items in your online store. And you can choose among two minimalistic styles for your website. To promote your website in web search results, developers made Simple SEO-friendly. And you will also get free stock photos by Burst. And to make the theme responsive, developers coded it to be mobile- and computer-friendly. Check the demo to see yourself how good Shopify eCommerce templates are.
Themarketplace.net 

It is user friendly and easy to set up and save time.
---
Convenient shopping cart
Laconic design
Zoom of every product image
Styles and color palettes build-in
Crossbrowser compatible
Ever thought about using a simple and cheap template that will also be one of the top free Shopify themes? Then we have something for you! Pop Shopify online store template is free. With Pop, you can choose among two minimalistic styles filled with useful features. It has search engine optimization to promote your website in web search results, and drop-down navigation support to help people shop on the website. Drop-down navigation support also makes editing the website easier. The theme comes with free updates. The slide-out cart makes shopping pleasant and boosts trade. You can use social media to share news or important information and keep in touch with customers. Or you can blog about news in your business or even write useful posts about various topics. It has a product image zoom and many more features you can use to be a successful owner of an online store. Just follow the link and check the demo. You will definitely like one of the best available templates for Shopify.
---
Created especially for big stores
Goes in three styles
Promotion banner included
Drop-down menu with multiple columns
Perfectly responsive
Venture has three types of design you can choose from. In fact, it is almost as if there were three different Shopify web templates and each of them is good for active recreation, snowboard online stores, sportswear online shop and sports equipment related to online businesses. This free custom Shopify theme is good when it comes to large numbers of products because it has structured large catalogs which you can easily edit and change. To make shopping easy and pleasant, we inserted a multi-column menu so customers could see product details in a large drop-down menu with multiple columns. You will also have banners for promoting important items, or you can place particular products in the center of your website to advertise it. You can also filter products by type, price, vendor and other specifications. Thanks to the Shopify platform, customers can make purchases in various ways. Social options will provide you with valuable feedback. Download this Shopify theme right now and feel the benefits of online trade best Shopify designs can offer!
Footverse

Excellent theme!
---
Flexible menu with different levels
Absolutely mobile-friendly
Promotion banner included
Testimonials block built-in
Convenient product sorting options
Supported by full documentation, this free Shopify theme is easy to install and maintain. Created with Shopify technology, this website theme is reliable. It has four beautiful pre-built web pages which can be filled with content. You can choose one of two design styles to match your desires. You can insert a slideshow with a video to promote your items and impress customers. And to create an atmosphere of trust, you can use the testimonials feature and show reviews of grateful buyers to viewers. It is SEO-friendly, so your website will be at the top of web search results. Depending on the style you choose, the theme will work perfectly as an online furniture store, fashion, and casual wear shop or online accessories store. This is a reliable and FREE product for your online business, which was made by experienced developers. Don't waste your time - just follow the link and press the download button.
OffensivelyBlessed3

Offensively Blessed Love it~ Glad I chose this one to start with....
---
Catalogs created for a big number of products
Advanced filtering options
"Featured products" block
Compatible with all browsers
Conpletely mobile-friendly
If you own a photo gear store, an accessories store or a clock store, you will definitely need an e-commerce website to boost your business. That is why we are ready to present you with Supply free Shopify website theme. It is based on the Shopify e-commerce platform, allowing you to sell products with different payment methods. It includes various webpages built by professional developers. You can add content to those web pages and maintain them easily. Coded in clean code in HTML5 and CSS languages, this Shopify theme works fast. And do not forget about free theme updates. Minimalistic design in bright color tones is perfect for highlighting items you sell and important information. And features like Google maps and social media icons bring more possibilities to you. Moreover, Supply is SEO-friendly and has huge catalogs to fit stores with a large number of products.
---
Ideal for a crowdfunding project
Goal-tracking tool included
Video player built-in
Custom modules adding available
Stock photos included
Jumpstart is the best Shopify theme for mobile. It is full of features and has a design with multiple visual elements. It is highly responsive, and professional developers made it for e-commerce websites and crowdfunding campaigns. It can accept donations in different ways and provides a problem-free browsing experience, thanks to the Shopify theme it is based on. It is designed in bright colors and with banners, and it has a campaign tracker to create an atmosphere of trust. With Jumpstart, you can also buy products or pre-order. Basically, this website is what you are looking for, and it is FREE. So what are you waiting for? Just press the demo button, test the theme and download it to begin your crowdfunding campaign.
THE HORSE BACKSTREET CHOPPERS MAGAZINE INC 

As a Shopify partner I've worked with many themes. Working on a non-profit website that needed to be simple and very clear, this theme gives all of the required basics to build a beautiful website. The hugest part of loving this theme is the campaign section. It's a great feature. It's pretty easy to edit the code and make the necessary changes. The negative reviews did not deter me. Thanks.
---
---
Conclusion
In this post, we presented you with our best e-commerce products. Professionally developed and full of useful features, they will be indispensable tools for your online business. Try them out and feel the power of the Shopify e-commerce platform. We are sure you will find what you were looking for, but in case you have some questions, feel free to contact 24/7 marketplace support for assistance and additional information.

---

---
Read Also
40 Outstanding Fashion Shopify Themes
20 Best Free WooCommerce Themes to Build Conversion-Oriented Stores in 2018
Top 50 Responsive Free HTML5 Website Templates 2018