The previous years have set a lot of trends in design, and here is one of them – the crossed "X" logos that are in full force these days. It seems to be an ubiquitous trend as for today, a number of designers like it and use in their sites. Still, to talk about a logo design only is not quite correct. It is better to talk about branding, branding system or brand identity. In fact, a logo and corporate identity should work perfectly together.
The type of logo, we are going to discuss today, is also called hipster ("hyper trendy" here) logo, X logo or just crossed logo and looks like a big X with objects and types arranged around it.
The design originally stems from New York hardcore, the sped-up, ideological hybrid of punk and metal that emerged in the early '80s, has many factions and one overarching symbol of solidarity: the letter X with the initials N-Y and H-C written through it. That tribal mark not only brands the local scene but has also spawned countless copycats in cities and suburbs around the world.
From the psychological point of view, "X" is the most paradoxical and powerful letter. It has been used in so many fields - from algebra, to genetics, to aerospace, to sex and spirituality.
If you are one of those who can not decide on the design of your own logo, I would like to draw your attention to the ready-made logo templates, crafted by the best specialists in the industry.
Meanwhile, in this post we have showcased the best examples of websites with hipster logos. Enjoy its simplicity and brevity.
---
---
Why Hipster?
Somehow, the term "hipster" has become a synonym to something artisanal or handmade. Such things have the basic formula at the core and look extremely trendy for today. The same goes about hipster logos that look simple and add modern, rustic tone to the brand. What's great about them, they don't take away from the products or business ideas of the project, they just bring a trendy vibe into the whole design.

Crafting Hipster Logos
Designers like these logos because of effortless symmetry. Being incorporated in any type of design, it still looks great. Using such logo (even with a lot of elements), the layout will never look over-saturated.
"X" logo looks like various graphic elements (icons, initials, dates, heraldic symbols) that are placed around "X" sign. The crossed components can take different sizes, shapes, so as the symbols inside them. You could see a kind of guide, The Hipster Logo Design Guide, that shows in 6 simple steps how to create a cool logo. "No concept is necessary" is said in this step-by-step tutorial, and it's a truth in the saying, 'cause most great creations and quite simple.
Implementing hipster logos in your design, you bring a certain sophistication into it, and a modern look. If you want to be trendy, this is the way to go. How others do it? Check out the compilation of most exciting website with "X" logos.
***
***
Robot Dance Music
The blog offers label songs, singles and albums on MP3. Their logo is one of the best examples of a crossed hipster branding. Crosses lines, three capital letters RDM and an image of a cat. Clean and minimal.
***
OXYDO
It seems to be one of the best examples of creating a true hipster logo. This one is made of 5 letters one of which is "X". Consider this tip, if the title of your site contains "X".
***
Buffalo Dandy
True fashionistas shouldn't miss this site. Simple trendy design pleases the eyes, neat hipster logo against the blurred background sets the modern tone, so as the effective background texture (imitates luxury fabric).
***
Playful 2013
This cool parallax site makes feel a bit dizzy. It looks hyper-modern due to the X logo, diagonal arrangement of texts and bright backgrounds with changeable texture above.
***
Sergeant Pepper
Two crossed arrows, border lines and iconic font make this hipster logo look extremely stylish, so as the whole minimal design does.
***
Residence Mixte
Simple aesthetics of this logo fits the whole design concept that strives for minimalism and style. Being put against the colored background, this logo looks distinctive.
***
Anders Wants to Be Great
The next logo decorates the header of effective black & white design portfolio. It is made to fit the overall simple style of this design. Crossed lines, three letters and date below. Ears of rye on opposite sides adorn this logo.
***
BDP New
Crossed lines, three letters (abbreviation) and tiny image put in a circle is enough to create a stylish hipster logo.
***
Brunswicker
The next logo incorporates the main information about the company it presents. The name, date and place where it was founded. Paired with the minimal style of this site, it gives highly modern look.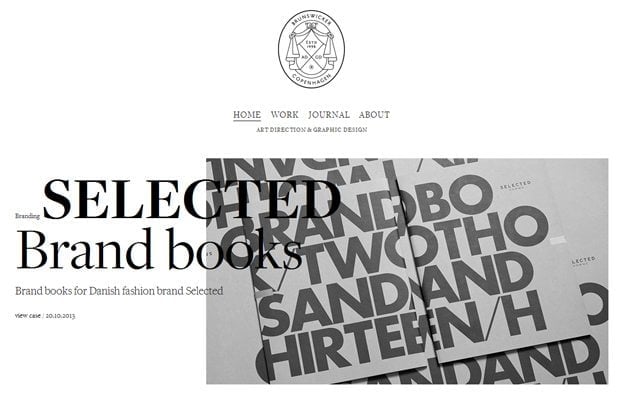 ***
Division of Labor
Browse the subpages of a site to see this clean hipster logo (with images inside) changing its color.
***
Made by Vadim
The logo you see is a stylish solution for creative projects. This single-page site of a Russian designer makes use of cool logo that encircles the site title, some date, heraldic lions on each side. Custom shapes decorate this logo.
***
Mamie Boude
The logo of the following site features a lot of elements with X sign placed in the middle. The presence of a ribbon, colored background, nice images in this logo, doesn't make it noisy.
***
Murial Labro
The next design features truly hipster look. Notice this striking minimalism, perfectly chosen fonts, crossed logo and unbelievable mustaches pointing out scroll down option.
***
The Kings of Summer
Ribbon, stitches, sward, arrow and abbreviation. This hipster logo makes use of cool trendy elements to create really cool vision.
***
Royalties
Simply executed X logo with a crown and a ball put inside it sets the tone of this design. Notice that even socks this shop offers are crossed.
***
And what other examples of hipster logos have you seen? Tell about them in the comment section.
Create a Logo!
Need an attractive logotype for your website, but have no way out? Professional web designers from MotoCMS will help you.
Our team will come up with the best solution for your brand according to your personal requirements. If the logo doesn't sit with your requests, we will redesign it up to 3 times.