Eleven months ago, I was working for the newly-born startup called StartupHub. It was an ambitious educational project from TemplateMonster, and we had quite an enormous goal — to teach everybody in the world how to build websites with minimum budget and no skills. I was part of a small team of three people. Among other things, my duty was to maintain an account on Quora.com.
We were striving to get 1000 daily pageviews. That was our Mount Everest, our cherished dream. Three months after the launch, we finally saw those sacred numbers in our Google Analytics. Most of the visitors came from Quora. (I'm still proud of this, to be honest.)
Now, some of you may be confused. What does Quora have to do with any whatsoever marketing efforts? Here's what.
Every day, hundreds of thousands of people use Quora to ask their questions — from relationship tips to the trending world news. Whatever business you're in, there are individuals who ask about it there. So why not answer them, inserting a link to your website along the way? Marketing experts have been using Quora like that for years.
Now, after 7 prosperous years on the market, Quora is finally launching its own advertising tools. While the ads are still in beta-testing, the output from them is quite striking. MonsterPost has reached out to Quora's Director of Marketing Helen Min and asked her a few questions on how we can use their ads right now.
As I've already mentioned, Quora's advertising campaign is a pretty new thing — they've started beta-testing it this year on April 19, but such companies as Lever, Sunrun, LawTrades, Asana, Udacity, WNYC Studios have already participated in the beta program.
And so can you. Any small and medium business owner can apply to start their ad campaign right away by emailing advertising@quora.com.
---
What happens after you apply?
After you've applied and talked through all the details, you'll gain access to your self-serve ads manager, where you can plan everything independently and track the effectiveness of your ad campaign. Here's how it looks.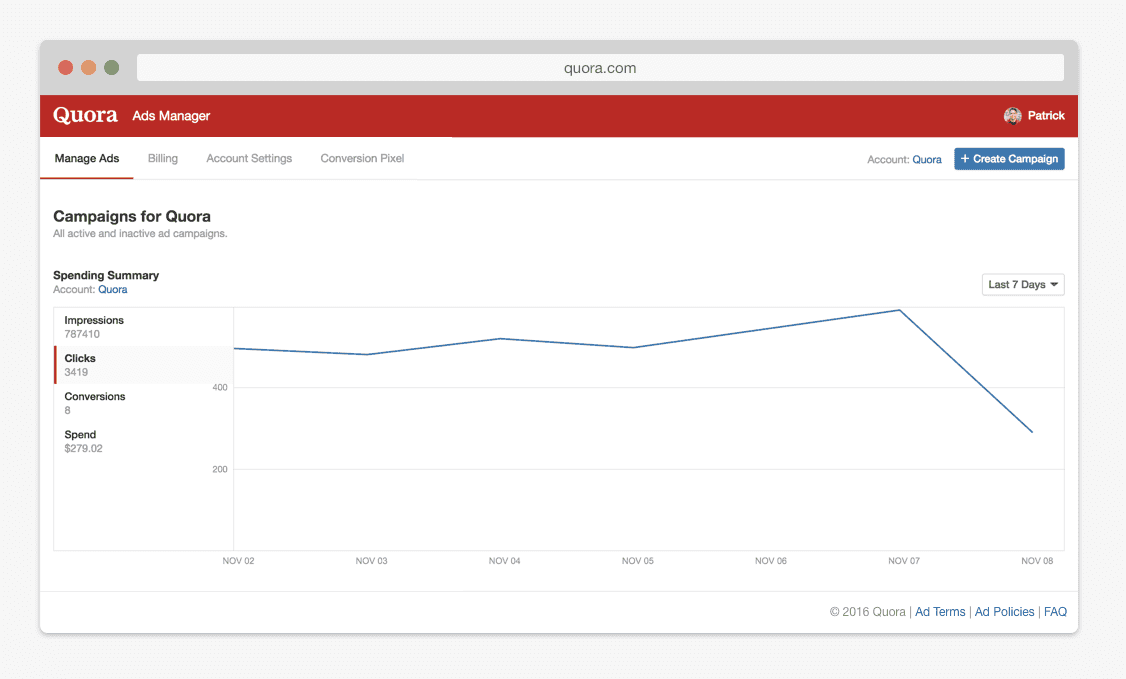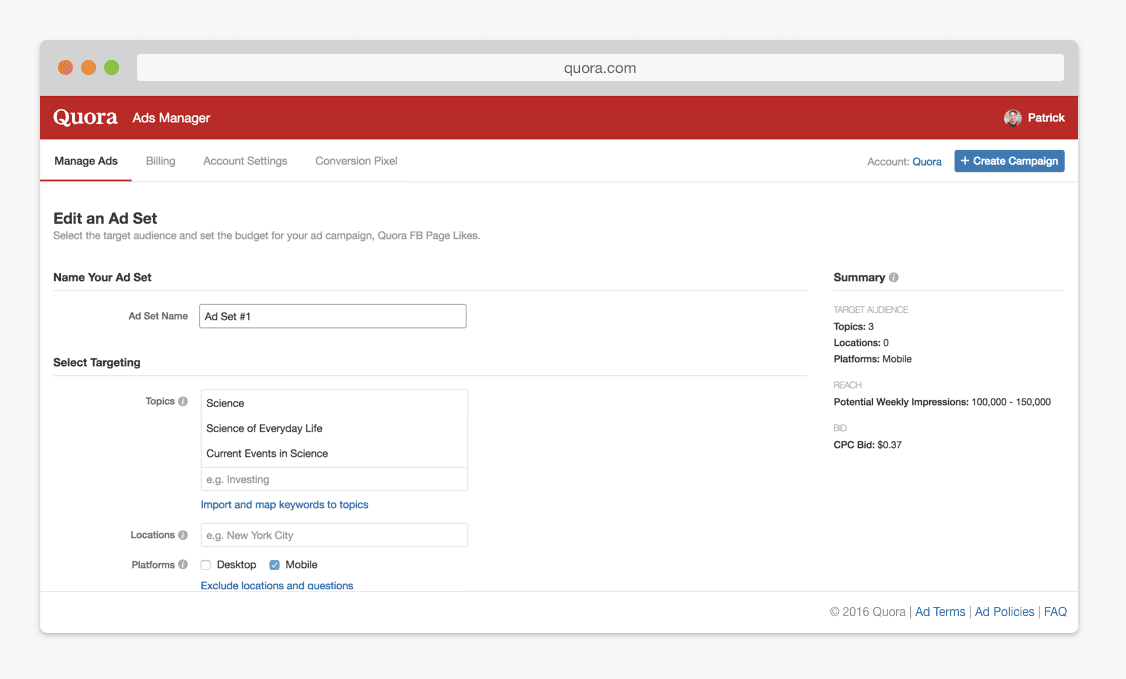 Helen Min: We strive to create value for advertisers by helping them reach a qualified audience who are likely to be interested in their products and services. We run a VCG auction, the same auction type that Facebook runs, currently charge on a CPC basis, and provide a conversion pixel to help track and optimize towards the most valuable audiences.
Average cost varies depending on the vertical an advertiser is trying to reach and how much other advertisers are willing to pay for a click in that vertical.
---
That's what's on the inside, how does Quora ad look like on the outside?
When you've set up everything properly, your ad will appear at the top of the suitable questions on Quora and will be labeled "promoted". I must say, their team did a great job trying not to be too pushy. It won't look anything like irritating banners or, what's worse, full-screen pop-ups, but rather as an organic "alternative" to other answers.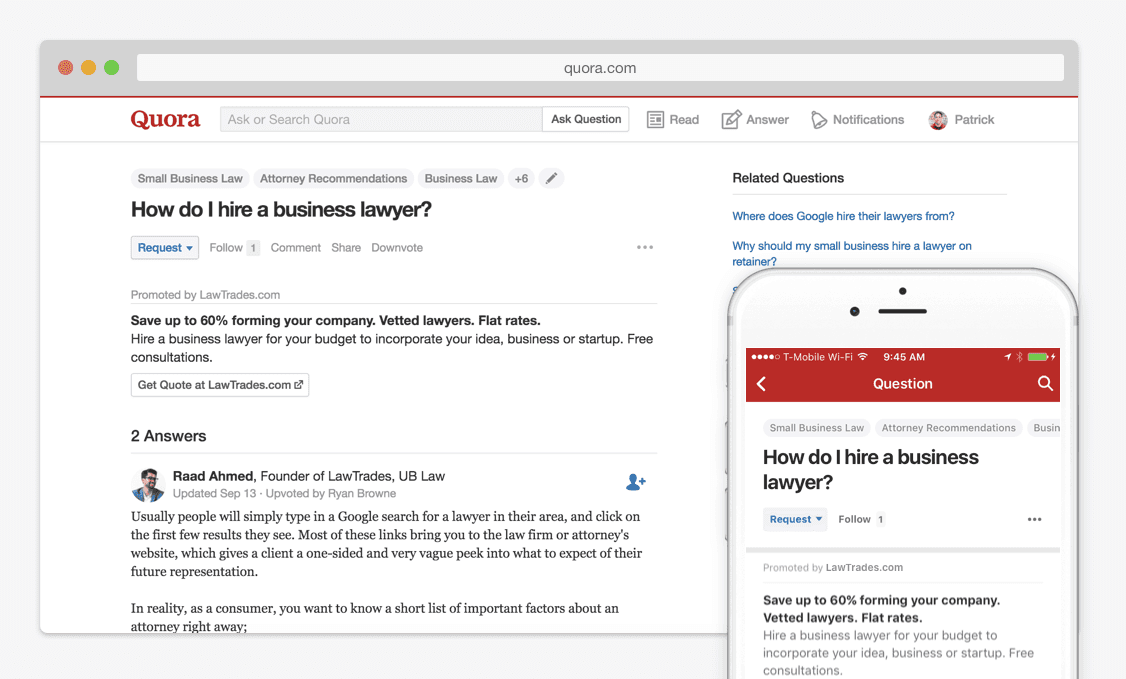 Helen Min: People often turn to Quora when looking for answers to questions that can be solved by a specific product or service. There are many organizations that can help serve the needs of our users in a genuine and authentic way. Quora ads connect businesses to those users with relevant needs.
---
Those are bare facts, what are the real success stories?
On November 10, Quora announced that "advertisers hit their target". At least, that was the name of the blog post, where they were telling a peculiar story of a startup called LawTrades.
As a new startup, LawTrades faced a common challenge for young companies: finding efficient ways to get the word out about their services and acquire new customers.
To reach their target audience, they began answering questions on Quora related to their areas of legal expertise. This not only helped them to build awareness, it also delivered high-quality leads.
After getting a constant flow of highly engaged customers from Quora, LawTrades had no doubts about joining Quora's ad campaign in April. And they never regretted it.
It was the fastest way to reach the audience they were looking for—people who were already in search for solutions. They were much more likely to click the ad and get engaged. Another pleasant surprise was that the ad on Quora helped LawTrades increase organic traffic.
---
The bottom line
Helen Min
:
Quora's mission is to share and grow the world's knowledge. The scale and reach of Quora has continued to grow exponentially around the globe, with well over 100 million monthly unique visitors. We're at a scale and on a growth trajectory where we can provide valuable services to businesses and users through ads.
We are committed to making Quora last forever. To fully achieve that we need to make sure that the knowledge on Quora will improve and last forever. We hope that revenue from ads will play a part in empowering us to do that.
Right now you're probably thinking whether you should start your own Quora ad campaign or not. In any case, it's a good idea to visit their website and read some valuable or funny answers to a question you're interested in. After all, it's a unique place to share unique experiences. For example, you can start with these 3 questions (get ready for tons of cool information):