2 HVAC OpenCart Templates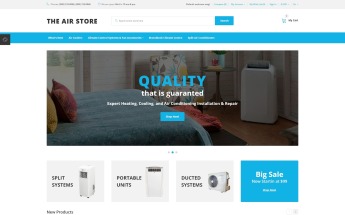 HVAC OpenCart Templates
Selling air conditioning products can be a daunting task especially if people cannot get to you easily. Luckily, we live in a digital age where you can easily take your products to the people. A website is the only way you can get closer to your customers and arrange your products in such a way that they can easily find them.
The best solution is through the use of Air Conditioning OpenCart Themes.
Best Premium Air Conditioning OpenCart Templates
These templates are professionally designed and allow you to place your products in their respective category without a complex process. This will in turn assist the consumers in finding the air conditioning products fast since the navigation is easy. If you are a professional website developer, using the Air Conditioning Supplies OpenCart Themes will allow you to create as many websites as you can within a short period of time without compromising the design quality. The products featured will be well framed and will have zooming capabilities for better viewing. The design will be light and minimalistic for improved responsiveness across different devices.
For professional results in your business, you should work with a professional website that attracts consumers and keeps them navigating through the products. Choose the Air Conditioning Company OpenCart Templates that will help you in taking your products closer to the people without spending a fortune!