2 Antique Shop WooCommerce Templates for WordPress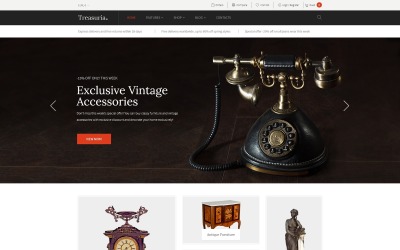 2 Best Antique Shop WooCommerce Templates for WordPress 2021
Antique Shop WooCommerce Templates for WordPress
Every antique store owner knows that, in order to attract clients, it needs to present the products in a special way. The same idea goes for an antique store online: you need to charm the viewer with great images and perfect combination of colors.
The best solution for an online antique store is one of the gorgeous and sumptuous Antique Store WooCommerce Themes.
Antique Mall WooCommerce Templates
The right template, used correctly, will help you sell more and increase your client base quickly.
When selling expensive products like in an antique store, you need a bit more than simple product images. You need a special combination of colors in order to set the mood and you need special settings that will let your clients know your site is worth their time. The Vintage Store WooCommerce Templates use elegant colors and various types of galleries that allow you to present the products in a unique, innovative way. The WordPress WooCommerce themes also allow audio and video integration and the possibility to create pages like Testimonials, Portfolio, and Our Team. This way, you allow the client to know your company before choosing the product.
The back panel is used for store administration and you can introduce products, images, set up the Contact Form module or customize pages using a very intuitive interface in any WordPress E commerce template. The integration with Cherry Framework makes your online store very easy to use and set up.
Browse through our collection of Antiquity Store WooCommerce Themes specially built for such a sensible business area and choose the best one for your online store!
Feel free to look through our carefully-picked variety of Antique WooCommerce Themes for a wider selection of related layouts.
Responsive Antique Store WooCommerce Templates Video Tutorial
This tutorial shows how to add a product/category to the page/post using shortcode in WooCommerce in easy way.
Antique Store WooCommerce Themes FAQ
When to use antique store WooCommerce themes?
These templates are an ideal solution for online stores that sell retro items. Our products come with all the necessary elements and plugins to create a user-friendly online shop. The included modules are optimized to provide users with the best possible user experience.
How to choose the best antique WooCommerce themes?
Please check the left panel. It has filters, where you narrow results by tags, the WP builders, features, WP version compatibility, price, etc. If you look for a specific item, then consider using the search bar. Don't forget to check the product details page to learn more. We also encourage you to use the live demo feature to see how the template works and looks.
Are your antique store WooCommerce themes mobile-friendly?
Our designs are mobile-optimized (responsive). They will work correctly on devices with different screen sizes.
Are your antique WooCommerce themes easy to customize?
Our templates are compatible with different visual builders. You can drag the required element and drop it where needed. If you need help – please consider requesting the storefront design services.