1 Career Education WordPress Templates
Career Education WordPress Templates
Best Premium Career Education WordPress Themes
.custom_descr_task h3 { margin-bottom:20px; } .custom_descr_task p { margin-bottom:20px; } .custom_descr_task ol li { color:#243238; font-size:14px; line-height:18px; margin-bottom:20px; } .custom_descr_task ul li { color:#243238; font-size:14px; line-height:18px; padding-left:10px; margin-left:20px; position:relative; margin-bottom:20px; } .custom_descr_task ul li:before { content:''; display:block; position:absolute; left:0px; top:8px; width:3px; height:3px; border-radius:50%; background:#243238; } .custom_descr_task table { margin-bottom:40px; font-size:14px; color:#243238; width:100%; border-bottom:1px solid #e0e0e0; background:#f2f2f2; } .custom_descr_task table tr:first-child { background:#e0e0e0; font-weight:700; } .custom_descr_task table tr:first-child td:first-child { text-align:center; } .custom_descr_task table td { text-align:center; padding:10px 15px 10px 15px; } .custom_descr_task table td:first-child { text-align:left; } .custom_descr_task .video_wrapp { margin-bottom:40px; }
Career Education WordPress Themes FAQ
How do Career Counseling WordPress themes work?
WordPress theme template files are written in PHP and HTML, and end in the file extension .php. All of your blog's unique information (including your site name, your blog posts, and every single comment) is stored in a MySQL database. That information is retrieved from the database using the programming language PHP. Then, the retrieved information is displayed via your theme's template files, using HTML and CSS.
What is Career School WordPress theme customization?
The process of customization of any WordPress theme involves its personalization and adaptation as per your needs or the requirements of your brand. The theme's customization involves changing colors, fonts, layout styles, adding custom extensions, and uploading it with your own content.
Which Career Advisor WordPress theme is the most customizable?
If you want to feel the ease of customization of a ready-made WordPress theme, then working with Elementor WordPress themes will be the best solution. These are intended to be modified in the visual mode, without any special coding skills.
Which Career Coaching WordPress themes are best for beginners?
If you are a beginner webmaster, then drag-and-drop WordPress themes will be your best choice. These are intuitive and feature-rich web solutions that are ready to be modified in a drag-n-drop editor.
Can Career Training WordPress themes be customized in the visual mode?
Definitely yes! There's a number of drag-and-drop page builder that allow you to apply any sort of changes to your theme's layout in the intuitive visual mode. For example, you can try working with Elementor and Power page builders.
Buyers are not Indifferent to the Products They Purchase
Havent used it yet but I love this template because it lets you really highlight one or two main things so that they don...
Read more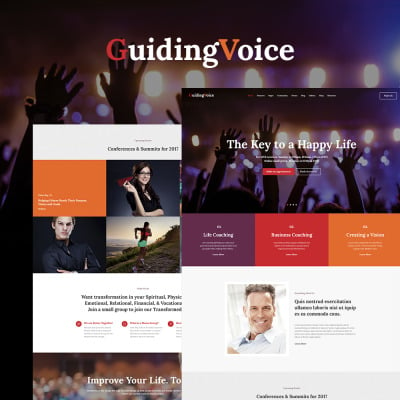 Guiding Voice - Life Coach WordPress Theme WordPress Theme
WordPress theme
Great template which is good looking, responsive and best of all: My customer is very happy with the theme! :-)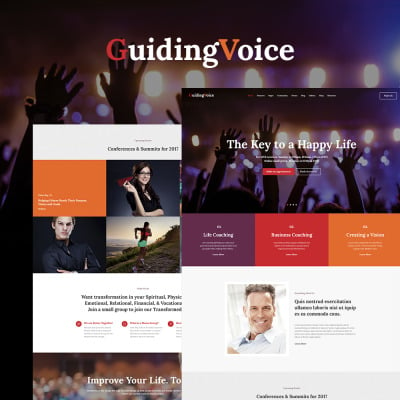 Guiding Voice - Life Coach WordPress Theme WordPress Theme
WordPress theme