1 Delivery Services Magento Themes
Delivery Services Magento Themes
With the development of online shopping and restaurants, delivery services have become a very profitable business niche. To convince clients to choose you over the competition, you must allow them to find your site quickly and navigate efficiently. A specialized theme will definitely do the trick!
We offer a cost efficient method that will allow you to improve your success rate and increase the number of loyal clients: the new collection of Delivery Services Magento Themes!
Best Premium Delivery Services Magento Themes
These templates are professional, promote advanced features and are simple to install and configure.
Any professional theme uses high quality images and good content organization to create a welcoming and relaxed atmosphere for the viewer. Our layouts include these basic elements and add value through visual effects and advanced features that improve the online user experience. The first thing viewers will see on your page is the main slider. This is why we introduced high quality stock images that inspire professionalism and high quality of services. Next, the viewer is guided through your site using the main menu, allowing for a simple and natural browsing experience.
Each Courier Magento Theme is 100% responsive, supporting crossbrowser compatibility and social options. This way, even busy users, who are always on the run, will be able to find your business and employ your services.
The administration panel is simple and allows full control over all functionalities making your site the main tool of your business. Using these templates, you will be able to administer products and users, change theme's appearance and promote services and products. Each layout is accompanied by complete documentation that offers answers to a variety of questions related to customization and configuration.
Start climbing in search engines and gain more customers using one of our amazing themes created especially for promoting delivery services!
Buyers are not Indifferent to the Products They Purchase
modern & clean layout. the homepage design was ideal for our project.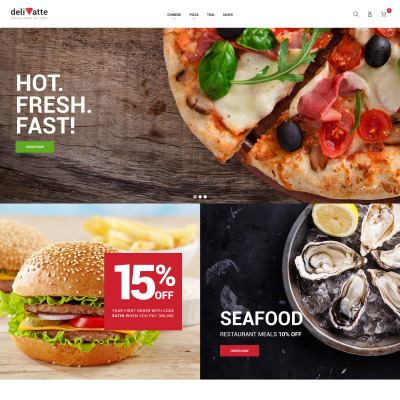 Deliatte - Food Delivery & Takeaway Magento Theme
Magento theme