3 Music Band Joomla Templates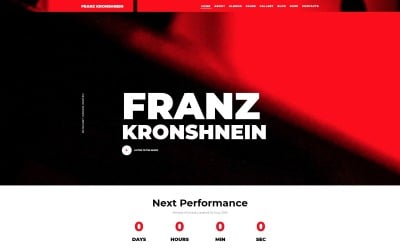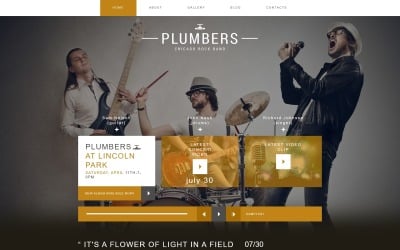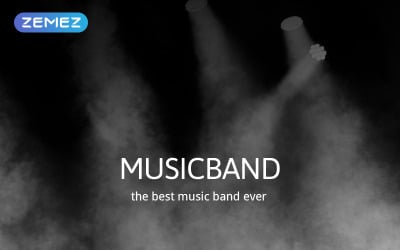 3 Best Music Band Joomla Templates 2021
Music Band Joomla Templates
There are tons of music bands out there and most of them put together some sort of a website to represent themselves in front of their possible customers. Is your site ready to show the world how talented and interesting your music is?
Our newest Music Band Joomla Templates promote an entertaining and fun atmosphere where people can listen to your songs and enjoy your charisma. It's extremely easy to implement them and put together a fantastic site and it doesn't even require a large money and time investment.
Best Joomla Templates for Music Band
The best way to charm your viewers is to create a relaxing and entertaining atmosphere from the very first seconds they land on your page. This is why our themes use high-quality images and interesting looking backgrounds accompanied by smooth visual effects. The color scheme is subtle and natural, allowing the eye to admire without getting tired.
You also have the possibility to present your portfolio to whoever is interested in uploading videos from your latest gigs and your best songs. There is also the possibility to post testimonials from satisfied clients, allowing new viewers to get to know you better.
Knowing that it's important to communicate with your clients and possible customers, each theme is integrated with a Contact Form and Social Options features. This allows people to recommend you via social media and ask questions or send suggestions.
Embrace the change and put your band online! Choose the best music group Joomla theme from our collection today!
Music Band Joomla Templates
After someone buys out the Joomla web template for music band fan club, will I still be able to use it?
If you've already purchased your copy of the Joomla web template for rock band and someone else purchases the Buyout license, they will own the last copy. Thus you'll have your copy to edit as your template.
What is the difference between the Exclusive and the Buyout licenses of musicians Joomla themes?
The Exclusive license removes a music band Joomla theme from our inventory as the only copy sold. It is applicable only to new templates which haven't been sold once yet. The Buyout license removes a template as the last copy to be purchased.
Can I get the extended license for some other pricing than the half of the initial Joomla web template for music band price?
No. The price for purchasing license for a single musicians Joomla theme is the half of the template unique price.
Do you provide any trial period for your music band blog Joomla themes?
You are welcome to download a free sample to test, but no, we do not currently offer any trial period for our music band blog Joomla themes. If you wish to continue using the free sample, please contact us to purchase a license allowing you to use it permanently.
How can I get a bigger discount for a Joomla web template for musicians?
A great question! Actually, from time to time you can find special promo codes for musical group Joomla themes on our Blog, within our Newsletters and even on social media sites such as our Facebook and Twitter pages.
Can I buy the images/sound samples/effects from Joomla templates for music band separately?
No. music band Joomla themes are created for specific designs and we sometimes use our own stock images to create them.
CMS engine and Joomla web template for music band, what's the difference?
The following article is going to explain the difference between CMS engine and Joomla web template for music band fan club.

A content management system (CMS) is a computer application that allows publishing, editing and modifying content as well as maintenance from a central interface. They allow editing and publishing website content from a central interface like a web browser. The most common CMS engines are WordPress, Joomla, Drupal, etc.

CMSs are often used to run websites containing blogs, news, and shopping. Many corporate and marketing websites use CMSs. CMSs typically aim to avoid the need for hand coding but may support it for specific elements or entire pages.

A CMS may serve as a central repository containing documents, movies, pictures, phone numbers, scientific data. CMSs can be used for storing, controlling, revising, semantically enriching and publishing documentation.

A website template is a pre-designed webpage, or set of webpages, that anyone can modify with their own content and images to setup a website. Website templates allow anyone to setup a website without having to hire a professional web developer or designer, although many developers do use website templates to create sites for their clients. This allows anyone to set up a reasonably priced personal or business website that will be listed in search engines when users search for your product or service. The source files of these templates are always in the PSD format which belongs to the Adobe Photoshop software.

A template controls the overall look and the layout of a site. It brings together common elements, modules and components as well as providing the cascading style sheet for the site.

We can make the conclusion, that templates are developed to make web designer's life easier. Engines are for programmers.

We are designers' company and develop templates for different CMS. That is why we provide full support only for the themes we created.

In case you have some issues with your CMS engine functionality or you want to change/broaden your dashboard functionality, the best way is to join your CMS community. Open-source applications provide the wide range of support forums, blogs, knowledge-base. Feel free to share your issues and solutions with the users of the same engine.
Is there a way I can view your musicians Joomla themes in action? Can you provide the links to your Customers' sites based on your templates?
If the Joomla web template for rock band has a demo, you'll see a banner allowing you to see its live installation. However, we're not able to provide links to our clients' websites/projects due to our privacy policy.
Do your music band Joomla themes support RTL?
Our templates do not universally support RTL. Please create a Ticket so we can advise if the music band Joomla theme you selected will work for you. If not, we'll be happy to assist you in finding one that will suit your needs.
Can I resell the music group Joomla themes I bought the extended license for?
No, you cannot resell the Joomla templates for music band as is. You can only sell them as the integral part of your new product.
For how long am I allowed to use your Joomla web template for rock band? Is there any time-limit?
There is no time limit. As long as you're the owner of the domain/template, you can use Joomla web template for musicians for a lifetime.
Where can I get the password for the Sources folder of Joomla web template for rock band?
The password is your Order ID located inside your Joomla web template for music band blog Download email. If you're not able to locate your email, you'll need to contact our support team and enter as much detail as you can via our Tech Support Tickets so we can ensure you get the correct information.
Where can I find tutorials on music group Joomla themes editing?
Check out our help section regarding Joomla templates for music band fan club on TemplateMonster.com as well as our Web Design Library.
Can I use the musicians Joomla theme for several domains if the site/project is the same?
Yes, but you'll need to buy a developer's license which grants a non-exclusive permission to use the Joomla web template for musicians on up to 5 domains. Alternatively, you can purchase an Exclusive or a BuyOut license (when you are the sole buyer or the last buyer of a particular design respectively). Contact us for details on the Exclusive/BuyOut Price using our Pre-Sales Support Department.
Will you help me to customize my Joomla web template for musicians?
We do not provide any help or instructions on Joomla web template for music band customization except for www.template-help.com help center. If you are not sure you can customize the template yourself we recommend to hire a design studio to customize the template for you.
Will the Joomla web template for rock band be deleted from TemplateMonster database?
No, the musicians Joomla theme will not be deleted from TemplateMonster database.
Are there any extra costs involved into music band Joomla theme purchase?
During the checkout of the Joomla web template for music band blog you might see additional offers you can opt to purchase, but we do not have any hidden cost involved in our template sales. If you're not used to utilizing templates for website projects, we'll be happy to assist you in choosing the correct template/product for your project.
Сan I edit the music band blog Joomla theme with hosting building tools?
Our musicians Joomla themes are not designed to work with 3rd party applications. You can certainly modify your template or use its sections, but it really depends on your knowledge and skills of working with website templates.
I paid "regular + Installation" price. When will I get my Joomla web template for music band installed?
Thank you for choosing our products and services! Your music band Joomla theme installation is normally scheduled for completion within 72 hours of purchase. The amount of time it takes depends on the product selected, as well as on the time lapse between our staff's correspondence to you and your replies, i.e. the time it takes to gather user names / passwords as we'll need this information to start your project.
What is a one time usage license for a Joomla web template for music band?
When you buy the musical group Joomla theme at usual price you automatically get the one time usage license. It enables you to use each individual product on a single website only, belonging to either you or your client. You have to purchase the same template again if you plan to use the same design in connection with another or other projects. When passing files to your client please delete the template files from your computer.
Can I get the Joomla web template for music band blog in higher resolution to use for printing?
No, we design music band blog Joomla themes optimized for web resolution only.
What will I see instead of the images after installation of the musical group Joomla theme?
After Joomla web template for music band blog installation you will see blurred images included for demo purposes only.
Do I need to slice the musical group Joomla theme PSD files myself?
We sell pre-sliced Joomla templates for rock band, you won't need to re-slice them.