1 Politics OpenCart Templates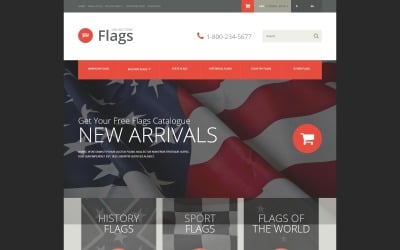 Politics OpenCart Templates
If you work in politics you know that every little detail matters. Everything from campaign materials you pass on the street to the website that represents you in the online community. These days, a strong online presence is crucial when you're conducting a campaign so you will need a specialized template with perfect visual effects and amazing content organization.
Our Political OpenCart Themes are versatile enough to support both big campaigns, with lots of pretentions and small campaigns that need to get noticed and show the world their potential.
Best Premium OpenCart Templates for Politics
In both cases you don't have to invest lots of money and time as our Politics OpenCart Themes are extremely easy to install and administer.
When you want to convince people to follow you or to believe in your campaign, you need to show them you're responsible and trustworthy. This is why we carefully chose the color combination in our Political Templates and we made sure that everything is highly visible and easy to find on page.
The Politics OpenCart Templates are mainly visual, using high quality images and fantastic sliders and Gallery Scripts to catch viewers' attention from the first few seconds they land on your page. We want viewers to feel stimulated and look for more information when landing your page.
You can organize an online store using the back end administrative panel. Here you can import products, set up prices, set up a general currency and activate various web forms that will keep you in touch with your clients and your fan base.
Politics is about action so act today and purchase the template that will transform your campaign into a success!