3 Stock Photo Virtuemart Templates for Joomla Stores
Launch Your Online Store with Ready-to-Use Virtuemart Templates for Stock Image Marketplace Websites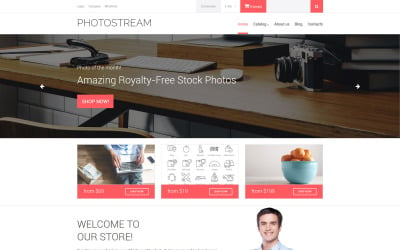 Stock Photo VirtueMart Template. Easy customizable theme with 24/7 accessible customer support.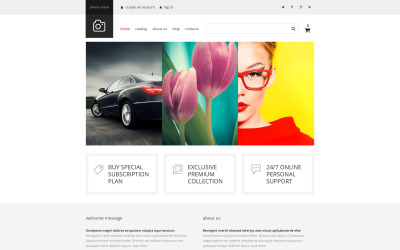 This stock photo VirtueMart theme was designed to maximize visitors' comfort on your eCommerce site. Products are arranged in easy-to-navigate carousels on the front page, and colorful badges make it easier to differentiate between their types. For extra promotion of your merchandise, social networks and your site should work together. This theme gives such an opportunity by means of built-in social icons in the header and Facebook Like Box . This package also comes with a blog so that you could publish interesting articles regularly and, therefore, make consumer relations more effective.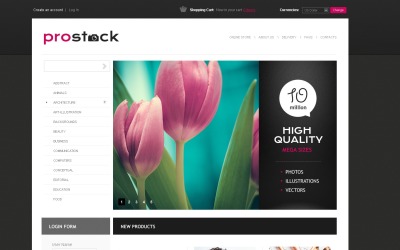 This template will help you reveal all beauty of your photos to the world. Black textured background adds an expensive look to the page. Search form and categories are listed in the left sidebar. Slider demonstrates the best artworks. New products come in three columns. Social media sharing block can be found in the left bottom corner of the web page.
3 Best Stock Photo Virtuemart Templates for Joomla Stores 2023
Photo Bank VirtueMart Templates
All Stock Photo Templates you see below are built on the bases of VirtueMart eCommerce platform, which is a component (plug-in) for Joomla CMS. The software is open source and free to download and use. VirtueMart, like Joomla, is written in PHP which makes it easy to maintain in PHP/MySQL environment. So, your start will be hassle-free with our likeable templates, compatible with multiple plugins, components and modules.
Best VirtueMart Templates for Stock Photos
Change the look and feel of your Stock Photo VirtueMart template until it becomes absolutely perfect for your particular business. You can maintain your site with an unlimited number of categories, products, orders, customers, etc. Just take your time to have a look at these Stock Photo VirtueMart Templates and you would like to work with one of them.