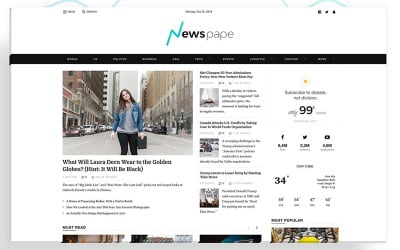 Newspaper Magazine is a theme built specifically for Drupal 9. With 5 homepages, you can easily choose the ones you like. Managing your website is easy and fast with advanced customizations for Admin. If you're a new user, you'll also love it because everything comes pre-installed, just waiting for you to configure according to the instructions, and tweak the interface and features to your liking. Built from Bootstrap with a clean and classic design, it is minimalistic in order to not create discomfort for users.Our developers have tried to optimize everything to be more user-friendly, giving you a great experience.Features
Works fine on version 9
Updating is very easy.
5 Homepage
4 Blog page style
RTL support
Bootstrap
Responsive
Google fonts support
Easily upgrade to the latest version.
Data Sample Included
HTML files included
Detailed installation instructions.
RESPONSIVENESSMobile-first design, Scale to fit on all browser widths/resolutions.AESTHETICSYour site will never become dated and always look good with Clean & Simple design.USABILITY & FLEXIBILITYSpecically built for Magazine sites, with usable features you really use, not bloated.SEO FRIENDLYSearch Engine Optimization has been made with high priority when building the theme.SINGLE POST LAYOUTOver 20 beautiful looks, and