This tutorial shows how to install Joomla engine to the GoDaddy hosting server manually.
Download Joomla
The first thing you need to do is download Joomla engine from the official website at joomla.org. At joomla.org click Download button and select the version of Joomla engine you want to download.
Joomla engine is distributed as a ZIP archive so when download is complete you'll get a Joomla_#.#.#-Stable-Full_Package.zip file in your downloads folder. No need to extract the files from the archive as with GoDaddy you can extract files directly on the hosting server.
Upload Joomla
The next step is to upload Joomla engine to the hosting server. Log in to your GoDaddy hosting control panel and go to Content tab. There select FTP File Manager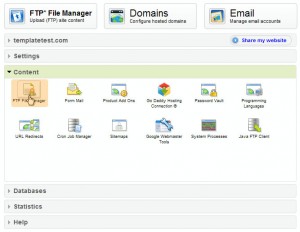 Select the directory where you want to upload Joomla engine and click Upload button from the top menu
Browse for the downloaded Joomla engine package and click Upload.
When the upload is complete you need to extract files from the Joomla engine package. Select the package and click Unarchive button from the top menu.
In the appeared block browse or type the directory where you want to extract files.
Creating Database
Joomla engine requires MySQL database to store website data so in order to proceed you need to have a database created. Database can be created using GoDaddy hosting control panel. You can learn more about creating databases with GoDaddy checking the detailed video tutorial.
Installing Joomla
To begin Joomla installation procedure please open your browser and in the address bar type your domain name and root to the directory with the extracted Joomla engine files. Follow the instructions in the screen to instal Joomla. You can learn more about how to install Joomla checking the detailed video tutorial.
To get more information on installing Joomla to GoDaddy hosting server please check the video tutorial below: