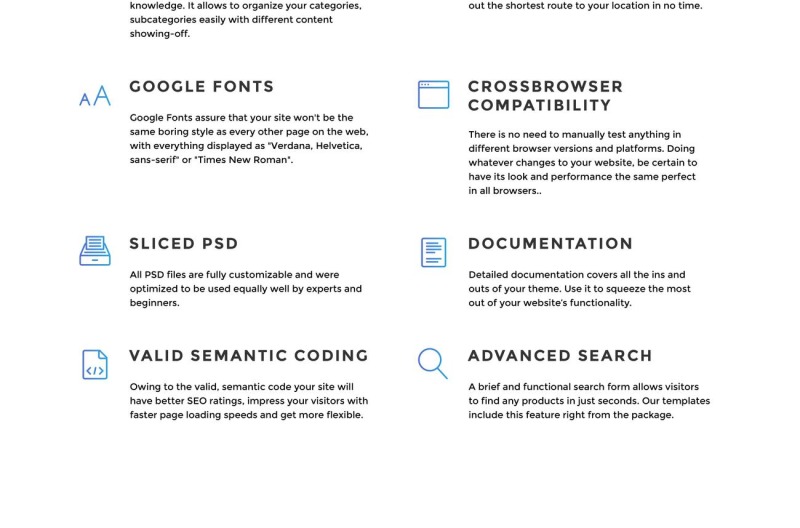 Creative and Multipurpose Business Joomla Theme
A multipurpose business Joomla theme can help your company achieve success online. In the modern world, it is important to have a website for your business. Otherwise, clients will doubt your reliability. And when it comes to the business sphere, it is definitely a must-have. After all, those who know the word "website" prefer to use the Internet when they need some info. And imagine how disappointed they will be when they figure out that you have no website.
But it is not enough to create a simple website if you want to be successful. Moreover, if you need new employees, a website will definitely be helpful. You can make it your business card and tell all about your company or store. That's why we developed Wegy, a responsive Joomla theme, suitable for any purpose you can think of. This template has a lot of advantages from which you will surely benefit.
Feature-rich Multipurpose Business Joomla theme
Wegy multipurpose business Joomla theme is packed with great features. This theme is based on the Bootstrap 4 framework, which means better support of mobile devices. Also, Wegy is SEO-friendly as its code is well-structured. It will help you get better rankings in the world's best search engines. Also, our new Joomla theme is developed in accordance with the latest web trends. Besides, it includes a variety of other notable features, such as:
Pre-designed eCommerce pages;

SEO-friendly;

Blog;

Gallery;

Newsletter;

Social options.
Being multipage, our multipurpose business Joomla template includes a wide amount of pre-developed pages. It has all the pages your website may need. Whether it's a portfolio for your previous projects or a blog for your posts, you don't have to worry about developing them from scratch. Wegy also includes a gallery for content and multiple pages developed to suit online store.
eCommerce-ready Joomla Theme
With the Wegy multipurpose Joomla theme, you can sort your products with catalog. It's also very simple to create a separate product page. Other pages of this template will inform your customers about shipping and delivery. If your company has pricing plans or subscription packages, you can present them with Wegy, too. All this makes our Joomla theme a great choice for any business or online store.
The Joomla theme, we'd like to offer you supports customization. That's why it is easy to edit this theme to create a completely unique website. If you have any questions about Wegy, there's easy-to-read documentation to help you. However, if any other questions emerge, feel free to send them to our 24/7 professional support team. We are always ready to help you build the best website for your business.
Changelog
Update (December 14, 2018):


- Updated Joomla to version 3.9.1;
- FIX: minor bugs.
Update (March 20, 2020):


- Updated Joomla to version 3.9.15;
- FIX: minor bugs.
35 Reviews for this product
The template met my expectations. Easy to configure and really multipurpose.
Easy to configure, multiple options for the homepage. It comes with images, dump.sql, plugins and template. AMAZING website!
O template que escolhi, foi baixado com todo o código, extensões, componentes que eu precisava, isso me surpreendeu, fiquei muito satisfeita. As edições feitas pelo frontend ajudam muito a edição para os mais leigos, nós que trabalhamos nessa área, precisamos passar a edição para o cliente e isso ajuda muito no nosso atendimento. Outro ponto que eu gostaria que comentar, foi o suporte, mesmo não falando o mesmo idioma, consegui ter meu problema resolvido 100%. Vou continuar comprando.
So having paid for and downloaded many templates from various template sites before - I was really impressed with Wegy. Each section was easily modified from the front end. (a feature lacking on many templates). So it was easier for my customers to make their own changes. From a providers perspective the support offered by Templatemonster - to me was the biggest advantage. 24/7 lifetim esupport for the template is really the biggest selling point for me. Lets see some more great joomla templates like Wegy please !!
great!. Easy to customize and very helpful customer services
Show more
3 Comments for this product
You can write a comment for this product
Hello, can i buy this template only html source? Tnx!
Hello!, you are buying all the package, this template is made for Joomla Framework. So you can buy it, but it's made to work for Joomla.
Do I really need Photoshop to use this template? Is this template recommended for a first time site builder? Looking for a cheap, but professional looking option for a micro-business.
Hi There, No you do not need Photoshop. This template comes with the Photoshop PSDs, but you do not need to do that. You can install your template and just start replacing images and text.
Hello, Is this template compatible with Joomla Version 3.65? I'd like to use this template on this version if compatible.
Thank you for your comment. Yes, this template is compatible with Joomla 3.6.x.
Show more