Arctica - Multipurpose Business with Novi Builder Landing Page Template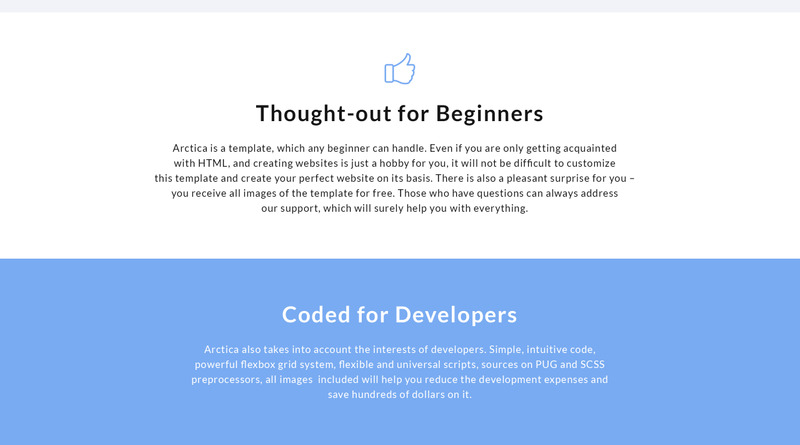 A template for a single-page HTML5 web design website that is an ideal solution for a startup creative business. It supports a slider with cursor-hover effects and a slider with animation effects. You can add a table with prices, a slider with trademarks and a subscription form for the newsletter. The design of this template is modern and clean. There are various layouts for the landing page, a huge number of options for headers and footers. To organize the catalog of the services you provide, use the mega menu. You can also choose the number of columns on the page.
Changelog
Arctica Version 1.2 (October 31, 2018)
Additions

- ADD: Bootstrap Tabs;
- ADD: Mailchimp and Campaign Monitor forms;
- UPD: Bootstrap from 3 to v4.1.3;
- UPD: jQuery to v3.2.1;
- UPD: jQuery Migrate to v3.0.0;
- UPD: jQuery easing to v1.4.0;
- UPD: RD Navbar to v2.2.5;
- UPD: BG Vide;
- UPD: Isotope;
- UPD: RD Mailform;
- UPD: Captcha;
- UPD: Google Map initialization;
- UPD: Swiper initialization;
- UPD: OWL Carousel to v2.2.1;
- UPD: Counter;
- FIX: Page loaders;
- FIX: Other minor bug fixes;
Arctica Version 1.1 (March 14, 2018)
Additions

- UPD: Speed optimization;
- UPD: Slider script;
- ADD: New Presets;
- ADD: Builder Documentation;
- FIX: Minor scripts bug fixes;
2 Reviews for this product
The builder is fantastic, but i missed translate options, had to do many changes manually.
Modèle très facile à mettre en place et à personnaliser, permet de créer plusieurs présentations de pages en fonction des besoins.
Show more
0 Comments for this product
You can write a comment for this product