Save up to 70% on Premium Themes from the TemplateMonster Digital Marketplace

February 15, 2018. Ft. Lauderdale, FL. TemplateMonster digital marketplace announces the last winter sale of all types of products from the marketplace.
As part of the huge February 2018 sale, TemplateMonster gives you a chance to save up to 70% on different types of digital products from the marketplace. Each category of items is sold at the unique discount. Traditionally, the prices are already slashed, so there will be no need to enter promo-codes during the checkout.
The offer is valid from February 19 until February 26. Below you can see the entire list of the discounted types of products and suggestions on the best-selling themes from each category. So, make yourself comfortable. Let's start with the biggest discounts.
Someone can say that ZenCart themes are not as popular as other eCommerce solutions that are available on the modern day web. Well, ZenCart is not as popular as Shopify but it still has its audience of the avid fans. There are plenty of great ZenCart themes available in the digital marketplace. The regular price of such templates is $139. As part of the February promo campaign, you can save about $100 on the purchase of one theme.
Real Estate ZenCart Template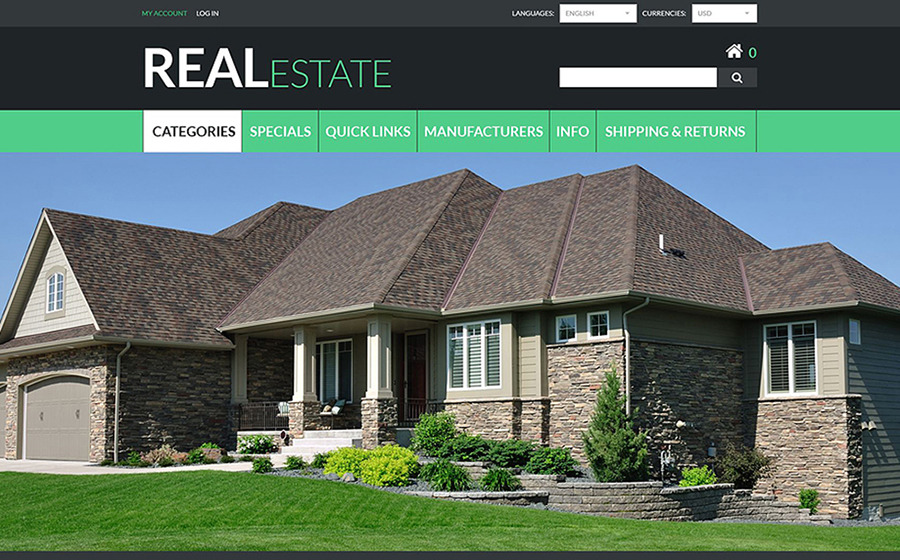 This ZenCart design features a complete package of options necessary to run a functional web store. It was created for real estate, architecture and design online resources. This appealing design will work with an online project of any kind. A lot of template settings can be changed on the fly through the usable admin panel. The design you see here has been developed to build a strong community of prospects and enable you to succeed in this.
VirtueMart is the flexible eCommerce extension for Joomla. With its help, you can enhance your Joomla site with the eCommerce options or build a fully fledged web store on its basis. There is also a wide choice of VirtueMart themes in the marketplace. All of them are enhanced with cool addons, widgets, plugins, ready-made layouts, and even drag-and-drop builders.
Garb Fashion – Fashion Store Joomla Template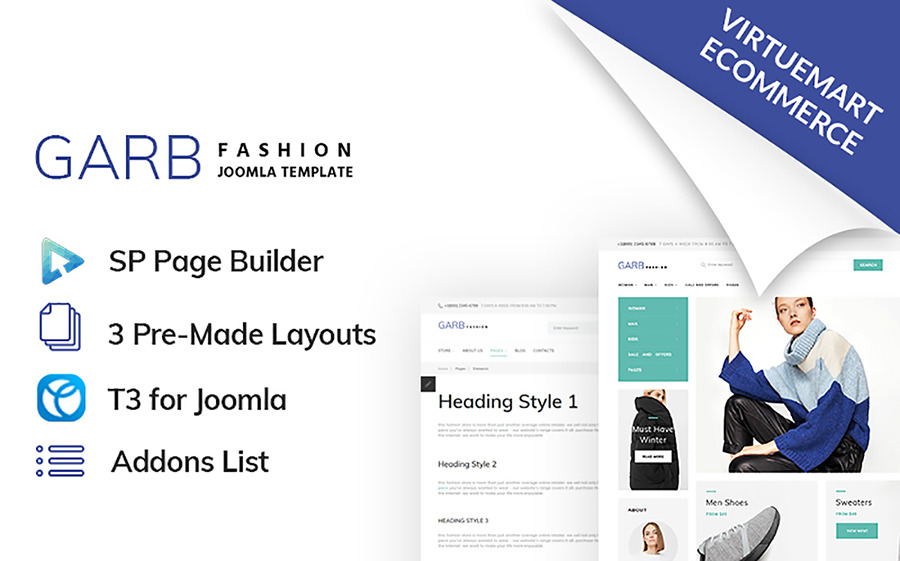 Build a high-quality fashion web store with the help of this Joomla template. This theme is fully responsive, which means that more people are likely to look at your webpage from handheld gadgets. Included blocks of content, widgetized elements make the design of the template clear. The theme is enhanced with the intuitive drag-and-drop page builder. There are 3 pre-made layouts that you can access at no cost.
There are about 500 Magento themes available in the marketplace. The majority of the Magento themes from the inventory contain premium-quality extensions, multiple skins, and advanced shopping options that will help you build a strong web presence.
Magetique – AMP-Ready Multipurpose Magento 2 Theme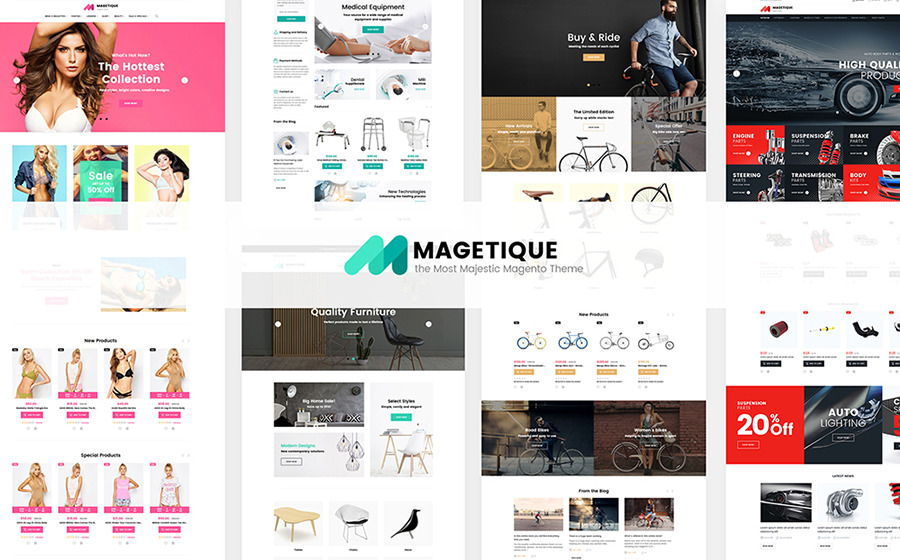 Magetique is the first AMP-ready theme in the inventory. This means that all pages of the theme are optimized for a speedy performance on the smaller screens of handheld devices. The theme is multipurpose and contains a number of niche-specific skins that are ready to go live out-of-the-box.
There are 300+ Shopify themes in the digital marketplace. There are plenty of multipurpose Shopify themes featuring multiple layout options, smart eCommerce solutions, customizable sections, and other conversion-oriented options.
Multifly – Multipurpose Shopify Theme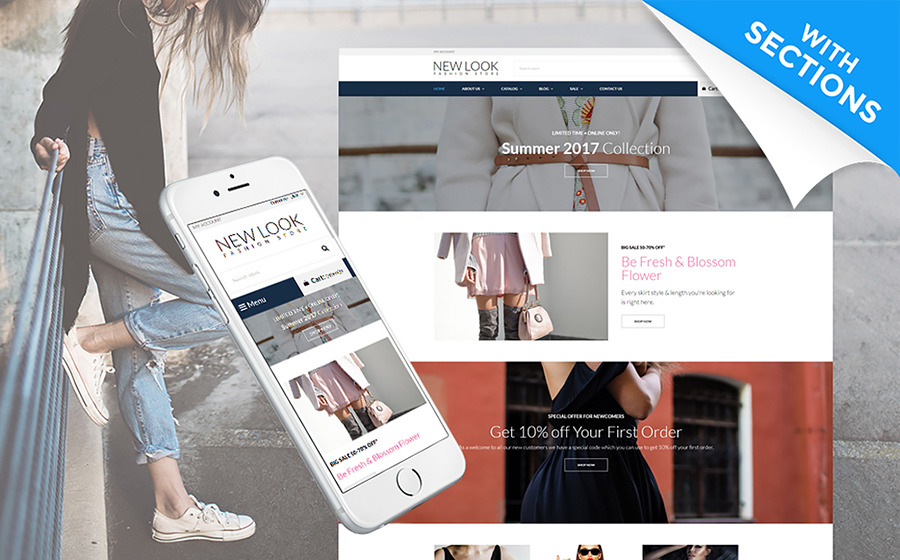 It is easy to modify Shopify theme to any type of enterprise and develop a pro web resource on your own. The data is arranged into neat sections that are easy to browse. Owning a web resource of this nature, there won't be any difficulties with building trust with your clients. Clean, valid coding and comprehensive guidelines will aid you in transforming this website template exactly how you want. The multipurpose template is enhanced with everything needed to build a powerful web store on its basis.
If WordPress is your preferred CMS, then you are likely to be looking to enhance your site with the eCommerce functionality. This is when WooCommerce will come in handy. In addition to adding eCommerce features to blogs and business sites, WooCommerce will help you build a fully-featured web store. This will be easier to achieve with the help of WooCommerce themes. The themes from TemplateMonster include a number of the handy tools like WordPress Live Customizer, intuitive visual page builders, GPL licenses, etc.
Woostroid – Multipurpose WooCommerce Theme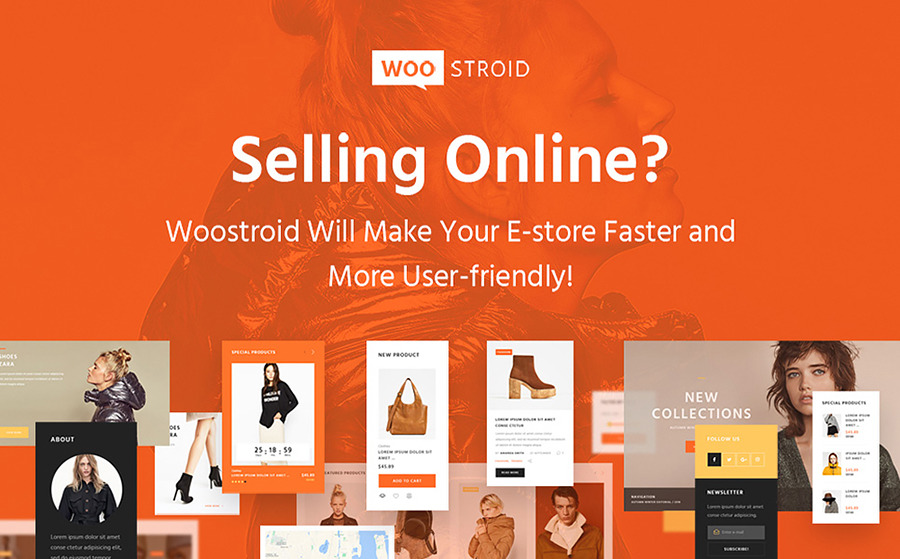 Woostroid is a usable and functional Woocommerce theme featuring a collection of niche skins. The theme is easy to handle by the users of all skill levels. It can be installed on the unlimited number of sites thanks to GPL license. There are a number of custom modules and extensions, which are included in the download package for free.


There are more than 1,000 of PrestaShop themes in the TemplateMonster collection. All themes are bundled with the detailed documentation and free 24/7 support. The majority of the premium themes are enhanced with the custom extensions, which allow webmasters save extra cash on the launch of the web projects.
Eveprest – Multipurpose PrestaShop Theme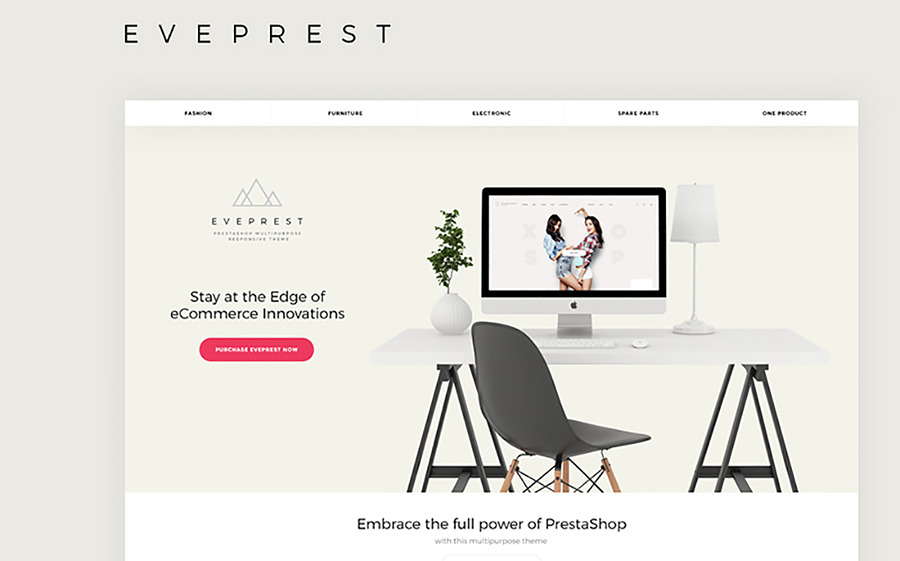 This cutting-edge PrestaShop theme is ideal for useful promotion of a number of eCommerce projects on the web. This specific template can be an ideal starting point for websites representing different niche topics. 100% responsive layout, cross-browser compatibility, SEO-friendliness – all these benefits will help your web portal become maximally visible on the internet. SEO-friendly, it will be easily found by potential customers regardless of what search engine they are making use of. Well-documented and featuring no cost round-the-clock support, the particular web theme will help you get started with your internet project straight away.
There are 1,100+ of Joomla themes in the TemplateMonster inventory. In addition to the standard sets of characteristics, Joomla themes come loaded with the intuitive builders that allow even the non-techies to create their sites code-free.
Jumerix – Multipurpose Joomla Template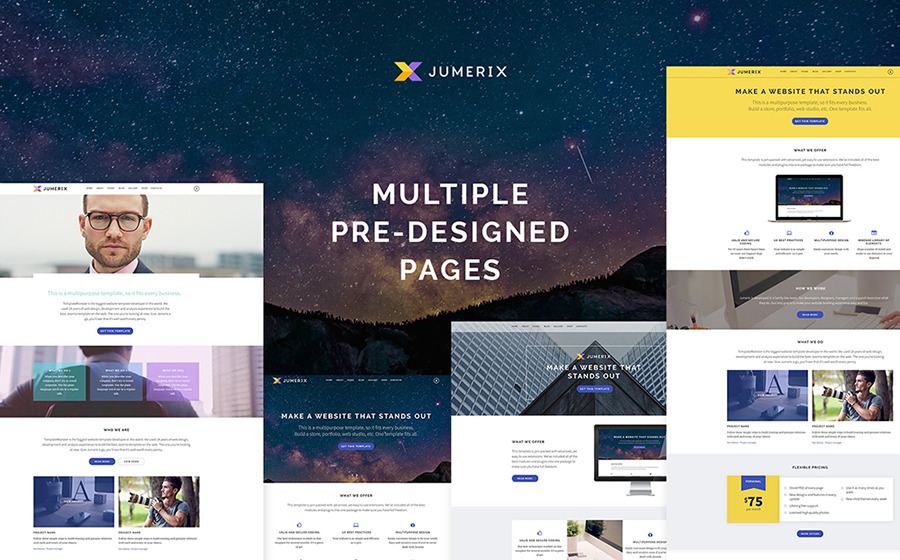 Nice and clean Joomla theme with powerful visual frame will properly present your website. From our standpoint, it's an eye-catching, trusted solution for any personal or business projects of yours. SEO optimized, it will be effortlessly found by people no matter what search engine they are using. The theme's responsive design will supply users with great browsing experience across all devices. Designed with this cross-browser compatible web layout, your website will bring a sizeable profit.
MotoCMS 3 templates are the fit-it-all solutions that allow you to build sites code- and worry-free. These are well-known for their intuitive drag-and-drop page builder. Enhanced with all modules, widgets and extensions that one may need to build establish a strong web presence, the themes allow you to customize and launch site in a few days.
Ultimate Startup Bundle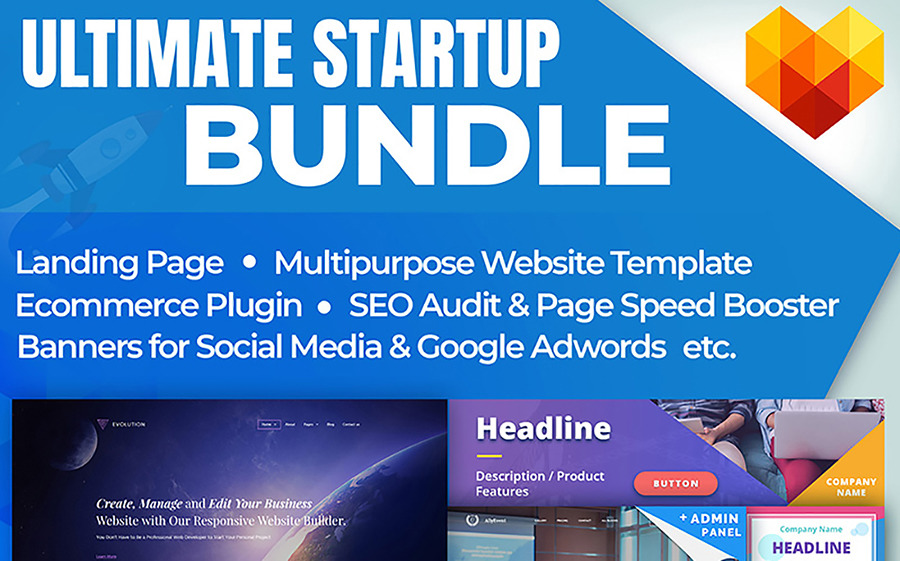 As the name suggests, the startup bundle contains everything that you may need to launch a startup web project. There are premium themes, extensions, and a handful of the premium options needed for the smart promotion of your projects on the web.
TemplateMonster is proud to have one of the most numerous collections of HTML5 themes. There are 3,000+ ready-made solutions suited for a number of purposes. The most recent releases feature the intuitive page builders, which make the process of the site development much quicker and worry-free.

Intense Multipurpose Website Template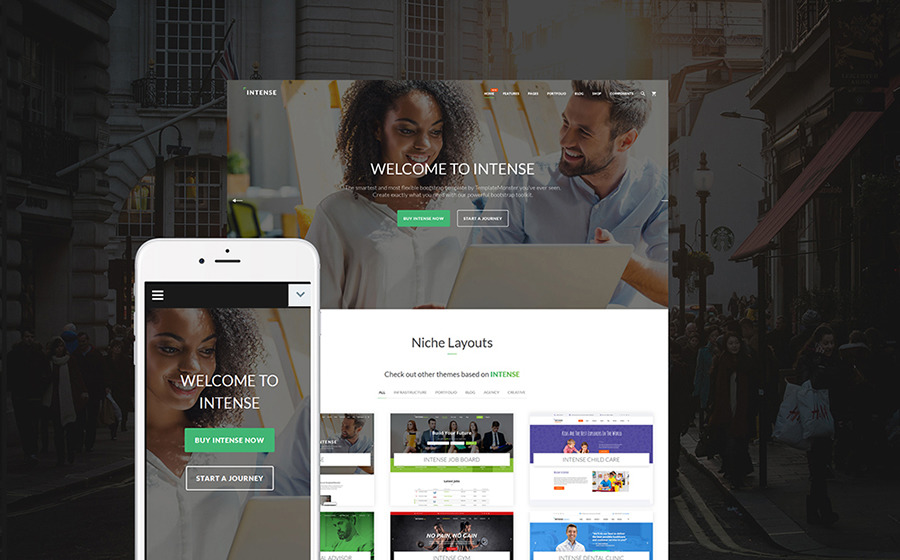 Intense if the flagship HTML5 theme from TemplateMonster. It contains free regular updates and the growing collection of child skins. The theme is also enhanced with the latest version of the Novi page builder, which allows you to create versatile layouts without touching a line of code.
MotoCMS is in the great demand among the beginners and pros. With its help, building a unique and functional site won't take you more than a couple of days. It is well suited build both small and large-sized web stores. All MotoCMS eCommerce themes are bundled with explicit sets of features and widgets that will help you build conversion-oriented sites.
Zoe Fashion Responsive MotoCMS Ecommerce Template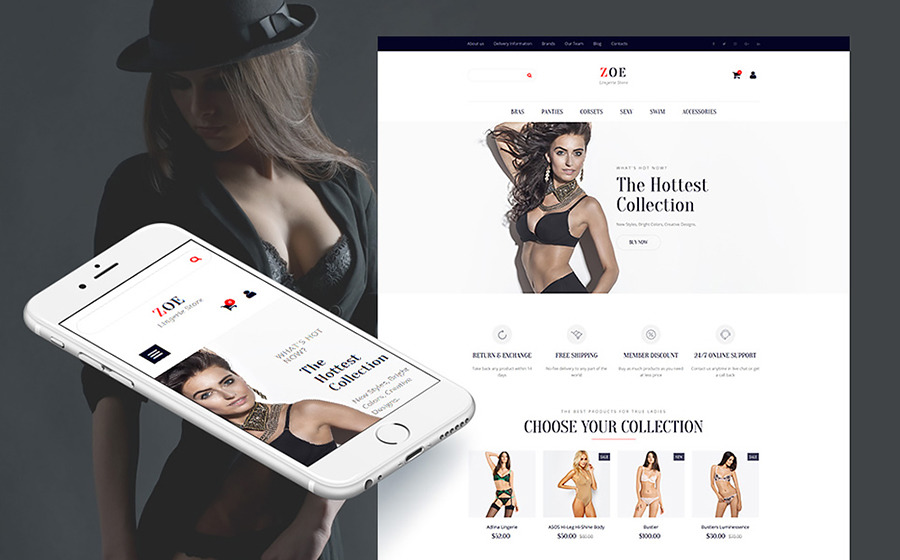 All WordPress themes will be sold at the 25% discount, that is an average saving of $20 on every theme. There are more than 1700 WordPress themes in the marketplace. WordPress is undoubtedly the most popular type of products in the marketplace, which is being updated with new cool items almost daily.
Monstroid2- Flagship Multipurpose WordPress Template
Monstroid 2 is the top-selling WordPress theme from TemplateMonster. Featuring regular updates and a growing collection of child themes, it also contains GPL license, which provides you with the complete freedom of the theme installation on the unlimited number of sites.
You can buy as many themes as you wish. The offer expires on February 26, so do not miss your chance to save big in the TemplateMonster digital marketplace!


"The inventory of digital products is impressively rich. There are more than 1,000 vendors who have already joined us and started to sell their own items at templatemontser.com. As you can see, there isn't a single type of products that missed the last winter sale. Do not miss the chance to buy your preferred digital products at good discounts. There are just a couple of days left until the offer expires."- David Braun, CEO at TemplateMonster.
About TemplateMonster Marketplace
In August 2017, TemplateMonster officially became the digital marketplace, welcoming vendors from the worldwide to join and start selling their products to the community of more than 6 million customers. Joining the marketplace, the vendors can sell both exclusive and non-exclusive digital products simultaneously, uploading the unlimited number of products, assigning them with as many categories as needed, and earning up to 70% commission from each sale. TemplateMonster Review Team accepts the submitted digital products within a couple of days only, making it possible for the skilled and creative developers to start earning straight away. For more information, please visit www.templatemonster.com/marketplace