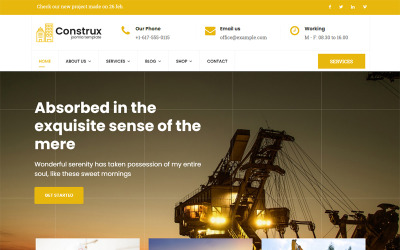 Construx is a Joomla Template Construction & Building Business, industry, technique, engineering or machinery business and companies that offer related services.Compatible with Joomla 4
Our template is compatible with Joomla 3 and Joomla 4.
In our pack we included Quickinstall for Joomla 3 and Quickinstall for Joomla 4.
If you have questions, please let us know, we are here to help you. We can't include in Quickinstall for Joomla 4 J2store component because is not compatible with Joomla 4, when this will become compatible, we will include Quickinstall for Joomla 4.
Construx - Construction & Building Business Joomla Template is build on Helix Framework and SP Page Builder PRO as builder, Layer Slider and for ecommerce the powerfull J2store with some customs from our side.You can build your site fast with our Quickinstall (demo installation) and you don't need to install joomla, modules, extensions, just install our quickinstall on clean database and subdomain/main domain, set your admin password adn you are ready to go. Is very simple and you can read more about this in our documentation.Construx - Construction & Building Business Joomla Template
Recently Updated