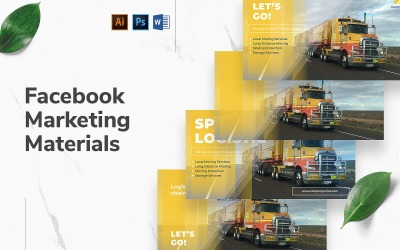 sale
If you're looking for an all-in-one pack of Facebook marketing material templates, this bundle is for you. Get higher visibility for your Facebook account with professional layout templates. You'll get 5 unique designs in 3 formats. 15 templates in total available for Adobe Photoshop, Adobe Illustrator, and MS Word.Such Facebook marketing set includes:
Facebook Ad;
Facebook Branded Photo;
Facebook Cover;
Facebook Photo With Text;
Facebook Quote.
This allows you to use this bundle to create different post types. We created balanced, catchy, and trending Facebook templates that will stop scrollers in their tracks.Grab this perfect Facebook marketing materials set and save your time and money!If you want to promote your business, raise your social activity or be a cool blogger, you'll think about the nice and professional look of your Facebook account. Just pick the Facebook Cover, choose your business or personal profile picture, and ready to start! Fill in your feed with an attractive Facebook Branded Photo or Photo With Text. You may even use the Facebook Quote template to make your profile look elegant and smart. Besides, you can promote your company or brand