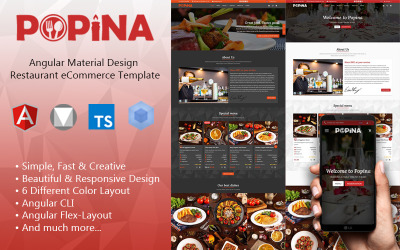 Popina is a powerful and creative material design restaurant ecommerce template based on Angular. Using Angular-Cli you can customize it very easy to fit your needs..The template is responsive and clean on every device and on every modern browser. The code is super easy to understand and gives power to any developer to turn this template into real web site. You can use this template for all types of fast food shops, restaurants and food services website such as bakery, food, cafe, retail, bar, bistro, burger, chef, cafeteria, coffee shop, sushi, menu, pizza shop, seafood and many more. Popina contains many example pages and easy to customize. This theme implements nested views & lazy loading routes, AOT compilation and 7 color skins. You can also use Popina for the purpose of learning Angular. Note: This is no static html template.List of features
Angular
Angular CLI
Angular Material Design
Angular Flex-Layout – fast & flexible Flexbox layout library
Lazy Loading Routes
Nested Routing
AoT compilation
ngx-swiper-wrapper
ngx-progressbar
Angular Perfect Scrollbar
Contact page
About us page
Responsive Design
High resolution
and many more!