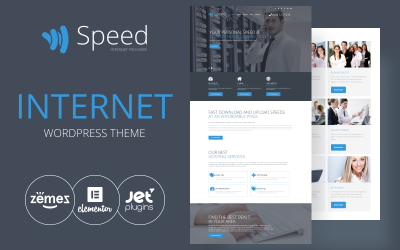 Neat Internet Theme for Digital Services PromotionThis new internet theme is for businesses that work for a data segment, Internet access, telephony or television, video conferencing, CCTV, satellite communications and cloud solutions. This Speed internet theme is a neat template and the right choice if you would like to build a site with a lot of potential for your internet-providing business.Thanks to helpful features and configuration, the Speed internet theme for WordPress CMS is a great perspective for showcasing digital business offers in the online marketplace. And with the perfect graphics and special visual blocks, this internet template will show your offers only in the best light.
Detailed information about your activities in the internet field could be formed to the topical pages:
demonstrate all the advantages of your modern internet technologies in the service navigation page;
display the history of the company, the top goals, and achievements in the 'about us' section;
provide the website visitors with the latest news or useful information using the blog page.
Make It Easy Using the Internet ThemeThe primary thing that draws attention to the Speed internet theme