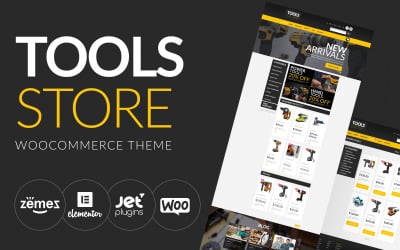 Open the WooCommerce world for your products with this tools themeWe have created this attractive modern tools theme for you to sell more items and gain more clients. It will be suitable for tools online store owners, who are looking for a strong platform both for presenting and selling. Entering Tools Store you see the full-screen size slider with the photos of your products. Gaudy banners and call-to-actions catch the customers' attention and make them purchase the goods right now.The tools theme is based on Elementor intuitive page builder. Moreover, the premium widgets and plugins are also available. Every element is absolutely flexible and fully customizable. There you will find:
sliders to showcase the photos in gorgeous slides;
buttons for quick actions;
products grids for quick products check and a short description;
star rating that shows the customers opinion about the product;
ordering method to sort the products by various criteria;
linked social icons to quickly find your accounts in social media;
testimonials to know what people think about your store and services;
and many others.
Replace the existing content with your own and these widgets will look better