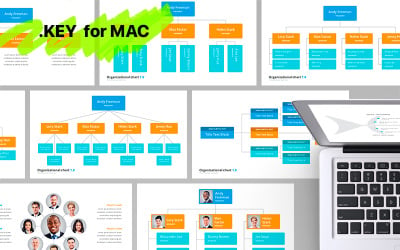 Organizational chart and Hierarchy Template for Keynote:
36 Unique templates (.KEY files)
10 pre-made color, .KEY files
Easy to edit: no need Photoshop, no need Illustrator
Inly shape editable infographic
2 click to change color, text, size
Retina ready
Ready to print
The organizational structure of the company performs a number of important functions. It helps to:
systematize the work of the company as a whole, its employees and departments;
distribute responsibilities between employees and departments;
improve the quality of work. You will agree that when people know in what department they work, what are their main responsibilities, how to do their work, this increases their productivity.
And to achieve even more profitable results, the organizational structure of the enterprise can also be optimized. This organizational chart template download will help you to do it more efficiently and accurately.It is not so easy to optimize the company's structure, because you have to be acquainted with the affairs of each structuredepartment and take into account a number of factors, because the wrong decision can be disastrous for the company. For example, you can combine two departments in one or move the employees of