VirtueMart Templates
Professional website templates to open you up to online commerce

Recently Added VirtueMart Templates
Popular VirtueMart Categories
Features
that will improve your satisfaction
Responsive Design
Totally responsive design provides excellent experience on all devices no matter what resolutions they support. Everyone can enjoy the fabulous look of your website at any display size. The slider and other components are made to be 100% responsive to produce optimal UX for different environments.
Well Documented
Documentation coming with the template is rather comprehensive. A simple manual will walk you through the VirtueMart installation process, explain how to install the template and further customize it. With such thorough instructions you will easily cope with the task.
Ajax Search
This module lets users view product search results without page reloading. Customers are sure to get a comfortable search experience as the page is updated instantly when submitting the search query.
Ajax Cart
The use of Ajax shopping cart enables quick review of the added products and editing the number of items to be bought. Moreover, there is an option to delete products that customers do no want to purchase so far.
Slideshow Module
The developers have extended the functionality of this module so that you could tweak it proceeding from your own needs. You will be able to choose new images for a slider, change descriptions, or add links.
Product Carousel
Allows to display product images in a carousel style gallery. You also get the possibility to edit and switch on price display, assign product images, add titles, buttons, and descriptions to your products.
Banners Module
The usage of the given module allows to set up, delete, or change the look of the banners right from the admin panel.
VirtueMart Templates
VirtueMart template is a state of the art graphic theme for VirtueMart shopping cart software. TemplateMonster.com stately presents VirtueMart Themes which are Joomla-based templates created specifically for enabling you to run premium eCommerce websites. This means they are convenient in all ways – for your customers to buy from and for you to maintain. VirtueMart Themes provided by Template Monster are professional designs created and polished by experienced eCommerce designers. Created with passion to provide best of the best design solutions, our VirtueMart Templates aim at creating the most functional and convenient environment for the maximum e-commerce performance.
This Free VirtueMart 2.0.22 Template is for testing purposes. Some use it to hone installation and customization skills. You can download it to evaluate product before buying your premium template.
More than 1,500,000 customers served
Read what people say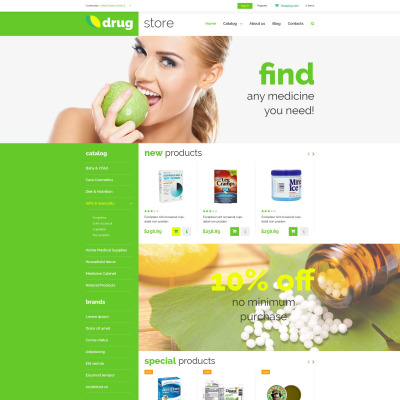 Drugstore VirtueMart Template #52955
Reviewer: Francesco Reitano
Posted:
It's a good layout, but the documentation for me it's incomplete. the instalation require php 5.6, if is php7 you must downgrade php and after upgrade and this is not good.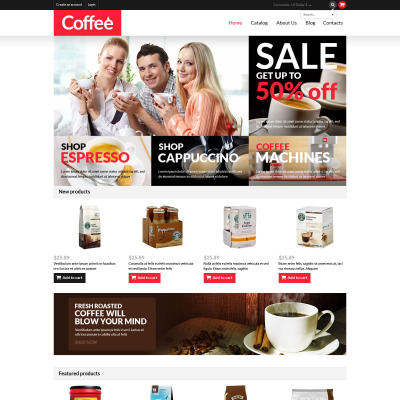 Coffee Shop Responsive VirtueMart Template #53304
Reviewer: Steven Stroberg
Posted:
A great training template that you can play around with and test before purchase. Such a great service really appreciated. It ended up with that I bought the Diving Accessories VirtueMart Template Item number: 52301 thanks! And the pre-sale support was a great help to answer some questions.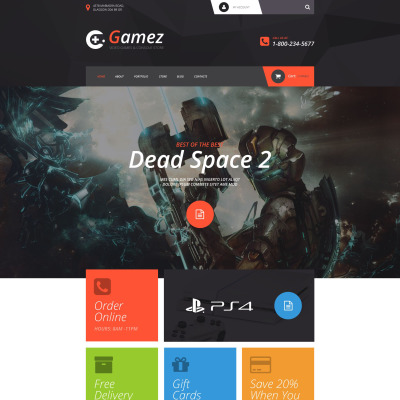 Gamez VirtueMart Template #55358
Reviewer: Atousa Tangestanipour
Posted:
Perfect production for me and my work. I am sure it can improve the quality of my service and bussness and I is a new thing that I need for improving and be up to date
What is VirtueMart Templates?
VirtueMart templates are eCommerce designs created specifically for the use with VirtueMart Joomla shopping cart extension.
VirtueMart is a free open source e-commerce extension of Joomla content management system (CMS) developed in PHP and implemented with MySQL storage database environment. VirtueMart plug-in supports an unlimited number of products and categories, sale of downloadable products, catalog mode, use of a variety of different payment methods, multiple prices for a single product and much more.
VirtueMart Templates from TemplateMonster
VirtueMart Template developed at TemplateMonster is the glorious triad of outstanding design, premium quality and brilliant solution for e-commerce activity. This is your lucky chance to update or start your own online store that grants possibilities of convenient intercommunication with all of your clients and accents out distinguished appearance of your company's image.
The premium Joomla VirtueMart Templates will suit any e-commerce related project. VirtueMart Theme would be the best solution for all types and levels of online store businesses.
Besides that please don't forget that TemplateMonster.com is happy to share the other Joomla Templates available within our collection of CMS & Blog Templates.