Monstroid2 - Multipurpose Premium HTML5 Website Template
[ Exclusive Product ]
6 months of support
With a product you will get 6 months of support from the author. To know more about what is included, please read the support policy.
Sales: 1,758
Unlimited Access in MonsterONE
264k Items | Commercial Use | Support
Get from $13

/mo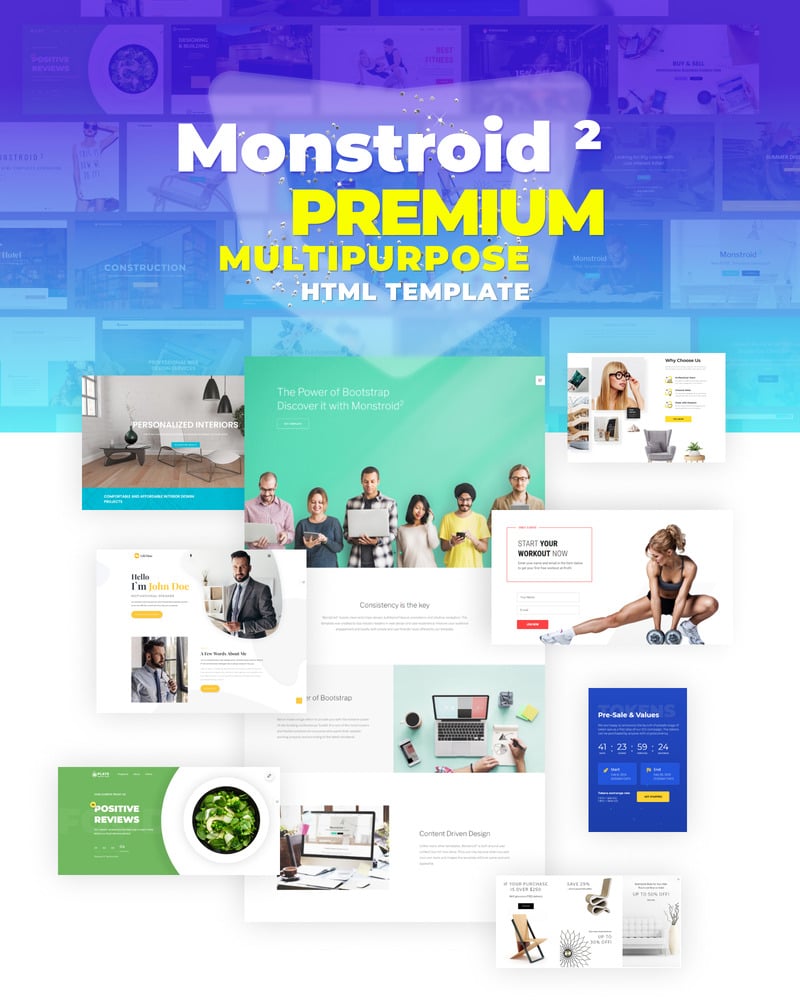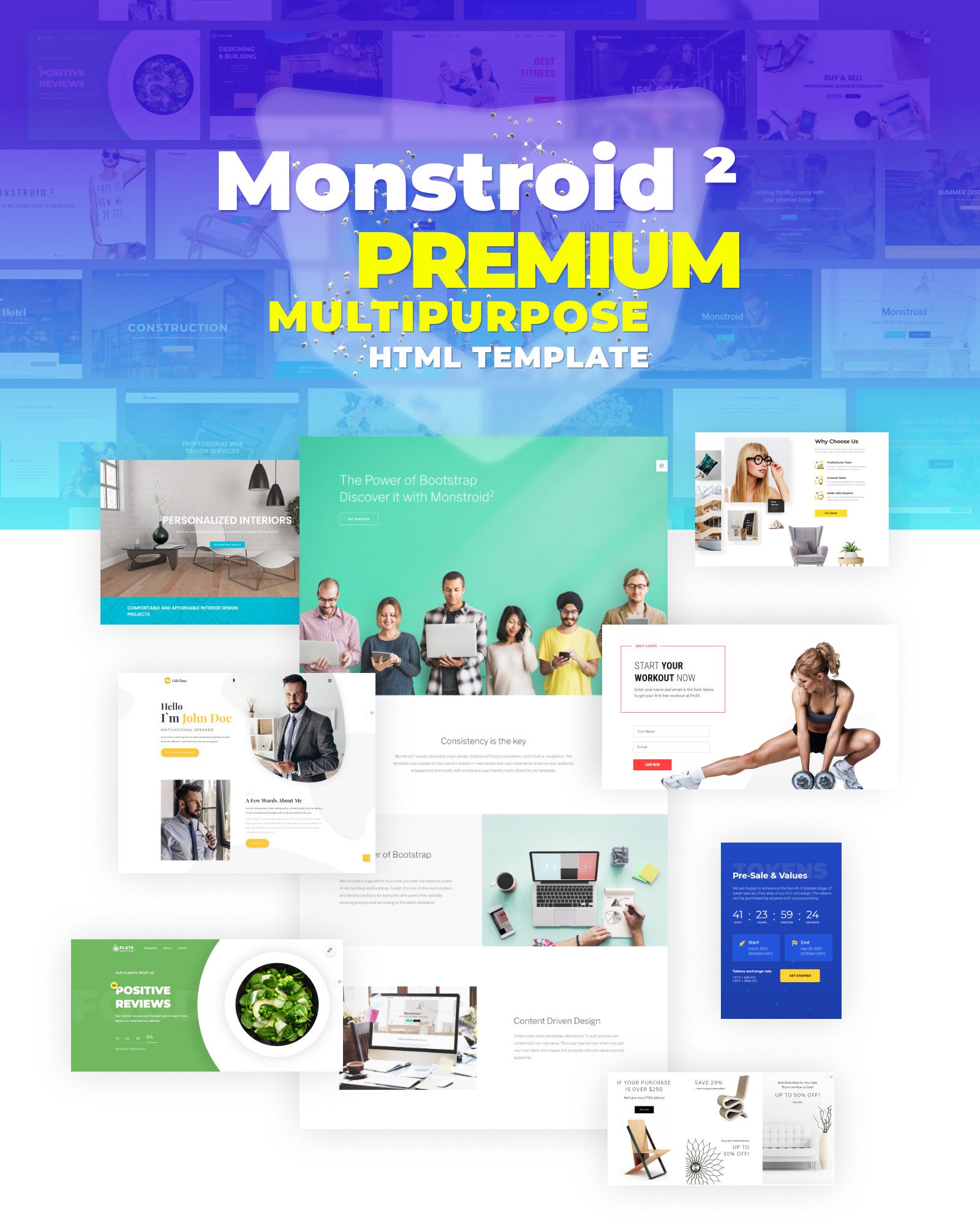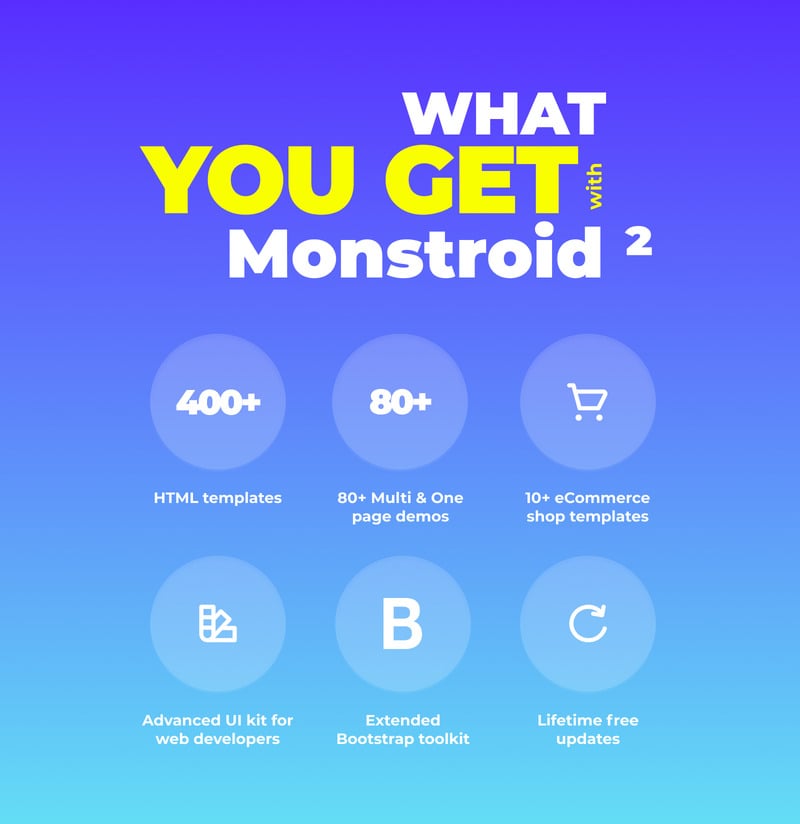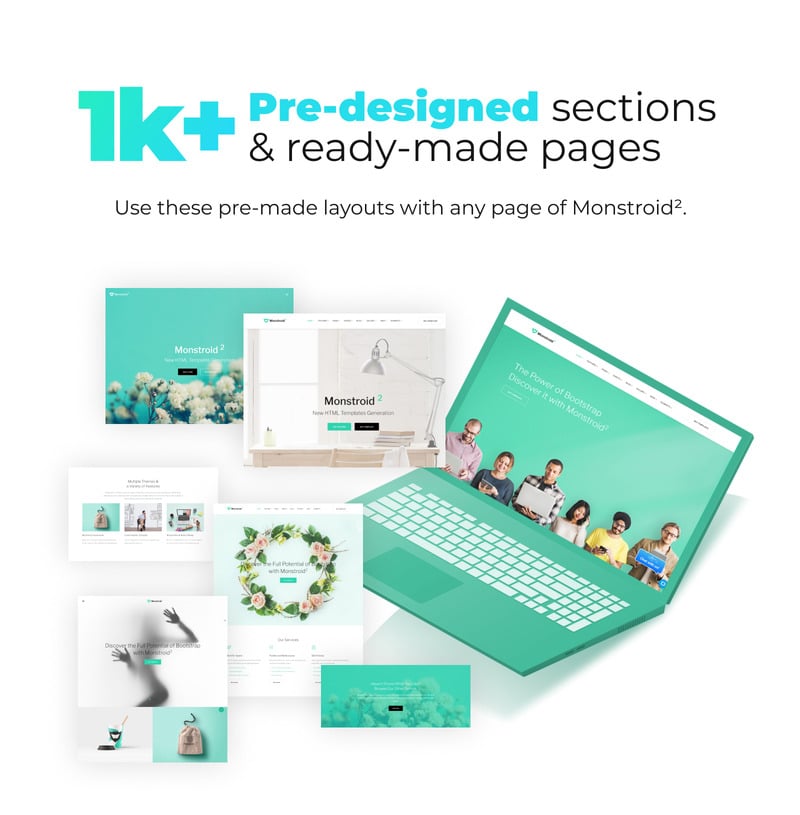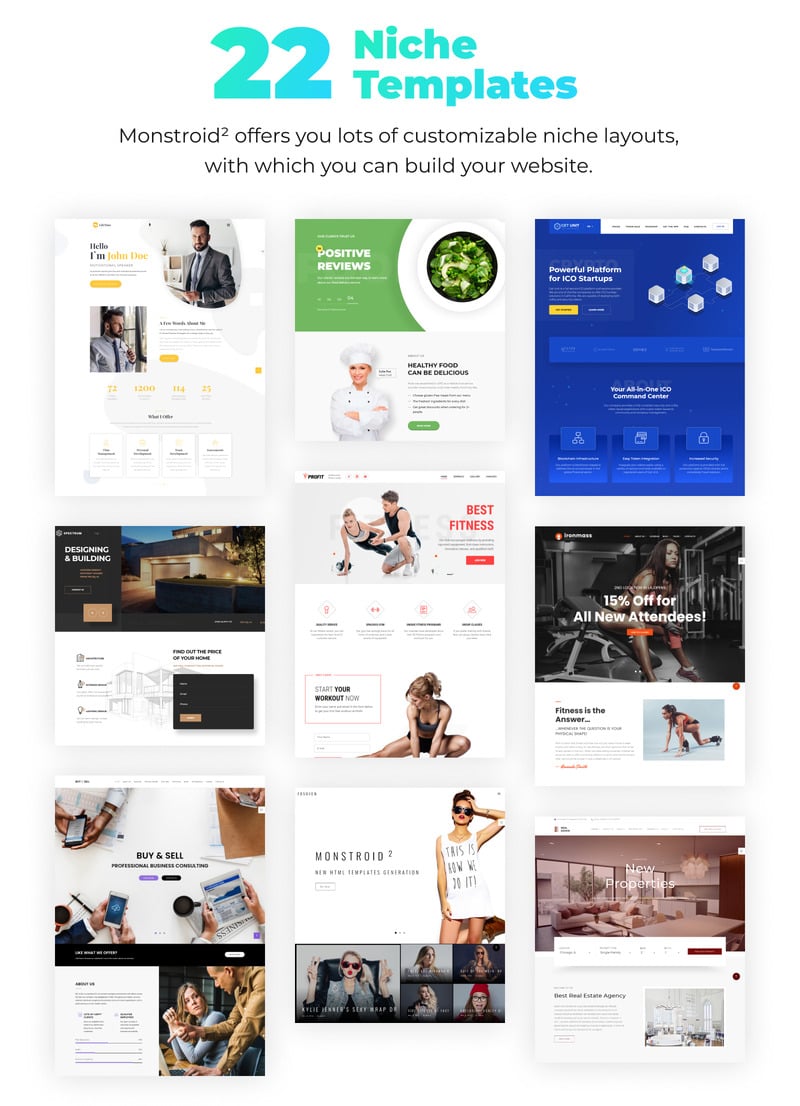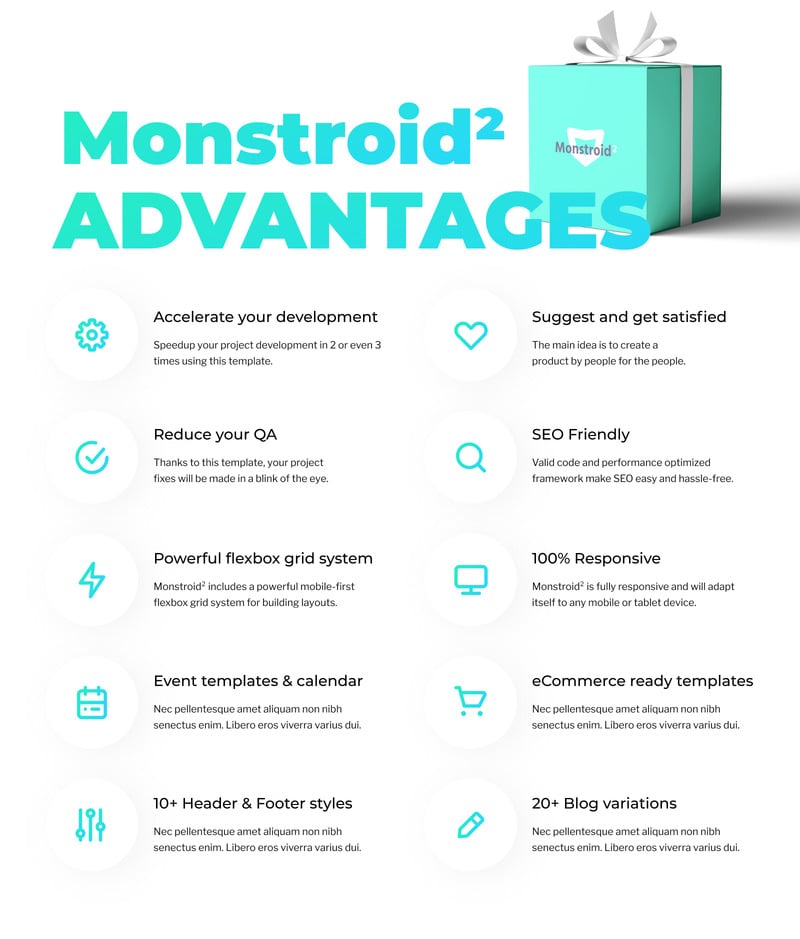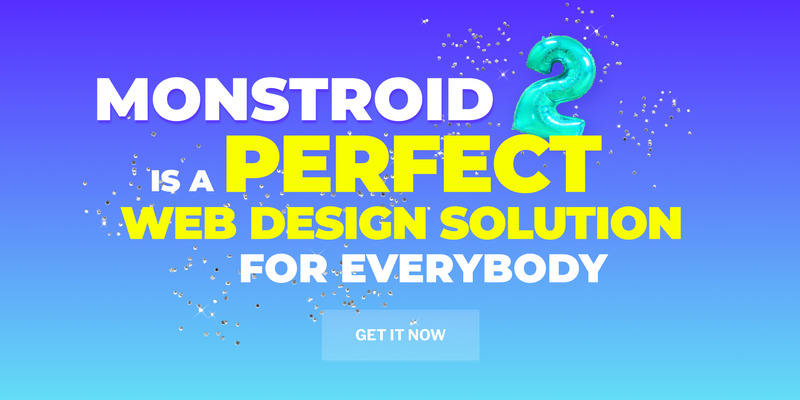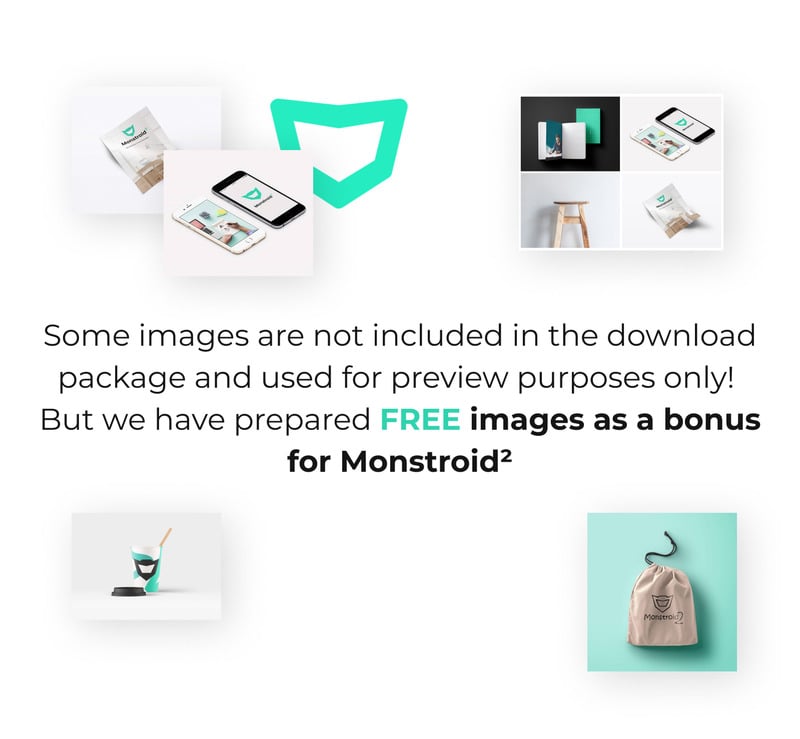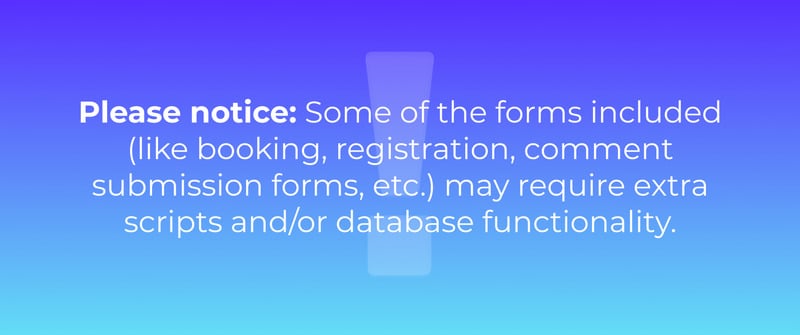 Flexible Multipurpose Premium HTML5 Website Template
A multipurpose premium HTML5 website template provides everything necessary for successful website creation. Nowadays, any company must have a well-designed website. It simplifies product and service promotion. A website can also be widely used in an advertising campaign. However, to achieve positive results, you need to hire an experienced web developer. Without any doubt, this is not always possible due to the high cost of such a service.
That's where HTML templates can help. They are affordable and reliable solutions made to help you establish a website in no time. Designed by industry professionals, such templates are fully responsive thanks to Bootstrap 4. Also, such templates can be easily customized to meet your goals. If you need to build a corporate-styled website or are looking for a solution that satisfies multiple needs, the Monstroid2 multipurpose template will be a perfect choice.
Feature-Rich and Multipage HTML Solution
The Monstroid2 multipurpose premium HTML5 website template offers outstanding design. Moreover, it is supplied with dozens of ready-made child themes. Each one of them contains lots of pre-designed pages and layouts that cover different topics. Whether you need a construction company website or personal portfolio, Monstroid2 can help you. Besides, it comes with an awesome variety of features that enhance your website's performance:
W3C valid & SEO-ready coding;
Flexbox grid system;
Google Fonts & Google Maps;
Background video;
Smooth parallax scrolling effect;
Cross-browser support.
As stated above, this multipurpose premium HTML5 website template is multipage. Every page that you find in this solution was crafted specifically to meet the standards of the modern web. Besides having multiple pages, our template has a variety of home page layouts. Whether you want to build a stunning portfolio or a creative website for your startup, Mosntroid2 provides a perfect start for it. With our template, you can quickly build an HTML5 website of any complexity.
HTML Template with Lots of Pre-Designed Child Themes
One of the most prominent advantages of our multipurpose premium HTML5 website template is its variety of included child themes. Their topics vary from food delivery service to the fitness club and hotel. Whatever your website is related to, rest assured that Monstroid2 has a ready-made HTML theme for it. Furthermore, every child theme is fully editable and customizable. Hence, you can adapt any page or theme to your needs. Our solution offers the following child themes:
Hotel;
Construction company;
Business consulting;
Fitness center;
Furniture store;
Fashion blog;
Lawyer;
Loan offer center;
Restaurant.
No matter what theme you decide to pick, the Monstroid2 multipurpose premium HTML5 website template will give you not just an impressive design. Every page of our template is provided with lots of content sections. They can be easily used to give your visitors any necessary information. For example, you can post recent testimonials or showcase your works and achievements. There are lots of possibilities for your website that you can use with Monstroid2.
Fully Customizable Multipurpose HTML5 Template
The solution we offer you is 100% customizable. Due to a wide variety of elements and visual builder presets, you can create anything you want. The Monstroid2 multipurpose premium HTML5 website template is supplied with the Novi Builder. This solution allows you to edit any page of this template without any trouble. You can freely reorder and replace various sections and elements of Monstroid.
In case you are looking for additional information about Monstroid2, feel free to read its documentation. it describes how to install and work with the template properly. Moreover, it answers a variety of common questions about HTML5 templates. However, if you are looking for additional support, our qualified team will be happy to help. We also hope that our template catalog will be of use when you decide to work on your next online project.
Changelog
Monstroid2 Version 2.5 (October 29, 2021):
ADD: Halloween page;
FIX: Minor bug fixes.
Monstroid2 Version 2.4 (August 31, 2021):
ADD: Badminton Child;
FIX: Minor bug fixes.
Monstroid2 Version 2.4 (Jujy 30, 2021):
ADD: Farm Child;
FIX: Minor bug fixes.
Monstroid2 Version 2.3 (June 30, 2021):
ADD: Exterior Design Child;
UPD: Bootstrap to 5.0.0;
UPD: Popper.js to 2.9.2;
FIX: CSS styles;
FIX: Minor bug fixes.
Monstroid2 Version 2.2 (March 01, 2021):
UPD: Bootstrap to 4.5.3;
UPD: Popper to 1.16.1;
UPD: Swiper to 5.3.1;
UPD: Novi builder
FIX: Minor bug fixes.
Monstroid2 Version 2.1 (November 04, 2019):
UPD: Novi Builder to version 0.9.6.
Monstroid2 Version 2.0 (September 30, 2019):
ADD: PageTransition plugin v1.1.4;
ADD: Pug mixins for logo;
ADD: Pug mixins for rights;
UPD: Logo for Retina;
UPD: Bootstrap framework to v4.1.3;
UPD: Bootstrap accordion;
UPD: Popper.js plugin to v1.14.3;
UPD: TouchSwipe plugin to v1.6.18;
UPD: WOW plugin to v1.1.3;
UPD: Lightgallery plugin;
UPD: Owl carousel plugin to v2.3.4;
UPD: Swiper plugin to v4.5.0;
UPD: Pug mixin for navbar;
UPD: Pug mixin for breadcrumbs;
UPD: Counter;
UPD: Progress Circle;
UPD: Progress Linear;
UPD: Countdown;
UPD: Novi Builder update is coming soon;
DEL: Magnific Popup;
DEL: Countdown for jQuery;
FIX: Minor HTML and CSS bugs.
Monstroid2 Version 1.7 (September 06, 2019):
ADD: New child - Motivation Speakers.
Monstroid2 Version 1.6 (February 27, 2019):
ADD: New child: ICO and Cryptocurrency
FIX: Minor bug fixes.
Monstroid2 Version 1.5 (January 30, 2019):
ADD: New childs: Fitness Club; Architecture; Interior; One Service;
FIX: Minor bug fixes.
Monstroid2 Version 1.4 (August 06, 2018):
RPL: RD Google Map updated;
Monstroid2 Version 1.3 (July 26, 2018):
ADD: Extrafast landing page child;
ADD: Buy & Sale landing page child;
RPL: RD Google Map with the current version of Google Map;
UPD: RD Navbar updated;
UPD: Material Parallax updated;
FIX: Other minor bug fixes.
Monstroid2 Version 1.2 (May 11, 2018):
ADD: 4 Child themes;
UPD: Bootstrap updated to versiton 4;
ADD: Mailchimp and Campaign Monitor forms;
UPD: PhotoSwipe Gallery changed to LightGallery;
UPD: Scrollbar initialization;
UPD: RD Mailform initialization;
UPD: Owl carousel;
FIX: CSS styles;
FIX: Other minor bug fixes.
Monstroid2 Version 1.1 (March 27, 2018):
ADD: New Home Page Layout;
UPD: Speed Optimization;
UPD: Scripts updated;
UPD: Some styles reorganized;
UPD: Visual and animation bug fixes;
FIX: Minor bug fixes.
90 Reviews for this product
Template is very easy to use. Have plenty of elements to chose from and combine you own site.
Great website design and layout. I only have experience with editing HTML and I find it to be straightforward and easy to follow the HTML coding. I highly recommend the Monstroid2 template for any professional such as a doctor, lawyer, consultant etc.
This is my second purchase I've done from this website. The first one was a decade ago and I was student back then. I was impressed back then by the level of professionalism, code quality and the after service follow up. Here we are over 10 years later, I had forgotten about this website and ran into some of my old emails. I decided I would use their service again. I was even more impressed. They leveled up in quality code, delivery and even the after service follow up (dedicated employee asking you about your experience, discounts, and almost immediate reply for any inquery). I definitely recommend their services to any of my contacts and would surely choose no other source. Thank you kindly for a great service
Very nice and modern design. Various page options makes this template very versatile.
This is my first purchase from TM and Im sure it will not be my last. The template I purchased offered a huge range of cutomization with the template being very well laid out and organized. Being a developer I am looking for ways to not always having to reinvent the wheel, this was a perfect choice. The template gave me enough flexibility to redo the look and feel to my own liking. I think I may wind up subscribing.
5 Comments for this product
Отстойный шаблон. Как поменять иконки, какие вообще там есть - непонятно, где их увидеть - тоже непонятно, в документации вообще нет упоминаний об иконках вида \e601, как хотите, так и ищите. Жаль потраченных денег.
We are sorry to hear you have difficulties with template management that includes many beautiful layouts and features. You can easily check the font used by inspecting an element through the browser. The template uses fonts in the standard way. All the fonts used in the template are located in the fonts folder of each theme skin, including Linearicons iconic font using the "\e601" icon content code you specified. Fonts are assigned to the website in the css/style.css file in the @font-face area where you can also check fonts information. Also, documentation includes fonts' credits. Should you have any questions, feel free to contact us on the ticket, we will be glad to help you :)
Hello, I'm new in Template Monster and would like to double check one thing. There are examples of pre-made layouts. Are they included in the template?
Hello Sona. Thank you for question. Yes, pre-made layouts are included into the package after the purchase. You can also join our live chat at http://chat.template-help.com/ to get immediate assistance. Thank you.
why not create tutorial for how install NOVI BUILDER Monstroid2 Multipurpose Website Template ? only see in wordpress
Thank you for your comment. Please check our tutorial ["Getting started with Novi Builder".](https://www.templatemonster.com/help/multipurpose-website-templates-getting-started-novi-builder-uploading-builder.html)
Can it be edited within Dreamweaver?
Hello Brian. Thank you for question. You can edit HTML files with Adobe Dreamweaver CS+ (only in the Code Mode). Please note that you will not be able to fully edit them in Design Mode because of the Google Web Fonts, Ajax and jQuery scripts used in the templates like this. Have a nice day!
Hi - is the template mobile friendly?
Hello. Thank you for question. This template is responsive and automatically adjust its layout to the screen width of the device they're displayed on whatever the width is. Have a nice day!