BeClinic - Multipurpose Medical WordPress Theme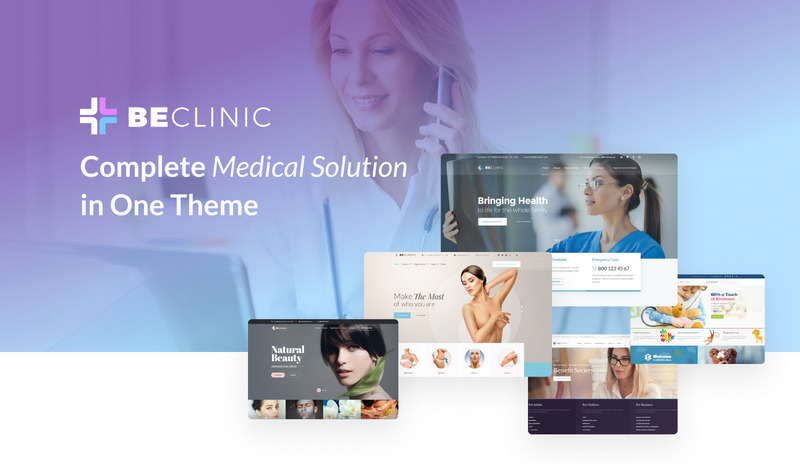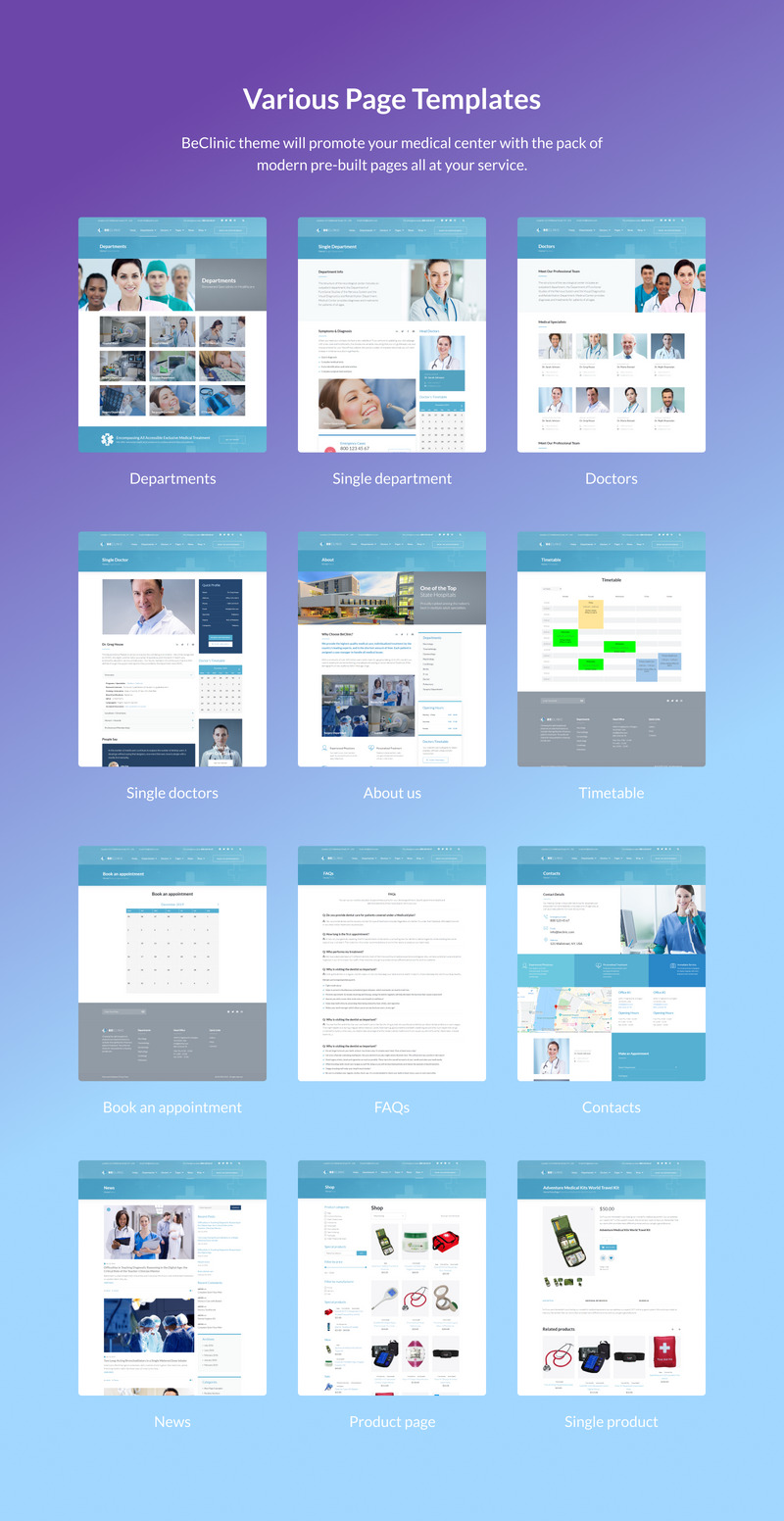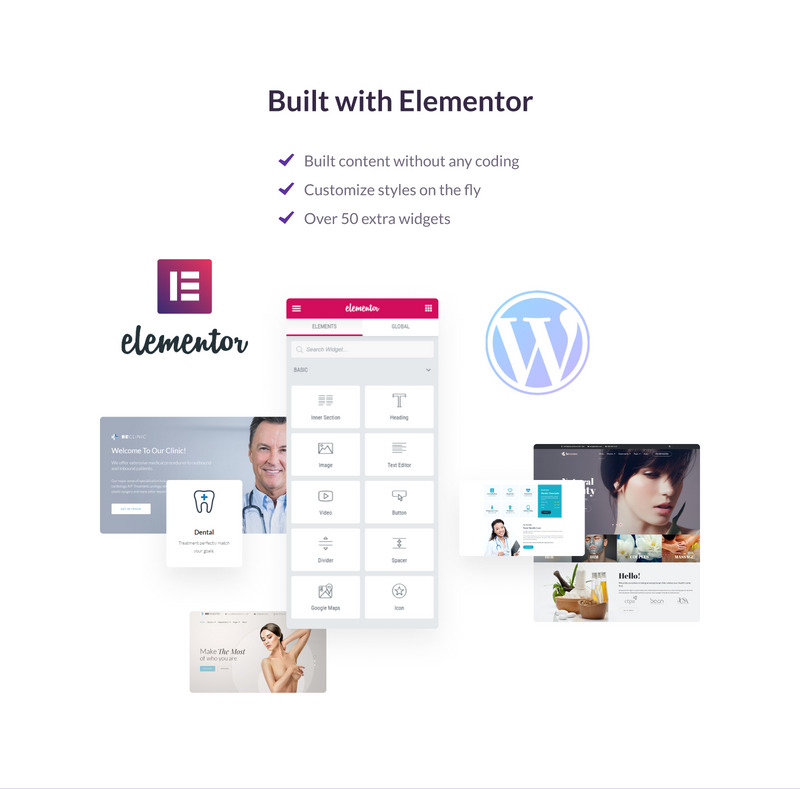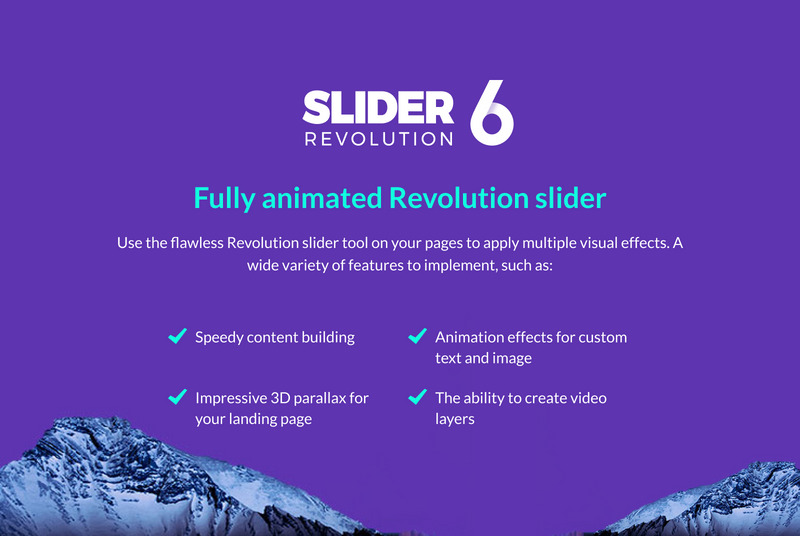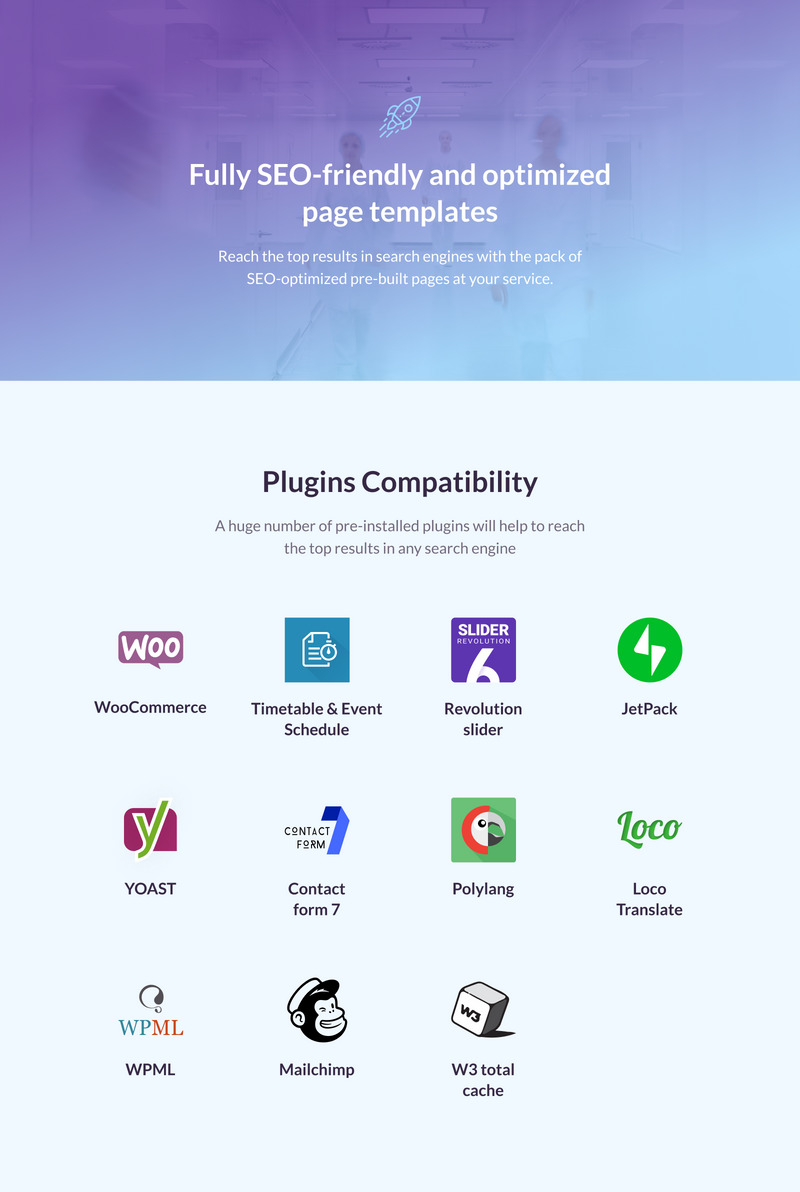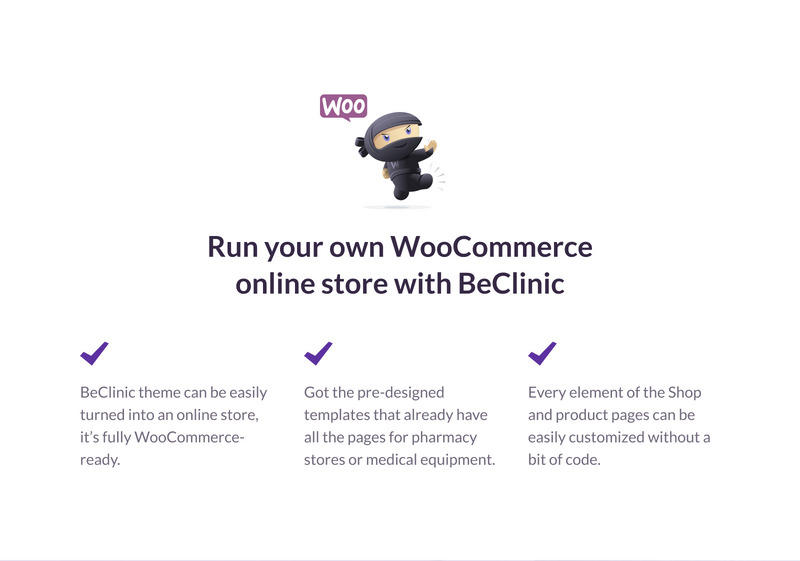 Explore a Bunch of Possibilities Provided by the Medical Clinic WordPress Theme for the Quickest Promotion
Have you ever thought about the promotion of your clinic vie your own website? Or what about multiple websites for different purposes, all at your service? Then the medical WordPress theme is aimed to satisfy all your demands! The widest variety of demo content for any purpose and a starter pack of ready-to-use pre-built page templates is waiting for you. Assure the visitors of your website of the reliability of your medical clinic.
With the medical clinic WordPress theme also comes a great diversity of customization options. After you purchase the multipurpose theme, you will become able to edit, replace or remove the existing content, such as blocks, sections, and other elements, and even add new ones. Moreover, all the elements are very flexible and responsive, so the process of site-building appears as an easy and enjoyable one. The medical clinic WordPress theme was designed with the Elementor plugin and a bunch of powerful add-ons, which allows you to use the drag-and-drop technology.
Talking about the customization opportunities, the medical clinic WordPress theme additionally provides you with the opportunity to upgrade your sections with the additional custom options and switch between the layouts. You can choose what view will be more suitable for your content.
Feel Free to Use all the Demo Content of the Medical WordPress Theme
In case you don't have enough time or money to create custom icons or hire designers, the medical clinic WordPress theme is here to provide you with all the necessary demo content! You are able to use attractive icons for branding or representing your services. Engaging images and modern layouts will make your website look both reliable and eye-catching.
Moreover, with the medical clinic WordPress theme, you don't need to acquire coding skills to create pages. The fully-fledged website is provided by the starter pack of page templates, such as:
Home page;
About us page;
Departments page;
Doctors page;
News page;
Timetable page;
Contacts page.
Furthermore, the medical WordPress theme will even equip you with the important pages, such as the 404 page or maintenance page. You don't have to be worried about the loading speed of your website. All pages are SEO-optimized and the blocks are compressed, which will make the site's performance in the web smooth and fast on all devices.
Multiple Customizable Options and Advanced Features on Board
Today the whole Internet contains a great range of medical templates to choose from, however, with the medical clinic WordPress theme, the options to make changes and customize content are almost endless. You are able to purchase the WordPress templates and get multiple blocks to make your pages both engaging and entertaining.
Various design and functional opportunities of the medical clinic WordPress theme speaks louder than any words! The process of installation will take a matter of clicks and soon you'll be able to run your own medical website. One of the most attractive features of the theme is that it can be also used as an online store. With the WooCommerce plugin on board, you are able to sell medical equipment. Moreover, take a look at the list of innovative blocks:
attractive mega menu, where you can place various animated objects;
dynamic sliders with engaging call-to-action buttons;
handy and time-saving contact form, so visitors can make an appointment;
entertaining image comparison widget, to showcase the result of your work;
the testimonials, with the detailed reviews and wishes;
team members sections, where you can introduce your doctors;
Google map widget for people to find where your medical centers are located.
As a unique opportunity, the medical clinic WordPress theme gives you the chance to work with the revolution slider on your pages. The revolution slider mechanism is a WordPress plugin that allows you to implement multiple tools Everybody is sick and tired of out-of-date boring sliders. Purchase Wordpress theme and make them animated and dynamic. Add animation effects, text, image and video layers. Easily activate the plugin and experience the working process.
Additionally, once owning the medical WordPress theme, you also become able to switch between one of the four available blog layouts and post some valuable advice or healthy life hacks. Clear documentation is presented as well as the integrated Google fonts. What is more, the clean and structured HTML code allows you to find the needed change or modify something without any effort. The opportunity of presenting multiple versions of your website with the help of RTL and WPML compatibility is also possible.
Competent and Helpful Support Team
If you face some problems with installing or using the medical clinic WordPress theme, don't delay writing to us. The team of qualified technical supporters is always ready to help you with any trouble or give a piece of useful advice. We are at your service 24 hours a day even at the weekends!
Changelog
BeClinic (October 15, 2020)
Added skin Medical Marijuana and Cannabis
Minor bugs fixed
BeClinic v3.1 (May 25, 2018):
Added 2 skins:
Family Medicine;
Medical Cosmetics ;
Updated JetElements plugin;
Woocommerce update to 3.4.0 version ;
Fixed minor bugs.
BeClinic v3.0 (December 30, 2017):
Made BeClinic a fully multipurpose theme and changed its name;
Made a full redesign of the theme;
Added 5 skins:
Plastic Surgery;
Kids Clinic;
Psychology Clinic;
Cosmetology;
Dentist Clinic;
JetMenu - Mega Menu for Elementor Page Builder;
Added Timetable and Event Schedule plugin;
Added Slider Revolution plugin;
Minor bugs fixed;
Updated the detailed documentation for BeClinic.
BeDentist v2.0 (September 27, 2017):
Added Elementor Page Builder plugin;
Added JetElements - Addon for Page Builder Elementor;
Added Cherry Plugin Wizard;
Added Cherry Team Members plugin;
Added Cherry Services List plugin;
Added Cherry Testimonials plugin;
Added Smart Slider 3 plugin;
Added TM Mega Menu plugin;
Minor bugs fixed.
BeDentist v1.1 (December 15, 2016):
Added TM Gallery plugin;
Added Cherry demo data import plugin;
Added child theme;
Added Cherry Pop Up plugin;
Added Woocommerce plugin;
Minor bug fixes: solved crossbrowsers issues, solved issues with contact form.
145 Reviews for this product
Excellent wordpress theme! Used for a chiropractor customer and they couldnt be happier!
Totally recommended! The product is very easy to use, with lots of functions, options, and other stuff that makes it really easy to create a website. I built a website with the huge help of Jet Plugins that included in this theme for free! Awesome!
Easy to use and setup was really straight forward. Highly recommend it.
this template is not good at all, Cannot open elementor, support rubbish I have a problem with the template Elementor could not open, When JetBlog For Elementor is enable, ic cannot edit pages with Elementor They dont want to refund my money and cannot fix the problem I Totally discourage anyone who want to buy this particular template
Great template, support helps me out with what is needed. The demo was working fine, but the video was not incluced in the gallery, thats why I take my 1 star. Anyways the support managed to help me out and added the needed video in the gallery. Also there was in need of a update of the Power plugin soo I could add the google analytics code. Anyways my final rate is that even though there were few things that had to be added, the support helped out and added them. :)-/
Show more
5 Comments for this product
You can write a comment for this product
Is it possible to just buy the Elementor Templates from this theme?
Hello! Could you please be more specific about your request? Best regards!
This theme have a less/sass file?
Thank you for your question! I am sorry, this theme does not have a less/sass file. Kind regards, Sandy Clark.
Hi, I was about to buy the template, when I saw answer to the question by rawfish. Could you please clarify what exactly do you mean by "Images are not included into the package"? Which images are not included? Thanks. Pavel.
Hello, Pavel! Thank you for your question.This Wordpress template is under GPL license, so you do not receive all images you see in template's demo, they will be "blurred". For more details please join our live chat at http://chat.template-help.com/. Have a nice day!
are the images included? If not how do I get them?
Hello Rawfish.Thank you for comment. Images are not included into the package due to GPL license of the template. You could get 15 stock images to use along with the template from our partner Depositphotos. You can also join our live chat at http://chat.template-help.com/ to get immediate assistance. Thank you.
Is this theme compatible with WPML?
Hello Andrea. Thank you for comment. Yes, this WordPress is compatible with WPML plugin and you could install it on the chosen template and required languages. You can also join our live chat at http://template-help.com/chat to get immediate assistance. Thank you and have a nice day!
Show more