Hazel - Clean Minimalist Multi-Purpose WordPress Theme
[ Exclusive Product ]
Updated
6 months of support
With a product you will get 6 months of support from the author. To know more about what is included, please read the support policy.
Sales: 2,966
Created: Feb 8, 2018
Updated: Jun 12, 2023
ID: 67167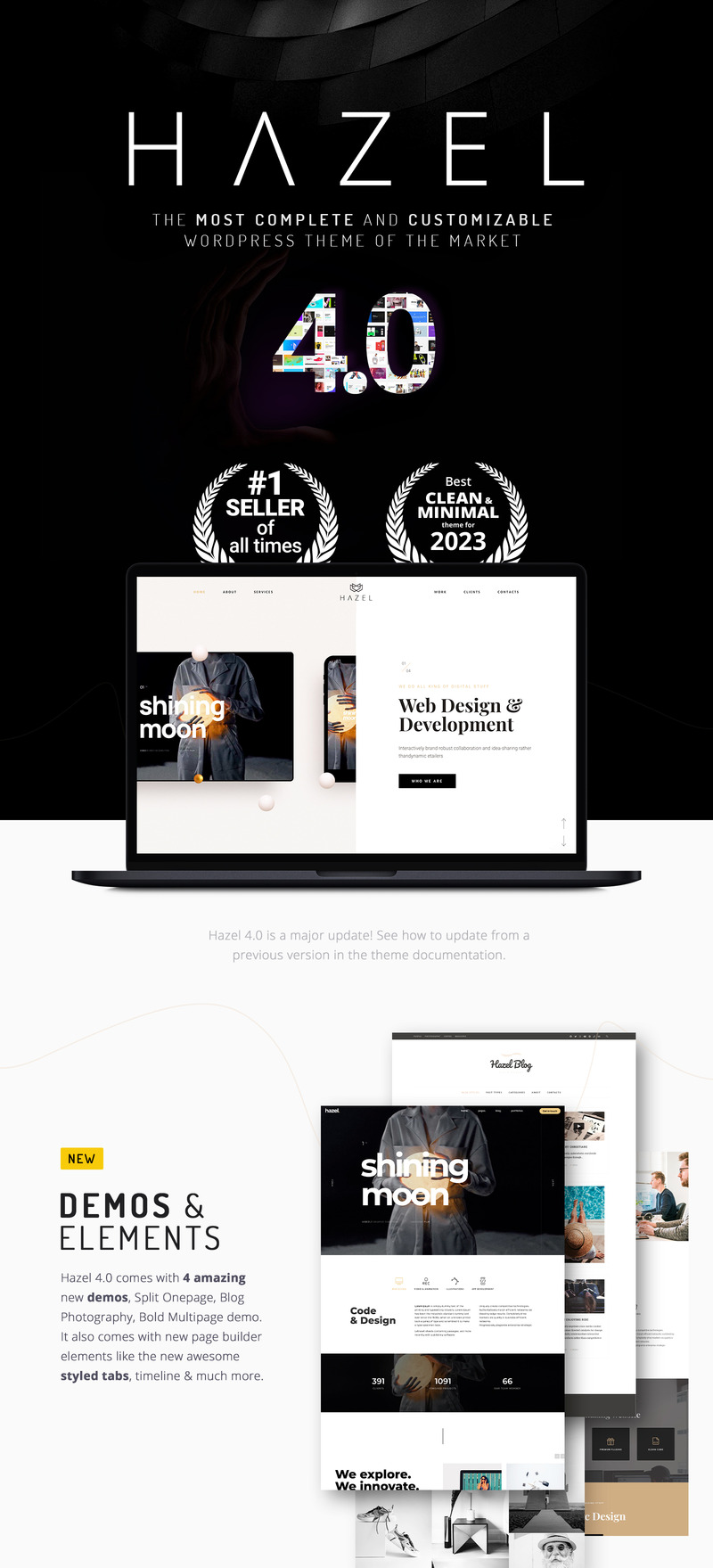 Hazel is a minimal, clean and modern WordPress theme, packaged with awesome premium plugins (value 194$ for free!), unlimited customizability, built-in mega menu, typographic options with over 1000+ Google fonts, custom page options (for multipage sites), different portfolio types and styles, WPML and translation ready, robust admin panel with hundreds of options to make it your own, tons of useful visual page builder elements and tons of pre-configured layouts! Alder come also with 16 Websites with all preview contents included.
All the pages presented are included with this multi-purpose theme, and you can import them all and start your website from there. Hazel come also with a great collection of page builder modules, that you can use to build your new pages / sections.
Theme Features
16 Beautiful Demos
320+ Sliders Included! (NEW)
Page Builder Templates (NEW)
Header / Menu Options
Centered menu Style (NEW)
Sticky Nav
Mega Menu Built In
100+ Page Builder Elements / Shortcodes
Update Theme trough WP Dashboard
Tons of Designed Pages Available
Ready for WordPress 6+ Tested and Approved
Revolution Slider Included (Save 85$ - Plugin license not include)
WP Bakery Page Builder Included (Save 64$ - Plugin license not include)
Ultimate VC Addons Included (Save 26$ - Plugin license not include)
100% Responsive Layout
Retina Ready
WooCommerce Support
Unlimited Colors & Styles
Advanced Footer Options
Clean & Modern Design
Advanced Customization / Theme Options
Multiple Blog Designs
Advanced Blog Options
Advanced Search Options with AJAX Results!
Multi-Lingual / RTL Ready
Multiple Premium Slider Options
Built with HTML5 & CSS3
Compatible with Many Popular Plugins
Cross-Browser Compatibility FireFox, Safari, Chrome, Edge, IE10, IE11
Child Theme Compatible – includes basic child theme!
Multiple Portfolio Designs
7 Built-in Custom Widgets
Photo gallery with pop-up and full screen support
Popular Plugin Design Integration
WPML Ready
Translation ready with po/mo files
Advanced Typography Options
Excellent Customer Support
Frequent updates with new features
Google Map Integrated
Support videos from any major services (YouTube, Vimeo)
Support audio from any major services (SoundCloud)
Google Web Fonts, System
Integrated Font Awesome icons
Built-in Social Feeds
SEO Optimized
Unlimited Sidebars, Left / Right
Custom Sidebars per page/post
Custom Page / Post Options
Support
My themes comes with an extensive help file with videos to help you understand how it works. If you encounter any problems or have questions once you purchased the theme feel free to contact me. Reply times can be up to 24 / 72 hours Monday to Friday. Please be patient when posting an issue as i work (UTC +00:00) time zone, and i might not reply you right away.
Changelog
Update 4.2 (21 November 2023)
[UPDATED] Slider Revolution plugin
[UPDATED] Ultimate Addons plugin
[UPDATED] WP Bakery page builder plugin
Update 4.1.9 (18 September 2023)
[UPDATED] Slider Revolution plugin
[UPDATED] Ultimate Addons plugin
Update 4.1.8 (7 August 2023)
[ADDED] Support WP Bakery blank page
[UPDATED] WP Bakery page builder plugin
Update 4.1.7 (1 August 2023)
[ADDED] Support WP 6.2+
[ADDED] Option to disable theme google fonts (Requires a HazelOptions Save after the update)
[FIXED] Style tabs responsive
[UPDATED] Slider Revolution plugin
[UPDATED] Ultimate Addons plugin
Update 4.1.6 (11 June 2023)
[FIXED] Sub menu items styles
[FIXED] Icon envelope social widget
[FIXED] Dropdowns style mobile
[FIXED] Scroller font size issue
[FIXED] Blog animations
[UPDATED] Slider Revolution plugin
[UPDATED] Ultimate Addons plugin
[UPDATED] WP Bakery page builder plugin
Update 4.1.5 (5 January 2023)
[FIXED] Issue in the menu colors from the previous vs(4.1.4)
Update 4.1.4 (4 January 2023)
[ADDED] tel tag to the topbar number
[FIXED] ContactForm 7 style issues with the new plugin version
[FIXED] Contact for quote
[FIXED] Search mobile issue
[FIXED] Global style improvements
[FIXED] Top bar issue with option Hide/Show only on Scroll Down/Up activated
[FIXED] Hide/Show on Scroll Down/Up option break with cube popup
[FIXED] Better styling and function for testimonials without feature image
[FIXED] Dropdown position on safari
[FIXED] Megamenu position issue on safari
[UPDATED] Slider Revolution plugin
[UPDATED] Ultimate Addons plugin
[UPDATED] Hazel plugin
Update 4.1.3 (3 November 2022)
[UPDATED] Slider Revolution plugin
[UPDATED] WP Bakery page builder plugin
[UPDATED] Hazel plugin
Update 4.1.2 (13 September 2022)
[UPDATED] Slider Revolution plugin
[UPDATED] Ultimate Addons plugin
Update 4.1.1 (27 July 2022)
[FIXED] Password protect issue on pages and posts
[FIXED] Contact info widget align issue
[FIXED] Container on projects with Polylang
[FIXED] Global CSS Improvement
Update 4.1 (30 June 2022)
[FIXED] Header 4 line effect
[FIXED] Footer fullwidth
[FIXED] Double logo on high resolutions
[FIXED] Tel input styles
Update 4.0 (21 June 2022)
Hazel 4.0 is a completely new theme, new admin panels, new code organization, one click, new demos, new elements and much more!!
ADDED: 4 amazing new demos (Split OnePage, Blog, Photography, Bold Multipage)
ADDED: One Click Demo import functionality
ADDED: 50+ new Options for Style and Customization
ADDED: New Framework and Admin Panels
ADDED: New options for templates and mobile
ADDED: Enhanced Admin panels and functionality
ADDED: New Blog Grid and Blog Options
ADDED: New Header Layouts
ADDED: New Page Builder Elements
ADDED: Styled Tabs and Timeline
ADDED: More 20 Hazel Templates
ADDED: New Theme Documentation
ADDED: Code Optimization and CSS improvements
ADDED: Options for blog metas
ADDED: Option to enable/disable comments
ADDED: Option to enable/disable navigations
[UPDATED] Slider Revolution plugin
[UPDATED] WP Bakery page builder plugin
[UPDATED] Cubeportfolio plugin
NOTE: Changelog for the previous theme has been deleted since it doesn't affect the new theme.
94 Reviews for this product
this look like a great template, but I would have liked to have a simple tutorial on how to customize.
I had two days trying to install the theme. In the end I paid template monster 39$ t do it for me. Its quite confusing to install, if Id have know before hand Id have just paid the 39$ upfront and saved myself two days of frustration. The theme itself is fabulous. Getting to grips with the Revolution Slider option is a must do, I paid for a full licence, and theres a really good instructional video on the rev slider website to help you. Response from author has been good regarding a glitch with the wpbakery editing plugin, didnt work from the preview your website header but works from within the pages section of wordpress. .
I am a beginner with Wordpress so, naturally, after I downloaded the HAZEL theme I had some questions understanding a few things. Then I opened a ticket and asked Template Monsters Support Services for assistance. They put me in touch with the author who is a wonderful guy and an amazing person. He went out of his way to accommodate my issues. I would not know how to thank him enough for his willingness to help, his response time, and for his amazing talent as a designer and programmer. Thank you so much!
Hola, soy Usuario nuevo en Template Monster. Era la primera vez que uilizaba una plantilla y cuando ví HAZEL no dudé en obtenerla. Desde el primer momento ha sido muy grato el trato con el instalador, si que es verdad que tardó casi medio día en intalarla ( en veza de 3 horas como pone) pero el resultado mereció la pena. Es una plantilla con 6 temas diferentes que están a la vanguardia de la último en páginas web. Aun estoy configurando mi página ya que con tal cantidad de opciones, lo tengo muy dificil para decantarme. Estoy muy agradecido a todo el equipo de Tamplte monster y a los instaladores, así como la gente de facturación. Volveré a comprar pronto un saludo!
This is a very professional and well built Wordpress theme. I never had any issues requiring me to contact the developer. Everything is easy to edit and the pre-made templates were perfect. You can customize nearly everything you see. WP Bakery is one of my favorite editors for ease-of-use. Anyone can use this even with very little Wordpress experience. You can drag and drop most things which makes it easy to see your changes in real time.
14 Comments for this product
Hello, My client purchased this theme and couldn't figure out how to activate a certain version (demo 11) of it. I tried the simple install and when attempting to activate it, it stays on the "applying the demo" screen indefinitely. I then tried the manual install and no luck. My client is happy with the theme style but he is not very happy with how hard it's been to install.
Hi, we have all the instructions to install theme and demos in the theme doc but we will be happy to help. Please send your support request in the templatemonster support system (you templatemonster account -> Support menu) . Best Regards
Hello, I'm helping a client with this theme and within the editor it appears normal but when I go to the site its a completely different look... Can you please help!
Would this be a licensing issue if so she can buy another one. But the backend looks normal and when I go live the website is completely different.
Hi, Please use templatemonster support system (you templatemonster account - Support menu) to post your questions. Best Regards
Hi! I purchased the theme almost a year ago and just now am installing it on my site. It says that RevolutionSlider was included with the purchase but I'm not able to activate the plugin--it's asking for a license code. How do I get that?
Hi, Many thanks for your purchase, truly appreciated! The plugins licenses are not included on your purchase as announced on the theme description. We are not allowed to share the plugin license, we purchased an extended license of the plugin so we can include it with the theme, but unfortunately we cannot share the license, sorry. Best Regards
Paulo, that's is a terrible business practice. You have a theme that requires that plug-in to work yet that plug-in is an additional annual cost! You need to specify that in your theme description because people do not expect to have additional third-party expense to use your theme.
Hi, all plugins that are included, work without the licenses. You don't need to make any other purchase to work with all presented features, the licenses are only for automatically updates and extra features (like revolution slider addons) that we don't use or show in the theme live demos. On the theme description we say that plugins licenses are not included. Best Regards
Hi there, I purchased this theme a few weeks ago, it's great. The only issue I have is that the website logo comes out tiny on a mobile device. It looks fine when viewed on a laptop but tiny on a mobile. Is there any way to fix this? many thanks, Simon
Hi, you can increase the logo size on Hazel Style Options -> Responsive. If you have more questions, please use the support system on your templatemonster account.
Hello, just wondering if I am able to put videos in the folio section of Demo 14?
Hi Luc, thanks for your interest on our work. Yes you can add videos in the portfolio section, it will open in lightbox pop-up. Best Regards