Hazel - Tema WordPress multiuso pulito e minimalista
[ Prodotto Esclusivo ]
Aggiornato
6 mesi di supporto
Con il prodotto otterrai 6 mesi di assistenza da parte dell'autore. Per ulteriori informazioni sulle caratteristiche incluse, ti preghiamo di leggere la politica sull'assistenza.
Vendite: 2.840
Creato: 8 feb 2018
Aggiornato: 12 giu 2023
ID: 67167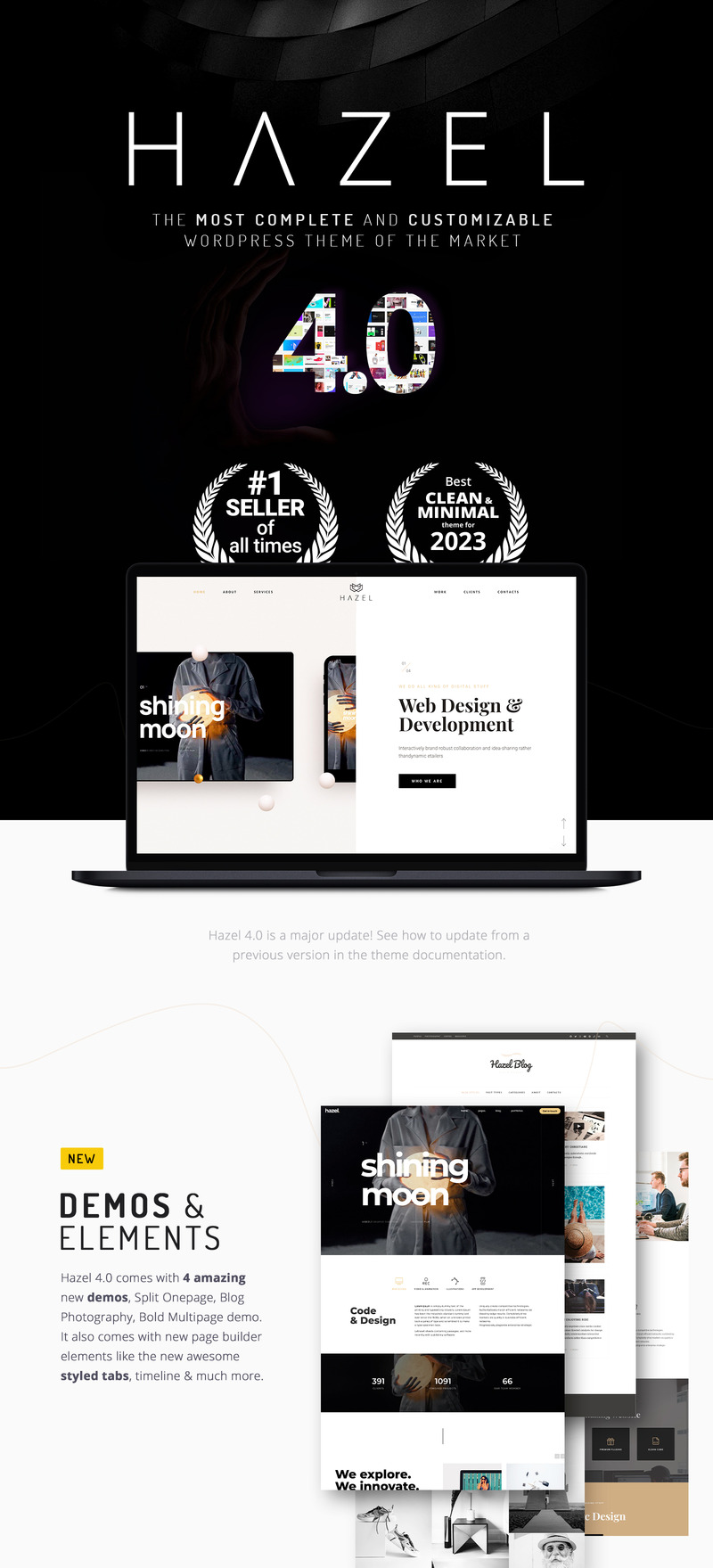 Hazel è un tema WordPress minimale, pulito e moderno, confezionato con fantastici plug-in premium (valore 194 $ gratis!), personalizzazione illimitata , mega menu integrato, opzioni tipografiche con oltre 1000 caratteri Google , opzioni di pagina personalizzate (per siti multipagina ), diversi tipi e stili di portfolio, WPML e traduzione pronta, robusto pannello di amministrazione con centinaia di opzioni per personalizzarlo, tonnellate di utili elementi visivi per la creazione di pagine e tonnellate di layout preconfigurati! Alder viene fornito anche con 16 siti Web con tutti i contenuti di anteprima inclusi .
Tutte le pagine presentate sono incluse in questo tema multiuso e puoi importarle tutte e avviare il tuo sito Web da lì. Hazel viene fornito anche con una grande raccolta di moduli per la creazione di pagine, che puoi utilizzare per creare le tue nuove pagine/sezioni.
Caratteristiche del tema
16 bellissime demo
Oltre 320 cursori inclusi! (NUOVO)
Modelli Page Builder (NOVITÀ)
Intestazione / Opzioni del menu
Menu centrato Stile (NOVITÀ)
Navigazione adesiva
Mega menu integrato
Oltre 100 elementi / codici brevi di Page Builder
Aggiorna il tema tramite la dashboard di WP
Tonnellate di pagine progettate disponibili
Pronto per WordPress 6+ Testato e approvato
Revolution Slider incluso (risparmia 85 $ - licenza plug-in non inclusa)
WP Bakery Page Builder incluso (risparmia 64 $ - licenza plug-in non inclusa)
Componenti aggiuntivi Ultimate VC inclusi (risparmia 26 $ - licenza plug-in non inclusa)
Layout reattivo al 100%.
Retina pronta
Supporto WooCommerce
Colori e stili illimitati
Opzioni avanzate piè di pagina
Design pulito e moderno
Personalizzazione avanzata / Opzioni del tema
Più progetti di blog
Opzioni avanzate del blog
Opzioni di ricerca avanzate con risultati AJAX!
Multilingua / Pronto per RTL
Molteplici opzioni di scorrimento premium
Costruito con HTML5 e CSS3
Compatibile con molti plugin popolari
Compatibilità cross-browser FireFox, Safari, Chrome, Edge, IE10, IE11
Compatibile con il tema del bambino: include il tema del bambino di base!
Diversi progetti di portfolio
7 widget personalizzati integrati
Galleria fotografica con pop-up e supporto a schermo intero
Integrazione del design del plug-in popolare
Pronto per WPML
Traduzione pronta con file po/mo
Opzioni tipografiche avanzate
Eccellente assistenza clienti
Aggiornamenti frequenti con nuove funzionalità
Google Map integrato
Supporta video da tutti i principali servizi (YouTube, Vimeo)
Supporta l'audio da tutti i principali servizi (SoundCloud)
Google Web Fonts, sistema
Font integrato Icone fantastiche
Feed social integrati
Ottimizzazione SEO
Barre laterali illimitate, sinistra / destra
Barre laterali personalizzate per pagina/post
Opzioni pagina / post personalizzate
Supporto
I miei temi viene fornito con un ampio file di aiuto con video per aiutarti a capire come funziona. Se riscontri problemi o hai domande una volta acquistato il tema, non esitare a contattarmi. I tempi di risposta possono arrivare fino a 24/72 ore dal lunedì al venerdì . Si prega di essere pazienti quando si pubblica un problema mentre lavoro (UTC +00:00) fuso orario e potrei non risponderti subito.
Changelog
Update 4.1.9 (18 September 2023)
[ADDED] Slider Revolution plugin
[UPDATED] Ultimate Addons plugin
Update 4.1.8 (7 August 2023)
[ADDED] Support WP Bakery blank page
[UPDATED] WP Bakery page builder plugin
Update 4.1.7 (1 August 2023)
[ADDED] Support WP 6.2+
[ADDED] Option to disable theme google fonts (Requires a HazelOptions Save after the update)
[FIXED] Style tabs responsive
[UPDATED] Slider Revolution plugin
[UPDATED] Ultimate Addons plugin
Update 4.1.6 (11 June 2023)
[FIXED] Sub menu items styles
[FIXED] Icon envelope social widget
[FIXED] Dropdowns style mobile
[FIXED] Scroller font size issue
[FIXED] Blog animations
[UPDATED] Slider Revolution plugin
[UPDATED] Ultimate Addons plugin
[UPDATED] WP Bakery page builder plugin
Update 4.1.5 (5 January 2023)
[FIXED] Issue in the menu colors from the previous vs(4.1.4)
Update 4.1.4 (4 January 2023)
[ADDED] tel tag to the topbar number
[FIXED] ContactForm 7 style issues with the new plugin version
[FIXED] Contact for quote
[FIXED] Search mobile issue
[FIXED] Global style improvements
[FIXED] Top bar issue with option Hide/Show only on Scroll Down/Up activated
[FIXED] Hide/Show on Scroll Down/Up option break with cube popup
[FIXED] Better styling and function for testimonials without feature image
[FIXED] Dropdown position on safari
[FIXED] Megamenu position issue on safari
[UPDATED] Slider Revolution plugin
[UPDATED] Ultimate Addons plugin
[UPDATED] Hazel plugin
Update 4.1.3 (3 November 2022)
[UPDATED] Slider Revolution plugin
[UPDATED] WP Bakery page builder plugin
[UPDATED] Hazel plugin
Update 4.1.2 (13 September 2022)
[UPDATED] Slider Revolution plugin
[UPDATED] Ultimate Addons plugin
Update 4.1.1 (27 July 2022)
[FIXED] Password protect issue on pages and posts
[FIXED] Contact info widget align issue
[FIXED] Container on projects with Polylang
[FIXED] Global CSS Improvement
Update 4.1 (30 June 2022)
[FIXED] Header 4 line effect
[FIXED] Footer fullwidth
[FIXED] Double logo on high resolutions
[FIXED] Tel input styles
Update 4.0 (21 June 2022)
Hazel 4.0 is a completely new theme, new admin panels, new code organization, one click, new demos, new elements and much more!!
ADDED: 4 amazing new demos (Split OnePage, Blog, Photography, Bold Multipage)
ADDED: One Click Demo import functionality
ADDED: 50+ new Options for Style and Customization
ADDED: New Framework and Admin Panels
ADDED: New options for templates and mobile
ADDED: Enhanced Admin panels and functionality
ADDED: New Blog Grid and Blog Options
ADDED: New Header Layouts
ADDED: New Page Builder Elements
ADDED: Styled Tabs and Timeline
ADDED: More 20 Hazel Templates
ADDED: New Theme Documentation
ADDED: Code Optimization and CSS improvements
ADDED: Options for blog metas
ADDED: Option to enable/disable comments
ADDED: Option to enable/disable navigations
[UPDATED] Slider Revolution plugin
[UPDATED] WP Bakery page builder plugin
[UPDATED] Cubeportfolio plugin
NOTE: Changelog for the previous theme has been deleted since it doesn't affect the new theme.
93 Recensioni per questo prodotto
this look like a great template, but I would have liked to have a simple tutorial on how to customize.
I had two days trying to install the theme. In the end I paid template monster 39$ t do it for me. Its quite confusing to install, if Id have know before hand Id have just paid the 39$ upfront and saved myself two days of frustration. The theme itself is fabulous. Getting to grips with the Revolution Slider option is a must do, I paid for a full licence, and theres a really good instructional video on the rev slider website to help you. Response from author has been good regarding a glitch with the wpbakery editing plugin, didnt work from the preview your website header but works from within the pages section of wordpress. .
I am a beginner with Wordpress so, naturally, after I downloaded the HAZEL theme I had some questions understanding a few things. Then I opened a ticket and asked Template Monsters Support Services for assistance. They put me in touch with the author who is a wonderful guy and an amazing person. He went out of his way to accommodate my issues. I would not know how to thank him enough for his willingness to help, his response time, and for his amazing talent as a designer and programmer. Thank you so much!
Hola, soy Usuario nuevo en Template Monster. Era la primera vez que uilizaba una plantilla y cuando ví HAZEL no dudé en obtenerla. Desde el primer momento ha sido muy grato el trato con el instalador, si que es verdad que tardó casi medio día en intalarla ( en veza de 3 horas como pone) pero el resultado mereció la pena. Es una plantilla con 6 temas diferentes que están a la vanguardia de la último en páginas web. Aun estoy configurando mi página ya que con tal cantidad de opciones, lo tengo muy dificil para decantarme. Estoy muy agradecido a todo el equipo de Tamplte monster y a los instaladores, así como la gente de facturación. Volveré a comprar pronto un saludo!
This is a very professional and well built Wordpress theme. I never had any issues requiring me to contact the developer. Everything is easy to edit and the pre-made templates were perfect. You can customize nearly everything you see. WP Bakery is one of my favorite editors for ease-of-use. Anyone can use this even with very little Wordpress experience. You can drag and drop most things which makes it easy to see your changes in real time.
0 Commenti per questo prodotto