Hazel - Schoon minimalistisch multifunctioneel WordPress-thema
[ Exclusief Product ]
Updated
6 months of support
Bij een product krijgt u 6 maanden ondersteuning van de auteur. Om meer te weten te komen over wat is inbegrepen lees het ondersteuningsbeleid.
Verkoop: 2.840
Created: 8 feb. 2018
Updated: 12 jun. 2023
ID: 67167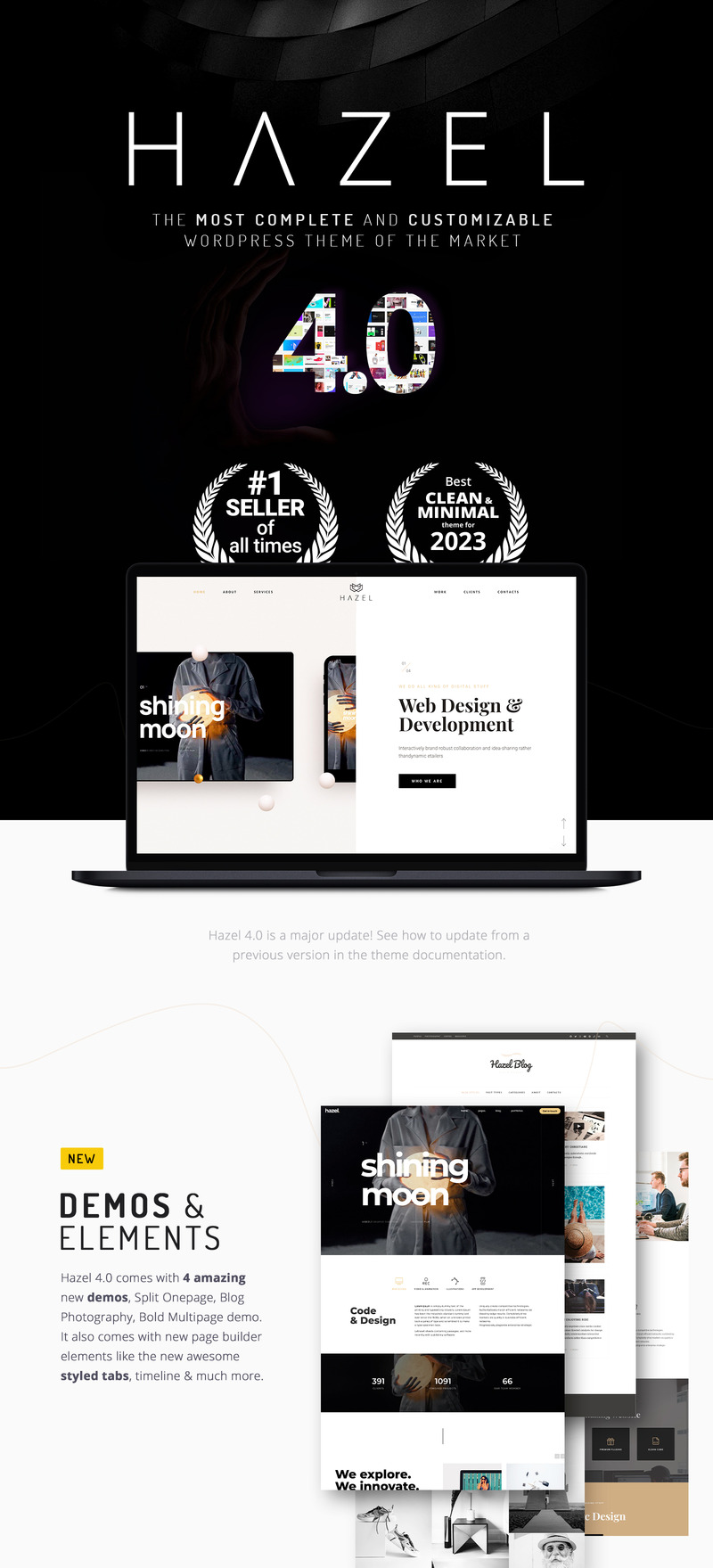 Hazel is een minimaal, schoon en modern WordPress-thema, verpakt met geweldige premium plug-ins (waarde 194 $ gratis!), onbeperkte aanpasbaarheid , ingebouwd megamenu, typografische opties met meer dan 1000 Google-lettertypen , aangepaste pagina-opties (voor sites met meerdere pagina's ), verschillende soorten portfolio's en stijlen, klaar voor WPML en vertaling, robuust admin-paneel met honderden opties om het uw eigen te maken, massa's nuttige visuele elementen voor het maken van pagina's en massa's vooraf geconfigureerde lay-outs! Alder wordt ook geleverd met 16 websites met alle preview-inhoud inbegrepen .
Alle gepresenteerde pagina's zijn opgenomen in dit multifunctionele thema , en u kunt ze allemaal importeren en vanaf daar uw website starten. Hazel wordt ook geleverd met een geweldige verzameling paginabuildermodules, die u kunt gebruiken om uw nieuwe pagina's / secties te bouwen.
Thema-functies
16 prachtige demo's
320+ schuifregelaars inbegrepen! (NIEUW)
Page Builder-sjablonen (NIEUW)
Koptekst / Menu-opties
Gecentreerde menustijl (NIEUW)
Sticky navigatie
Mega-menu ingebouwd
100+ Page Builder-elementen / shortcodes
Update Thema via WP Dashboard
Tal van ontworpen pagina's beschikbaar
Klaar voor WordPress 6+ Getest en goedgekeurd
Inclusief Revolution Slider (Bespaar 85$ - Plugin-licentie niet inbegrepen)
WP Bakery Page Builder inbegrepen (bespaar 64 $ - plug-inlicentie niet inbegrepen)
Ultieme VC-add-ons inbegrepen (bespaar 26 $ - plug-inlicentie niet inbegrepen)
100% responsieve lay-out
Retina klaar
WooCommerce-ondersteuning
Onbeperkte kleuren en stijlen
Geavanceerde voettekstopties
Schoon en modern ontwerp
Geavanceerde aanpassings-/thema-opties
Meerdere blogontwerpen
Geavanceerde blogopties
Geavanceerde zoekopties met AJAX-resultaten!
Meertalig / RTL Ready
Meerdere Premium Slider-opties
Gebouwd met HTML5 & CSS3
Compatibel met veel populaire plug-ins
Cross-Browser Compatibiliteit FireFox, Safari, Chrome, Edge, IE10, IE11
Compatibel met kindthema's - inclusief basiskindthema!
Meerdere portfolio-ontwerpen
7 ingebouwde aangepaste widgets
Fotogalerij met pop-up en ondersteuning op volledig scherm
Populaire plug-in ontwerpintegratie
WPML-gereed
Klaar voor vertaling met po/mo-bestanden
Geavanceerde typografie-opties
Uitstekende klantenondersteuning
Frequente updates met nieuwe functies
Google Map geïntegreerd
Ondersteun video's van alle belangrijke services (YouTube, Vimeo)
Ondersteuning van audio van alle belangrijke services (SoundCloud)
Google Weblettertypen, System
Geïntegreerde Font Awesome-pictogrammen
Ingebouwde sociale feeds
SEO geoptimaliseerd
Onbeperkte zijbalken, links / rechts
Aangepaste zijbalken per pagina/bericht
Aangepaste pagina- / berichtopties
Steun
Mijn thema's worden geleverd met een uitgebreid helpbestand met video's om u te helpen begrijpen hoe het werkt. Als je problemen tegenkomt of vragen hebt nadat je het thema hebt gekocht, neem dan gerust contact met me op. Antwoordtijden kunnen oplopen tot 24/72 uur van maandag tot vrijdag . Wees geduldig bij het posten van een probleem aangezien ik werk (UTC +00:00) tijdzone, en ik zal je misschien niet meteen antwoorden.
Wijzigingslijst
Update 4.1.9 (18 September 2023)
[ADDED] Slider Revolution plugin
[UPDATED] Ultimate Addons plugin
Update 4.1.8 (7 August 2023)
[ADDED] Support WP Bakery blank page
[UPDATED] WP Bakery page builder plugin
Update 4.1.7 (1 August 2023)
[ADDED] Support WP 6.2+
[ADDED] Option to disable theme google fonts (Requires a HazelOptions Save after the update)
[FIXED] Style tabs responsive
[UPDATED] Slider Revolution plugin
[UPDATED] Ultimate Addons plugin
Update 4.1.6 (11 June 2023)
[FIXED] Sub menu items styles
[FIXED] Icon envelope social widget
[FIXED] Dropdowns style mobile
[FIXED] Scroller font size issue
[FIXED] Blog animations
[UPDATED] Slider Revolution plugin
[UPDATED] Ultimate Addons plugin
[UPDATED] WP Bakery page builder plugin
Update 4.1.5 (5 January 2023)
[FIXED] Issue in the menu colors from the previous vs(4.1.4)
Update 4.1.4 (4 January 2023)
[ADDED] tel tag to the topbar number
[FIXED] ContactForm 7 style issues with the new plugin version
[FIXED] Contact for quote
[FIXED] Search mobile issue
[FIXED] Global style improvements
[FIXED] Top bar issue with option Hide/Show only on Scroll Down/Up activated
[FIXED] Hide/Show on Scroll Down/Up option break with cube popup
[FIXED] Better styling and function for testimonials without feature image
[FIXED] Dropdown position on safari
[FIXED] Megamenu position issue on safari
[UPDATED] Slider Revolution plugin
[UPDATED] Ultimate Addons plugin
[UPDATED] Hazel plugin
Update 4.1.3 (3 November 2022)
[UPDATED] Slider Revolution plugin
[UPDATED] WP Bakery page builder plugin
[UPDATED] Hazel plugin
Update 4.1.2 (13 September 2022)
[UPDATED] Slider Revolution plugin
[UPDATED] Ultimate Addons plugin
Update 4.1.1 (27 July 2022)
[FIXED] Password protect issue on pages and posts
[FIXED] Contact info widget align issue
[FIXED] Container on projects with Polylang
[FIXED] Global CSS Improvement
Update 4.1 (30 June 2022)
[FIXED] Header 4 line effect
[FIXED] Footer fullwidth
[FIXED] Double logo on high resolutions
[FIXED] Tel input styles
Update 4.0 (21 June 2022)
Hazel 4.0 is a completely new theme, new admin panels, new code organization, one click, new demos, new elements and much more!!
ADDED: 4 amazing new demos (Split OnePage, Blog, Photography, Bold Multipage)
ADDED: One Click Demo import functionality
ADDED: 50+ new Options for Style and Customization
ADDED: New Framework and Admin Panels
ADDED: New options for templates and mobile
ADDED: Enhanced Admin panels and functionality
ADDED: New Blog Grid and Blog Options
ADDED: New Header Layouts
ADDED: New Page Builder Elements
ADDED: Styled Tabs and Timeline
ADDED: More 20 Hazel Templates
ADDED: New Theme Documentation
ADDED: Code Optimization and CSS improvements
ADDED: Options for blog metas
ADDED: Option to enable/disable comments
ADDED: Option to enable/disable navigations
[UPDATED] Slider Revolution plugin
[UPDATED] WP Bakery page builder plugin
[UPDATED] Cubeportfolio plugin
NOTE: Changelog for the previous theme has been deleted since it doesn't affect the new theme.
93 Reviews for this product
this look like a great template, but I would have liked to have a simple tutorial on how to customize.
I had two days trying to install the theme. In the end I paid template monster 39$ t do it for me. Its quite confusing to install, if Id have know before hand Id have just paid the 39$ upfront and saved myself two days of frustration. The theme itself is fabulous. Getting to grips with the Revolution Slider option is a must do, I paid for a full licence, and theres a really good instructional video on the rev slider website to help you. Response from author has been good regarding a glitch with the wpbakery editing plugin, didnt work from the preview your website header but works from within the pages section of wordpress. .
I am a beginner with Wordpress so, naturally, after I downloaded the HAZEL theme I had some questions understanding a few things. Then I opened a ticket and asked Template Monsters Support Services for assistance. They put me in touch with the author who is a wonderful guy and an amazing person. He went out of his way to accommodate my issues. I would not know how to thank him enough for his willingness to help, his response time, and for his amazing talent as a designer and programmer. Thank you so much!
Hola, soy Usuario nuevo en Template Monster. Era la primera vez que uilizaba una plantilla y cuando ví HAZEL no dudé en obtenerla. Desde el primer momento ha sido muy grato el trato con el instalador, si que es verdad que tardó casi medio día en intalarla ( en veza de 3 horas como pone) pero el resultado mereció la pena. Es una plantilla con 6 temas diferentes que están a la vanguardia de la último en páginas web. Aun estoy configurando mi página ya que con tal cantidad de opciones, lo tengo muy dificil para decantarme. Estoy muy agradecido a todo el equipo de Tamplte monster y a los instaladores, así como la gente de facturación. Volveré a comprar pronto un saludo!
This is a very professional and well built Wordpress theme. I never had any issues requiring me to contact the developer. Everything is easy to edit and the pre-made templates were perfect. You can customize nearly everything you see. WP Bakery is one of my favorite editors for ease-of-use. Anyone can use this even with very little Wordpress experience. You can drag and drop most things which makes it easy to see your changes in real time.
0 Comments for this product