Responsywny motyw WordPress Hazel - Clean Minimalist Multi-Purpose WordPress Theme #67167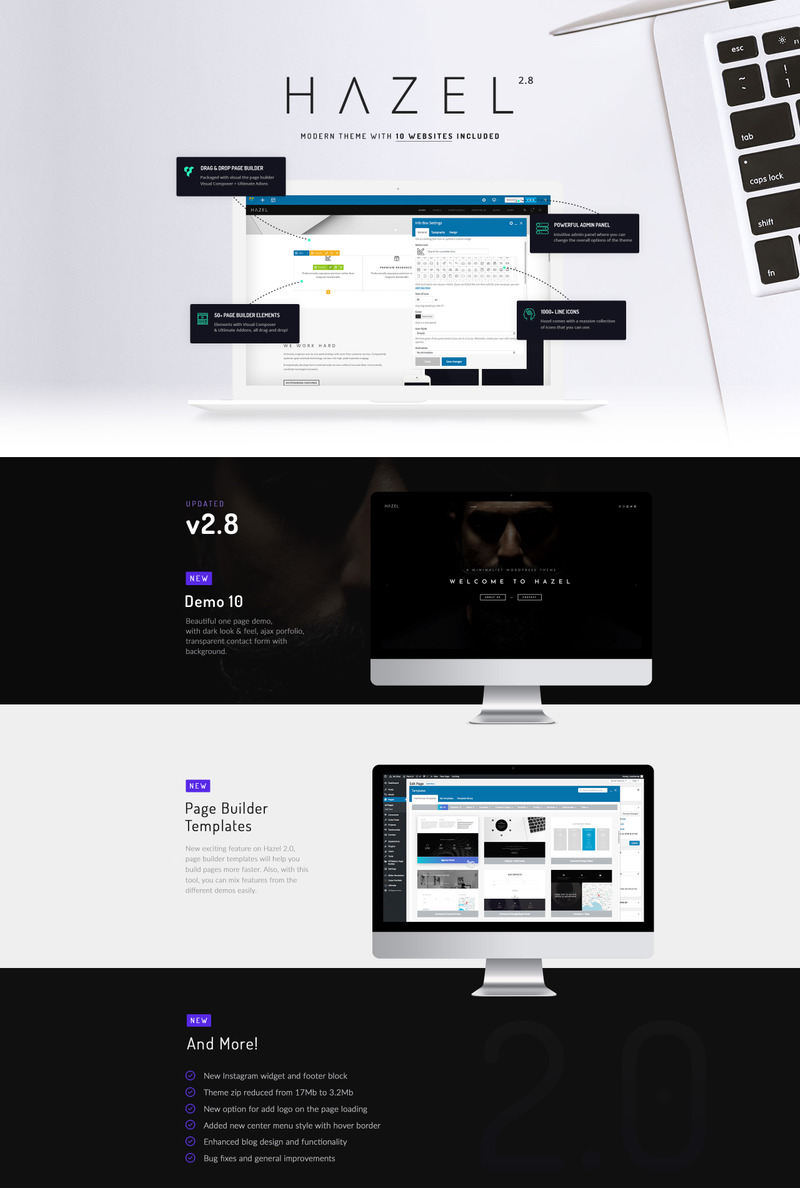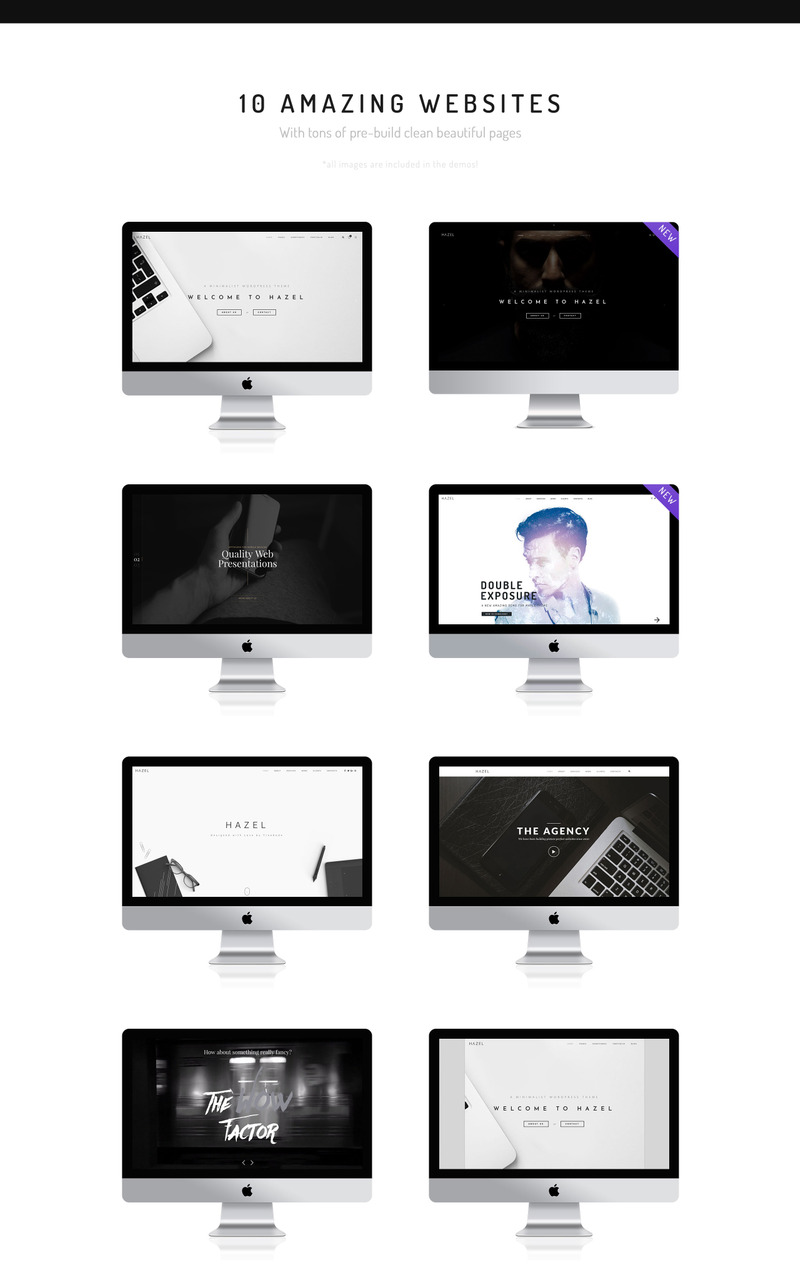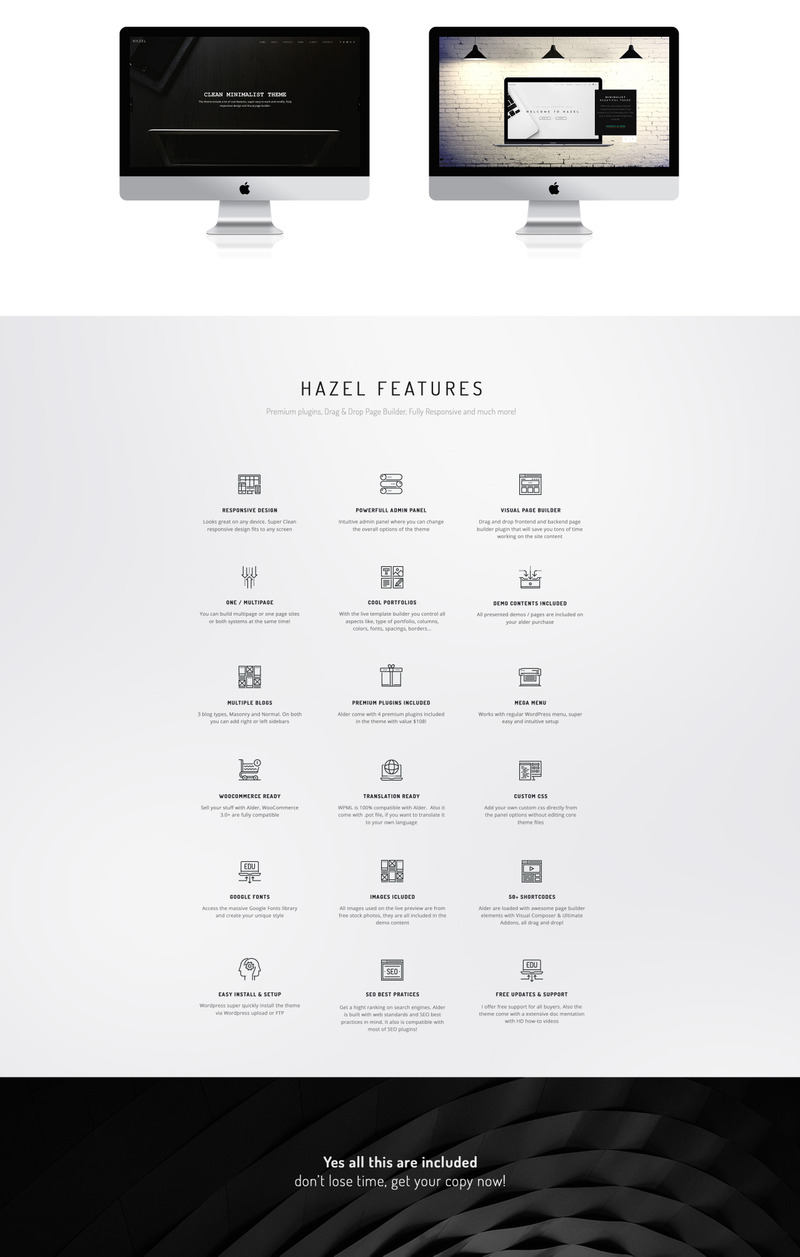 Lista zmian
Update 2.9.9 (13 February 2021) [FIXED] RTL Improvements [UPDATED] Slider revolution Plugin
Update 2.9.8 (23 December 2020) [FIXED] Javascript error for non-logged users
Update 2.9.7 (22 December 2020) [FIXED] Custom CSS javascript error
Update 2.9.6 (18 December 2020) [ADDED] Support to WP 5.6 [FIXED] Cubeportfolio backend issue [FIXED] Page layouts Blog / Multipage Templates [FIXED] Onepage menu issues [FIXED] Onepage select menu on scroll [UPDATED] Slider revolution Plugin [UPDATED] WP Bakery Page Builder Plugin [UPDATED] Ultimate Addons Plugin [UPDATED] Cubeportfolio Plugin
Update 2.9.4 (23 November 2020) [FIXED] letter spacing on slider home 1 [FIXED] Slider on single posts [UPDATED] WP Bakery Page Builder Plugin [UPDATED] Slider revolution Plugin [UPDATED] Ultimate Addons Plugin
Update 2.9.3 (13 October 2020) [UPDATED] WP Bakery Page Builder Plugin
Update 2.9.2 (7 October 2020) [FIXED] Instagram images on safari [UPDATED] WP Bakery Page Builder Plugin [UPDATED] Slider revolution Plugin
Update 2.9.1 (2 September 2020) [FIXED] Project slider issue [FIXED] Share window issue [FIXED] Fix project navigation [FIXED] Info Circle Style on mobile [UPDATED] WP Bakery Page Builder Plugin [UPDATED] Slider revolution Plugin
Update 2.9 (15 August 2020) [ADDED] Support to WP 5.5 [UPDATED] Ultimate Addons Plugin [UPDATED] Slider revolution Plugin
Update 2.8.3 (27 July 2020) [FIXED] Double loading ultimate css file [FIXED] Version of Ultimate Addons Plugin on functions file
Update 2.8.2 (16 July 2020) [ADDED] New Instagram functionality (via plugin) [UPDATED] Ultimate Addons Plugin [UPDATED] Slider revolution Plugin
Update 2.8.1 (6 Juin 2020) [ADDED] Size and margin option for Footer logo [FIXED] Custom Sidebar issue [FIXED] Icons on the top bar elements [FIXED] Reset panels options issue [FIXED] Cubeportfolio navigation [FIXED] Panel options import [UPDATED] WP Bakery Page Builder Plugin [UPDATED] Slider revolution Plugin [UPDATED] Cubeportfolio Plugin
Update 2.8 (16 March 2020) [ADDED] New Demo 10 Dark [ADDED] Options for logo heigh and margins [ADDED] Options for intro logo heigh and margins [FIXED] Intro logo aligments [FIXED] Loading percentage [FIXED] menu icons align / colors [FIXED] Menu Icons option issue [FIXED] Sticky section issue [FIXED] Search fullscreen overlay issue on header style 2 [FIXED] Woocommerce css issues [FIXED] Woocommerce alignments [FIXED] Filter by color style [FIXED] Select javascript [UPDATED] Ultimate Addons Plugin [UPDATED] Slider revolution Plugin
Update 2.7.4 (1 February 2020) [FIXED] Console error "none" [UPDATED] WP Bakery Page Builder plugin [UPDATED] Ultimate Addons Plugin [UPDATED] Slider revolution Plugin
Update 2.7.3 (14 December 2019) [FIXED] Options style issues [FIXED] Front end editor javascript error [UPDATED] WP Bakery Page Builder plugin [UPDATED] Hazel plugin
Update 2.7.2 (30 November 2019) [ADDED] SUPPORT TO WP 5.3 [UPDATED] Slider Revolution plugin [FIXED] Dropdown options styling issue [FIXED] Missing images error
Update 2.7.1 (12 October 2019) [UPDATED] Slider Revolution plugin [UPDATED] Hazel plugin [FIXED] Testimonials styles issue
Update 2.7 (30 September 2019) [ADDED] 320+ Sliders Included! (View more on the theme doc) [UPDATED] Slider Revolution plugin [FIXED] Update require plugins via wp dashboard
Update 2.6 (10 Setembro 2019) [ADDED] New Social Networks icons [ADDED] New Instagram API [UPDATED] Slider Revolution plugin [UPDATED] Ultimate Addons plugin
v.2.5 (28 July 2019) [UPDATED] Slider Revolution plugin [UPDATED] WP Bakery Page Builder plugin [UPDATED] Ultimate Addons plugin [FIXED] Blog navigation "load more" and "Auto load more" [FIXED] Plugins update notification
v.2.4.1 (27 April 2019) [UPDATED] Ultimate Addons plugin [UPDATED] jQuery Ui [FIXED] Footer custom text issue
v.2.4 (15 March 2019) [UPDATED] WP Bakery Page Builder plugin [UPDATED] Slider Revolution plugin [UPDATED] Ultimate Addons plugin [FIXED] Small issues on woocommerce styles [FIXED] Info Circle autoplay issue [FIXED] Full width footer
v.2.3.1 (23 December 2018) [FIXED] Fix an error on previous theme version (2.3)
v.2.3 (17 December 2018) [ADDED] WP 5.0 & Gutenberg Support [ADDED] Footer to 404 page [UPDATED] Demo contents files [UPDATED] WP Bakery Page Builder plugin [UPDATED] Slider Revolution plugin [UPDATED] Ultimate Addons plugin [UPDATED] Cubeportfolio plugin [UPDATED] Theme documentation [FIXED] Error when Ultimate Addons was not installed [FIXED] Audio player style issue on backend — [FIXED] Arrows icons on mobile menu
v.2.2 (16 November 2018) [UPDATED] Child theme to vs 2.2 [UPDATED] WP Bakery Page Builder plugin [UPDATED] Slider Revolution plugin [UPDATED] Ultimate Addons plugin [FIXED] Child theme issues with fonts
v.2.1.1 (1 October 2018) [UPDATED] Hazel Plugin to vs 2.1.1 [FIXED] Error with some icons since latest theme update [FIXED] Testimonials nav position
v.2.1 (29 September 2018) [ADDED] Houzz Social network [ADDED] FontAwesome vs 5.0+ [UPDATED] WPBakery Page Builder plugin (formerly Visual Composer) [UPDATED] Revolution Slider plugin [UPDATED] Ultimate Addons for WPBakery Page Builder plugin [UPDATED] Hazel Plugin [FIXED] Page Builder Frontend issue
v.2.0 (10 June 2018) [ADDED] New PageBuilder Templates [ADDED] New Instagram widget and footer block [ADDED] New Latest Posts Widget [ADDED] Theme zip reduced from 17Mb to 3.2Mb [ADDED] New option for add logo on the page loading [ADDED] Added new center menu style with hover border [ADDED] Enhanced blog design and functionality [ADDED] Now users can use WP feature Preview page [ADDED] Blog date format from WordPress date option [ADDED] Pages navigation & Posts navigation [ADDED] Posts and Pages with Password Protected [UPDATED] WPBakery Page Builder plugin (formerly Visual Composer) [UPDATED] Revolution Slider plugin [UPDATED] Ultimate Addons for WPBakery Page Builder plugin [UPDATED] Hazel Plugin [FIXED] Full width footer issue [FIXED] Post type slider on Blog Archives [FIXED] Masonry Blog with Sidebar [FIXED] Minor issues on the Admin Panels [FIXED] Bug fixes and general improvements [FIXED] Global CSS & Responsive improvements
64 Recenzja do tego produktu
this look like a great template, but I would have liked to have a simple tutorial on how to customize.
Hola, soy Usuario nuevo en Template Monster. Era la primera vez que uilizaba una plantilla y cuando ví HAZEL no dudé en obtenerla. Desde el primer momento ha sido muy grato el trato con el instalador, si que es verdad que tardó casi medio día en intalarla ( en veza de 3 horas como pone) pero el resultado mereció la pena. Es una plantilla con 6 temas diferentes que están a la vanguardia de la último en páginas web. Aun estoy configurando mi página ya que con tal cantidad de opciones, lo tengo muy dificil para decantarme. Estoy muy agradecido a todo el equipo de Tamplte monster y a los instaladores, así como la gente de facturación. Volveré a comprar pronto un saludo!
We give an equal deal of importance to all the website template providers', but in spite of working nature and technical support provided for a beginner, intermediate, advance, all levels professionals' template monster is special. CMS website, a simple database oriented website, or a large website consisting of various web modules. Irrespective of size of the website, that extend the same level of professionalism, ethical business approach, and best development practices to design and develop the website. Template monster web designs are highly customized in nature and are not drawn from pre-built templates. Every project is handled through well experienced excellent technical support team 24/7. I would not think twice too spread an effective word-of-mouth publicity, hence I was taken care extremely well to ensure total satisfaction with my clients which in turn has been result in getting more business. TEMPLATE Monster has become a name of repute in website design and development industry, thanks to its meticulous approach of keeping customers happy, adopting transparent business practices, and providing them innovative solution
Thank you very much for consulting the operator Peterb!!!!!)
Das Template ist gut zu konfigurieren. Die Unterstützung des Autors war ausgezeichnet. Durch den Zukauf von Entwicklerstunden konnten die Wünsche zielgerichtet umgesetzt werden. Sehr zu empfehlen.
Pokaż więcej
0 Komentarz do tego produktu
Możesz napisać komentarz do tego poduct