Photo by @neveinfocus
Would you like to know what websites look absolutely lovable for me? I definitely like dynamic websites, the ones that respond each and every move of my mouse. The websites that engage and encourage me for doing this or that.
Since I'm working for one of the leading IT companies, it's quite natural that I wonder what tools do developers use to animate their virtual objects. Have you ever asked yourself the same question? I made a quick research and found best HTML5 animation tools that are featured in this blog post. Of course you can use them for your own projects.
Are you ready to know more about them? Then, my story begins…
Do I need to throw the light on what HTML5 really is? I believe the knowledge won't be excess in any case.
First of all, HTML is a mark-up language. It helps you structure web documents and present them over the web. HTML technically deals only with the structure of your data - you need an additional language called Stylesheet Language to define how your structure should look like.
HTML5 is the latest revised specification of HTML which provides some additional tags and features (cross browser support, video, audio, and canvas elements, animation and much more) that give the user some space for doing different advanced things. For instance, one of such features (or tags) is the canvas element. When people talk about HTML5, they're talking about the canvas. What's interesting, most of the time, users even don't know what it is, or what it lets you do.
You can think of canvas like a real world painting canvas. Just as a painting canvas lets artists make some great paintings, the HTML5 canvas element lets you do things that were previously pretty complex or even impossible. For example, you can build an advanced web-based sketchbook app that lets you draw, paint and so on easily. In short, using 2d shapes and images has now become a lot easier.

You can have a look at this addictive
game
. It utilizes the canvas element and you'll be able to get an idea of what I am talking about.
However, for justice sake, I should mention that HTML5 is not really the next big thing. It existed even before Steve Jobs gave his thoughts on it and wasn't so popular. Maybe it's all about the hype.
As to developing any sort of animation or interactivity within the HTML5 canvas element, you almost always require Javascript. Javascript is usually more CPU (and choppy) intensive when used for certain things like animations.
By the way, we have a new subscription service that is called ONE. With the help of ONE Subscription, you can get many items for only $19 a month! Everything that you should do is to subscribe for ONE and you will have the opportunity to download any item from ONE pack without any limits! To save your money and make your HTML pages cool, check out HTML Templates. Are you a MonsterPost reader? Then you can get a 5% discount on ONE Subscription just using the magic promo code BecomeThe1. Don't wait too long.
I am sure you've got the basics, so it's time to tell you what HTML5 is not.
HTML5 is not a tool for developing content, designs, video or animations as most would believe. It's rather a full-fledged platform that lets you do various things which may contain any of the above.
HTML5 is not a single piece of technology to get your product/design/animation/anything up and running. You need at least these three - HTML5, CSS and Javascript.
Due to the evolving technologies, modern browsers can support rich animation and interactive content without requiring the use of any plugins like Flash. Instead, as I have just said, using a combination of JavaScript, HTML5 and CSS3 it's possible to create quality animated, interactive content that perfectly operates either on desktop browsers or mobile devices. Or use some of ready-made HTML5 Website Templates I adivse you.
Notwithstanding the fact that there are multiple JavaScript animation frameworks currently available on the net, web developers prefer only a few applications because they offer a rich visual editor where the code is kept in the background. Here is the top four: Adobe Edge Animate, Tumult Hype, Sencha Animator and Google Web Designer.
Browsing these tools you may arrive at the conclusion that they are fairly similar. But it's only the tip of an iceberg. The tools use different underlying technologies, which creates certain restrictions and opportunities.
The following information is for the most nagging readers: please note that despite the title of this blog post, not all of the tools listed in this rating limit themselves to HTML5.
In any case, here I've gathered the best, easy-to-use and utterly efficient HTML5 tools with the help of which you will be able to create advanced animation on your webpages. In truth, HTML5 and its vast functionality has become the language of modern websites. Undoubtedly it helps to make them more beautiful and vivid.
Now it's time to get a closer look at each of the top HTML5 animation tools.
---

---
TinyAnim is a brand new app developed by designers for designers. Much like the apps that you'll see down below, it allows you to easily build HTML5 banners, but with tiny file sizes and designers in mind. It suits both coders and designers. The point is that the app's interface is not only beautiful, but native to designers. You can try the software for free and see everything with your own eyes.
---
Maqetta is an open source project that provides WYSIWYG visual authoring of HTML5 user interfaces. The Maqetta application itself is authored in HTML, and therefore runs in the browser without requiring additional plugins or downloads. The HTML pages created by Maqetta typically work across all popular browsers, including IE
---
Try for free this HTML5 animation tool and create beautiful and smooth animated banner ads within minutes. You can start from over 1000 ready-made HTML5 banner templates or create your own designs.
---
HTML5 Maker is a free online animation editor, suitable either for amateurs or pros. It supports all popular text filters so you don't need to use Photoshop to create an incredibly cool text. Besides, it provides you with a large collection of images. You can use them in your project as well as manipulate their properties and create amazing instagram-like effects. You can also create amazing animation that supports impressive transitions. It goes without saying that the timeline will give you full control over your animation.
---
Edge Animate CC
Edge Animate lets web designers create interactive HTML animations for web, digital publishing, rich media, advertising and more. Your animation will be compatible both with desktop and mobile devices. So you will reach your audience no matter of their location at the moment.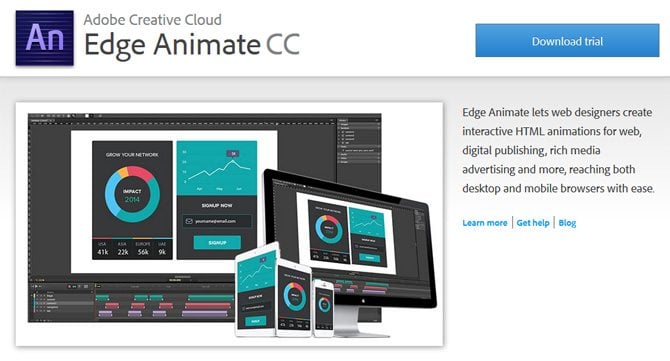 ---
Mixeek is a free software tool for creating web animations and interactive animated web applications. It is purely based on JavaScript, CSS3 and HTML5. It can be considered a good, lightweight and easy to use alternative to well-known paid animation software tools.
---
Tumult Hype has a special keyframe-based animation system that really brings your content to life. After clicking "Record", Tumult Hype starts watching your every move, automatically creating keyframes as needed. Or, you can add, remove, and re-arrange the keyframes to fine-tune your content if you prefer manual control. It is easy to create natural curves by clicking and dragging on an element's motion path to add bézier control points.
---
Google Web Designer allows you create engaging, interactive HTML5-based designs and motion graphics that run perfectly on any device. It has two animation modes (Quick and advanced). In Quick mode, you can build your animations scene by scene and the tool will take care of the frames in between. In Advanced mode, you can animate individual elements using layers, easily changing the location of elements within the stack.
---
So, what is GSAP? It is a suite of tools for scripted, high-performance HTML5 animations that work in all major browsers. This powerful library delivers advanced sequencing, API efficiency, and tight control. With GSAP you will be able to use animation to tell a story in a rich way rather than settling for a few fades and slides.
---
Hippo Animator is a powerful yet easy to learn editor. It's simple to create a good looking animation with its help quickly. Recommended for beginners and experts. The tool works both on phones and tablets. The movies automatically scale to fit any web browser size. Hippo Animator uses vector graphics whenever possible. No previous scripting knowledge is required. There is a possibility to add MP4, YouTube or Vimeo videos to your movies. The tool has a built-in Javascript engine. Hippo Animator exports a single scalable HTML page and a folder of images. You only need one line of code to add the animation to your own web pages. The HTML animation is cross browser compatible (including the old ones), search friendly and doesn't require any browser plugins or downloads.
Hippo Animator has a built in image editor. It also lets you quickly create slideshows using the image viewer object, fade or slide between images, load large images after the movie has loaded, control the show using script commands to play, pause, go back and forward.
---
Using Mugeda Cloud Studio and Mugeda JavaScript API, developers and designers can cooperate to create appealing casual games and web apps that will run on mobile devices, with significantly improved efficiency and reduced cost and time.
---
TweenJS is a simple tweening library for usage in Javascript. It was developed to seamlessly integrate with the EaselJS library, but is not dependent on or specific to it. It supports tweening of both numeric object properties & CSS style properties. The API is simple but very powerful, making it easy to create complex tweens by chaining commands.
---
Radi is a tool for creating video, animation and real-time graphics for the current web. Radi allows you to draw vector shapes and give them life with motion animation and shape poses, add images, patterns and text, publish as HTML that's compatible with smartphones, iPads & e‑books — no Flash required.
---
Blysk is simple – you can use your past experience with other animation tools to start working with it. Everything you create is available for preview with one-click preview mode. Intuitive interface and WYSIWYG approach provides access to the tool for everyone, not only professionals. Blysk is portable – it gives you the possibility to create your animation once and run it on every device, in every web browser around the world. Blysk is available - combined power of HTML5, CSS3 & JavaScript allows to create animations just like in old animation tools you are already familiar with, but without any plugins. No installation needed, just use your in-cloud image library or use built-in tools to draw anything you want. Skew, scale, rotate, animate using open web technologies.
---
No sign up required to get started. Animatron is a simple and powerful online tool that allows you to create stunning HTML5 animations and interactive content. It lets you import artworks, SVG or images, drag objects from library, create custom shapes with Pathfinder, split project into multiple scenes, draw with drawing tools, import sound, adjust animation with timeline, send url to friend to collaborate, add interactivity, publish as HTML5, GIF or video, embed animation to your website.
---
NodeFire is a responsive focused HTML5 animator you can try out on your website. Emulate desktop, tablet, and mobile devices while in design mode. Create one animation that automatically responds to fit any environment. Harness unparalleled animation and interaction features. NodeFire is lightning fast, has no dependencies, with 18K (Gzip) script library.
---
MotionComposer bridges the gap between amateurs and professional designers by offering powerful tools for creating feature-rich animations, with a simple, easy-to-use interface.
Simply create a slide for each content state, then choose your animation styles and MotionComposer will automatically create the animation paths, eliminating the animating content frame by frame process that consumes your time.
---
Have you chosen any tool from this list for your own web development needs? Which one seems the most awesome to you? Maybe you already use some of the HTML5 animation tools compiled here? Then, we would be grateful for sharing your impressions about them. Speak up! Our comments section is here specifically for the purpose. And don't forget that your feedback has crucial significance for TemplateMonster's team and me in particular, as everything we do, we're doing for you 😆
---
---