"Jumerix" Responsive Joomla Template №60060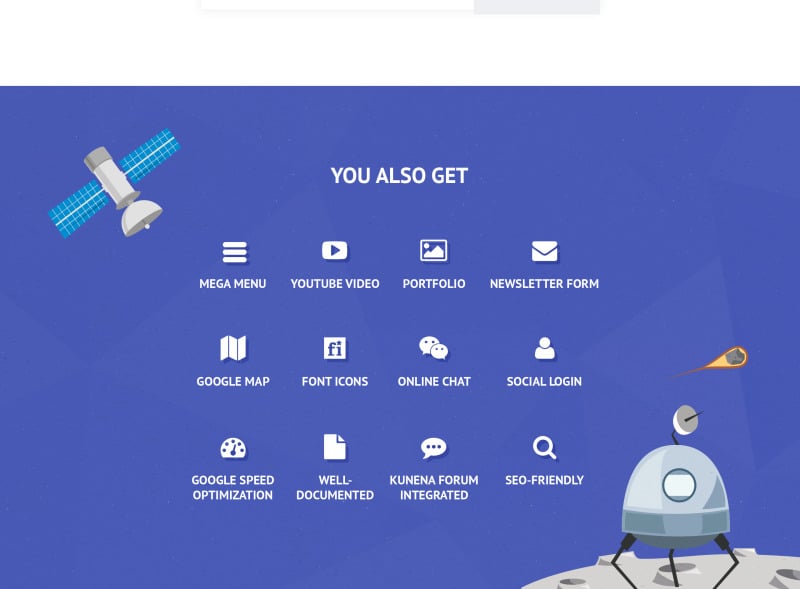 Changelog
Jumerix (May 24, 2018):


- Updated Joomla to version 3.8.8;
- FIX: minor bugs.
22 beoordelingen voor dit product
Very good template with lots of possibilities. Lots of useable functions.
Nice template. I had little trouble finding all the modules to work but at last everything went fine.
Muy buena plantilla adaptable a cualquier tipo de estilo y formato de web. Servicio de atención al cliente rápido y eficaz. Disponibilidad para ayudarte con el montaje de tu plantilla. Recomiendo su compra, plantilla bien actualizada, responsive y con muchísimos modulos instalados.
i DONT recommend for joomla 3.7.2 and up, Swiper and Parallax module dont work well....
Hello Nestor, Thank you for your feedback. This template was made to be compatible with Joomla 3.7.2 and 3.2.0-3.6.x. Unfortunately, we dont guarantee the proper work on other versions. If there are any difficulties with modules, feel free to visit our live chat - http://chat.template-help.com/ . Our technical specialists will be glad to assist you!
Gutes Template, nur mit CSS Know How anzupassen. ..
Laat meer zien
14 commentaarvoor dit product
U kunt een opmerking schrijven voor dit product
Its work with joomla last version too?. Or have to downgrade to 3.6 ?. Thanks.
Thank you for your comment, Nestor. This template will work with Joomla 3.7.x as well. Here also, our free tutorials for Joomla templates to help you with editing, please: http://www.templatemonster.com/help/cms-blog-templates/joomla/joomla-tutorials/ Also you can use our live chat http://template-help.com/chat . Our senior operators work 24/7 and will gladly provide you with detail info about this template and additional services. Thank you. Kind Regards, Jenna Bennett
how do i remove the logout icon on the right side of the navigation meny
Thank you for your comment, John! Our senior technicians will gladly check this issue for you. Please contact our Support Team at http://support.template-help.com/index.php?/Tickets/Submit and provide your admin and FTP details for further investigation. You can also join our live chat at http://chat.template-help.com/ to get immediate assistance. Thank you.
How to change background images on the Home page, like in the "HOW WE WORK" section?
In the admin panel navigate to Extensions -> Modules menu-> filter modules by the type "TM Parallax". See the screenshot: http://prntscr.com/e6l9bo In the module settings in the "Options" tab you can change the Background image.
How to change icons in the "WHAT WE OFFER" section on the Home page?
You can see Font Awesome icons in the "WHAT WE OFFER" section on the Home page. To change that icons, you should perform the following steps: 1) Navigate to Content -> Articles menu -> filter articles by the "What we offer" category. See the screenshot: http://prntscr.com/e6l5gt You will see the list of all articles in this category. 2) Open any of that articles and in the article settings switch to the "Images and Links" tab. In this tab you should change the icon class in the "Caption" field. See the screenshot: http://prntscr.com/e6l6ke The list of other Font Awesome icons classes you can find on the site http://fontawesome.io/cheatsheet/ 3) Save the changes in the article and then re-load your site to see the changes on it.
How to edit contact form on the Careers and Contacts pages?
The contact forms on the the Careers and Contacts pages are loaded via the TM AJAX contact form module. The following tutorial will help you to work with this module and edit your contact form: https://www.templatemonster.com/help/joomla-3-x-how-to-manage-tm-ajax-contact-form-module.html https://www.templatemonster.com/help/joomla-3-x-how-to-add-new-field-in-tm-ajax-contact-form-module.html
Laat meer zien