Moto CMS HTML Templates
Create Your Site Easily with Moto CMS HTML Templates from TemplateMonster
100% Satisfaction Guarantee
24/7 Free Support
Stock PhotosIncluded
Popular Moto CMS HTML Categories
All Features You Need
are included in TemplateMonster's Moto CMS HTML Templates
Visual Layout Editor
Reposition and rearrange your website and page contents just by dragging elements around the page. Preview the changes directly within the admin panel!
Intuitive Content Editor
Activate editing mode for texts and images just by double clicking on them in the admin section. Even a kid can complete website customizations with MotoCMS within a couple of hours!
8 Slider and Gallery Options
The awesome MotoCMS HTML themes already have a set of built-in image sliders and photo galleries. They're all available for using and editing right out of the box!
17 Widgets and Modules
You no longer need to write a single line of code to add functionality to your website. Contact forms, Google maps, video embed etc – it's all easily accessible from the admin panel!
Built-In Mobile Version
Every MotoCMS HTML template already does have a mobile version inside. Just tweak it, add your content and activate the mobile version of your website using the easy tools!
In-Depth SEO Options
Make your website look pretty in the eyes of search engines! Fine-tune every little bit of content and its attributes to get the most out of search optimization.
Moto CMS HTML Templates
What are Moto CMS HTML Templates?
Moto CMS HTML templates present the new generation of advanced HTML websites powered by MotoCMS. You will get a professional, beautiful and easily editable HTML website which will bring an amazing interactive, rich-media experience for the users. With the handy drag-n-drop interface you can easily change website elements, create new pages and menus, add image or video galleries, create custom forms, customize a mobile version for your website, and much more.
Who are Moto CMS HTML Themes for?
These stunning CMS based templates are designed for everyone who wants to have a high-end website and manage it without getting into code.
Why are Moto CMS HTML Templates so special?
You will get a powerful control panel for HTML along with a stunning rich website design. In a matter of minutes you will update your new website with your own texts, logo, images and videos. No special skills or additional software required!
Learn more about the new MotoCMS HTML.
Customizing Free MotoCMS HTML Template is super simple. Download this free sample template now to start trying the product you will love and want to buy.
More than 1,500,000 customers served
Read what people say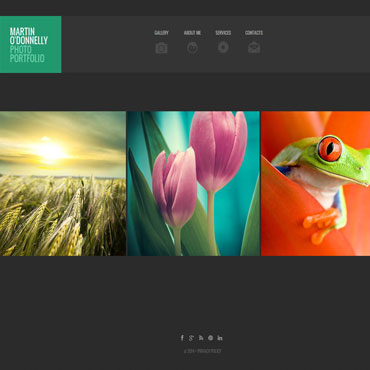 Photographer Portfolio Moto CMS HTML Template #51703
Reviewer: Michaela P.
Posted:
Review: Template #51703
What were the THREE most important factors in choosing this template? My wife i profesional jewerly designer.When we started thinking about her websites we wrote down content of website and then we started looking for the appropriate template. The most important three factor were: 1) how to template is close to our idea 2) clarity 3) graphics design Tell us a bit about yourself. Are you a developer, freelancer or you don't have any technical skills? I graduated IT management 15 years ago. I was able to do www pages 10years (html, ccs) ago but since this day the most of thing changed. What project are you going to use if for? What is your/your client's business speciality? The template is use for www.therainbow.cz. It is presentation of my wife. Last thing what I want to mention here is that user interface is very comfortable. What I would appreciate multilanguage page version. Now I have to do Czech version, than copy it and translate it to english. Every change (pictures, code...)in www than I have to do twice. I was a little annoyed that I bought a template in two days was DISCOUNT -40 percent.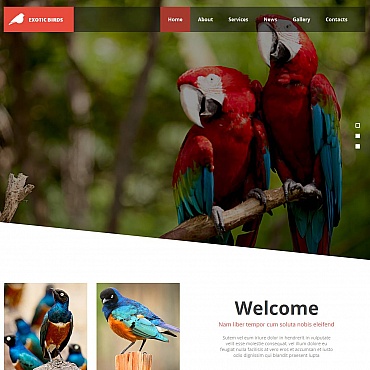 Birds Moto CMS HTML Template #53231
Reviewer: Maksym O.
Posted:
Cool service
My English not so good bud will try to write review and my thoughts. First factor of choosing a template is Moto CMS html - a lot of good widgets and functions with easy editing of content. Friendly interface - important too. Everything is clear and accessible. Second factor was a theme about birds. Third important factor is your service what help to find needed templates for every taste.Quickly and easy. Web design is a hobby for me and I make sites for friends. Something from my works on moto-templates : https://jpd.com.ua/ http://koifoods.ru/ One site now under construction and will be more sites on your templates soon. Thanks for helpful service and support! Best regards, Maksym.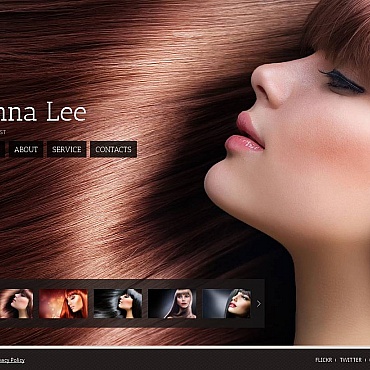 Hair Salon Moto CMS HTML Template #44622
Reviewer: Erin K.
Posted:
Excellent, easy to customize Template!
This template I purchased was a breeze to customize. It was laid out very well and had many photo options for the homepage/background already. I didn't have to change many colors. My client loves it!
MotoCMS HTML Feature Highlights
Drag & drop website builder
Huge collection of exclusive widgets
Effective SEO tools & deep linking
Password-protected pages
Rich Media Library with Image Editor
24/7 support, free software updates
Mobile friendly version of your website
Drop down menu
Photo galleries
Advanced contact form
YouTube and Vimeo video
HTML widget
Google Maps
Google Fonts
Rich content widget
Buy Now button
For everyone who wants to launch an impressive HTML website and easily manage it, MotoCMS HTML is an ideal choice!