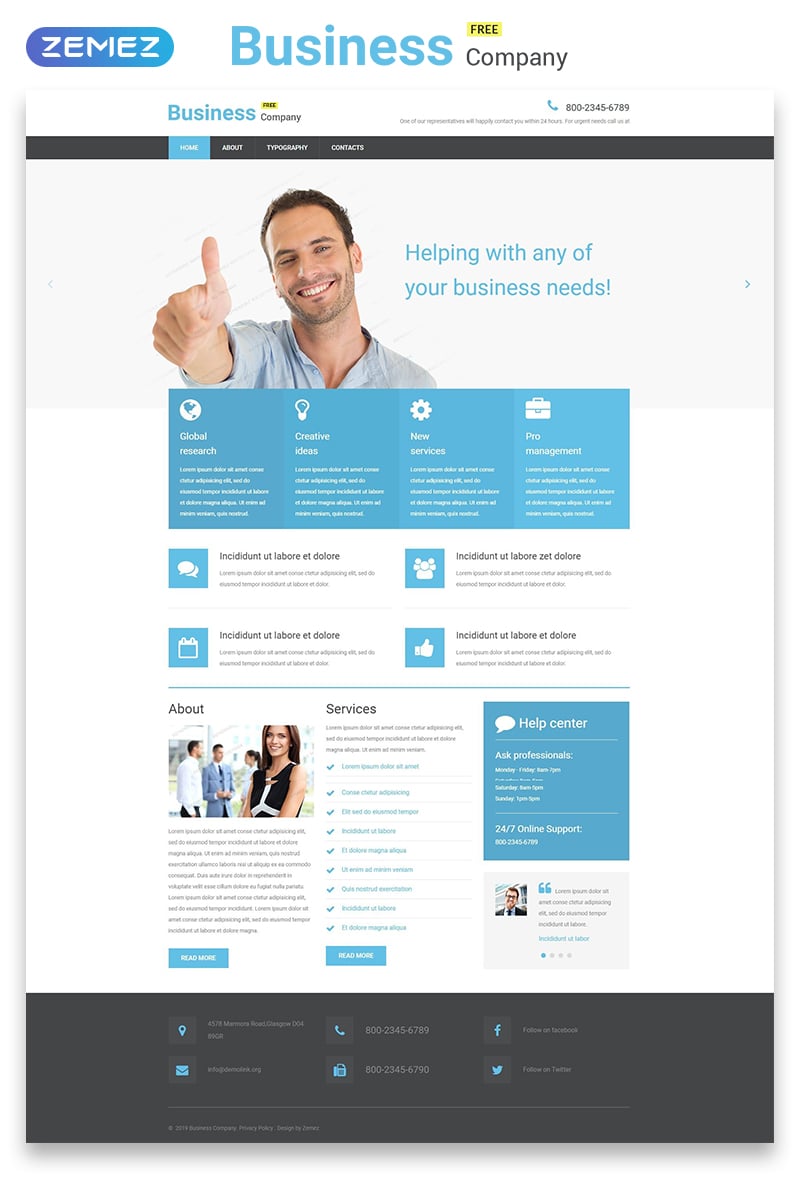 Template Description
Responsive website templates are well-suited for those developers who envision themselves having both fluid-width and adaptive website that caters for any possible screen resolution.
These gorgeous, modern templates are based on flexible designs that adjust to different types of screen resolutions. This means that every single responsive template available on our website will be adaptable to any device people use to enter the website that is based on this template. Technically we achieve this with the help of CSS3 media queries, so it's all good for most of the browsers and devices you may use to access the website. You may even see how template layout switches by playing with the browser window width – adjust it while viewing any demo to see how the layout changes. However, to our readers who love old junk browsers – or should we politely call these browsers 'vintage' – we must say that the the dynamic screen size adjuster won't work in the old versions of Internet Explorer. We assume that people browsing websites based on these templates will be browsing mobile web with Safari, Firefox, or Opera Mini and other mobile browsers which have no problems with CSS3.
Template number: 55108
Sources Available
.
HTML
.PSD
Software Requirements
To use this product you should have the following software installed on your computer.
Adobe Dreamweaver 8+;
Adobe Photoshop CS+;
Note: Please check the template preview page to see the specific template requirements. The required program versions could be different from the listed above.
Template Features:
Responsive website templates include several layouts, each optimized for proper screen resolution. In fact there are many width options included, but the major ones are for desktop, tablet, and 2 sizes of smartphone screens:
desktop

layout

(980px);
tablet

layout

(768px);
smartphone

layout

– landscape (480px);
smartphone

layout

– portrait (320px).
These 4 primary layout types as well as secondary ones get activated in the corresponding screen resolutions. Again, to see these responsive layouts in action, please check out the templates' live demos and drag and drop the browser window edges to adjust the width. After that you can take a tour around our responsive templates and decide what design you need for your new adaptive website.
Template Structure
You have received your template .ZIP package and unpacked it. Let's see what you have inside.
documentation
ContactForm
bin
css
js
index.

html

– open this file to view template

Contact Form

documentation
screenshots –

contains screenshots of the template. No editable files here

site – contains the .

html

, .js, .css files of regular template version

sources

– contains source files
info.txt – contains information about password protected "

sources

" folder
full_site_readme.pdf – contains information about the template and instructions on editing
fonts_info.txt – contains information about the fonts used in the template
Note: For security reasons the sources folder is in a zipped file and is password protected. To uncompress a password protected .ZIP file you will need to have a zip file utility program installed and the correct password. As soon as the zip file begins to uncompress, you will be prompted to type in the password. The password is the ID number of your order. You can find this number on the order page which is provided to you through a link that we sent to you via email.
Please, help us to preserve the quality and uniqueness of our products by not uploading the

sources

folder either zipped or unzipped to the server.