OpenCart Themes
Best Premium OpenCart Templates from TemplateMonster

Recently Added OpenCart Templates
food, delivery, services, opencart, bakery, restaraunt, fooder, pizza, sushi, builder, pasta, pub, Food, shop, kingburg

shoes, womens shoes, ladies shoes, kids shoes, mens shoes, shoe department, shoe repair, dance shoes, platform shoes, designer shoes, orthopedic shoes, sport shoes, athletic shoes, evening shoes, summer shoes, leather shoes, heels shoes, high-heeled footwear, shoes store, footwear store, footwear shop, shoe store equipment, shoe store supplies, shoe maker, shoe manufacturer, shoe retailer, and business & services websites.

clothing, mens clothing, womens clothing, teens clothing, vintage clothing, urban clothing, dresses online, clubwear, trendy clothes, designer clothing, couture clothing, fashion boutique, fashion clothes, fashion store, clothing boutique, clothing store, fashion shop, fashion outlet, and fashion & beauty websites.
Choose Trendy OpenСart Themes Categories
All Features You Need
OpenCart Templates have a matrix of viable features for eCommerce
Fully Responsive Design
Let users view your website on any device, even Nokia 3310 😉 Just kidding, BUT with this feature, your website will adjust to any screen resolution of the device it is being displayed at.
P.S. This leads to greater UX and enhanced SEO.
Extensive Documentation
Don't rack your brain with trying to guess how to install the theme properly – just any of our OpenCart themes and get excellent documentation, which will help you to install the theme in a blink of an eye.
Sample Content
After a simple installation, your template will be just the same as on our Live Demo. All procedures are made clear for you, so you can easily embed the content into a website.
Valid Semantic Code
Impress your visitors with faster page loading speeds and get more flexible. Also, your site will have better SEO ratings.
OCMOD modification system
Opencart 2.x uses OCMOD system by default and we recommend installing OCMOD modifications. Our Opencart 2.x templates include only OCMOD modifications because they are native for this framework.
Totally NEW Layout Builder
Want to change website sections to your own taste? An easy-to-use drag-and-drop tool allows you to build versatile pages.
Not Convinced Yet?
Did you know, that OpenCart platform takes second place in global eCommerce technology distribution in 2016? (by online stores globally).
You'll love an adaptable multipurpose OpenCart templates functionality. Our team consumes liters of coffee every day and bend over backward to develop a product which will satisfy even your craziest needs!)
Also, we have 24/7 free support. Whether you have problems with your website on Christmas evening or maybe in the New Year's hangover morning? We are always here to help 😉
Create your own stunning modern website with tons of features and recharge your business with Monsters!
OpenCart Templates
OpenCart templates are pre-made designs for online stores running on OpenCart platform. An OpenCart website theme download package contains the files, code, graphics, modules and documentation to allow creating a full-fledged e-store.
With the rise of OpenCart eCommerce software, TemplateMonster starts delivering OpenCart templates of unsurpassable quality. These cutting-edge designs have got a varied list of capabilities. Among the distinctive features of our OpenCart themes you can find semantic code with progressive CSS3 enhancements, cross-browser compatibility and SEO-friendliness, awesome installation documentation, dropdown menu with multi levels, and many more. With such outstanding functionality, these eCommerce designs have got much simplified modification opportunities – you can install them pretty quickly and tweak to your liking. In this storage you can find OpenCart templates created for varied eCommerce spheres. Choose your OpenCart theme to be fully satisfied with your store and have every your customer prove that was the best choice of yours.
TemplateMonster provides a Free Responsive Bootstrap OpenCart Template that you can download and work with for free. This sample can help familiarize you with how the website template of this type is installed and edited.
More than 1,500,000 customers served
Read what people say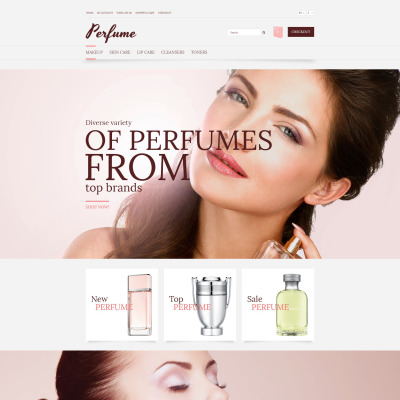 Elegant Fragrance OpenCart Template #53123
Reviewer: Ankur Shah
Posted:
I have installed this theme for my new business and its really looking nice and very easy to integrate into the system. With this theme you can easily integrate any module with Opencart version. It should have some mega menu facility but I have managed to setup my own module very easily. Site looks beautiful with any resolution and mobile responsive. Opencart is very powerfull Ecommerce platform. Go and get this theme for your future store.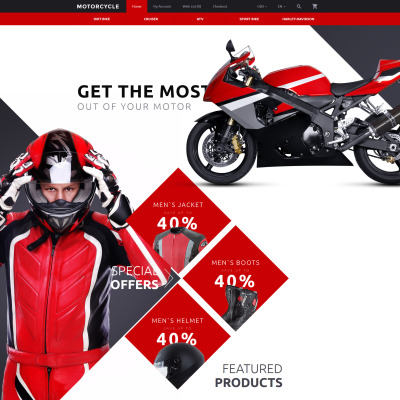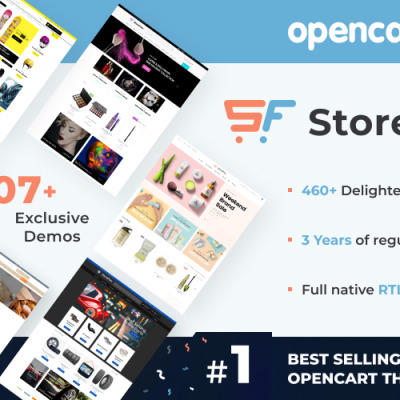 StoreFlex - Responsive Multipurpose OpenCart Template + RTL #61111
Reviewer: Hitham Essam
Posted:
just in 3 days , , we were able to customize every single peace of our Opencart , we are able to customize every page in so easy way using Builder integrated with the them , also the modules come with the template make you mostly have full modules for any business special in the marketing way for this business . the support is some way good when your request is received , , just what is missed , , the good documentation for this great work to be Completely perfect .
Design
Stick-to-Top Menu
The theme is supplied with a menu that sticks to the top of the page as you scroll down. This keeps main navigation menu right before the users' eyes all the time, so they don't need to go back all the way to get to another page.
Parallax Scrolling
Applying parallax scrolling can really help engage your visitors. People will automatically feel more interested when scrolling, because this effect alters the depth and content of their view. It's a psychological trick that will surely pull your visitor deeper into the website and will ignite their desire to explore.
Custom Block
Custom block is an area where you can insert information of different kinds, from contacts to sale terms and payment details. Each time a new product is added, this data automatically remains in place.
Carousel
You can showcase a great number of products with this gallery right on the home page. The presentation will look really organized and smart, which is important as lots of customers are reluctant to dig deeper than the home page of your store, especially when it looks confusing.
Background Video
Stunning video in the background makes people stop and stare. It's a perfect opportunity to show off your best products in some interactive way.
Social & Google Map
Facebook Widget
Facebook widget helps your provide the simplest and most attractive way to display your Facebook feed posts or likes in the sidebar. Being very easy to configure, you just need add URL of your facebook page.
Google Map
Placing the Google map into your site's page gives a clue to your visitors about your business' location. Such approach helps user to know about your business location and your working hours. This deprives the necessary to search this info on some other pages.
Twitter Widget
Using Twitter feed widget you can display your own Twitter feed or Twitter posts that are hashtagged with a certain keyword on your website. To get started, you need to connect your Twitter account or specify the hashtag. For sure this will help increase activity on your Twitter profile.
Pinterest Widget
With the help of Pinterest widget you can display your feed on your site's pages. This is really effective for fashion related websites, or the ones where female audience prevails, since Pinterest audience is mostly women.
Product Presentation
Quick View
Neat 'Quick view' button appears when hovering product image. Clicking it, there opens a pop-up with product preview where buyer can immediately get detailed information about the listing (including description, video, photo, rating, buttons and whatnot).
Cloud Zoom
With this smooth, touch-enabled jQuery image zoom plugin, visitors will be able to enlarge products and view them to minor details.
Product Image Pop-Up
With this extension your customers won't have to go to the product page every time they want to see a larger item image. All they need to do is to click the product photo and it will appear at the popup window.
Badges
Use badges on your eCommerce website to indicate the status and value of products. Being small yet attention-grabbing in their nature, these UI elements provide more effective promotion of e-store merchandise.
YouTube Video
Share YouTube videos on the homepage of your online store to provide richer multimedia experience for its visitors.
Upselling Cross Selling Etc.
Brands
This functionality helps customers sort products by their manufacturers. Once your shoppers click on the name of a certain brand, they will proceed to the page with all of its items that belong to the same brand.