Hello! This video tutorial shows how to update Cherry Framework in CherryFramework 4 WordPress templates.
It is important for the template functionality to keep all the elements up-to-date, the Cherry Framework is not an exception.
Let's learn how to update it.
The tutorial assumes you are already logged into your WordPress admin panel.
Cherry Framework is now successfully updated! It was quite easy, wasn't it?
However, it may happen that there are no available updates in your admin panel although the framework is outdated.
First of all, you should check the current Framework version.
As you can see the version of the Framework is 4.0.0 while the latest version appears to be 4.0.5.1:
In order to update the Cherry Framework simply download the latest version at Git Hub: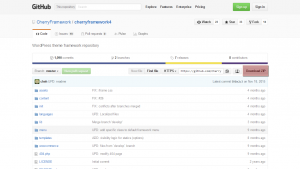 Extract the downloaded archive and make sure to rename the extracted folder to "cherryframework4":

Now that the latest Cherry version is downloaded to your local machine use your FTP/hosting control panel File Manager to upload the folder to the /wp-content/themes/ directory on the server replacing the original cherryframework4 folder.
Navigate back to your WordPress dashboard and refresh the page.
You can see the Cherry Framework is up-to-date now:
This is the end of the tutorial, you have learnt how to update Cherry Framework in your CherryFramework 4 WordPress template.
Feel free to check the detailed video tutorial below:
CherryFramework 4. How to update the framework to the latest version